Mick Moloney, who as most readers will know passed away last July, is one of the legendary figures in Irish music.  No one, save the great Francis O'Neill himself, has done so much to grow it here in the U.S.  For months now, folks have wondered when a concert in tribute to him would happen and I'm happy to say that Irish Arts Center and NYU's Glucksman Ireland House have announced "A Tribute to Mick Moloney" over three nights at the end of this month, March 30 – April 1.  It will be a stunning evening of deep memories and incredible music the likes of which we've really not seen before.
 Somewhere in the range of 30 artists, representing the full spectrum of Mick's musical career, will perform in his honor.  Although it is up to the Irish Arts Center to officially announce the full lineup of performers (and I expect an announcement should come this week), I've been involved in some of the planning conversations and can say that the list of participants is simply remarkable.
 Although just announced, ticket sales are already very strong.  I absolutely expect this show to sell out, so if you're interested in attending do not hesitate.   If you were a friend or fan of Mick's music, buy your tickets today, otherwise you really do risk missing out.  For tickets and further information, visit here.
 This week, I've been checking out "Dennis Cahill: Litir ó Do Chara" (a letter from your friend), a brilliant new documentary from filmmaker and musician Dónal O'Connor about guitarist Dennis Cahill who passed away in June of last year.  Cahill was a musician's musician, a man of keen musical insight, philosophical balance, and fabulous wit, who, opposite fiddler Martin Hayes, was one half of one of the greatest duos in modern traditional music history.  Available to watch on the TG4 player, this documentary is a gem and is a outstanding tribute to his life. 
 Framed by the reading of an open letter Hayes wrote to Cahill shortly after he died, the documentary weaves a wonderful tale told through several beautifully done segments.  In the first, we get to know about the partnership he had with Hayes and the spirit of the relationship the two shared.  We learn about his humor and his calm, and that Hayes thought of him "like an elder brother."  Then, we are introduced to other special folks, including his wife Mary Joyce-Cahill & her daughter (and Cahill's by marriage) Clíodhna Joyce-Daly, who tell the story of Cahill's parents and how they met in Chicago, despite both having come from Kerry.
 And then the storytelling opens up.  Cormac Begley builds the Kerry connection and describes his connection to Cahill and what his music meant to him.  "Listening to Martin & Dennis is a special experience," he tells us, and it is.  Iarla Ó Lionard, his bandmate in The Gloaming comes next, talking from West Kerry about Cahill's early years and his formative years as a guitarist.  Joyce-Cahill returns to describe the foundations of her husband's interest in photography and of his love for a good cup of cappuccino.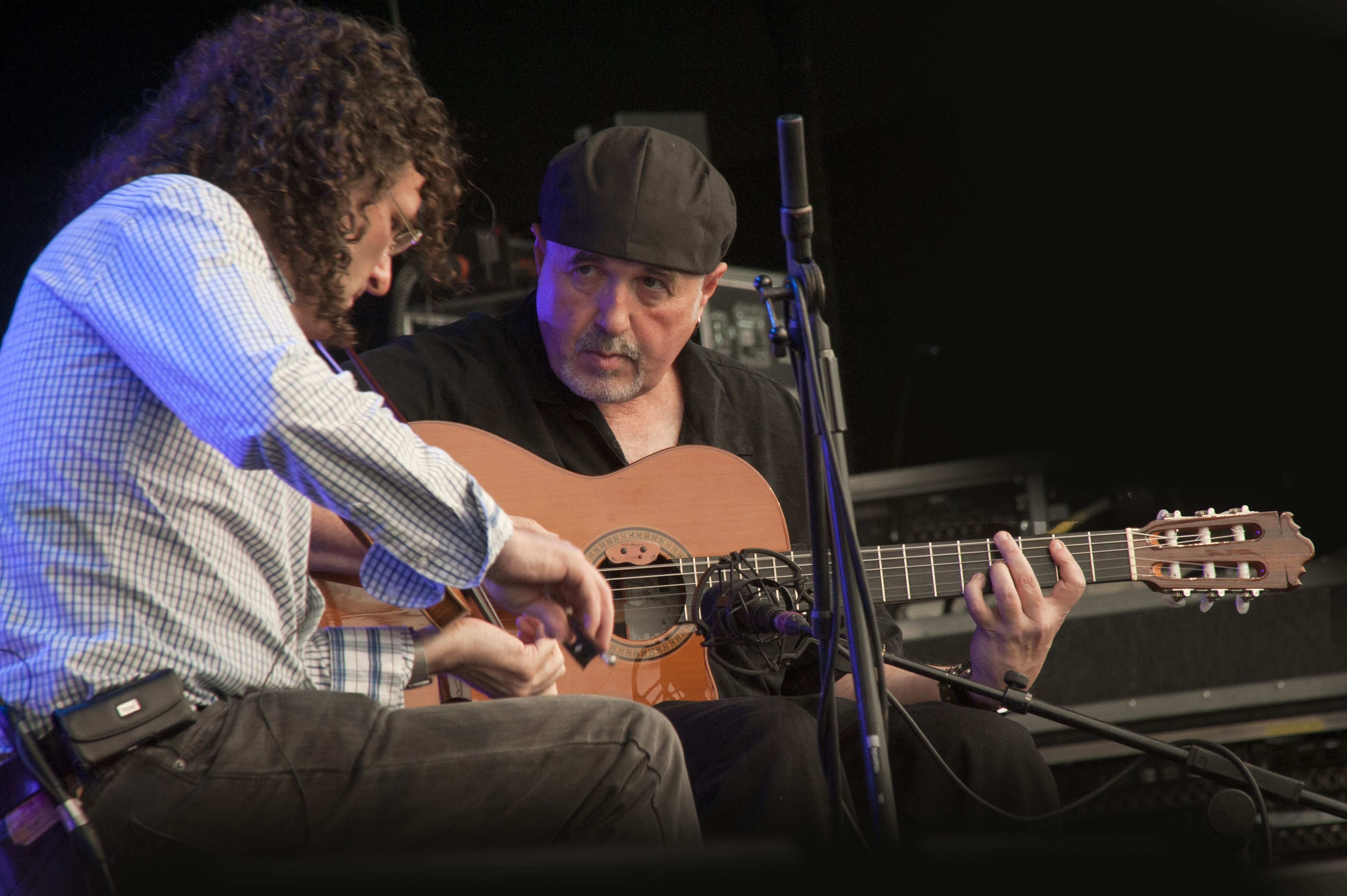 Dennis Cahill.
One of the most interesting segments covers Cahill's early days playing professionally.  Liz Carroll talks about how she first came to know Cahill as he entertained audiences supporting Irish singers in the pubs of Chicago, but even more interesting is that we learn about how Hayes and Cahill met, how their relationship grew, and about the bit of caution he had when he first asked Cahill to really work with him.  It's a deeply personal moment that comes off well.
 This feeds into a segment that features a trio of Cahill's guitar playing peers: John Doyle, Seamie O'Dowd, and Steve Cooney.  This part is great and I particularly appreciate the part where Steve Cooney talks about the guitarists in Ireland who "understand the generic harmonic language of Irish music" and "work half-within it to push the boundaries in our own ways," contrast them with Cahill, who he said "cleaved the boundaries" and did things with "his own harmonic language."  "Be aware of who you are and what your influences are," was the lesson to take away, "and then plow your own furrow and do your own thing and do the best that you can."  It's sage advice.
 The rest of the documentary builds on its solid foundation by covering other aspects of Cahill's life.  Niamh Parsons talks about his flair for production, before Carroll returns to introduce us to the formation of The Gloaming.  Hayes takes a few moments to reflect on that project in which Cahill figured in so prominently and he does eloquently.  We learn about Cahill's first wife Gwen Sale, who died tragically.  We also have an all-too-brief segment that features Cahill's great friend, the piano accordionist Jimmy Keane, and a brief performance with them both that leads us into a long, lovely segment in which Caoimhín Ó Raghallaigh talks poignantly about his memories of the guitarist and his last time playing with him.  The film's trajectory is just stunning.
 If the extensive insight into Cahill's life wasn't enough, the film also includes some truly lovely performances, all set at different points in the flow of the storytelling.  They include Begley playing "Johnny's Wedding," Ó Lionard singing "Ar Éirinn ní neosfainn cé hí," Liz Carroll and Sean Óg Graham playing "Margaret Graham's / Margaret Stewart's Grand Tour of West Kerry," Hayes and Steve Cooney playing "Britches Full of Stitches," Doyle, O'Dowd, and Cooney, playing "Sí Bheag Sí Mhór," Niamh Parsons singing "West Coast of Clare," and Caoimhín Ó Raghallaigh playing "Polca Chiarraí," and viewers will enjoy them all.
 "Dennis Cahill: Litir ó Do Chara" is simply fantastic.  It's an insightful look into a fascinating man, who just happens to be one of the tradition's greats.  Checking it out is a must and I recommended it without reservation to all fans of traditional Irish music.  "Litir ó Do Chara" went live on the TG4 Player on March 5 and is currently available to watch, see http://tg4.ie for more.