Mayo 1-11; Galway 2-8
The Kevin McStay era got off the ground against Mayo's usual nemesis Galway, with both sides leaving Castlebar on Saturday night with a bounce in their step.
Defeat is always an orphan in the first league game of the year, so the points shared by this deadliest of rivals felt like a victory as both sides now kick on to maintain their Div. 1 status over February and March.
And speaking of Connacht sides, has the old football world come full circle when you have three counties west of the Shannon in the top echelon of league formats while Leinster, including Dublin, show their paces as Division 2 protagonists?
Saturday showed that Mayo and Galway are growing in terms of top standards while David Burke's Roscommon surprised everyone by beating Tyrone by five points at Hyde Park on Sunday.
There is seldom more than a kick of a ball between Galway and Mayo and McStay will  be happy to see the ability of his team to dig deep when behind to force a late, late equalizer from Ryan O'Donoghue.
Psychologically that score meant a lot to the hosts who had fought to stay with Padraic Joyce's slicker outfit for most of the game in front of a vociferous crowd of 14,000. Out of the television studio and onto the sideline, McStay felt the full force of this traditional rivalry and will now have an away day in Armagh this coming weekend. 
And the draw deprived Galway of a fifth successive win in MacHale Park, a plus for the new green and red boss.
"We're delighted with the point, it sets us up nicely for next week. Great battling qualities from our boys we feel. It's a good result, a point on the board," he said afterwards.
He added: "We've lots of good footballers in this group and we'll get better as the weeks go by. There's lots to pick up on obviously, but I'm going to take the positives from it. We're playing All-Ireland finalists and we gave a great account of ourselves.
"It's a new version of Mayo, that's all it is. We're producing senior teams in this county for 100 years and we're just the latest edition. We're trying to put our own stamp on it and give it our best."
When four minutes into additional time All-Star Damien Comer slotted over a free to edge the Tribesmen ahead, it looked as if it would be the dagger blow to Mayo hearts, but they showed guts and determination to forge that late equalizer.
They had faced an uphill battle in the contest from the time Matthew Tierney had goaled for the visitors 12 minutes into the contest and were trailing by two points at the interval.
Earlier the high of their night arrived when James Carr rifled home a goal for the ages after a searing run through the maroon defense but typical Mayo, good was quickly followed by bad as Tierney silenced the large home contingent with his green flag.
Both teams were cagey and refused to open the game up as the contest became a battle of wills. First Mayo played their hand with three great points with O'Donoghue accounting for two and Mattie Ruane also getting his name on the scoresheet.
From then on, Joyce's crew dug in and showed their form from last year and when Sean Kelly shot past Colm Reape for their second goal, augmented by Paul Conroy's quick point, there was suddenly three points between the sides entering the last 20 minutes.
McStay would have been happy to see the response with O'Donoghue adding another brace of placed ball while new boy Bob Tuohy also slotted over the bar.
Tempers flared as the heat of battle increased with both Ruane and Cillian McDaid serving time in the bin for different incidents.
Going down the home strait, Mayo called on their tried and tested in the forms of Cillian O'Connor and Aidan O'Shea to bolster their challenge of acquiring their first home win in any meaningful game against their neighbors since 2014.
If Galway are to go one better than last year and win the Sam Maguire in 2023, the name of Peter Cooke on their team-sheet will be vital. On Saturday he landed a monster free to edge his side in front with three minutes left but O'Connor showed his skill by levelling from an acute angle. Comer thought he had done the needful but his free was cancelled out at the death by O'Donoghue's bravery to take on a tricky shot on run which split the posts.
While Mayo head North this weekend, Galway will entertain Connacht's other big fish, Roscommon and the outcome of that game will likely tell a tale of who stays up and who goes down.
Mayo: C Reape; J Coyne, R Brickenden, E Hession; S Coen, C Loftus, D McBrien; M Ruane (0-1), D O'Connor; B Tuohy (0-1), J Carney, J Flynn (0-1); A Orme, J Carr (1-0), R O'Donoghue (0-7, 4fs) Subs: A O'Shea for Orme (51); E McLaughlin for O'Connor (51); C O'Connor (0-1) for Carr (63); K McLoughlin for Carney (67); P Towey for Tuohy (35+4).

Galway: C Gleeson; E Kelly, S Kelly, N Mulcahy; D McHugh, J Daly, D O'Flaherty; P Conroy (0-1), C McDaid (0-1); P Kelly (0-1), M Tierney (1-0), J Heaney; R Finnerty (0-1), D Comer (0-3, 1f), D Conneely Subs: P Cooke (0-1,1f) for Finnerty (25, inj); C Sweeney for P Kelly (42); E Finnerty for Conneely (48); J Glynn for O'Flaherty (60); G Davoren for Tierney (63).

Ref: J McQuillan (Cavan).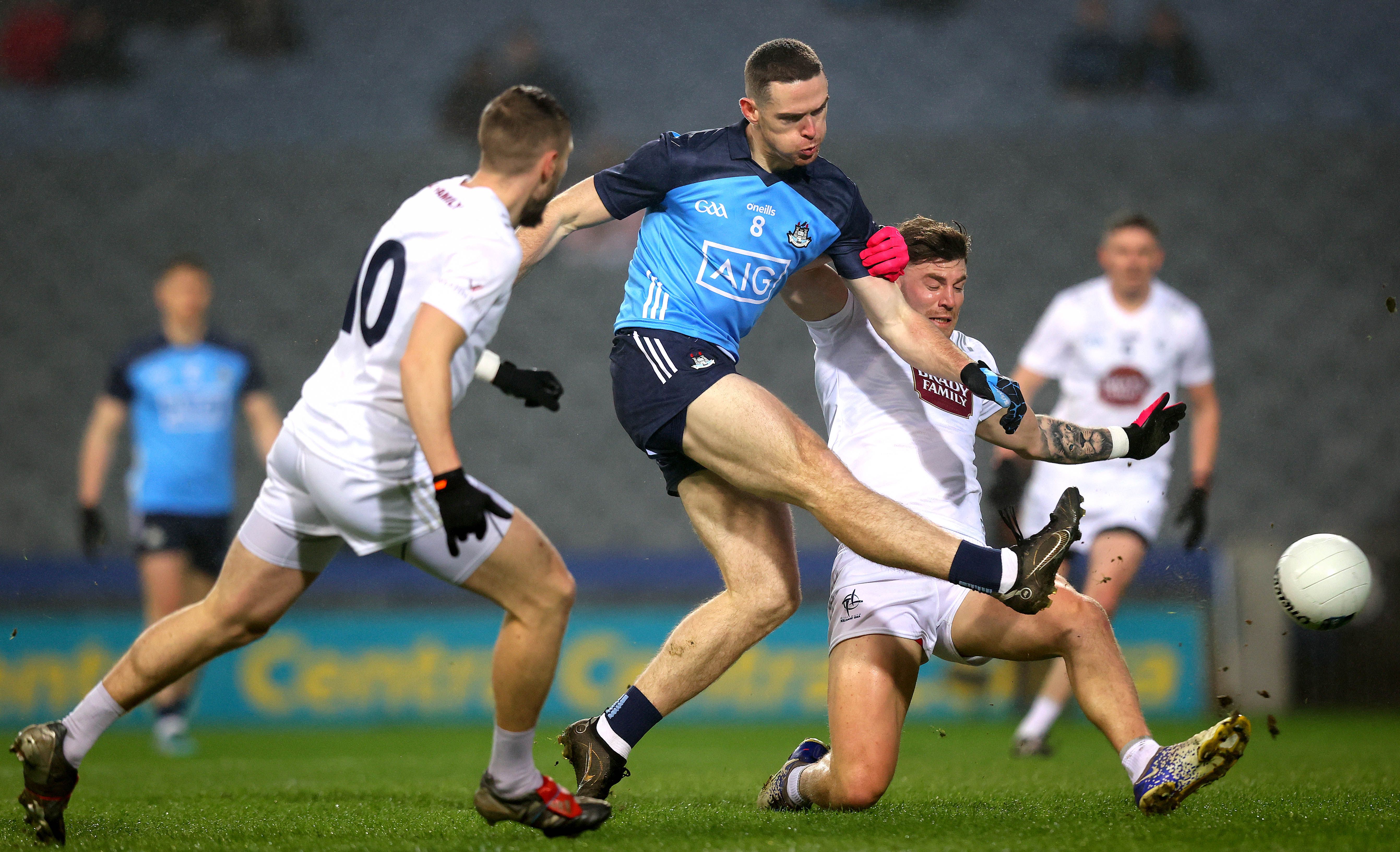 Dubs edge past Lilies in thriller
Dublin 1-11; Kildare 0-13
The great annual question of late is - are the Dubs on the slide or are the other counties catching up if not surpassing them?
Kildare will hope the latter is the answer but truth is, as Manager Dessie Farrell said on television afterwards, this is a time of transition for the Dubs as the old guard leave and younger versions in blue are blooded in the league with the hope that they will be good enough to still play a part in championship proceedings.
This was a repeat of their Leinster final victory but the clash of these two rivals as Div. 2 outfits was much closer - almost a first among equals on the night.
At the end of the day, Dublin still had a bit more nous while Kildare just couldn't keep their cool and work towards an equalizer, whereas instead players had a rush of blood to the head and tried to kick Hail Marys when recycling the ball would have been a better option.
Like old man river, Brian Fenton is the one constant in the Dublin side who has kept up a high standard of performance through the good times of the six-in-a-row and even the bad times since then,
His goal in the first half defined the contours of the game as it left the Lilies playing catch up, while it also gave the Dubs a little room to breathe as they crossed the line with the two points in the bag at Croke Park on Saturday night.
It was a world away from their All Ireland semi-final loss to Kerry in July when Sean O'Shea kicked that mammoth free to break their hearts; more likely Farrell and his backroom team will see it as a small step forward in the creation of his new Dublin for the upcoming campaigns in Leinster and All Ireland series.
Scoring 5-17 as they did in the provincial decider last term was never an option but the modest return of 1-11 was still good enough to earn victory without the likes of James McCarthy, Jack McCaffrey and Paul Mannion in their ranks.
Glenn Ryan and his backroom team at Kildare will take heart that they finished stronger than their opponents, outscoring  them by  six points to two in the final 20 minutes. What will rankle however is the fact that they came up short when a more experienced outfit would have had the wherewithal to find an equalizing or winning score.
Dublin blooded two new defenders in goalkeeper David O'Hanlon — who came in for Evan Comerford — and in Greg McEneaney, who got his opportunity on the evidence of his strong showings in the O'Byrne Cup.
Over half the team however faced Kerry while two subs Niall Scully and Cian Murphy came on in that game, so it wasn't a question of totally lacking in experience.
Arguably the best site for Dub fans was to see the return of Con O'Callaghan, who had an injury blighted season last year, his only game coming when he scored 1-5 against Saturday's opposition in the Leinster Final.
This time around he got few chances but showed in scoring two points that his movement and instincts are still there with the proper ball supply into the full forward line.
Kildare had nine of last year's outfit on view and young Jack Robinson was given his chance in attack alongside Darragh Kirwan and Jimmy Hyland.
That full forward line carries threat and it is testament with Robinson that he looked the best of the three as he showed well to contribute to four of his side's first half six-point tally, scoring two in the process.
The old Dublin would have kicked on after Fenton's goal but the new mixture haven't that potency, at least not yet, and only led by 1-5 to 0-6 at the interval when it should have been much more. O'Callaghan had Mick O'Grady breathing down his neck every time he got the ball and that may account for his three wides as well as two scores. However you could tell he was rusty and this outing will have improved him no end as Dublin faced Cork this coming weekend.
O'Callaghan points came in the second moiety and showed glimpses of his class as Mark Donnellan had to make a fine save to turn over his goal bound effort.
When Dublin pushed their lead to five after Ciaran Kilkenny pointed, many in the 17,000 crowd felt  they would push on but credit to Kildare who owned possession for the rest of the game.
The goal they needed nearly came when sub Tony Archbold shot but saw his effort tipped away by O'Hanlon. They shot four points without reply from there to the end but it wasn't enough, unless you still trade in moral victories.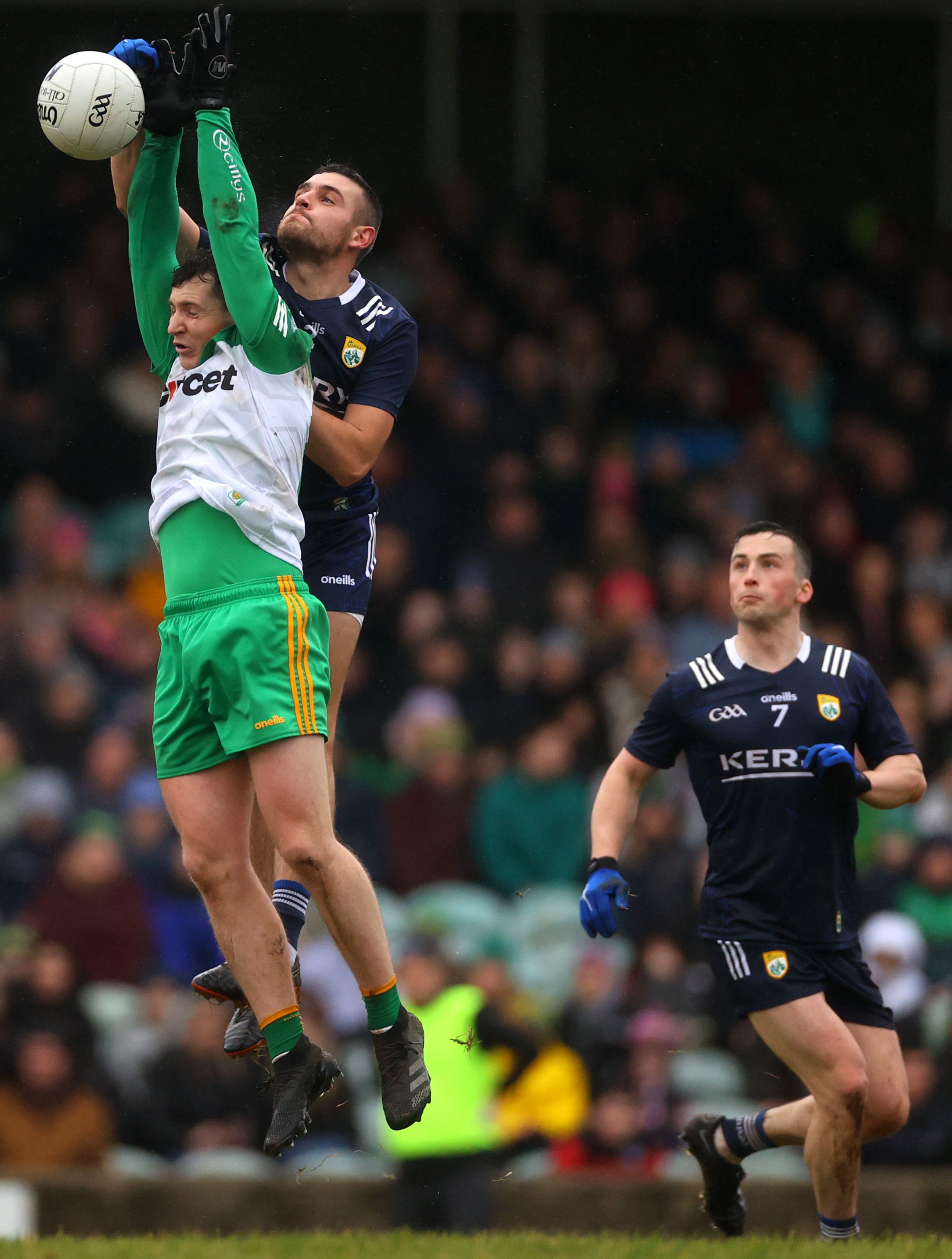 Champions downed by late McBrearty special
Donegal 0-13; Kerry 1-9
A touch of championship fever in January can warm the cockles of your heart - even in the dreariest and dullest of weather conditions. And so it proved in Ballybofey on Sunday when Donegal came back from gifting the All Ireland and League champions and early goal to send the huge 14,000 crowd home happy after a rousing ending to a really competitive 75 minutes of play.
Patrick McBreaty's winning point from 40 meters raised a huge cacophony as it meant the home side snatched both points from a game which looked like dividing the spoils as the team ran down the home strait.
New manager, Paddy Carr had given  three league debuts to  Mark Curran, Caolan McColgan and Johnny McGroddy, while Luke McGlynn entered the fray in the second half.
Kerry, without the two Cliffords and last year's captain Sean O'Shea, still fielded a strong team and the disappointment etched in manager Jack O'Connor's face afterwards told you he expected he had enough armoury to win this battle.They were the better side in the first half and dictated the trends of the game with the wind at their backs.
Darragh Roche and Paul Murphy scored points  for Kerry withCaolan McColgan and Dáire Ó Baoill replying for the hostsl. It looked as if the game might turn on a botched kick out which saw Dara Moynihan dispossess Brendan McCole before firing into an empty ned.
When Tom O'Sullivan and Killian Spillane added to the Kerry lead, that settled the visitors though  Conor O'Donnell pulled one back for the host to leave Kerry leading  1-6 to 0-3 at the stage though three points from Conor O'Donnell, Caolan McColgan and Johnny McGroddy meant there were only three in it at the interval.
Donegal continued their purple patch on the changeover  as Dáire Ó Baoill, Conor O'Donnell, Jamie Brennan and substitute Luke McGlynn raised white flags but Paul Murphy levelled with a great score from distance.
Shaun Patton and Ruairi Murphy exchanged scores before debutant Caolan McColgan landed his third point to edge the home side ahead with five minutes to go
Donal O'Sullivan fisted the sides level again but in the fourth minute of added time captain McBrearty got his sole score of the day when he showed great bravery and composure to take a ball on the loop and kick a curling point which brought the house down with excitement.
Donegal manager Paddy Carr said afterwards: "That's a very changed side from the last side that took the field in the championship against Armagh. We have a lot of well recognized footballers who weren't out there today and we had talked a fair bit about the spirit of Donegal. There's an incredibly proud group of lads there and they fought to the end.
"Because the conditions were very difficult and it mightn't be the prettiest football but my goodness, it was a great league battle and there are plenty of good footballers in Kerry and fair play to them. Great recognition for what they did last year, so it is a wee bit special and particularly the fact the newcomers and new lads coming into the team played their hearts out.
"And of course we made Patrick McBrearty captain there and he played that role when he just slung that last ball over so it's a really good feeling and I'm very proud of these lads," he stressed.
Commenting on the retirement of Michael Murphy, the manager said: "There have been a lot of questions about the heart and soul of Donegal football and I don't pay too much attention to it because the joy of actually being with these lads week in, week out and seeing what they can produce, that's a really big positive from today. We're particularly thinking of the people in Creeslough at the moment, it's been really, really difficult for them and I hope that we put a bit of joy into their hearts today," he added.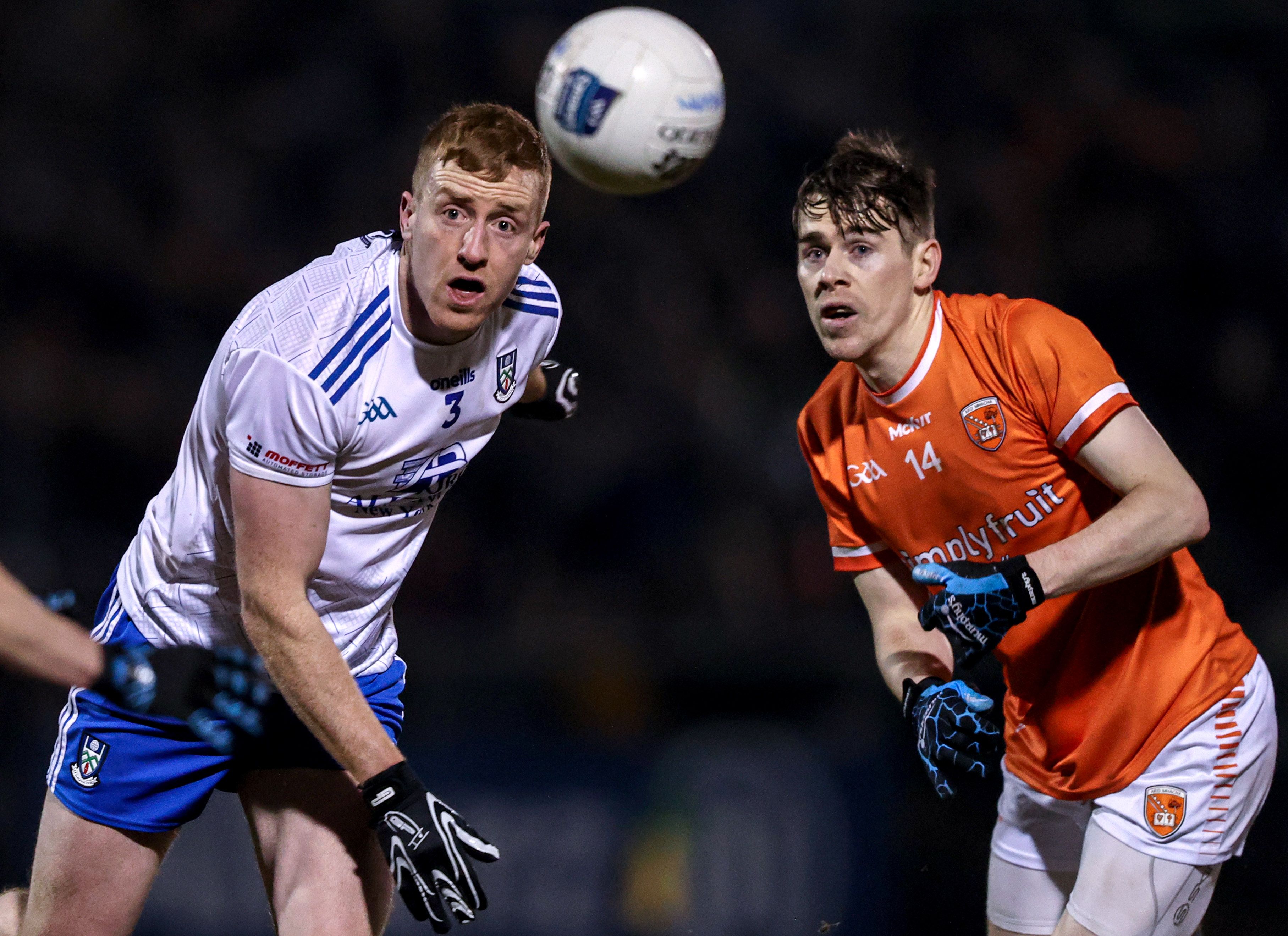 Allianz Football League Div 1
Donegal 0-13; Kerry 1-9
Mayo 1-11; Galway 2-8
Roscommon 3-11; Tyrone 1-12
Armagh 1-14; Monaghan 1-12
Allianz Football League Div 2 
Derry 0-16; Limerick 0-4
Dublin 1-11; Kildare 0-13
Meath 3-14; Cork 0-19
Clare 0-13; Louth 1-9
Allianz Football League Div 3
Fermanagh 0-15; Longford 0-8
Down 2-11; Tipperary 1-11
Cavan 0-12; Westmeath 1-6
Offaly 2-12; Antrim 0-12
Allianz Football League Div 4
Wexford 1-9; London 1-9 
Carlow 2-10; Wicklow 2-10
Leitrim 3-18; Waterford 0-11
Laois 2-11; Sligo 0-11