In less than a month, Darragh O'Sullivan has gone from a situation where he seemingly couldn't buy his way onto the floor for Florida Tech's men's basketball team to now, where he didn't sit at all in the Panthers' two wins last week. 
 The 6-5 sophomore from Cork played all 45 minutes in Wednesday's 76-74 overtime win against Barry in Miami Shores. He notched a career high 13 points, hitting four of seven field goal attempts, including three of five from long range, and both of his foul shots. He also had five rebounds and four assists. 
 "Sully was under a lot of ball pressure and showed a lot of character with the right mentality all night long," said Tech Head Coach Billy Mims. 
 Saturday's 77-72 win in St. Petersburg over Eckerd saw O'Sullivan score seven points and bring down four caroms. The Panthers are 16-7.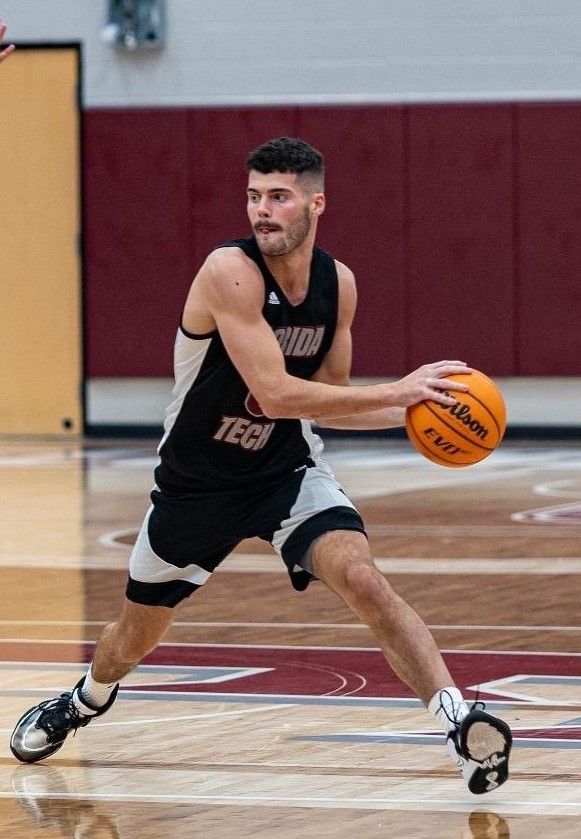 Daragh O'Sullivan.
 Another of Cork's sons, James Beckom, had a typical game for John Brown, albeit in a 78-64 road loss to North Texas at Dallas. The 6-3 senior scored 10 points on 3-of-11 shooting from the floor and 4-of-5 from the foul line. He also grabbed eight rebounds, assisted on three buckets and stole two balls. JBU is 7-15. 
 James Thomas Phelan scored a team-high 23 points for Thomas University in last Tuesday's 96-79 loss to Maine-Farmington at home. The 6-3 freshman guard from Portlaoise, Co. Laois drilled eight of 16 shots from the field (two of nine from long distance) and five of six from the foul line. He also had game highs in assists (five) and steals (three). Thomas dropped to 3-19. 
 Sanmi Fajana posted nine points as Wis.-Parkside defeated visiting Ferris State, 86-66, on Thursday. The 6-8 sophomore from Dublin made four of five shots from the field, including his lone three-point try. He also received credit for five rebounds and a game-high three blocks. The Rangers ran their win skein to four at home on Saturday with an 82-79 victory over Lake Superior State. Fajana scored six points, most of which (four) came at the free throw line, where he didn't miss. He also pulled down a game-high 10 boards in just 18 minutes. Parkside is 17-6.  
 St. Mary's (Tex.) split home games last week, defeating Texas-Tyler, 66-51, and falling to Dallas Baptist, 85-84. Ryan Leonard scored 11 points in the Tyler win on Thursday, knocking down five of 11 shots from the field, including one of three from Riverwalk. In Saturday's loss, the senior from Tralee, Co. Kerry was responsible for a game-high eight assists. He also scored 14 points on 5-of-9 shooting from the field (2-of-4 going long) and 2-of-2 from the foul line. The Rattlers are 12-9.
 The Felician Golden Eagles (5-16) are playing for pride at this point. Sean McCarthy, their sophomore forward from Cork, chipped in nine points in last Tuesday's 85-59 thrashing by visiting Caldwell. He tossed in three of nine field goal attempts, including one of two from Route 17, and two of three foul shots. Saturday's 86-76 loss at home to Goldey-Beacom saw McCarthy contribute seven points in 24 minutes before he drew his fifth personal foul. He drained three of seven shots from the floor as well as his only free throw. He also laid hands on six rebounds. 
WOMEN'S BASKETBALL
 Deborah Ogayemi posted a double-double in Texas-Rio Grande Valley's 69-65 win over Utah Tech in Edinburg, Tex. The 5-11 sophomore from Waterford scored 14 points on 7-of-12 shooting from the floor and reeled in 13 boards. She also had three steals. The Vaqueros are 8-13. 
 Abigail Rafferty pulled down a game-high 12 rebounds and blocked four shots as DeSales knocked off Wilkes, 72-42, in Wilkes-Barre, Pa. on Wednesday. The 6-1 junior from Dungannon, Co. Tyrone also chipped in four points and three assists. On Saturday, DeSales downed Misericordia, 67-51, in Dallas, Pa. Rafferty rolled 8s in both rebounds and points (4-for-11 from the field). DeSales is 20-1. 
 Katie Williamson scored a game-high 15 points to lead Southern Connecticut State over St. Rose, 51-47, in New Haven last Monday. The 6-1 Dublin junior shot 6-of-7 from the field and 3-of-4 from the foul line. She worked out a double-double on Saturday in a 63-53 loss to Pace in Pleasantville, N.Y. She notched 14 points on 6-of-15 from the field and 2-of-2 from the line to go with 10 caroms. The Owls are 13-8.  
 Bronagh Power-Cassidy scored a game-high 20 points to lead Holy Cross past Navy, 71-52, in Annapolis, Md. on Saturday. The 5-10 sophomore from Dublin clicked on seven of 14 shots from the floor, including two of six from the Francis Scott Key marker, and all four tries from the victim compensation line. The Crusaders are 17-5.  
SQUASH
 Ellie McVeigh handled the 8 spot for Columbia in Saturday's 5-4 loss to Cornell in Ithaca, N.Y. The Belfast senior defeated Ania LaDow, 3-2 (11-5, 11-3, 12-14, 8-11, 13-11).