I sat down in a Queens restaurant recently with playwright Honor Molloy for Hobnobs, tea and conversation. Talk of "Dublin Noir," Molloy's latest play, prompted a discussion about the Tyrone Guthrie Centre in Newbliss, Co. Monaghan, where she worked on the piece. The latest draft was read on Saturday afternoon, Oct. 28, at Churchill's Tavern, East 28th Street, Manhattan. "Dublin Noir" shared the bill with "The Long Day," a new play by Joseph Goodrich.
BB:  Earlier this fall you spent a two-week residency at the Guthrie Centre. For those who might not know, who was Tyrone Guthrie?
HM:  Sir William Tyrone Guthrie (1900-1971) was a British-born director known for his innovative staging of contemporary European and American plays. His original and idiosyncratic approach to the classics greatly influenced the groundbreaking work of directors Sir Peter Brook and Sir Peter Hall. A proponent of the open stage, Guthrie aimed to – in Irish theatre historian (and nephew) Christopher Fitz-Simon's words – "eradicate the tyranny of the proscenium." Tony once referred to himself as "a very Irish sort of Anglo-Scot." He was knighted by Queen Elizabeth in 1962 for "services to the theatre." 
And what exactly is the center?
The first word that springs to mind? Bliss. Pure bliss. Or, if I get three words: "bliss in Newbliss." A writer couldn't ask for a better place to work. In 1966, Guthrie initially offered his ancestral home, "Annaghmakerrig" – Irish for McKerrig's Bog – to the Arts Council of Ireland "to be run as a hostel or hermitage in which artists seeking quiet in which to work, would receive free shelter and partial board." 
It took a while but, 10 years after Guthrie's death, the center was established in 1981.* "Annamaghmakerrig" is situated south of the border with Northern Ireland. I was impressed by the center's dedication to the idea of "a shared island," and how it provides a home for artistic endeavor from both sides of the border. I met artists from all over Ireland and the world.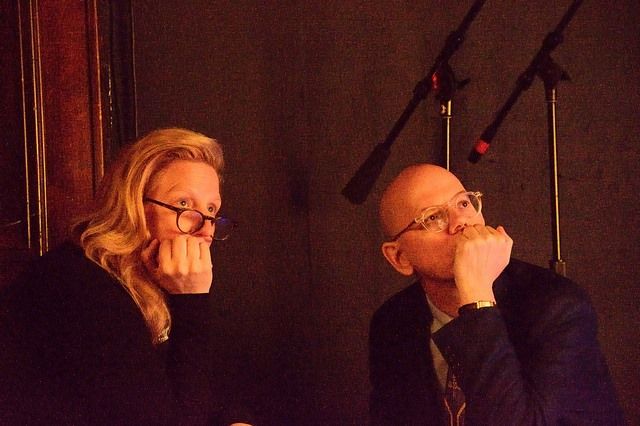 Honor Molloy and Joseph Goodrich.
The center offers writers and artists the peace and quiet to work without interruption. Studios in the former farmyard are dedicated to visual arts – one night during my stay we went on a studio crawl, visiting four studios and seeing completed pieces as well as work-in-progress. At the top of the flower garden, close to the prehistoric circular enclosure on Mullenagarran Hill, is a purpose-designed dance studio. There are hundreds of bats in the belfry and, if you carefully open the door of an afternoon, you can see them desperately clinging to the rafters. There are also a number of self-catering cottages. My workspace was Tyrone Guthrie's study in the "big house."
Guthrie, of course, was one of the movers and shakers in 20th-century theatre. As a theatrical impresario he helped found the Stratford Festival in Ontario and the Guthrie Theater in Minneapolis, groundbreaking examples of regional subsidized theaters. Is the center only for playwrights?
Far from it. During my residency I met composers, musicians, artists, a choreographer and a wide variety of writers. I was amazed and delighted by the plenitude of talent at the center. And the craic – one lunch we laughed for 20 minutes straight. No lie. Perhaps we were simply giddy with the freedom of it all. Freedom from cooking, cleaning, making the bed, the dreary quotidian tasks that eat up creative time. We were free to roam about the grounds, free to talk/not talk, free to work on our art/not work on our art. 
You finished a new draft of "Dublin Noir" during your residency.
It's funny. I applied close to two years ago with a very different project, but found that it no longer captured my imagination. So, I brought "Dublin Noir" with me, thinking that the play was just about finished. But when I walked into my studio, I realized I had all this time to take the piece apart the way a mechanic takes apart a car engine. Pieces of the play were strewn all over a huge desk. I studied the inner workings, prodding this bit, poking that, then reassembled it, and returned to the States with a fresh draft.
You've had residencies at Yaddo, MacDowell, the Albee Center, Millay Arts  and Hedgebrook on Whidbey Island. How does the Guthrie Centre compare with these organizations?
I've enjoyed all of them, but I have to single out the Guthrie Centre as something really special. For one thing, the setting is idyllic. "Annaghmakerig" is situated in the kind of countryside you can only find in Ireland. You look out your window at vibrant green lawns and a pure blue lake under a pure blue sky – or 20 minutes later a silver lake and gray clouds scudding across a black sky. No subways, no sirens, no car horns, no tourists. Nothing that interferes with the concentration required for deep work. I felt profoundly connected to Ireland and its history there...all of which informs my latest play. I'd call it a perfect mesh of project and place.
What did you take back with you? And I don't mean Crunchie bars and a Tayto 25 pack.
The new draft, as mentioned. The exhilarating beauty of the natural world. The memory of good, hard-working days and laughing evenings with my fellow artists in the music room at the top of the house, singing "Weila Walia" in the drawing room. Oh, and the ghost stories.
 I've heard that Annaghmakerrig is haunted. Don't tell me you saw something...uncanny.
 I didn't see it. I heard it. Late one evening I went for a walk. I was heading back to the big house when from somewhere in the darkness drifted the sound of a cello playing the same three notes over and over, rhythmically. Then there was the lowing of a cow from across the lake and up the mountain. Another cow answered from over the hill. Sound was carrying miles – perhaps centuries – and blending with the low tune of the insistent cello. I was thrilled with this symphony – just for me. Then on my right and down a laneway, I heard voices raised in merriment. Not a soul was in sight. There wasn't a house for hours. The cello played on and on, the merrymakers joked and laughed and chatted. I was tempted to go down the land in the dark in search of the source of the music and conviviality. But then I remembered it's better to not go looking for odd sounds in night-time Ireland. People who do have a habit of mysteriously disappearing mysteriously and never returning...
But you'd go back to "Annaghmakerrig" all the same?
I'd go back tomorrow and follow my heart down a lane all the way to Tír na nÓg.
* Some details described here by Honor Molloy are drawn from Christopher Fitz-Simon's essay "The Tyrone Guthrie Centre at 'Annaghmakerrig,'" which is included in "Colm Ó Briain: A Coat of Many Colours," Muireann Ó Briain (compiler).