Kilmacud Crokes (Dublin) 1-16; St. Mary's Ardee (Louth) 1-11
This game was won by a former All-Star and who may well feel aggrieved that he is not a current one following the announcement of the annual selection last Friday night.
Missing from the victory parade was Dublin's Paul Mannion but if he was upset by the omission, he didn't show it as he went about single-handedly shooting the lights out against St Mary's with a virtuoso first-half performance in Ardee on Sunday.
Three points with his trusted left foot and another brace from the right saw the provincial and All Ireland title holders establish what looked like an unassailable 10-point lead against the local favorites.
Inexplicably then the south Dublin outfit seemed to go asleep as the home side  took the game to them and had the led back to a manageable two-point margin as they entered the home straight.
It was then the past All-Star Shane Walsh, the Galway talisman, stepped up and cut loose and by game's end his five-point contribution was sufficient to see the favorites home without late scares.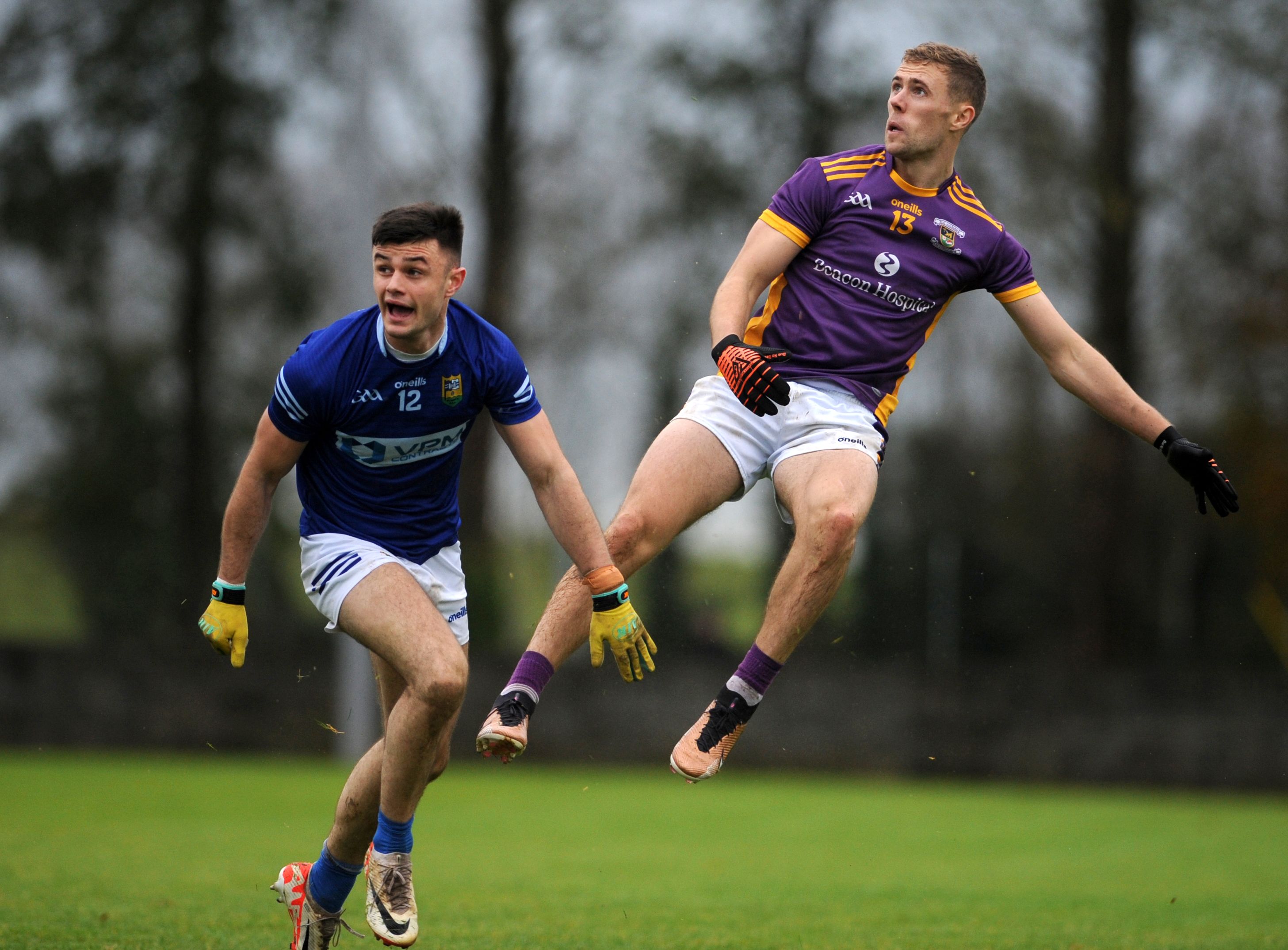 Jonathan Commins of Ardee St. Mary's, left, in action with Paul Mannion of Kilmacud Crokes in the Leinster semifinal at Ardee, Co. Louth. [Inpho/Ciaran Culligan]
The Crokes are now on the cusp of a historic three-in-a-row of Leinster crowns and will meet emerging Kildare side Naas in next month's Croke Park final.
Boss Robbie Brennan will  ensure there is no complacency setting in and will only have to refer to the almost fatal second-half lapse in which eight points was cut off their lead to get training standards at the highest level in the interim.
The game was in the melting pot with 14 minutes remaining but it was then that the purple and gold showed their colors by relaunching with a swiftness that was awesome in how it dealt with the opposing threat.
Darragh Dempsey hit their first-half goal and that seemed to have put the game to bed even at such an early part of the contest and we must credit St Mary's for the true grit they showed in fighting back in that moiety, albeit with the wind in their backs.
Like a racehorse about to make his charge for victory, Ardee had come from way behind to almost pull astride. Just when it looked like they might kick on, it was Walsh who kicked into gear and shot three points in the final quarter to restore somewhat the equilibrium. This was further enhanced when reliable veteran Shane Horan  entered the fray and immediately shot a valuable point with  Luke Ward also showing the strength of the bench by raising a white flag as well.
Afterwards Walsh spoke of the "cheap lesson" after the fright the champions got in that second half.  "We were our own worst enemy in terms of mistakes. In fairness to St Mary's they punished us and got the goal off a poor turnover. The great thing about it was we got out of it and it was a cheap lesson rather than an expensive one."
Mannion expanded on a similar theme. "Just blessed to get out with the win. It was five in the end but it doesn't feel like that at all. There was huge pressure at the start of the second half. We knew it was part of their plan.
"They won the toss and chose to play against the wind in the first half and backed themselves to get a big squeeze on. They got it back to two points and we just had to get control of the game midway through the half which we managed to do to see it out in the end.
"We said before the throw-in that we need to start the game fast because of their plan. At the start of the first half they were just minding the ball and trying to keep the score low. They backed themselves to make up the deficit. In fairness they did a great job and we were lucky to get there. We have the opportunity to do something special in a couple of weeks. We'll review this game and the opposition and get ready for two weeks' time."
Kilmacud Crokes: D Higgins; A Quinn, R O'Carroll, D O'Brien; M O'Leary, C O'Connor (0-1), A McGowan (0-1); B Sheehy, C Dias; D Dempsey (1-0), Pl Mannion (0-5), D Mullin (0-1); H Kenny, S Cunningham (0-1), S Walsh (0-5, 0-3f) Subs: S Horan (0-1) for Dempsey 44, C Pearson for Kenny 49, L Ward (0-1) for Cunningham 51, LFlatman for Sheehy 61.
Ardee St Mary's: J McGillick; D McKenny, E Keenan, T Corrigan; K Moran, P McKenny, C Gillespie (0-2f); S Callaghan, R Leavy; L Jackson (0-1), C Keenan (0-3m), J Commins (0-3f); R Mooney (1-0), D McConnon (0-1), T Jackson (0-1f) Subs: S Matthews for Commins 55, T McDonnell for Corrigan 55, R Carroll for Rooney 58.
Ref: B Cawley (Kildare).

St Loman's (Westmeath) 1-10 Naas (Kildare) 1-15
(AET)
Naas is a club on the rise on both fronts but it took a real five-star performance from Darragh Kirwan to inspire them to victory after extra-time against Naas at Cusack Park, Mullingar, on Sunday.
This was a fine contest between a first among equals but the winners had more in their legs when it came to extra-time as they pulled away from the hosts in that period.
After eschewing the opportunity to win the game in regulation time when Kevin Cummins' difficult free was wide of the target, the game went into extra-time. Both sides were now fatigued and were  waiting to see who would land the first blow. It came in the third minute of injury time in the first half when Kirwan buried a wonder goal. To add salt to the wound, he then kicked a Hail Mary point to give his side  a 1-13 to 1-10 lead at the interval in extra-time.
On the restart he fisted another point and once sub Tom Browne raised another white flag from play, Loman's were spent particularly when talisman John Heslin shot two frees wide of the target.
Naas: L Mullins (0-1, '45'); C Daly, B Byrne, M Maguire; Paddy McDermott, E Doyle, E Prizeman; Paul McDermott, J Burke; A Beirne (0-3, 0-2f), C McCarthy, J McKevitt (0-1); D Kirwan (1-7, 0-1f), D Hanafin (0-1), S Hanafin Subs: E Callaghan (0-1f) for D Hanafin (44), K Cummins for Paul McDermott (44), N Aherne for Kirwan (blood, 56-58), T Browne (0-1) for Prizeman (e/t, 2), B Kane for Doyle (inj., e/t, 9), S Cullen for Kirwan (inj., e/t, 20).
St Loman's, Mullingar: J Daly; E Hogan, D O'Keeffe, O Hogan; J Geoghegan, D Whelan, E Gaffney; S Flanagan, J Heslin (0-4f); P Foy (0-1), S McCartan, K Regan (0-1); D McCartan (0-2, 0-1m), R O'Toole, S Dempsey (1-2) Subs: K Reilly for Whelan (inj., 37), TJ Cox for Flanagan (46), F Ayorinde for Regan (51), T Graham for Foy (58), P Foy for Graham (e/t, 14).
Ref: D Gough (Meath).
Ballygunner 0-16 Na Piarsaigh 1-9
Ballygunner are the Limerick of club hurling at the moment and you can tell by their demeanor that nothing short of provincial and ultimate All Ireland honors will sate this group of players this year.
They pitted their wits against the finest the Treaty County had to offer and while there were only four points between the sides at the finish, in reality the Gunners were streets ahead when it came to controlling the game at the TUS Gaelic Grounds on Sunday.
It was a game which promised much but didn't manage to deliver with the shining light of the encounter Pauric Mahony who drove his side to victory thanks to a personal contribution of 11 points over the hour.
The winners were eight points to the good late in the game and obviously took their foot of the pedal to allow Na Piarsaigh in for an Adrian Breen goal which did nothing but put a more respectable look on the scoreboard.
They now play Clare's Clonlara in the final and while they will be favorites to advance, there is no doubt that the Banner spirit is in the DNA of this team, particularly with newly crowned All Star John Conlon powerfully leading the attacking zone.
Ballygunner: S O'Keeffe; I Kenny, B Coughlan, T Foley; S O'Sullivan, Phillip Mahony, R Power (0-2); C Sheahan, P Leavey; M Mahony, Pauric Mahony (0-11,0-6f 0-2 '65s) P Hogan; D Hutchinson (0-2), K Mahony, Pa Fitzgerald Subs: H Ruddle (0-1) for Fitzgerald (46 mins), Billy O'Keeffe for Hogan (60 mins)
Na Piarsaigh: S Dowling; E McEvoy; M Casey, C King; V Harrington, W O'Donoghue, M Foley; C Boylan, JJ Carey; K Downes, P Casey, D Dempsey; W Henn (0-1), R Lynch (0-7, 0-5f, 0-2 '65s), A Breen (1-1) Subs: K Dempsey for Carey (43 mins), J Fitzgerald for Foley (48), W Kearns for King (51 mins).
Ref: M Kennedy (Tipperary).

Clonlara (Clare) 0-23 Kiladangan (Tipperary) 1-19
You left this encounter with mixed emotions as you could only laud the fighting spirit of Clonlara and pity the self-destruct button which Kiladanagan pressed not once but twice as they ended  a point in arrears with 13 players at Semple Stadium on Sunday.
Those straight red cards to goal-scorer Dan O'Meara and Seán Hayes meant the Premier champions were always playing catch up but it is testament to their fortitude that they died with their boots on despite the numerical disadvantage they faced once ref Ciarán O'Regan had twice administered the ultimate sanction.
Indeed with Billy Seymour scoring from all over the place and with 11 points in all, the Tipp boys hauled themselves from three point down to lead by two into added time.
That took some bottle and the big question was - could they see out the final added minutes without allowing the Claremen back into contention?
The answer was "no" as Clonlara showed their own mettle to level the game before Diarmuid Stritch caught sight of the posts in the 66th minutes and unerringly guided the sliotar over the black spot.
They now face a more daunting proposition when meeting Ballygunner in the final and will need all the fight and passion that they showed in turning a potentially disastrous semi defeat into a memorable victory.
Clonlara: S Gully; L Ryan, G Powell, M Clancy (0-1); P O'Loughlin (0-1), D McMahon, D Fitzgerald; A Moriarty (0-1), J McMahon; C Galvin (0-1), J Conlon (0-4), C O'Meara (0-2); D Stritch (0-1), I Galvin (0-1), M O'Loughlin (0-09, 0-7f, 0-1 65) Subs: C Moriarty (0-2) for J McMahon (43), M Stritch for C Galvin (51), D Moloney for O'Meara (57, inj).
Kiladangan: B Hogan; D Sweeney, J Quigley, F Hayes; J Gallagher, A Flynn (0-1), W Connors; T Gallagher (0-1), D McGrath (0-3); S Hayes (0-1) B Seymour (0-11 0-7f), P Flynn (0-1); B McLoughney (0-1), D O'Meara (1-0), A Loughnane Subs: E Sharkey for McLoughney (12, inj), C Byrne for Sharkey (48), D Moran for McGrath (60+4).
Ref: C O'Regan (Cork)
Corofin 0-16 Ballina Stephenites 0-12
Like "Old Man River," Galway champions Corofin may meander now and then but the manage to keep on rolling along to Connacht finals without ever appearing in danger, as was evidenced in Pearse Stadium in Galway city on Saturday afternoon when they always had the measure of a limited playing Ballina Stephanite outfit.
The winners play a mixture of old and new football styles and the fact that they managed to land 14 points from play to set up a decider against St Brigid's of Roscommon shows how well they have married the two methods of play.
You could say quite accurately that the Mayomen were the architects of their own downfall even before the ball was thrown in. Having won the toss, they decided to play against a quite substantial Salthill breeze and long before half time when the home side led by 0-9 to 0-3, they writing was on the wall that they did not possess either the tactical nous or the athletic ability to worry a very accomplished Corofin machine.
He may be a 39-year old, but  Gary Sice plays with the enthusiasm of a teenager and was the fulcrum, along with young Jack McHugh, in attack as both men claimed five points each for their hour's work.
The visitors had no one with such stature to lead their scoring line and coughed up several chances over the game that their opponents would have gobbled up as goals or points.
That though is the difference between winners and losers - and Corofin have shown themselves to be arguably the best club sides of this millennium.
Further boost for the winners was the expert way another  veteran Michael Lundy controlled play and chipped in with two telling points at crucial moments in the game. The introduction of  Galway hurling captain Daithi Burke to stretch his legs was also welcomed by the home following as his presence now that his hurling commitments are over, can only underline the strength in depth this squad now has as they face Roscommon's St Brigid's in the provincial decider.
Corofin: B Power; L Silke, D McHugh (0-2), C Silke; M Farragher, C Cunningham, G Burke; P Egan (0-2), C Brady; B Cogger, M Lundy (0-2), T Gill; G Sice (0-5, 0-2f), D Wall, J McCabe (0-5) Subs: O Burke for Power (half-time), D Silke for Wall (half-time), R Mahon for C Silke (38), G McHugh for Farragher (48), C Brady for Gill (52), Da Burke for C Brady (59).
Ballina Stephenites: D Clarke; L Golden, G Cafferkey, S Callinan; C Boland (0-1), D Tighe, S Regan; L Feeney, M Murray; N Feeney, C Treacy, F Irwin (0-3, 0-1f); E Regan (0-5, 0-4f, 0-1m), JIrwin (0-1), C McStay (0-1) Subs: J Doherty for Cafferkey (11), M Dirrane (0-1) for Treacy (41), D Thornton for Murray (41-52), Ci Sweeney for J Irwin (56).
Ref: B Judge (Sligo)

St Brigid's 1-7 Mohill 0-8
Leitrim champions Mohill  gave their all before bowing the knee by only two points to St Brigid's at Dr Hyde Park.
In a game where scores were at a premium, it was Ciarán Sugrue's only major of the day in the 46th minute which proved the difference between two very committed sides.
The Roscommon champions know better than anyone that they will have to seriously up their game if they are to compete with let alone beat Corofin at Dr Hyde Park  when the two sides meet early next month.

GAA RESULTS
Leinster Club SF semi-finals
Kilmacud Crokes (Dublin) 1-16; St. Mary's Ardee (Louth) 1-11
St Loman's (Westmeath) 1-10 Naas (Kildare) 1-15
Munster Club SH semi-finals
Ballygunner 0-16 Na Piarsaigh 1-9
Clonlara (Clare) 0-23 Kiladangan (Tipperary) 1-19
Connacht  Club SF semi-finals
Corofin 0-16 Ballina Stephenites 0-12
St Brigids 1-8; Mohill 0-8
Ulster Club SH semi-final
Cushendall (Antrim) 4-28; Portaferry 3-19 (Down)