There were plenty of curious glances on Sunday, Oct. 29, as a steady stream of men and women, carrying mysterious bags and boxes, filed past the cheerful diners at Connolly's Pub and Restaurant on East 47th Street. Once in the farthest room, a transformation was taking place. Raincoats and umbrellas were stashed and a remarkable array of outfits appeared. Gradually, 24 participants in an annual Celtic New Year gathering materialized, adding candles and carved, lighted turnips to the space, creating a mood of anticipation and cheery unrest. Every year without exception, Maura Mulligan, founder in 2016 of the Nollaig na mBan NY group who plan fund-raising and culture-sharing gatherings for all four Celtic fire festivals, has encouraged and inspired New Yorkers to celebrate this ancient fire festival.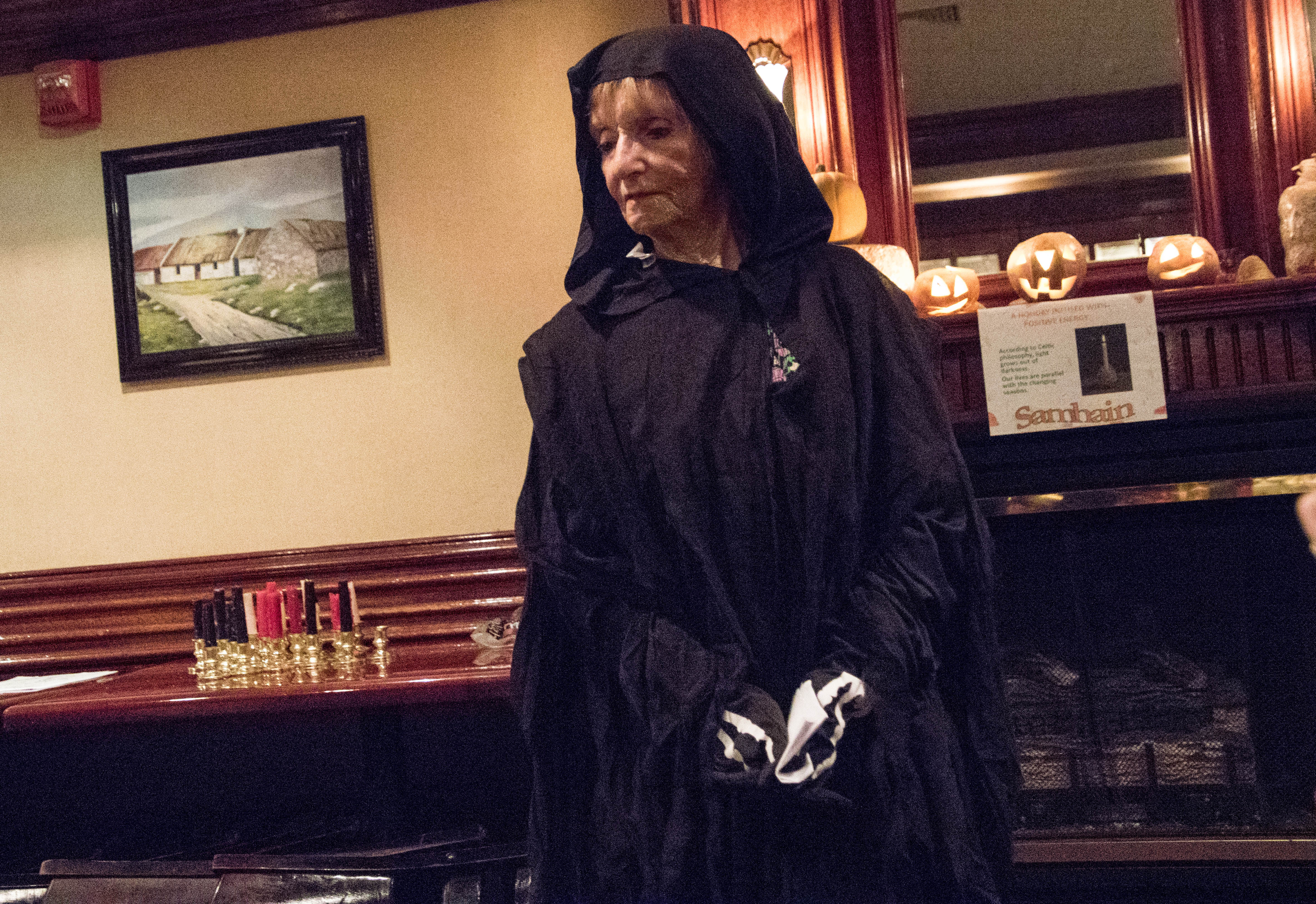 Mary Fee recited Walter De La Mare's "The Listeners." [Event photos by Dan Brown]

Beginning with her Irish language class in 1990, spreading to her dance class and beyond, the participants research costumes and brief presentations, providing an enjoyable discovery for every character awaiting their turn to share. Donations to support Ukraine's struggling refugees and hospitals http://www.veselka.com/support-ukraineare suggested, our favorites being www.veselka.com/support-ukraine/ or Sunflower of Peace Foundation at www.facebook.com/sunflowerofpeace. 
Bringing this old tradition into the modern world, yet honoring the ancient ideals and Celtic philosophy of life, and death, has necessitated selecting a theme that keeps minds, and wardrobe items, exploring new territory. This year, Climate Awareness bubbled up, an ideal topic for the Celtic traditions of honoring the earth and respecting its untamable nature. The recent flooding in Ireland, Scotland and England has kept climate change relevant, and the discovery of epic floods in Ireland's distant past are sobering reminders of this.
Samhain, pronounced "sow-in," is the most important of the four Celtic fire festivals, falling halfway between autumn equinox and winter solstice. This ancient spiritual tradition commemorates harvest's end and beginning the Dark, and mysterious part of the Celtic year. Customs were brought by tribes extending from Spain to the Black Sea. These tribes shared culture and language, later named '"Celts" by the Greeks, who encountered them ("a barbarian race"), in France. Despite the Roman invasions, Celtic tribes survived in Ireland, Scotland, Wales, the Isle of Man, Brittany and Cornwall. "All Hallows Eve," or "Hallow-e'en," are newer events that supplanted the ancient traditions. Celtic peoples divided the world in terms of light- good, prosperous, and dark - evil, destructive. It was vital to gather the harvest before dark winter began. 
The Celts believed the veil between this world and the spirit one was thinnest during Samhain, ancestors could cross over, and concerned families dressed as monsters or animals to drive away fairy hunters who might kidnap these ghosts. The evil shape-shifting "Pukah" could be appeased with harvest offerings, and  in windows, lighted carved turnips scared away the soul-stealing "Sluagh" who might enter homes, as well as celebrating light and the harvest bounty.  Bonfires replaced small home fires to deter witches, and hearths were lit from these. The  "Bonfire Dance" was created, a circle of dancers advancing and retiring, circling the flames and daring any to break the protective boundaries.Christianization tried to replace  Samhain with a festival to honor the Saints - good, venerable icons all, on Nov 1.. The evening before, however, was now free for the spooky symbolism of the wandering dead, and Hallow-e'en was born. Traveling storytellers riveted families over several nights in return for food and a night's lodging. 
Maura Mulligan, as the Earth "mother" goddess Danu, welcomed the seated spirits with a brief summary of Samhain, and introduced the storyteller ('Seanchai') and bodhran player Jim Hawkins, whose tale would ease the lifting of the veil between worlds. Jim related the story of legendary bodhran player Stevie MacMillara from County Clare. His music compels listeners to dance. One evening, entering a strange house, he distracts evil spirits with his music and is rewarded with a "tipper," the tool with which many tap the drum skin today.
Karen Daly introduced Diana Beresford-Kroger, an Irish botanist, biochemist and activist who was aware of the ravages of climate change on trees. Inspired, Karen signed on with the Grown Forest organization, planting a blackthorn tree in Ireland in the name of Nollaig na mBan NY.  Dee Nolan, in rich green velvet, was goddess Fodla, part of the supernatural Tuatha De Danann, promoting harvests as gifts which must be revered.
Maureen Farrell, in a welter of sparkly translucent material cleverly symbolizing clean water, reminded us that water can be forever changed by human actions. Some Roscommon towns have been compelled to boil water every day for 6 years! Allyce Fucigna, reading Seamus Heaney's "Lovers on Aran's Shore" likened the sea to a mother figure, encouraging rethinking our attitude to this most basic resource.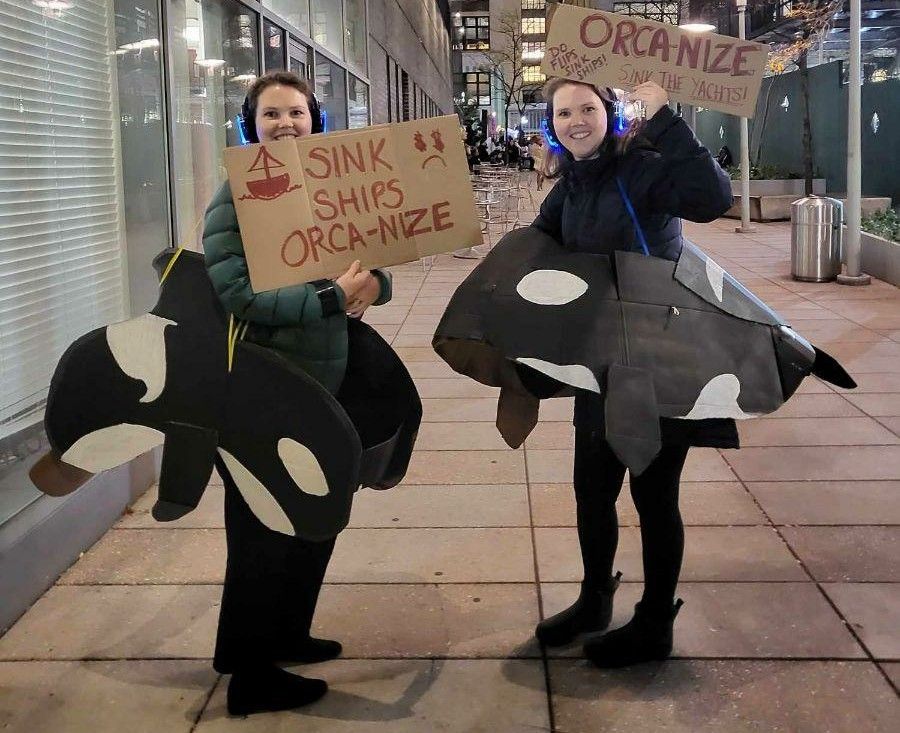 Emily & Gillian Rowland-Kain, who were participants in the Samhain party, making a statement. 
Allisoun Price, wearing a theater-worthy swan costume, searched for her family after an oil spill.  Emily and Gilian Rowland-Kain, combining humor and seriousness, portrayed Orcas planning revenge on the perpetrators of their polluted waters. 
Mary McIntyre, a sun spirit, read poet William Bliss Carman's "The Campfire of the Sun," where "in the darkening hush," a thrush sings "wandering souls" to rest.  Sheila Houlihan presented Sheila Watt Cloutier, Inuit climate activist and Nobel Peace prize winner, whose peoples are dependent on vanishing frost and snow for their way of life. Mary Fee's truly scary witch/skeleton recited Walter De La Mare's enigmatic "The Listeners," whereby a mortal traveler visits a house of silent phantom listeners. The symbolism of the travelers' message, "Tell them I came," falling on unresponsive ears, reflects how our climate alarms are received. Dan Brown, our regular participant and generous photographer, appeared as, appropriately, Sir John Joscelyn Coghill, an Irish photography pioneer who promoted photographs as art. His was the first visual record of social disparity and climate change in the mid-1800s.
Don Meade, who regularly leads live music at the Landmark Tavern, played a Donegal lament, then a jig, joined by Jim Hawkins's bodhran. 
Entrees were served, opening the floor for this author reading her own poem "The Gift of a Breeze," inspired by unusual September Maine heat. Nancy Oda chose Ewart Milne's "Martyred Earth," and Eilean Ni Chuilleanain's "Swineherd," as prescient and current views on nature's struggles.  Pat Mangan read Seamus Heaney's "Belderg," describing the "Ceide Fields," a previous civilization discovered under a bog in Mayo.  The one-eyed "Quernstones" reflect patterns found in the landscape today. 
After a slice of Mary Fee's delicious "Bairin Breac" cake, hiding a ring for marriage, a nut for wisdom and a coin for riches, Don Meade concluded the presentations with "The Hunter's Purse," and  "The Bird in the Bush." A Ceremony of Light traditionally ends our Samhain, where names of the recently passed are spoken aloud. A rousing "Auld Lang Syne" finished the program but the conversations and inspiration far outlasted the candles. Climate awareness was an early theme for writers and artists, and we all hope they document Earth's healing in the future. The rain necessitated donning civilian outfits as we exited, but the costumes and atmosphere trailed us, occupying minds and hearts in the journey back to our own hearth.