Last week, I journeyed to the illustrious city of Belfast, Northern Ireland to attend the 2023 Belfast International Homecoming Gala and host the final week of our Bricks or Sticks workshop series for the city's enterprising business owners.
The entire trip seems like a blur. There were so many wonderful moments; I wish I could have spread them out over a month to appreciate and enjoy them to the fullest. When I returned home, my son asked me, "What is your favorite memory from the trip?"
I replied, "the people."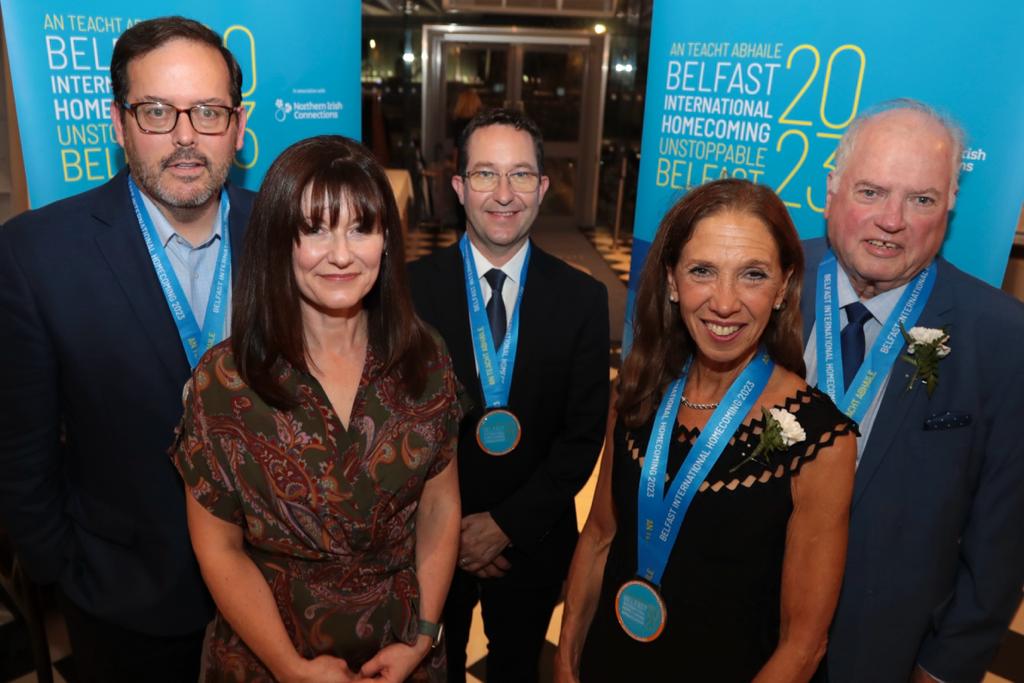 The people I met last week were passionate, inspiring, funny, and full of life. From the business and government leaders attending the gala to the local shop owners and workers, I met while walking around the city. They were genuine and sincere, and wanted to make sure I enjoyed my first visit to Belfast.
@bricksorsticks is a month-long workshop for business owners who want or need a much stronger foundation in business from which to operate. #podcast #businessowners https://t.co/RZXPhYBvfk

— Small Business Edge (@SmallBizEdge) October 5, 2023
At the heart of my excursion was the Belfast Homecoming event. Stretching over two and a half days, this gathering was an equal mix of education, entertainment, and more importantly, unity.
It was heartening to witness ambassadors and honorary chairs actively voicing the vibrant spirit of an unstoppable Belfast. The event, more than just a formal gathering, turned into a festival celebrating the spirit of the city. We were all united by the vision of fortifying Belfast's economic landscape.
At the gala, I watched Neville Isdell receive the Spirit of the Diaspora Award. He is a living testament to passion and perseverance. His endeavor, the EPIC museum in Dublin, tells the compelling narrative of the wandering Irish in Latin America and around the globe, bringing their stories back home.
We are working with Belfast Homecoming to deliver Bricks or Sticks – an acclaimed business training course.

Find out more and book your place now on this sought-after programme taking place in September 2023 >> https://t.co/DVR4U7qxbJ#belfasthome pic.twitter.com/UMhhQbyVVy

— Invest NI (@InvestNI) August 3, 2023
No trip to Belfast would be complete without paying homage to its historic landmarks. The Titanic Museum, standing tall and proud, unfurled tales of the iconic ship and its connections to the city.
The James Connolly Visitor Centre, meanwhile, offered a rich tapestry of Belfast's socio-political history, inspired by Irish rising leader and international labor leader James Connolly.
Adding to the charm of the trip was my stay at the Titanic Hotel and a reception at the Regency Belfast, which combined luxury with a touch of Belfast's rich heritage.
A beautiful start to the #Belfasthome gala. What an incredible night @newbelfast @connlamccann pic.twitter.com/K1Yiew9Ft0

— Brian Moran (@brianmoran) September 28, 2023
The cherry on top of my visit to Belfast was hosting the final segment of "Bricks or Sticks," a four-week workshop I ran with Jocelyn Ring, my business partner. The program is designed to help business owners build stronger foundations for their companies to weather any storm on their journey to success. 
Susan O'Kane, Regional Business Manager of Invest NI paid a key role in supporting the workshop and generously shared her visionary insights on the future of entrepreneurship in Belfast while Neil Allen from the Innovation Factory kindly hosted the workshop. His progressive ideas and innovative strategies reiterated the boundless potential of Belfast's business sector.
If you're wearing a device that monitors your ❤️ health- chances are good that its technology was built by #Belfast's @bsecurtech. An amazing visit- grateful that my new friends from the NY Leg. not only let me tag along- but also gave me chance to talk @ChooseNJ #BelfastHome pic.twitter.com/675r1YKTbm

— Steve Lenox (@LenoxConsulting) September 29, 2023
However, amidst these standout names, it was the collective spirit of Belfast that was the real star. Lord Mayor Ryan Murphy, Máirtín Ó Muilleoir, Connla McCann, members of Belfast City Council, the myriad government employees, business leaders, workers, and students - they are all bound by a common thread - an undying love for Belfast.
As I boarded my flight home, I carried with me not just memories of a beautiful city, but the warmth, laughter, and indomitable spirit of its residents. To Belfast, with love.
You can read more about Brian Moran's Bricks or Sticks project here.