There's always been a rich history of Irish culture and language in the Golden City and that legacy is fuelling a revival today of interest in An Ghaeilge. 
There's no shortage of pioneers in the greater San Francisco area working diligently to keep the Irish language alive.
At their vanguard is Ardara, Co. Donegal native, Imelda White. A San Francisco stalwart of the Irish language, she made her passage many years ago from Donegal to Dublin and then east to Germany before moving to the Bay Area in the seventies and reigniting her passion and dedication to the Irish language.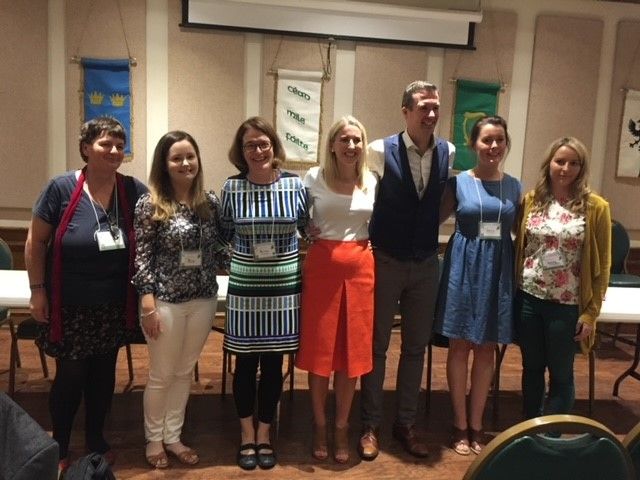 In the Bay Area, her only linguistic ambition was to brush up on her German language skills until, that is, she met John Morrissey. He was teaching Irish at Stanford and on the lookout for immigrants from Ireland able to speak the cúpla focal.
#SaintPatricksDay theory: Irish language word "teas", pronounced chass, means heat, passion, excitement & enthusiasm. #Jazz word first used in San Francisco Bulletin in 1913 by Irish American Scoop Gleeson #MadridJazz #SwingPodcast #SanPatricio2018 🔗https://t.co/SA7QpPYCmQ pic.twitter.com/KPUNP7ihd3

— Alan 🎧 (@AlanInMadrid) March 17, 2018
Morrissey welcomed Gaeilgeoirí from every part of Ireland to meet his students so that they could hear another dialect of the Irish language.
"I started to drop into John's classes, and before you know it, I was madly in love with Irish again," says White.
"I didn't forget about German but I wasn't as enthusiastic about it because now I had found something personal again. When you're this far away from home, 6000 miles, it was nice and comforting."
in 1979 Morrissey then encouraged White to set up her own Irish language class in Mountain View, CA, where she had settled. She went on to run that class for well over 20 years and out of those tiny acorns, Gaeilge oaks grew.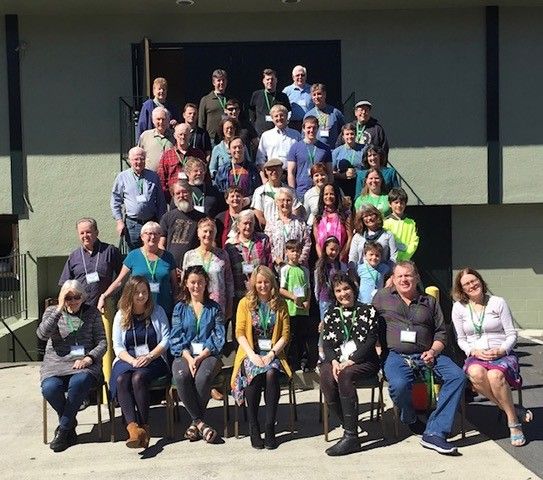 "Many different people attended the language classes, including writers, musicians, singers, and dancers, so we decided to organise céilithe and other events," says White.
Congratulations from Florida! Just publishing an article on the San Francisco Monitor's Irish Language Column 1888-1891. Sounds like your research might intersect mine in SF. Cool!

— Mac an Ridire (@MRidire) November 27, 2019
White is quick to compliment the many people and organizations who have helped the growth of the Irish language in the Bay Area, often stepping back from the limelight herself, but she certainly is the leading lady in keeping the language alive and bringing it to new generations. 
"Teaching and staying in touch with my Irish language and Irish roots has sustained me down through the years," says White. "I've always been a happier person when I'm teaching Irish; I love doing it."
She has also taught at Berkeley and Stanford and was asked by Comhaltas Ceoltóirí Éireann, who have always been at the heart of the Irish language and cultural movement in the Bay Area, to teach a class at the United Irish Cultural Center in San Francisco. She has kept that commitment since 2004.
The Irish language has been popping up in some unusual places recently - Dutch radio stations, Greek IT companies, even on public busses in San Francisco. In an all new episode we explore the effects of Irish becoming a working EU language. 🚨Out now! ☘️👇 https://t.co/iiGO6PyGDx

— The Irish Passport Podcast (@PassportIrish) January 25, 2022
Josephine Brogan at the Cultural Center has also worked tirelessly to keep the Irish language program going strong. During Covid, she supported teachers and students to switch to online classes. She has been the custodian of the language for them all.
Another key person, Nikki Ragsdale, attended White's classes for years before going on to organize total immersion weekends. These 'mini-colleges' attract ambassadors of the Irish language from Ireland to the Bay Area.
"We had veteran teachers who form the backbone of Oideas Gael adult learning centre in Gleann Colm Cille, Co Donegal: Liam Cunningham, Éamonn Ó Dónaill and Ray Mac Manus," says White. "It's fair to say that we have had all the great teachers from Ireland.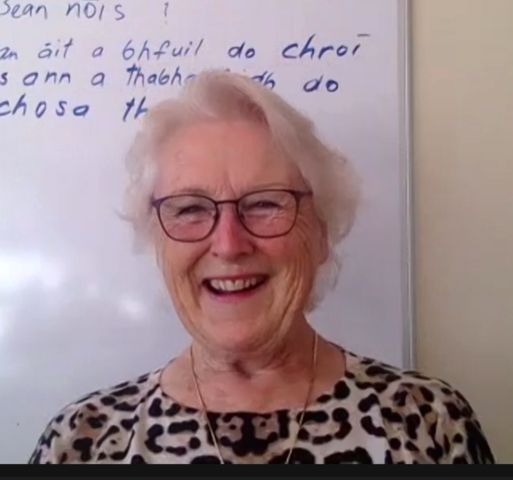 "They came for the San Francisco Irish language immersion weekends, and they were the most wonderful experiences listening to expert speakers and cultural proponents telling us not to worry about making mistakes. It's alright. To err is human."
Among the luminaries who spoke in White's classes were Seán Ó Tuama who compiled the classic 'An Dunaire - Poems of the Dispossessed. 
"His son, Aodh Óg Ó Tuama and his wife Christy Martin of the group 'Four Shillings Short,' put together an Irish language concert for my class."
In the diplomatic bag from Dublin this morning: a first edition of An Duanaire with my grandfather's inscription. pic.twitter.com/5Y7cXZuqh5

— John Gallagher (@earlymodernjohn) July 12, 2016
White's classes are a beautiful blend of the rich sounds, sense and rhythm of the language learned through poetry, prose, and song.
When a child first learns words through song and simple nursery rhymes, they don't even realize they are learning or working in this wonderful world of discovery through music, rhythm, and rhyme, and so it is with language learning at all ages.
"The lovely richness of the language is key," she says.
White has her students reading Irish language novels, singing songs, and discovering the language through poetry as Gaeilge so they are exposed to grammar, idiom, poetical language and tradition through a joyful learning lens and the wisdom of a teacher who knows and loves the language.
"I have loved every minute of all of the years that I've taught Irish," says White. "And it has nurtured my soul and kept me in touch with my roots."
An in-person Bay Area Pop-Up Gaeltacht held recently attracted not only students and those hoping to practice their irish but also Irish language teachers in the area and the Irish Vice-Consul, Michéál Smith. 
A little girl in San Francisco and one in Dublin are teaching each other Spanish and Irish, and this makes me happier than I can say. pic.twitter.com/eoIPPcC05C

— Pádraig Belton (@PadraigBelton) November 12, 2022
Mary Connolly, originally from Belfast, who has attended Irish language classes for years, is the person behind all the Pop-Up Gaeltachtaí, working to bring community and the Irish language together to the Bay Area.
"The Pop-Up Gaeltacht and the Irish language will thrive and survive in a wonderful way," enthuses White. "Mary Connolly is stepping in as the keeper of the language."
Of this we can be sure: The Irish language community in San Francisco will continue to build on its legacy and golden past to sustain a language that has stood the test of time and gives a richness to future generations in the Bay Area and beyond.