The 1st Irish Theatre Festival is back – live and in-person – for 2023.
"The Irish Rep, 59E59 Theatres, the New York Irish Center, the Irish Arts Center, An Béal Bocht Café. They're all on board," said Origin Theatre Company's artistic director Michael Mellamphy about the festival, which begins with a reception at the Irish Consulate on next Monday, Jan. 9, and continues through its awards ceremony at Irish Arts Center on Jan. 30 
It is Mellamphy's third festival in charge. Appointed late in 2020 to replace Origin and 1st Irish founder George Heslin, who had been appointed the new executive director at the New York Irish Center, he organized the fully online 1st Irish Festival in January 2021.
The festival stayed with the online model last year, because of the continuing uncertainty caused by the pandemic; the right decision, it turned out, with the Omicron variant proving highly disruptive. 
"We did bring back some in-person programming but it was quite limited," Mellamphy said. "This year I wanted to move forward." 
The only programmatic element that has survived from the 2021 festival, which Mellanphy co-curated with fellow Cork-born actor Sarah Street, are two film screenings, but both will happen in front of audiences rather than online.
If Irish Repertory Theatre and others were impressively inventive in the face of the pandemic, that was "out of necessity," he said.
"There's probably still a place for it [online programming], but from my point of view doing an online festival takes as much energy and money and resources from different areas as putting on an in-person festival," he said. "Steaming platforms weren't invented for live theatre." 
Mellamphy, twice the recipient of the performer of the festival award ("They're hanging up in my mum's house in Macroom, Co. Cork," he said), is also making an in-person return.
In 2018, he did what he called a "barebones" production of "The Smuggler" at the Cell Theatre, and the Irish Rep were due to mount a new version in the spring of 2020. Then history intervened.
"Now that the dust has settled in the theatre community, we said 'why not do it?' and I'm thrilled to be doing a one-man show," he said.
"At my heart, I am an actor. Taking on the role [as artistic director], this was the thing I made clear: I wanted to still be able to get up on stage," Mellamphy said. "That's where I'm happiest, in the rehearsal room."
He said more generally of his role leading Origin, "I was very honored when I had the opportunity to interview for it and even more so when they offered me the position. 
"It's a new direction for me, it's a challenge," Mellamphy said. "There are many things I love about it. I feel very blessed to be working in the industry that I love, that I went to school for, that I trained for, that I've dedicated an awful lot of my life to.
"In terms of networking, it has been absolutely brilliant to be able to connect with fellow professionals in the United States, as well as back in Ireland and across Europe," he added.
By way of example, Mellamphy referred to a one-week workshop he did in Dublin recently. "It was nice to be able to tell them about what we're doing here in New York with Origin," he said.

Opening week for 1st Irish
The following are extracts from the program relating to events in the first week of the festival. For full details, click here.
"The Festival opens officially with the US premiere of 'Heaven' produced by Dublin's Olivier Award-winning Fishamble, the New Play Company.  Written by Eugene O'Brien (winner of the Rooney Prize for Literature for "Eden"), and directed by Jim Culleton (Irish Times Best Director Award winner 2019), "Heaven," which will be seen at 59E59 Theaters, is Fishamble's 9th production brought to New York as part of Origin 1st Irish. (Performances from Jan 11 to 29)
"Also at 59E59 Theaters for the Festival is the pitch-black dark comedy, 'Frankenstein's Monster is Drunk and the Sheep Have All Jumped the Fences,' a new work devised by Zoe Seaton based on the short story of the same name by Owen Booth.  Belfast's Big Telly brings this acclaimed, cast-of-four production, which The Guardian calls 'magical,' to New York for its US premiere. (Performances from Jan 11 to 29)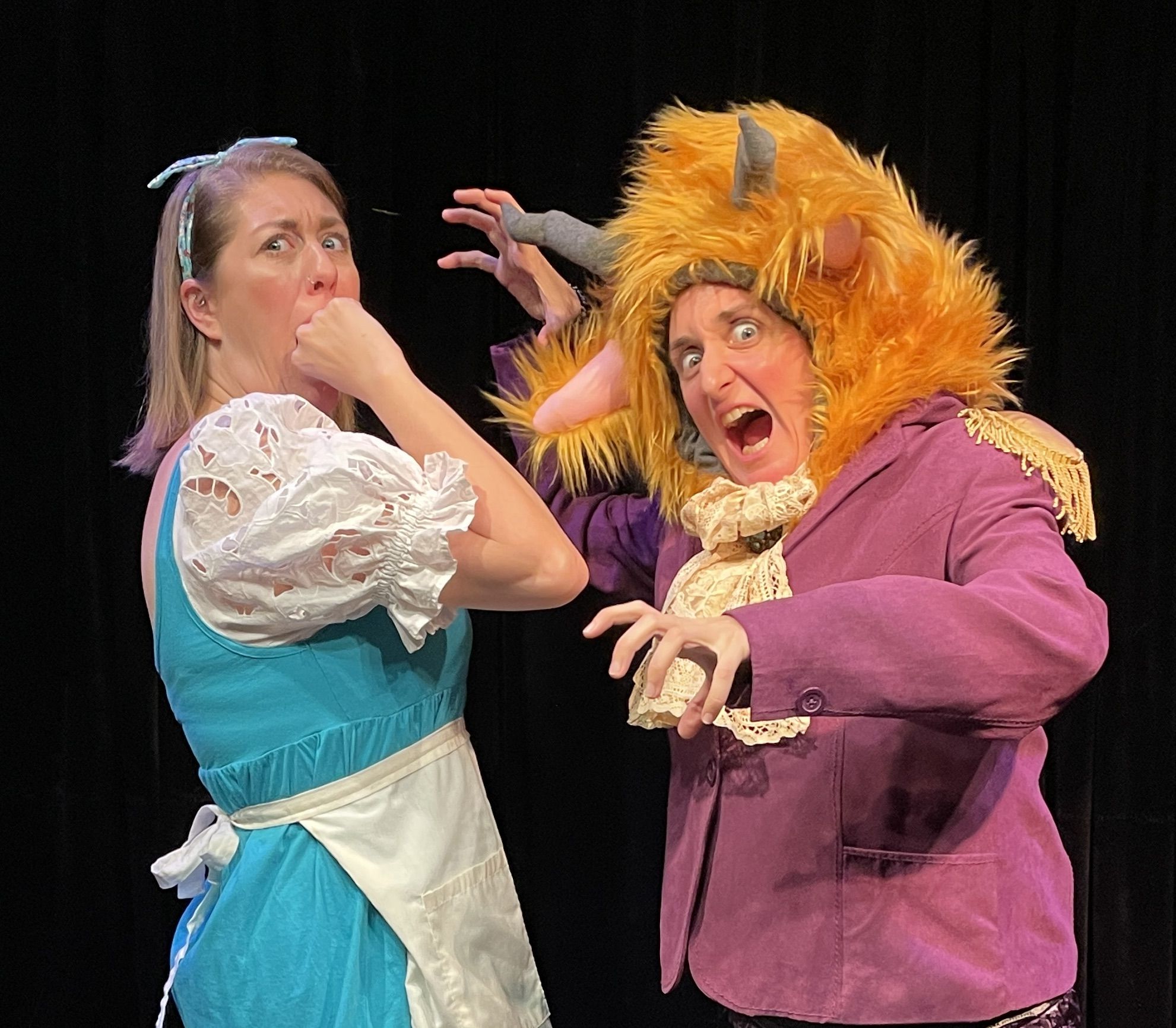 "Beauty and the Beast" is perfect for panto fans.
"Tucked in a traditionally Irish enclave in The Bronx, the charming and bustling café An Beal Bocht, which is home to Poor Mouth Theatre Company, lets the Christmas holidays linger on with special encores of their immensely popular holiday pantomime.  That's right Virginia, it's always Christmas in the Bronx! (Sat Jan 14 at 8pm, and Sun Jan 15 at 2pm)."