By mere coincidence, both the New York Racing Association and Churchill Downs kicked off their fall meets on Thursday. Also by mere coincidence, the first race at both was won by an Irish jockey. 
          Declan Cannon brought in Laurence McGrath's Hornbeam for trainer Andrew McKeever at Churchill. He rallied the Juddmonte castoff, a 3-year-old gelding, to a three-length victory running two turns on the main track against maiden $10,000 claiming stock. The win price came back $8.48. Any encore will be under new management, as Hornbeam was claimed out of this race. 
          Winning the curtain raiser seems to be habit forming for Cannon. He took Saturday's first race in Louisville aboard Richard Perkins's Edge of Glory, trained by John Ennis. This was a maiden claiming tilt at the $20,000 tier over seven furlongs and Cannon had an adventurous time of it but got his charge up by one-half length at the wire for a $6.40 mutuel reward. If Cannon rides Edge of Glory back, he'll do so for another barn as the 3-year-old gelding was claimed. 
          NYRA has shifted the Belmont Park fall meet to Aqueduct while various construction projects take place. The meet's first race, the William Entenmann Novice Stakes, was taken by Proven Innocent, a 4-year-old gelding owned by Bruton Street-US. Jamie Bargary and Proven Innocent unleashed a relentless drive down the lane the final time that saw them wear down The Mean Queen, the odds-on choice, by a head at the wire. The win mutuel came back $19.00.
          Half an hour later, Irish-bred Noah and the Ark upset the Grade 1 Lonesome Glory Handicap. The 8-year-old gelding, bred by J.A. Slattery and now owned by Keystone Thoroughbreds, zipped past odds-on favorite Snap Decision around the far turn the final time and drew off to win by nine lengths under Harrison Beswick. The Todd McKenna trainee paid $84.50 to win. 
RUNNING BIG IN PA
          By most metrics, Pennsylvania-based trainers Naoise Agnew and Carl O'Callaghan would be considered small-timers. So, when either man wins two races in a week, that becomes noteworthy. More so because they both did so last week. 
          Agnew shipped Movisitor, owned by Forgotten Land Investment, Inc. to Presque Isle Downs for Tuesday's fourth race, a maiden special weight sprint at six furlongs. The 2-year-old homebred colt, ridden by Jordano Tunon, led all the way and scored by just over two lengths in his second career start. He paid $8.40 to win.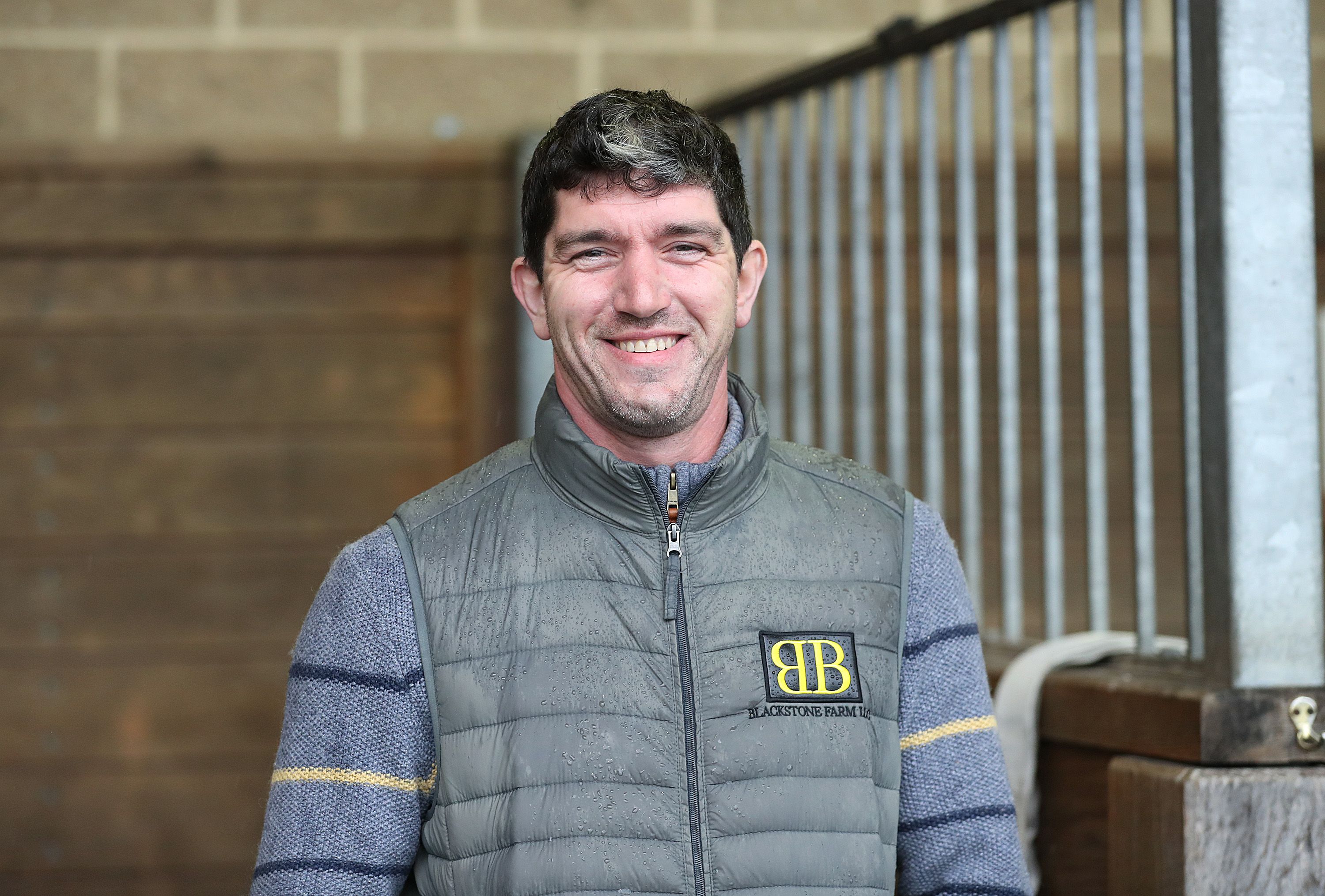 Naoise Agnew.  [Nikki Sherman/Equi-Photo]
          Closer to his home base, Agnew got another victory on Thursday at Penn National on the heels of Tom Coulter's Organized Chaos, a 2-year-old filly making her third career start. The winner and Tyler Connor opened a long, early lead in this main track sprint for maidens and cruised on in by six lengths. She paid $6.00 to win. 
          As for O'Callaghan, his fortunes brightened considerably when Wednesday's first race at Penn National was moved to the main track. That left County Clare Stable's Moti with just two rivals, a task easily discharged in a nine-length victory. Angel Rodriguez rode the winner in this second-level allowance/optional claiming mile. Moti paid $2.80 to win. 
          O'Callaghan wielded a one-two punch in Friday's sixth race (a maiden special weight sprint) at Penn, which yielded a one-three finish. The winner was first-time starter Tra Lad, a 3-year-old colt owned by Killian O'Callaghan, the trainer's 4-year-old son. Tra Lad bumped stablemate Sir Rex leaving the gate and then engaged in a pace duel with heavily favored Enforcer, which lasted to the wire and into the stewards' stand, where the solons of the sport adjudicated a dispute in Tra Lad's favor. He paid $7.20 to win. 
          Sir Rex, which ran evenly in his racing debut, finished two lengths behind Tra Lad. He's owned by Dr. Pat Sheehy, a Cork native and Newport Beach, Calif.-based oncologist, with whom O'Callaghan hit the heights over a decade ago with Kinsale King. 
WALSH TRIPLE
          Brendan Walsh sent out three winners at Churchill Downs on Sunday. Chuck and Maribeth Sandford's Gold Luck, a 2-year-old homebred colt, broke his maiden in the fourth race, a main track sprint at the $50,000 claiming plateau. Gold Luck closed under Vincent Cheminaud to score by two lengths. He paid $6.80 to win and moved on to a new barn via the claim box. 
          Later, in the seventh race, Walsh sent out the first of two Godolphin homebred winners. Pretty Mischievous, a first-time starter, broke from the outside post, assumed a stalking position and then wrested command around the far turn. The 2-year-old filly and Tyler Gaffalione reached the wire in front by just over two lengths. She paid $6.16 to win. 
          About an hour later, Walsh got his third win via Dorothea in a first-level allowance mile. The 3-year-old filly, which had broken her maiden last out at Ellis Park, settled off the pace, made a race of it entering the lane and grabbed the lead at the sixteenth pole. She won by a length. Joe Talamo rode the $15.36 winner. 
ONE-TWO PUNCHES
          A pair of graded stakes on Saturday featured Irish-bred exactas. The Grade 3 Jockey Club Derby at Aqueduct saw Godolphin's Nations Pride romp by six lengths under Frankie Dettori over The Grey Wizard. The winner returned a paltry $3.10 to win and keyed a $33.40 exacta. 
          Meanwhile, at Woodbine, the Grade 1 Summer Stakes resulted in another Godolphin Irish-bred victor from the yard of Charles Appleby. Mysterious Night, ridden by William Buick, cruised on home by almost six lengths over Appraise. The winner fetched a $3.10 win mutuel and headed a $7.30 exacta.