Few people can be said to have had such an enormous influence on their nations' history or standing in the 20th century as Michael Collins did for Ireland and Winston Churchill for Great Britain. Nor can there be found more divergent backgrounds in terms of upbringing, status, and privilege than these two remarkable adversaries who came together to overcome centuries-old grievances when a truce led to negotiations on a treaty and a constitution that laid the foundation for a new nation, the Irish Free State.
 Both Collins and Churchill had staunch admirers and vehement critics at home and across the Irish Sea, but what were they really like? Some writers seem to infer that Churchill disarmed Collins with his wit and charm, but the reverse certainly was true. Collins persevered through the negotiations while facing a formidable opposing team that included Prime Minister Lloyd George, Churchill, and Lord Chancellor Birkenhead. In the end, Collins won them and most of London over, at least on a personal level, with his quick mind, wit and charm. Churchill himself admitted that he was only a junior partner of the team negotiating the treaty, but it was his unparalleled powers of persuasion that carried the day when it came time for Parliament to vote on it, and Collins and Griffith were in the Visitors' Gallery to hear him defend Michael's Irish Constitution and secure its acceptance.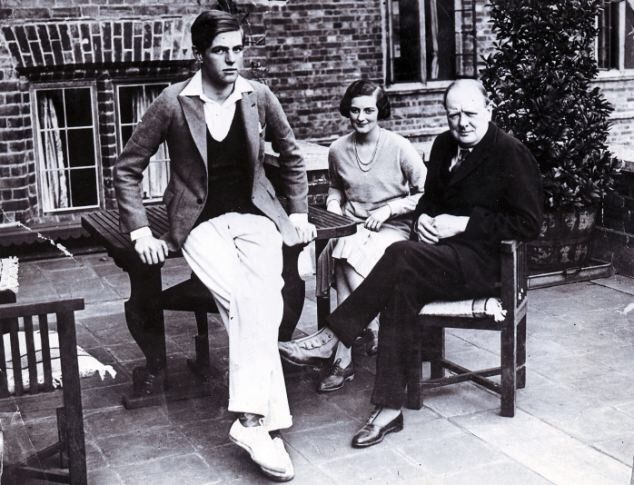 Winston Churchill in the early 1920s with his children Randolph and Diana.
 People often come to realize that someone they once met has had an enormous influence on them and set them on their paths in life. So was it for me—doubly so. I was fortunate to have an incredibly charismatic, humorous, and inspiring teacher at Archbishop Molloy High School, Richard Salmon, who had emigrated from Ireland to New York in the 1950s. He taught us an advanced 20th century history class covering the period between the two world wars and the rise of nationalism and fascism across Europe. He warned us to be vigilantly critical of anything we read, even famous historians, and had us splitting our sides in laughter at what an idiot A.J.P. Taylor was. Richard recognized my affinity for the subject and encouraged me to take it up as a major at college, which I did, though midway through, I switched to art history. My degree did not lead to work in that field, but eventually I became a fine arts photographer and worked for over 30 years as a freelancer for Christie's, Bonhams and many galleries in Manhattan. I also had the opportunity to work with the Martha Graham Dance Company for several years and produced a book on that collaboration, "Acts of Light, Martha Graham in the 21st Century."
 Along the way, I read the biographies of Winston Churchill by Martin Gilbert and William Manchester, which described his negotiations with Michael Collins and some of their well-known humorous exchanges. I decided this would make an excellent subject for a fictionalized account of their collaboration, the Anglo-Irish Treaty. I then had the privilege of meeting Tim Pat Coogan, the author of the immensely entertaining and definitive biography of Collins. Over dinner, I mentioned a quotation attributed to Michael that had its origin in Churchill's book of those times, "Aftermath," which every biographer of Churchill has repeated. Shortly before Michael's death, Churchill wrote, Collins "sent me a valedictory message through a friend for which I am grateful. 'Tell Winston we could never have done anything without him.'" Tim Pat immediately quipped, "That doesn't sound like anything Collins would have said."
 This pronouncement set me on a quest for the origin of this message, and years later I discovered it while scrolling through rolls of microfilm at the New York Public Library on 42nd Street. Richard and Tim Pat were both right—you can't trust everything you read—and I weave my findings into my story and while at it, see to some other tropes worthy of debunking. 
 I set out to entertain readers with a history interlaced with a daily dose of humor, a tale drawn from two distinct perspectives—one Irish, one British. I have difficulty describing my work, so I'll rely on the words of an old friend to whom I sent a press copy of the book. He wrote back:
 "All the characters are vivid and three-dimensional, meeting the reader through their inimitable actions and reactions and particularized dialogue, rather than exhaustive (and exhausting) descriptions. That's also very attractive. The characters met me and introduced themselves to me; and you maintain great consistency.
 "Very impressive is how much data and accurate material you've synthesized and brought to life. Your respect for both Collins and Churchill is palpable and real: you never idealize either of them. Your sketches of Lloyd George and Eamon de Valera are masterful. But no character is a 'minor' character in the sense of being forgettably drawn if only functional to the action. They are all real people. I'm impressed how well you integrate detail without cluttering the narrative.
 "There's humor through the entire narrative; without the humor and irony, the story could be unbearable. You're the right writer for the job; I don't think you can write without humor and irony. And no sentimentality, which garners high points in my book."
 Drawing on biographies, newspaper accounts, records of official meetings, and personal letters of Collins and Churchill, we follow the daily lives of these two men, we learn how their beliefs, loves, and friendships informed decisions and actions that sometimes seemed questionable but adhered to principles that dictated that each do what he felt in his heart was best for his country.
John Deane's "Stepping Stone to a Free Ireland, Truce" is the first of three volumes and cover the period from Bloody Sunday, 1920, to the start of the treaty negotiations the following October. It will be followed by "Treaty" in the fall and soon afterwards by "Freedom." For more on the author, go to www.johndeane.com.