Meath 3-10; Kerry 1-7
Kerry began this game in a whirlwind as if they believed the "double" of men's and women's All Ireland titles was a formality. They breezed 1-2 into the lead but by the end of the first quarter, their hurricane had blown out and this allowed Meath to storm into the game at Croke Park on Sunday.
The women from the Kingdom then found themselves in the doldrums as the winners' defence gobbled up virtually every morsel that Kerry threw at them for the rest of the game while their own quick transformation from defence to attack saw them win the game by nine points – in fact it could have been double that.
The "Meath system" is arguably the safest roadblock against scoring in either men's or women's football – what manager Eamon Murray has perfected is the speed of transition that takes place as they spill from  designated positions at the back to form a phalanx of attacking options when regaining possession of the ball.
They talked of Louise Ni Mhuircheartaigh being the female version of David Clifford and when she chipped an exquisite goal to go with an earlier point, we wondered if we were about to see a Kerry forward dominate Croke Park on All Ireland final day for the second Sunday in succession.
Such thoughts were banished quickly as the Royalettes stormed back with their own brand of scoring capability which made it clear by half time that there would really only be one winner in this game.
Even when they were five points down, they never panicked and when Emma Troy got in for their first major (with Niamh O'Sullivan and Bridgetta Lynch getting the others in the second half), one side upped their game and the other mentally found they were out of their depth.
The big challenge for Murray and his Meath squad now is that they will lose two stalwarts in Vikki Wall and Orla Lally to Aussie Rules without knowing if they can or will be able to return for next year's championship.
Wall in particular is a force of nature in this game though Lally's constant running between defence and attack makes her an irreplaceable cog in Murray's machine as well.
By now beating Dublin and Kerry in successive finals, this Meath side have proven themselves but if they have ambition to win three-in-a-row, losing two key players will make it all the more difficult to attain.
Kerry's moments to cherish came early when Ciara Murphy opened the scoring for them and Ní Mhuircheartaigh slotted a free and then literally chipped in with a goal for the ages.
That would have rocked most team back on their heels but the Royal ladies were level with five minutes thanks to Stacey Grimes with a free and then the goal that changed the game following an incisive run by Kelsey Nesbitt. Her attempt at a shot turned into a pass to Emma Troy who despite pressure struck the ball home into the corner of the net.
When Wall landed a free in the 13th minute to put her side ahead, it was a lead they never relinquished for the rest of the game as their more accomplished game plan proved too much for a game Kerry outfit.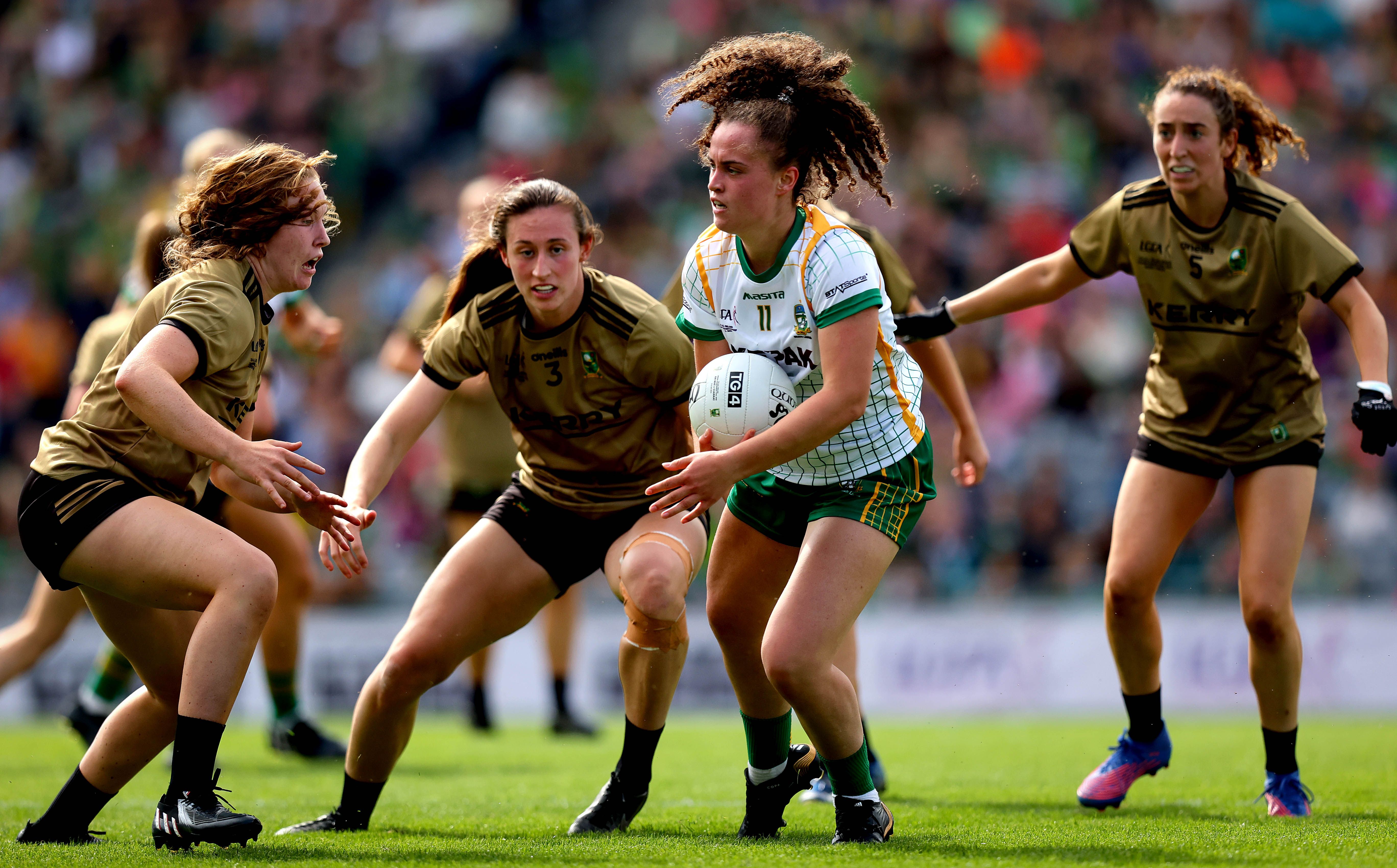 Meath's Emma Duggan is challenged by Kayleigh Cronin and Ashling O'Connell of Kerry. [Inpho/Ryan Byrne]
Meath were only three points to the good at half-time but by then the trend of the play was obvious as the losers tried to find scoring paths but invariably ended up in cul-de-sacs.
After eating up attackers a number of times with their swarm defence, they then delivered their own one-two of second-half goals to end the game as a spectacle with two goals in three minutes.
When they turned over a Kerry kick-out, as they did most of the day, quick interchange of passing between Emma Duggan, Lynch and Grimes, meant she had a goal at her mercy but elected to make doubly sure by selflessly passing across the square to O'Sullivan who only had to palm the ball home. 
Moments later Grimes was again the central player when she off-loaded to substitute Lynch to notch up the third goal after her palmed effort had come back to her off the crossbar.
Afterwards Manager Murray was effusive in his praise for his squad. "It takes a special bunch to do two-in-a-row. We showed Kerry, and a few other teams, that it can be done. Kerry know all about our system, and how we play. Dublin thought the same last year but when you hit this system you know all about it. Kerry were held to 1-7 for a long time.
"Even when they scored 1-2 early on, our response was brilliant -- three different players scoring goals. Bridgetta came off the bench and she was magic, played the best game of her life. All our subs did very well today. We were told during the week that we didn't have subs, but I think we proved today that we have.
"You'd have to win it for that crowd. The lift they gave us. A turnover, a wide for them, it was just magic. We probably had as many supporters there as the other five teams put together, but you wouldn't expect anything different from Meath.
"It was good that they gave us a handy day out, and that we weren't sweating at the end," Murray added.
Kerry joint manager Darragh Long was understandably disappointed that they couldn't build on their great start. "We came up here full of belief and confidence that we could come away with a victory. We got a fantastic start. Then we gave away a silly goal; Emma Troy seems to be our nemesis. We competed really well in the first half, and started the second half quickly
"Sloppy mistakes in the first half and second half, stupid turnover ball. Fair play to Meath, they timed their run to perfection. They kicked 3-10 and they're All-Ireland champions for a reason," he said.
Meath: M McGuirk; S Ennis (capt), M.K. Lynch, K Newe; A Leahy, E Troy (1-0), A Cleary; M O'Shaughnessy, O Lally; M Thynne, E Duggan (0-1), K Nesbitt (0-1); V Wall (0-3), S Grimes (0-3), N O'Sullivan (1-2) Subs: O Byrne for Leahy (22), B Lynch (1-0) for Nesbitt (42), O Duff for Grimes (57), SWall for Thynne (57).
Kerry: C Butler; J O'Sullivan, K Cronin, E Lynch; A O'Connell, A Costello, C Murphy (0-1); L Scanlon (0-1), C Lynch; N Carmody, S O'Shea (0-2), A Galvin (capt); P McCarthy (0-1), D O'Leary, L Ní Mhuircheartaigh (1-2, 0-2f)) Subs: N Ní Chonchúir for Carmody (44), E McGlynn for McCarthy (46), A Dillane for J O'Sullivan (51), C Evans for O'Leary (57), M O'Connell for A O'Connell (58)
Ref: M Farrelly (Cavan).