On a scorching July morning, hot enough to sear a swine on a Hell's Kitchen curb, Asher Muldoon bravely shuts the window behind him, for the clarity of recording our conversation. At the hazard of broiling alive in his apartment, the 23-year-old actor, composer, lyricist and playwright, who as a high school student recorded the entire score of what is now his Off-Broadway production debut, perhaps already resigned himself to the sacrifices needed for preserving sound, and the instinctive gesture was admired. 
Muldoon prepared himself for another early afternoon for a series of tech rehearsals leading up to his first professionally-staged musical, "The Butcher Boy," adapted from the 1992 Patrick McCabe novel, which recently started its premiere production at the Irish Repertory Theatre (through Sept. 11). At this early hour, not quite yet ordinary to the actor's routine, Muldoon bustles with an inspiring focus, blighted only at times by pensiveness and brief whimsy. 
"I'm so excited for people to see this show that has existed in my head for about six years now," Muldoon remarks, in anticipation of opening night. "Of course, because I am also a very anxious person, I'm also terrified that people are going to see it, because when something's in your head, it's safe. But I'm really excited, but," Muldoon, interjecting on himself, revises: "Mostly excited, a little bit scared."
Calibrating expectations and angst are perhaps what most epitomize Muldoon's illustrious coming-of-age journey, for art and artist alike, in what began in a high-school classroom and now stands on its own under the Off-Broadway lights.
The idea for the musical first began in 2016, when Muldoon, while enrolled in an Irish literature and culture class in his junior year of high school, was assigned Patrick McCabe's novel "The Butcher Boy," which became the foundation for his senior year project: to write an original musical. "We were assigned this novel, 'The Butcher Boy,' and as soon as I read it, I felt I had to do something with it, because as I was reading through it the first time," Muldoon recalled," I felt my composer brain, my musical theatre-writer brain – the alarm started going off. Because there is, in McCabe's work, but especially in 'The Butcher Boy,' such a musicality of language and the characters all talk in a very musical way, they all have very specific rhythms, which is a sign of good prose I think, and also something that can be translated into the medium of musical theatre really well."
Muldoon would further fine tune his musical demos and script for "The Butcher Boy" while an undergrad at Princeton University, eventually bringing his work to Irish Rep. 
"I approached Irish Rep with it because I knew that they had staged the American premiere production of a play called 'Frank the Pig Says Hello,' which is a play that McCabe himself wrote of 'The Butcher Boy,' which he adapted himself into a two-person play. And Irish Rep had done the premiere [staged Jan. 23, 1996], so I said 'Hey I know that you've done something with this character before, and would you be interested in reading this and maybe giving me thoughts, and didn't even know what would come from that, but that resulted in them doing a reading of it in 2018, which was great. And after that it was like, 'well, we'll do a production!'" Muldoon said.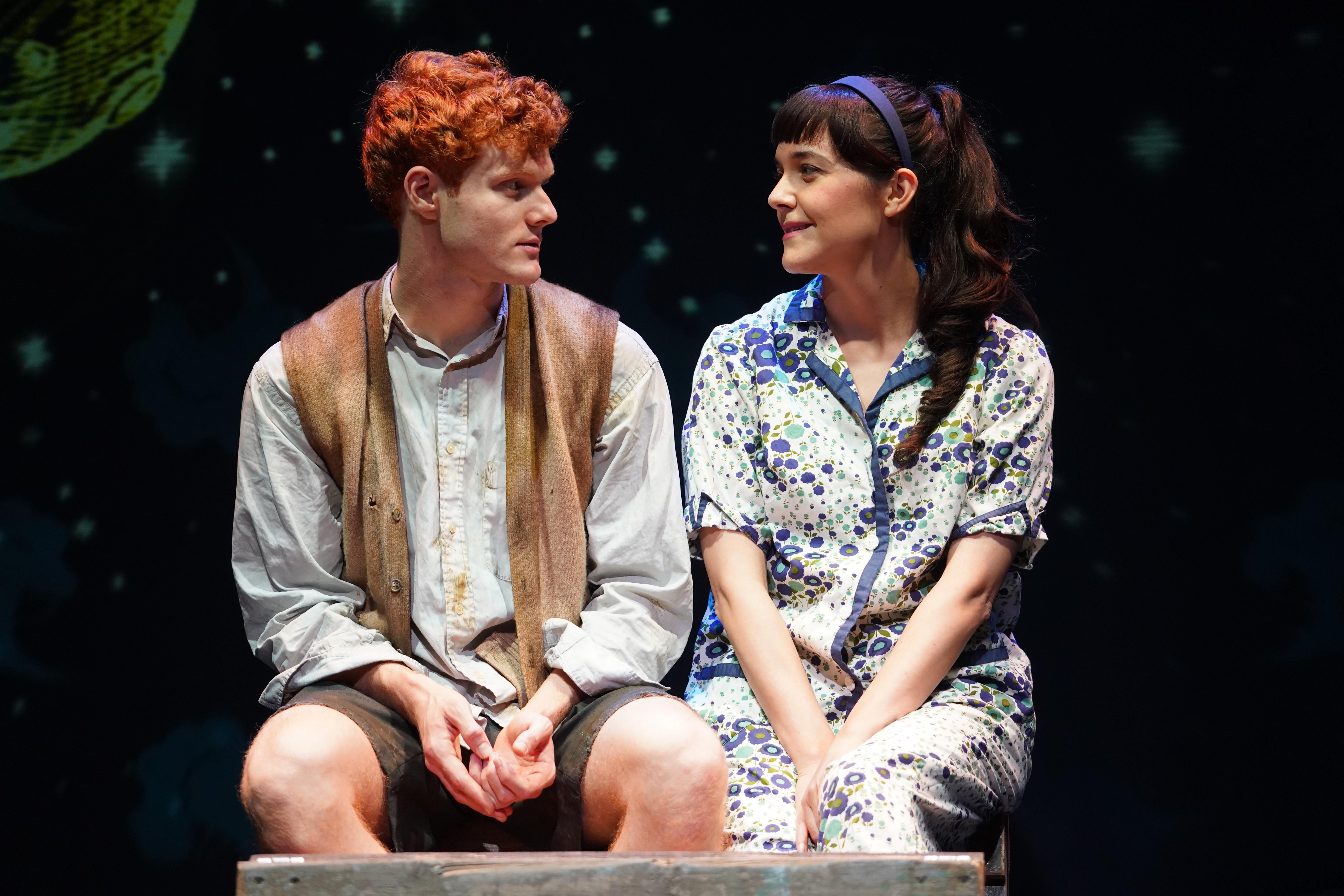 Nicholas Barasch and Kerry Conte in Irish Rep's 2022 World Premiere production of "The Butcher Boy." [Photo by Carol Rosegg]
A star-struck casting in a national tour of "Dear Evan Hansen" followed by a worldwide pandemic placed production plans for "The Butcher Boy" on ice, but after a four-year pause, Muldoon's new musical is playing at Irish Rep, and the collaboration has been worth the wait. "This is new territory for them and it's new territory for me also. So I think that actually kind of helps us, because we're all sort of figuring it out together. This is my first professional experience with having my writing performed, it's their first time in a while doing a new musical, and I think that actually makes the process more fun and more illuminating," he said. 
For Muldoon, when reflecting on the six years that led him from required reading to Off-Broadway premiere at Irish Rep, a learning curve applies as much in his own life as to theatre, and his pangs of introspection are endearing and sincere. "Since this is the first full show that I wrote, the writing process of this show was a lot about finding my own style as a songwriter and as a book writer. And who knows if I did. I started writing it when I was 16, and now I'm 23, and people in their early 20s, when they write stuff, are doing impressions of the people that they like and there's nothing wrong with that," he said. "I hope to learn what I have learned, and what I will continue to learn over the next few weeks, which is how to give something away, especially when a project is so personal. I was always excited and scared about that, because it's always scary to open the doors of the creative process to somebody else. But it's still important to note that that's how it's done. That is where the art comes from: Do you play well with others?"
Have humility, and don't hog the limelight. Muldoon makes the grade for lessons in life.
For tickets, visit irishrep.org.