Geoff Mulcahy isn't a big wheel in the Midwest, where his stock competes on the Kentucky, Indiana and Ohio circuits. In fact, most of his operation at his Lexington base is geared to horses either taking their first steps on the path to the track or those rehabbing before a return to the track. So, the Tipperary native's name seemed a little out of place when Henrietta Topham, a 4-year-old homebred filly that he trains for Michael and Liz Burns, rallied to win the Centennial Distaff Turf Mile at Ellis Park on Sunday. 
The winner, ridden by Gage Holmes, dawdled in the early stages and rallied down the center of the course to get up by one-half length. She returned $21.44 to win. 
This was the first career stakes winner for Mulcahy, 49, who was raised in the Golden Vale. He's assisted in Lexington by his wife, Sandra, a Cork native. 
Henrietta Topham was still a maiden as of two months ago. She broke her maiden and repeated in a first-level allowance race, both at Horseshoe Indianapolis. Mulcahy entered her in the Ellis stakes race, uncertain that she'd be able to draw in, and cross-entered her at the Shoe in a Tuesday allowance race. After the Ellis racing department confirmed that their race had come up light on entries and that she would get in, he pointed the van for Henderson, Ky. on Sunday and scratched from Indy. 
"I thought she'd run very well," Mulcahy said. "I was hoping to just get a piece of [the purse]. It was great fun."
That Mulcahy kept Holmes, an apprentice riding the stakes race without her weight allowance, on Henrietta Topham is a trademark of the Burns' approach to the sport. 
"They're very big on loyalty," Mulcahy said. "She knows her well and is out to prove a point as well."
Mulcahy also pointed out that the Burns don't rush their horses to the races. 
"She was a big yearling," Mulcahy said of Henrietta Topham. "We turned her out for quite awhile to mature."
Mulcahy is the only trainer the filly has had. He broke her and put her through her initial paces under saddle. She didn't make her racing debut until last September. She nibbled in three races and was given the winter off. Returned to the races in June, she surprised everybody by winning at 19-1. Her three victories this year constitute the sole successes her trainer has enjoyed in 2022.
Mulcahy is mulling his options with Henrietta Topham and a $750,000 stakes race at Kentucky Downs next month looks especially appealing to him, especially since stakes races in the Bluegrass State prohibit horses to run on Lasix. 
"She's never run on Lasix," Mulcahy said. "I think that gives us a big advantage."
IRISH FLAVOR AT THE SPA
The week's stakes races at Saratoga had a strong Irish flavor to them, beginning with Friday's Grade 3 Troy Stakes in which Golden Pal, owned in part by the Coolmore interests, overcame a stubborn True Valour, ridden by Fergal Lynch, in the final strides to get up by a head. The winner, a 4-year-old colt trained by Wesley Ward, returned $2.60 to win. 
"He got the lead," Lynch said of his 8-year-old mount. "I was expecting Golden Pal to go but when I saw I cleared him out of the gate, I wasn't going to disappoint the horse in his grind. He got it very easy in front and when we kicked, I thought we'd won it. For an 8-year-old, we're two old men in the twilight of our careers and we're just enjoying it."
Ward also figured large on Saturday, when he sent out Shane Ryan's Chi Town Lady to an upset victory in the Grade 1 Test Stakes. The 3-year-old filly, which Ryan bred with Gavin Tierney and the Kilboy Estate, had last won in the Bolton Landing on the Saratoga turf last year. She'd gone winless in four subsequent races but appeared to relish the sloppy track over which the race was run. She ambled along dead last under Joel Rosario and then uncorked a rally that got her to the wire in front by one and 
one-half lengths. She paid $36.00 to win. 
"I wanted to take one shot from way back and do what she's been asking me to do, which is make a big charge and a big grind," Ward said of Chi Town Lady. "We were hoping for a second or third – a graded placing – to see if the race fell apart, and here we are in the winner's circle. She's come a long ways. I just think that I had to kind of learn to listen to her to where she wanted to go easy the first part and come on late. This will be her running style from now on."
The trainer/jockey tandem of Charlie Appleby and William Buick aligned to win the weekend's route races on the lawn for 3-year-olds with a pair of Godolphin Irish-breds. Saturday's Grade 1 Saratoga Derby went to favored Nations Pride, which tracked the pacesetters, took over the lead with a furlong to go and reached the wire in front by almost two lengths. Nations Pride paid $6.20 to win. Stone Age, an Aidan O'Brien trainee, finished fifth here. 
The Grade 3 Saratoga Oaks, run on Sunday, featured With the Moonlight, which ran a similarly styled race as her stablemate the previous day. She and Buick hit the wire nearly two lengths in front and paid $4.30 to win.
Barry Foley guided Irvin Naylor's Howyabud to victory in Wednesday's curtain raiser at Saratoga, the Jonathan Kiser Novice Stakes. The 5-year-old gelding, which was bred in Ireland by Charlie Carter and trained by Mary Ellen Doyle there for his first three races last year, had an adventurous journey over the fences, which saw Foley nearly come out of the saddle midrace. Foley maintained his balance and his seat, steering Howyabud to victory by nearly two lengths. Howyabud paid $7.20 to win.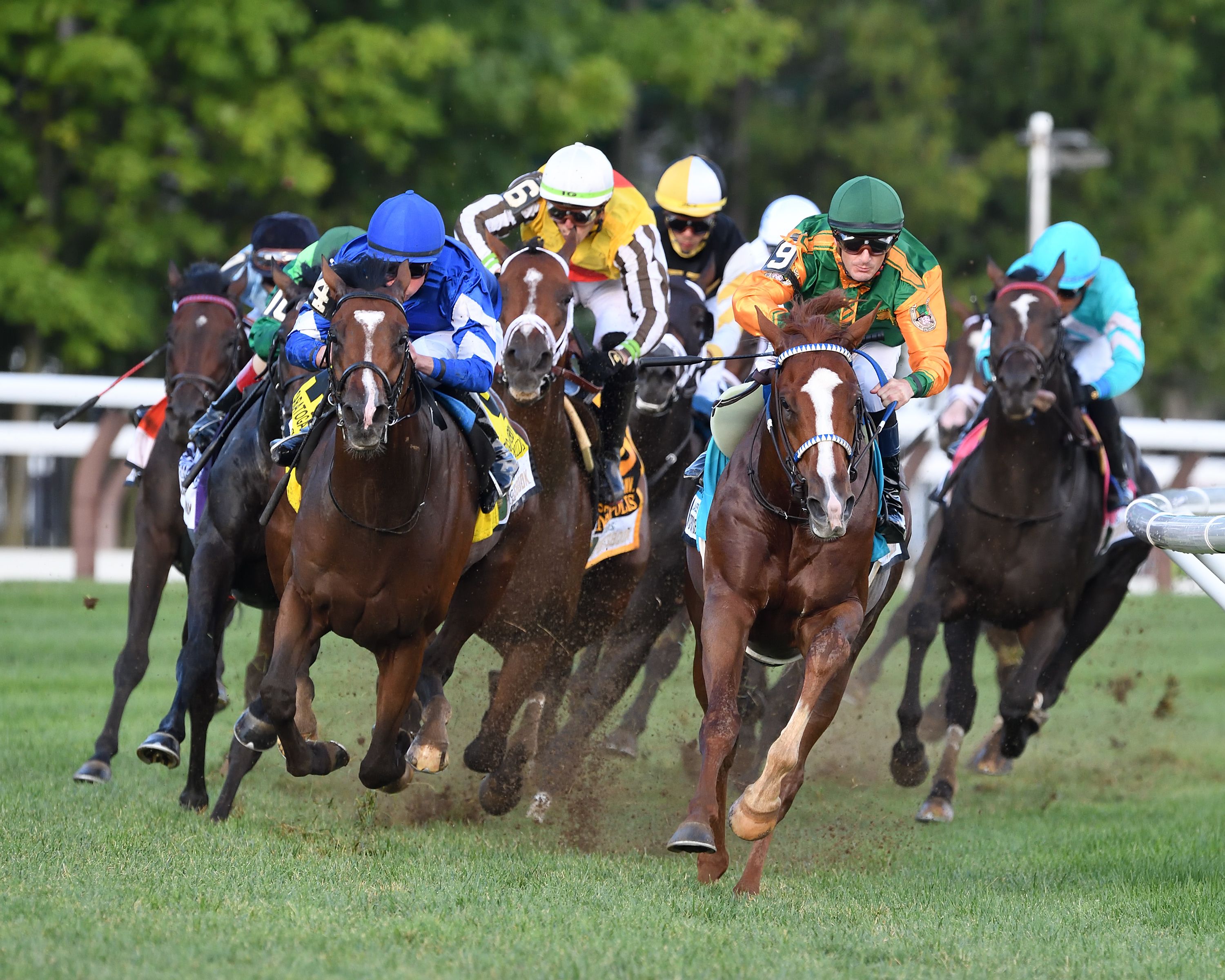 Nations Pride, William Buick up in the blue silks, enters the lane en route to winning the Saratoga Derby.  DOM NAPOLITANO
CALLING ALL DECLANS
If you're a Declan and you like to play hunch bets, Sunday's card at Del Mar should have padded your bankroll considerably. Although the second race winner, M Is for Magic, was a maiden facing winners in a starter allowance, she fit against this crew, a fact that was not lost on the betting public, which sent her off as the 5-2 choice. She entered the race with a 15-0-6-2 box and earnings of $94,426 to the account of owner/breeder Declan Jackson, whose Stepaside Farm dba gives away the Dublin village he once called home. Anyhow, the 5-year-old mare, guided by Ryan Curatolo, ran as if winning were old hat to her, scoring by two lengths. The Peter Eurton trainee returned $7.20 to win. 
Thirty minutes later, Declan Cannon, winless at the meet up to this point, lit up the toteboard when he brought Bear Mountain in by one-half length for owner Marquis Charles and trainer Keith Desormeaux. The winner, a 2-year-old colt running a mile on the turf in his second start after an absolutely putrid debut, was always forwardly placed by Cannon and repelled multiple challenges. The colt paid $90.60 to win.