Aug. 1 heralds the start of the ancient Celtic harvest, a festival enjoyed by Celtic peoples to honor the sun god, Lugh, who plays games in honor of his foster mother, Taltiu, before his winter hiatus. Taltiu cleared Ireland's plains for agriculture to begin. Trial marriages lasting a year and a day, were begun and could be honorably ended after the period ended.  Lughnasa, meaning "the gathering of Lugh," is one of the four Celtic "fire festivals" and celebrates the harvest as fall is ushered in. Samhain (Oct. 31), Imbolg (Feb. 1), and Bealtaine (May 1), punctuate the Celtic year with written, sung and spoken words, dance and music. In Ireland, on late July's 'Garland Sunday', the sides of Croagh Patrick are climbed, traditionally barefoot, by legions of pilgrims to honor St Patrick's 5th century fasting. Back on Terra Firma, Lughnasa is closely associated with dance and song, the remembering of summer who 'gathers up her robes of glory, and like a dream of beauty glides away' (Sarah Helen Power Whitman). 
If you happened to be passing Mary O's on Avenue A on Thursday July 28 evening, you might have heard the lively Irish music spilling forth. At 8 p.m. every Thursday, there is a live traditional music session, a treasure in this unique neighborhood of Alphabet City. The kind and innovative owner of Mary O's, Mary O'Halloran, is from Mayo and has imbued the space with the charm of her native land as well as the loyal patronage of clients who come for the music and, it must be said, the glory of her legendary home-baked scones, offered on the delightful menu and available to order and devour at home. 
One of the members of the Irish women's group Nollaig na mBan NY, Dee Nolan, discovered this special place and decided to float the idea of having a Lughnasa gathering there. This group, founded by Maura Mulligan and others in 2016, was inspired by the women in Ireland who left their daily work to the men for one day, Jan. 6 (Nollaig na mBan), leading to a movement now followed all over Ireland and beyond, of holding events benefiting women.  Irish culture of many forms was performed at the 4 fire festivals and donations gathered to benefit different women's organizations. 
We chose the Ukrainian National Women's League of America to donate to, and two representatives were present, Honorary Branch 1 President Mariia Venger, and Kateryna Vynohradova. The Irish Business Organization has shown interest in these events, alerted by our Dee Nolan, and it was wonderful also to welcome 10 members to experience the evening as well as share their story. 
With a rich and fragrant scone at our elbows, the gathering of 19 participants opened with Dee Nolan giving some background and information about the unfolding of the evening. Representatives from the UNWLA and from the IBO would describe their purpose and passion, followed by anyone who had a live performance story to share – either one they attended or acted in. Several acting luminaries were present to add their experience to the scene. Dee also mentioned recent news that had touched every person present – the passing of two people instrumental in not only performing but in inspiring and mentoring legions of past and present lucky recipients in the Irish culture world and beyond. Mick Moloney, a towering giant in his contributions to the Irish global diaspora, had just played at Mary O's the week before, popping up at events nationwide as well as recently finishing two of his famous Irish music tours –in Northern Ireland and in Galicia. His talent, insatiable thirst for every aspect of Irish tradition and his boundless generosity in sharing his heart and mind with anyone who was interested, was a miracle.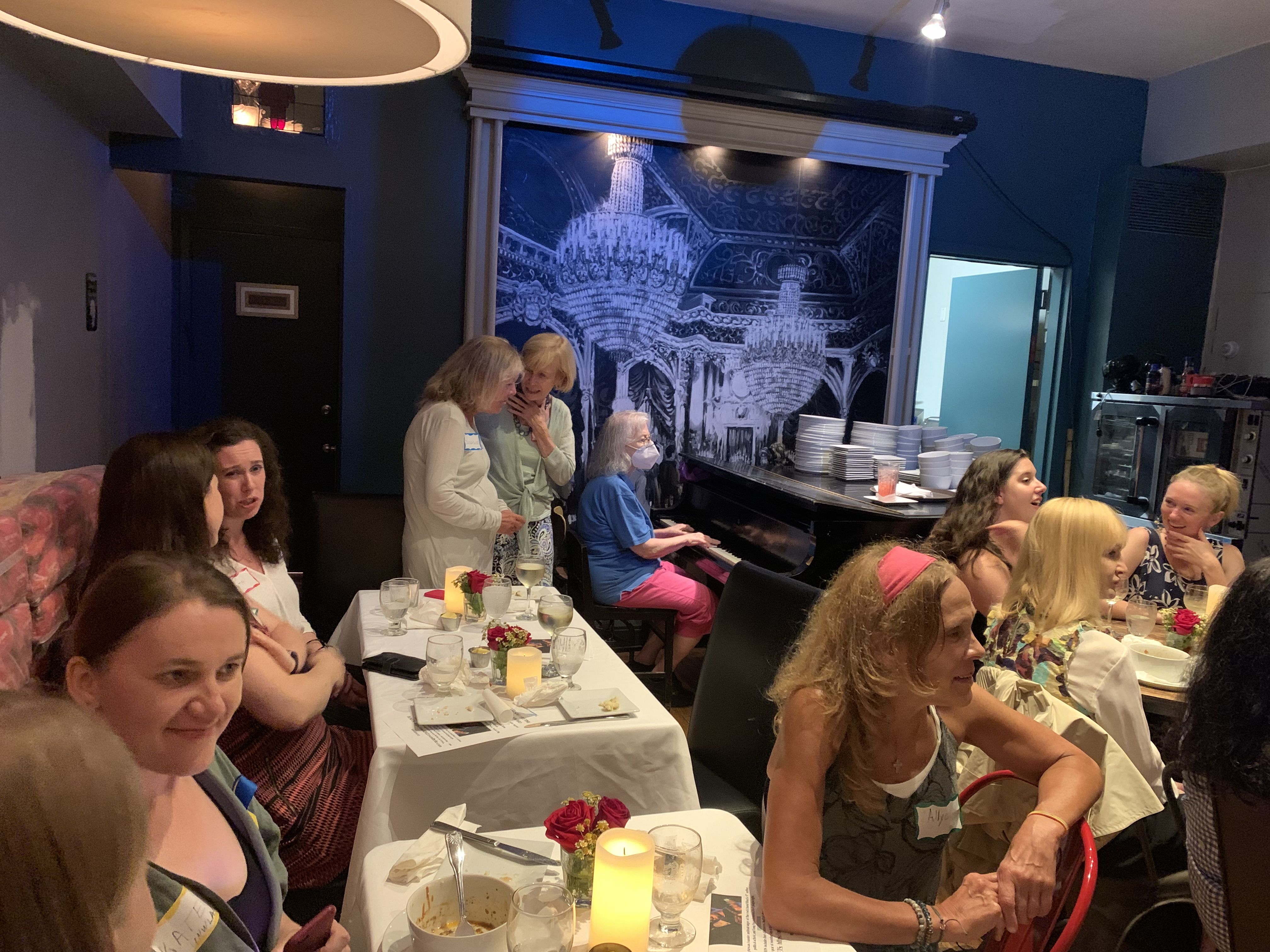 "Let your children be as so many flowers, borrowed from God. If the flowers die or wither, thank God for a summer loan of them." Samuel Rutherford.
Our summer loans were indeed both rich and long. 
Mariia Venger spoke eloquently about the UNWLA mission, reminding us that women are vital to the harvest everywhere. Supporting them and their families, especially when men are away fighting, is essential. It is "heartbreaking to watch farm fields burnt by shells and airstrikes". Donations can be sent to UNWLA, 203, Second Ave., NY 10003. Allyce Fucigna described the passion she derives from teaching Ukrainian refugees at the Ukrainian Center this summer, how the pupils are eager to learn and grateful for the experience and materials. Any school supplies would be welcomed. Shelly Quilty-Lake talked about the IBO, originally an all-male organization, relating that now a female networking initiative spearheads events where the women's energy is ''The Magic in the Room". The next network event will take place on September 9th ` a book talk co-sponsored with an African Irish American group.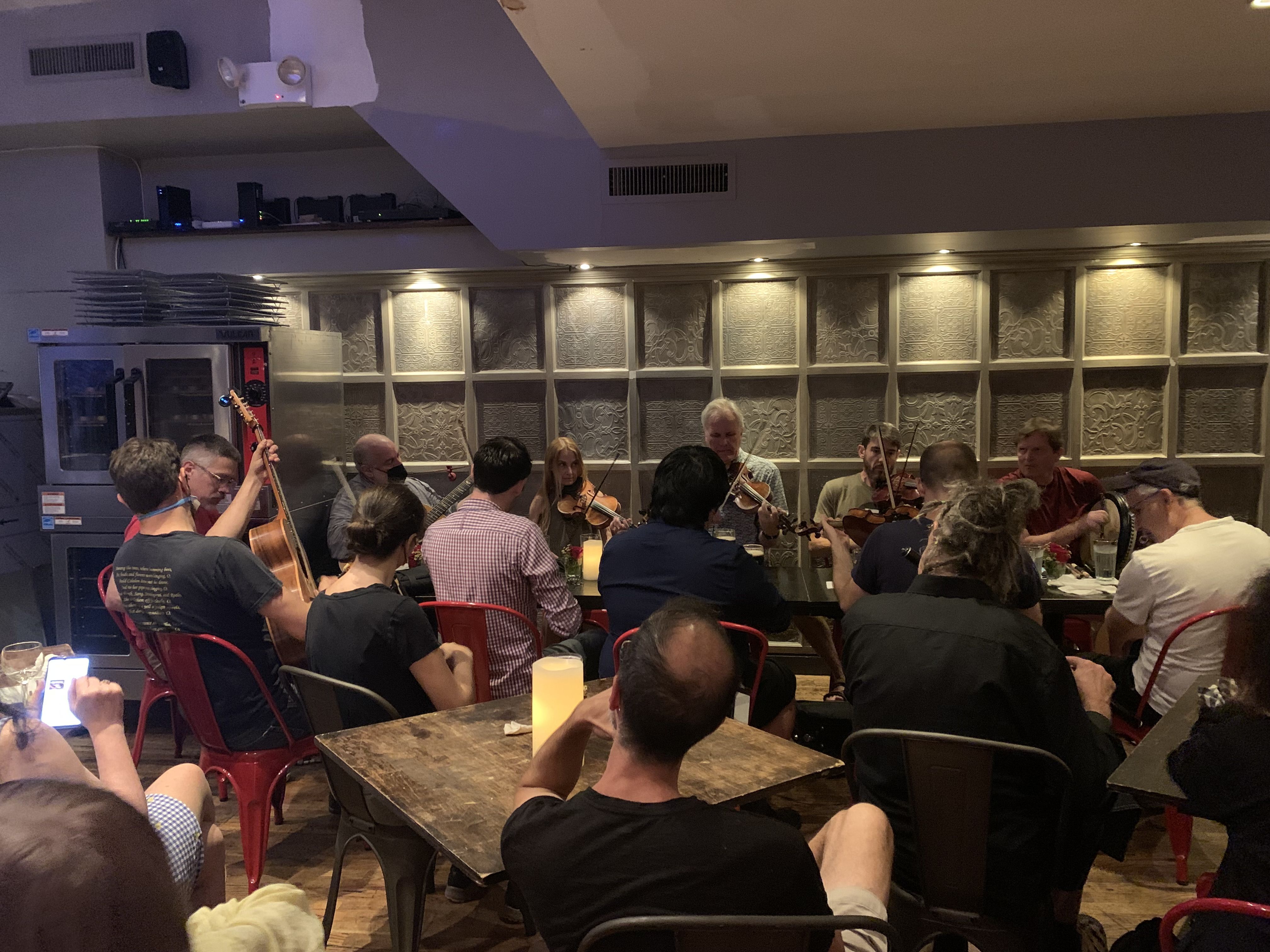 Karen Daly, of the Irish American Writers & Artists, compared two viewings of "The Music Man" on Broadway. The first, starring Robert Preston in 1962, with her grandmother, where they stood for the least expensive experience, and the last, with Hugh Jackman, bookended a lifelong love of theater. Kathy McGuire described hearing Lynn Redgrave in 1993, performing "Shakespeare for my Father." Memories of her famous father, Michael Redgrave, included his courtesy towards women–simple kindnesses she never forgot. Your reporter, showing two Broadway playbills, described how the Irish-American writer Larry Kirwan's musical "Paradise Square" had delighted a friend who had never seen a Broadway performance. In March 2020, the world going into "The Minutes" on Broadway was forever changed on emerging; her phone on fire with Covid closings, and Broadway theaters went dark.
Traditional Irish music filled the room at 8 p.m. and I reluctantly eventually left – but not without a small box where two still-warm scones nestled with raspberry jam and butter accompanied my commute, reminding me of the unique stories and music they carried with them the whole way home