Ireland's National Women's Lacrosse team traveled to Baltimore in the beginning of July to play in the 2022 World Women's Lacrosse Championship.  The international tournament, played every four years, was held at Johnny Unitas Stadium at Townson University in Baltimore, Md. For the third time in tournament history, dating back to 1982, the event was held in the United States.  
Over 30 nations participated in the 10-day competition in Baltimore with Ireland finishing 13th overall.  The Irish team finished with a 5 win-3 loss record, losing two games by one or two goals.  Ireland's team is comprised of players from the Republic of Ireland, Northern Ireland and Irish dual citizens from England and the United States. Lacrosse remains mostly an amateur sport worldwide and all of the Irish players had to pay their own way to travel and play for the team.  There are hopes that both women's and men's lacrosse will soon become a recognized Olympic sport.
A team that travels internationally has many challenges.  International time zone adjustments are difficult and the schedule is grueling. The team played eight games in nine days with sometimes less than a full 14 hours between the end of the game and the start of the next. It's hard to develop on-field chemistry.  To be able to make and learn from mistakes, and even implement plays or motions when your first game is your biggest game that counts. This is something that will need to change moving forward to make Ireland more competitive, and that will come down to funding. 
Ireland's head coach Sara Walsh (who played her college career at Northwestern University - a premier US Division 1 NCAA lacrosse program) mentioned how "really proud of how the team came together and were able to compete and perform at such a high level without much together time prior." She added, "We are constantly trying to grow the game in Ireland and learn how we can become more successful in getting players exposure to high level play from all over the world. The experience at the World Championship for the younger domestic players was a great learning curve about the speed and scope of the game. They were tremendous additions to our team and hopefully take back a passion to continue competing and pushing their own skills."
Coach Walsh commented on her team's effort, "We had two big wins in effect. Our biggest win initially was over Hong Kong in overtime in the stadium. We lost our first match to New Zealand and had to beat Hong Kong for a shot at advancing to the Championship Bracket. We knew that the Hong Kong team was highly skilled with many talented Division I players on the team and they had been training in the Czech Republic for the past three months. Our team's first time together was three days before the tournament started and our first real test was our first match against New Zealand, which we lost by two. We were tied until the last six minutes of the game."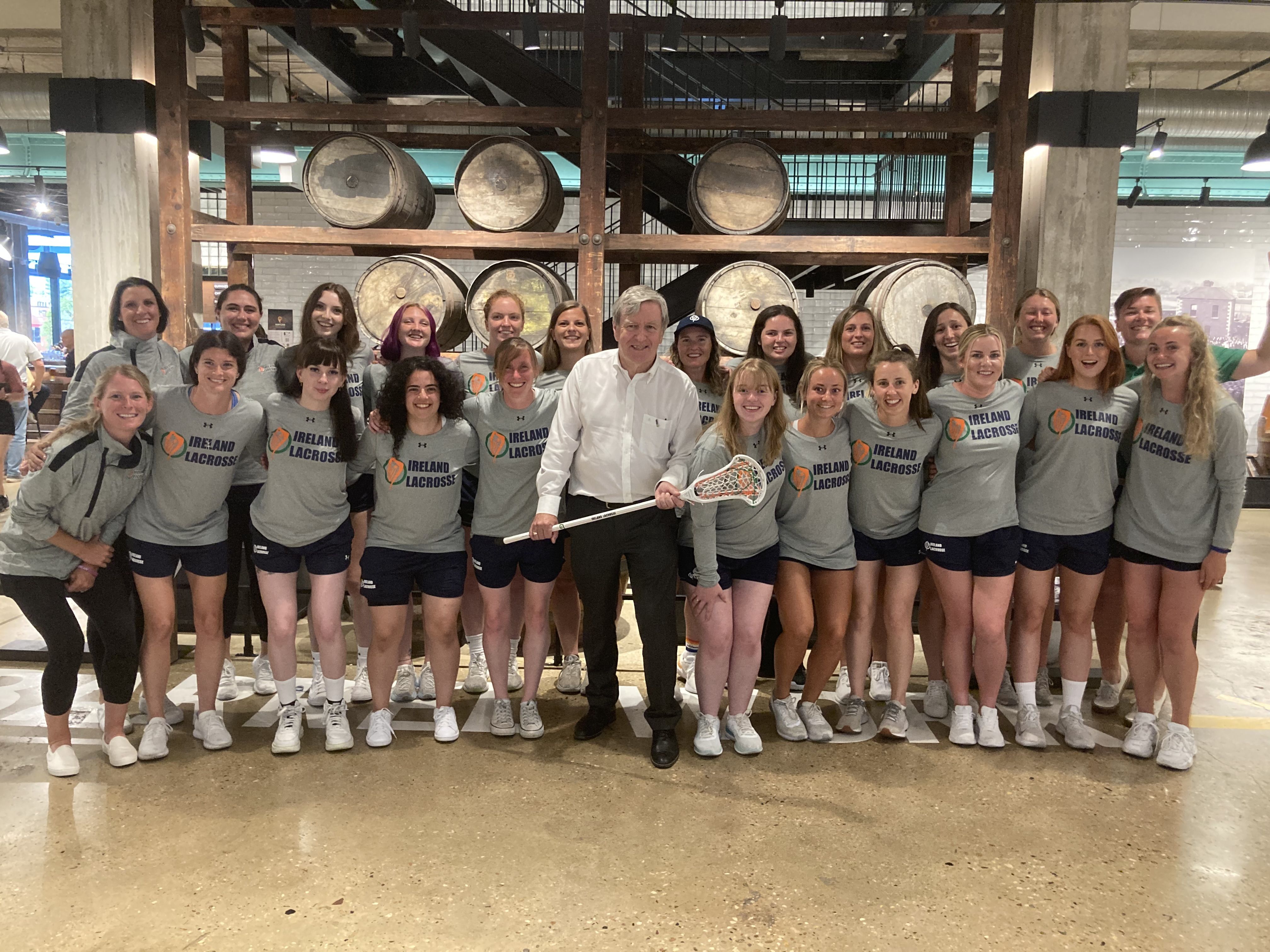 Irish Ambassador to the U.S. Dan Mulhall showed his support for the team.
She added that their second biggest win was against Germany in double OT in the battle for 13th. "We have played them every tournament as our last game and it was a true battle" expressed the coach.  The team had some stats of major significance in the tournament. Katrina Dowd #4 finished the tournament 2nd in the world in points with 36 and 2nd in goals with 26. Maggie Egan #7 led the world in assists with 25. Emily Gaven (Golie) finished second overall in the tournament with 61 saves. 
The ladies of Ireland were able to enjoy some time away from the field with a reception at the Guinness Open Gate Brewery in Baltimore and a day trip to Washington, DC for a quick tour.  At Guinness they were treated to a reception thanks to the generosity of Diageo and the Guinness Brewery as well as the Baltimore and Washington, D.C., Irish community.  
The event was well attended by the team players and coaches, family members of team was honored with the appearance of Irish Ambassador Dan Mulhall to show his support for the team.  The Ambassador spoke to the crowd noting Ireland's numerous connections to Baltimore, including the City's name originating in the West Cork town of Baltimore, or Baile an Tí Mhóir, which means "town of the big house," and the City of Baltimore having the wonderful Irish Rail Workers Museum honoring those early Irish immigrants that landed in the US that built the railroads connecting the East and West Coast of the States (he reflected on his attendance at the 150th anniversary of the driving of the gold spike that connected the rails built in the 1800s).  The other connection was, of course, the Guinness Brewery which was recently built in Baltimore and the first Guinness brewery opened in the United States.  A great fan of Irish sports and Irish teams, the ambassador encouraged the players to work hard on the pitch and represent your country well.  He posed for pictures with the attendees, took part in a fierce "Perfect Pour" competition sponsored by Guinness and lead the team in singing the Irish fight song with "Answer Ireland's Call!"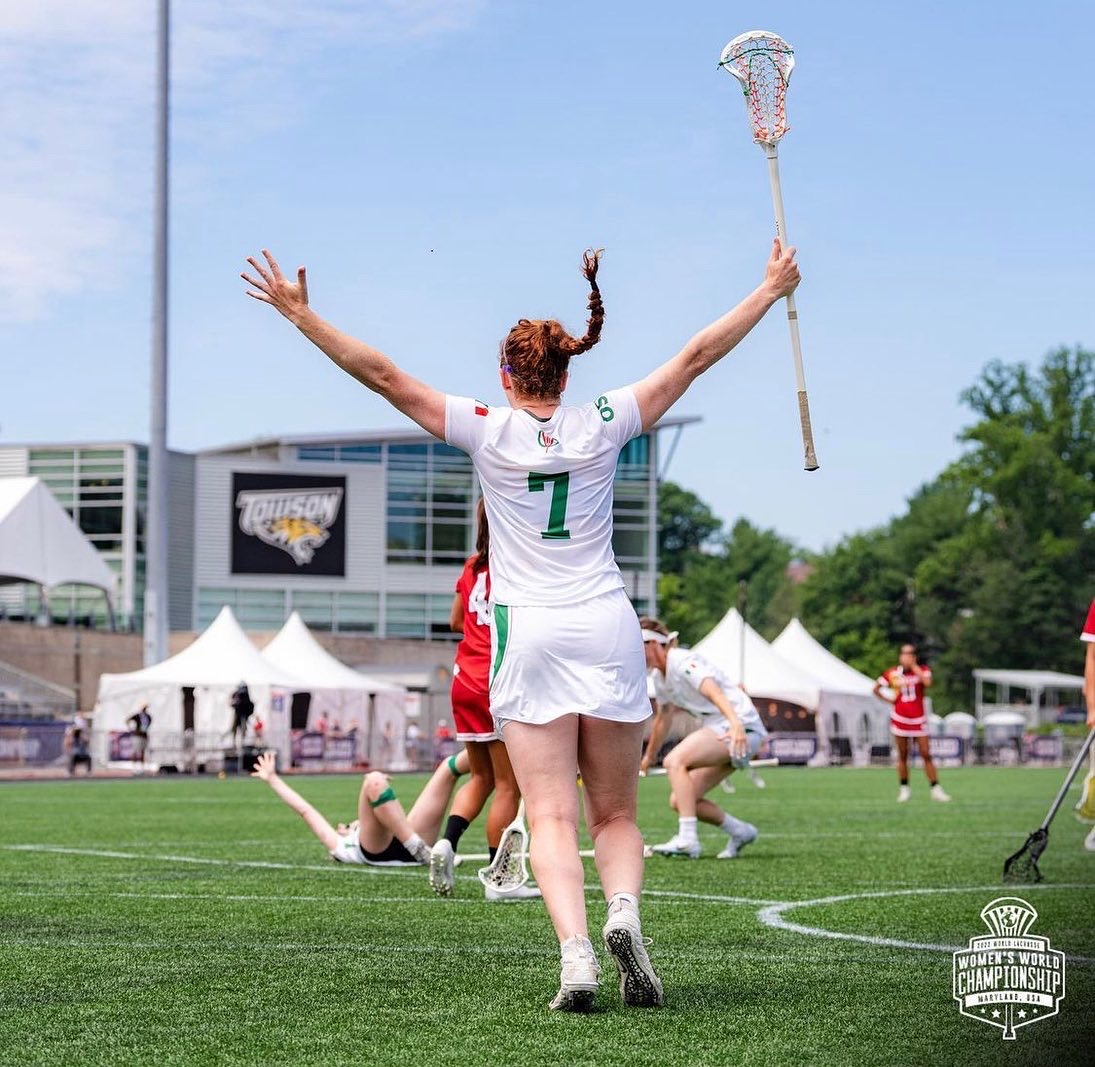 Up next for the team are the European Championships will happen most likely in the summer of 2024 with training camps and play days between now and then.  In addition, Limerick and Ireland Lacrosse hosts The World Lacrosse Festival Tournament along with the World Lacrosse Men's U21 World Championship at the University of Limerick from August 10 – 20. To find out more about Ireland Lacrosse (both women's and men's teams) please go to https://main.irelandlacrosse.ie/