The GAA inter-county season ended with the All-Ireland football final between Kerry and Galway on July 24. We won't have another inter-county football game until Jan. 29 next year with the National Hurling League probably starting the following weekend. Former Kerry footballer Pat Spillane said: ''We are taking our high-profile games, which are inter-county football and hurling, out of the shop window for six months. There will be no opportunity to generate money, no opportunity to generate a high profile for the game, for Croke Park, and for the players.'' 
However, GAA president Larry McCarthy said: ''You cannot make decisions midstream. We will know at the end of the year what it looks like this year. We know next year what it will look like with an increased volume of games and then we will be able to make an informed decision.''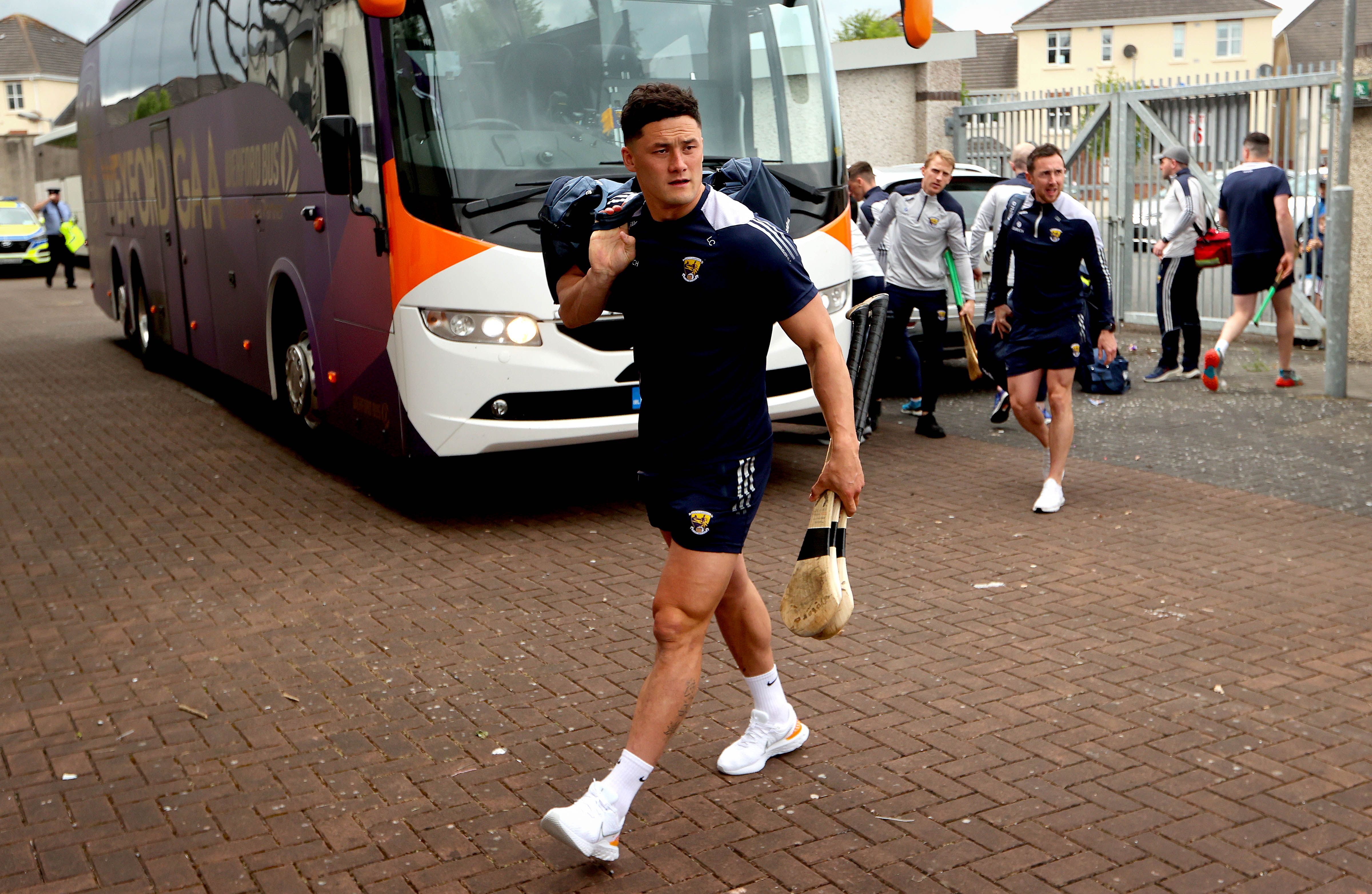 Wexford captain Lee Chin is in favor of the split-season: "I like focusing on one thing at a time." INPHO/RYAN BYRNE
We can expect the debate on the merits of a split season to rumble on through the winter and perhaps resurface at next February's GAA Congress. Wexford hurling captain Lee Chin is in favor of the new system. He said: ''I like focusing on one thing at a time, whether it be county or club. There are a couple of months now at the end of the year that players can maybe avail of to get themselves right for the following year."
 Kilkenny star TJ Reid has a different view. He thinks delaying the club championships until the inter-county season could cause players to drift away from the game. Reid said: ''I don't like it. It's unfair for inter-county players and unfair for club players to wait seven or eight months before they have any important game. It's grand for inter-county players training with matches coming up but club lads hanging around waiting for a game in July or August is tough going. We are amateur players. We do it because we love the game, but you don't get much time to yourself now. We performed for seven months there and then just a week off. It's great for inter-county managers, from a logistics point of view, but for the welfare of players I think there might be a better option there. The GAA obviously had to try something but they probably need to reflect on it a small bit.'' 
All-Ireland finals in July are strange, but as GAA supporter said to me on the Luas heading home from Croke Park to pick up his car at the Red Cow car park a few weeks back ''at least everybody should get home before dark in the month of July.''
FITZGERALD IS 
BACK WITH DEISE
Davy Fitzgerald is returning to inter-county hurling management with Waterford having spent a year as coach with the Cork senior Camogie team.  The man from Sixmilebridge, who led his native Clare to win the MacCarthy Cup in 2013, was ratified as manager of the Déise last week. He is going back on a two-year term with an option for a third year. Fitzgerald replaces Liam Cahill in the role, the latter having departed abruptly to take the reins in his native Tipperary last month. Davy previously managed Waterford between 2008 and 2011, taking over mid-season in 2008 after Justin McCarthy was ousted and guiding the county, via the qualifiers, to a first All-Ireland final appearance in 45 years.
However, Davy's former number two Seoirse Bulfin will not be working with him next season as Bulfin was last week named as manager of the Meath senior hurlers. Bulfin, who is from Bruff and played minor hurling for Limerick, has been a recognizable figure on the inter-county circuit through his long-standing involvement with various management teams Davy's. Bulfin will be an equally familiar face in the Meath dressing-room, having worked as coach this year under manager Nick Weir, who has now stepped down.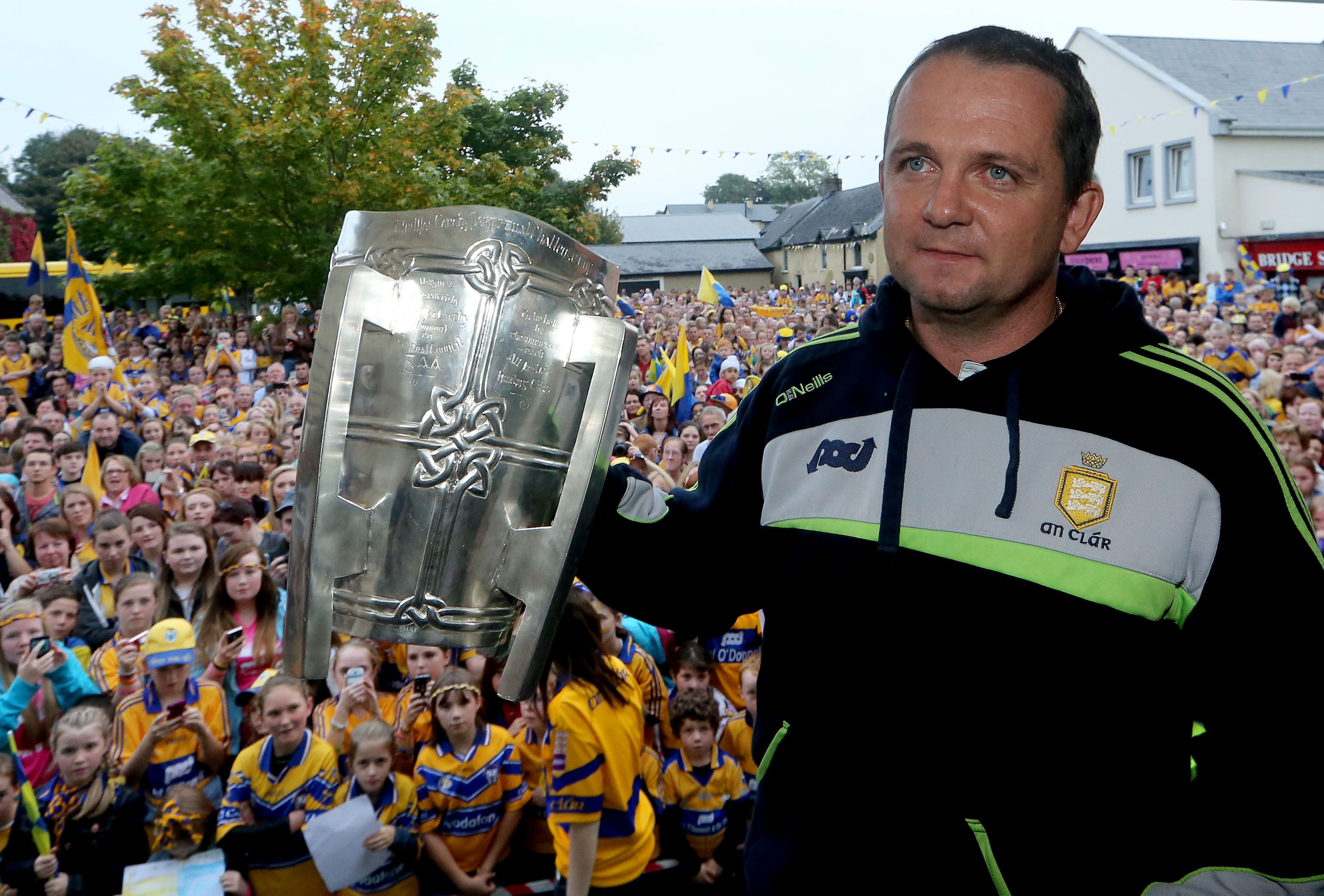 Clare manager Davy Fitzgerald pictured the Liam MacCarthy Cup in his hometown of Sixmilebridge following victory in the 2013 All Ireland hurling final. INPHO/JAMES CROMBIE
SALFORD PROVIDED
HARPS' MODEL
Finn Harps have revealed Salford City provided the inspiration for the new design of the Donegal Community Stadium. Last week, the reconfigured plans were given the green light by Government who have pledged almost €4 million in funding with the FAI and Donegal County Council providing €500,000 each. Salford are owned a group of former Manchester United players. Harps have launched a mega cash draw with a top prize of €20,000 to raise further money as they look to get the ground completed in 2024. Harps chairperson Ian Harkin revealed the 6,130 capacity stadium will be closely modeled on an English League Two club's ground. Harkin said: ''The existing structure will be completed as our main stand, with a seated stand opposite and covered terraces at each end very similar to those used by Salford. Following a site visit to Salford we are happy to proceed on this basis to provide the modern, atmospheric stadium this club and this region deserve." 

LAVERTY IS NEW
DOWN MANAGER 
Kilcoo forward Conor Laverty has been confirmed as the new manager of Down. Current Down under-20 manager Laverty takes over from James McCartan, who stepped down in July despite indications that he would remain in charge in for a second season. Laverty, who is still playing with his club, had been heavily linked with the position following Paddy Tally's departure at the end of the 2021 season, but he said last year he was no longer interested in taking on the role. There had been speculation that Jim McGuinness was to form part of the backroom team along with Martin Clarke, but the Donegal man distanced himself from getting involved.

COLLINS TO STAY ON
There are strong indications Colm Collins will remain on as Clare senior football manager for a 10th season in 2023. Following Brian Cody's decision to step down, Collins is now the longest serving manager with one county in football or hurling. Also staying is Mickey Graham. The Cavan County Board last week confirmed that Graham had committed to the Breffni men for another two years.
In Offaly, Kerry-born Liam Kearns has been confirmed as the new football manager replacing John Maughan. And there is speculation that two former Tipperary hurling managers, Liam Sheedy and Eamon Ryan, are about to become joint managers of the Faithful County's hurlers.
PETER BYRNE, 86
The death occurred last week of former Irish Times sports journalist Peter Byrne, at age 86. Byrne, who was known among his fellow soccer writers as "The Doyen," held numerous roles in the Times throughout his 38 years in the publication, reporting on soccer, boxing and athletics across his career. He was instrumental in the growth of sports writing in Ireland and worked on a number of books with former Irish soccer manager Jack Charlton. He also wrote a history of the FAI to celebrate their 75th anniversary in 1996. The Dubliner reported on six World Cups and eight Olympic Games.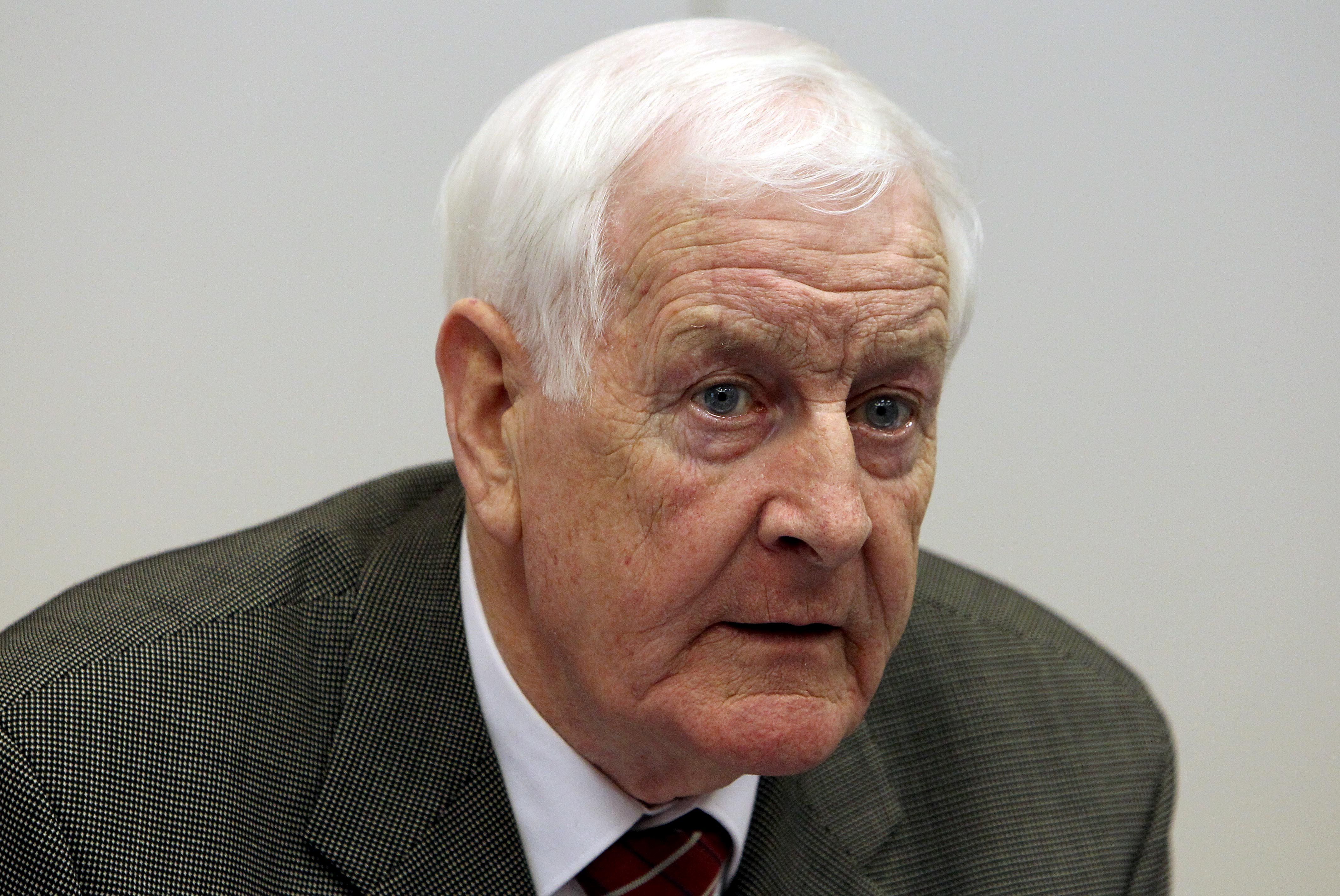 Peter Byrne pictured at the 2010 AGM at the Association of Sports Journalists in Ireland. INPHO/DAN SHERIDAN
Ronnie Delany, Ireland's Olympic gold medalist in the 1,500 meters at the 1956 Melbourne Games, praised his friend Byrne in the Irish Times: "Peter was a brilliant correspondent. He wasn't around for Melbourne but he covered so many great moments in Irish boxing, football and athletics. Sonia O'Sullivan and I had regular conversations about Peter's health in recent years as we used to always attend events together, especially in Santry. Ireland has lost a great journalist. My deepest sympathies to the family."
His Irish Times colleague Conor O'Clery said Byrne was "a real gentleman who gave us quality sports-writing"; while the paper's former rugby correspondent Edmund Van Esbeck said, "We have lost an eminent journalist whose knowledge and versatility were such that he could turn his hand to any sport and do a first-class job of work on it."