All the fun begins again tomorrow night when Arsenal take on a Crystal Palace managed by former Gunners star Patrick Vieira. 
In 2020, the season interrupted by lockdown, Liverpool took their first title of the Premier League era with 18 points to spare. They stumbled in 2020-21, courtesy mainly of injuries, and Manchester City became champions again, with 22 points of daylight between them and local rivals United. But then last year it went right down to the last day, and only a point separated City from the Reds; 18 points was the gap with the chasing pack.
The presumption is that it will be close again this season, and between those two sides. But who knows for sure? 
Arsenal and North London rivals Tottenham are continuing to improve, while the 2021 European champions Chelsea are capable of surprising with a strong early challenge.
Below them, Manchester United seem mostly good for producing headlines, though we know they'll want to compete for a CL place. The same must be true of Leicester, Wolves (with record Irish signing Nathan Collins on board) and Brighton. 
Meantime, many Republic of Ireland and Northern Ireland fans will be keeping a close eye on key squad members in the Championship, which has already kicked off.
James Rogers, New York Evertonians
It's not even 100 days since Everton clinched their Premier League status when they came back from two goals down to defeat Crystal Palace amid incredible scenes at Goodison Park. But the euphoria and relief that greeted Everton's survival has been replaced by concern among many fans ahead of the new campaign. Could this expensively-assembled, but so often under-achieving team put the Goodison faithful through more torment? And, God forbid, give us another glimpse into the relegation abyss? The departure of talismanic striker Richarlison, although expected, was a body blow. The club has brought in James Tarkowski and Dwight McNeil from Burnley to bolster, respectively, an often leaky defense and a midfield that was devoid of ideas for much of last season. Former Wolves wing back Ruben Vinagre has also arrived on loan from Sporting Lisbon. But the void left by Richarlison remains a big, big, worry.
There is also frustration at the club's overall direction. Owner Farhad Moshiri has spent lavishly since taking over at Goodison but last season underlined Everton's lack of progress. Moshiri has insisted that the club is not for sale, but fans will be watching the club's boardroom very closely over the coming months. There are some positives, though. England keeper Jordan Pickford, whose heroics helped keep Everton in the top flight, remains a commanding presence. High-energy winger Anthony Gordon has emerged as one of the team's big stars, and Ukrainian fullback Vitalii Mykolenko is going from strength to strength. Everton fans will be hoping for the best this season, but quietly dreading a repeat of last year when Frank Lampard's players almost sleep-walked all the way to the Championship.
Scott Silver, freelance designer, Arsenal
After last year's terrible start to the season, nobody would have thought Arsenal would climb back into Champions League territory by the spring. In and out of that coveted fourth spot, boss Arteta let go of arguably their best player (who was unhappy) and ended up just missing out on Europe. At the time it was said Arteta was building a winning culture, through winning attitude. As a fan, I bought into it and my mild interest in the Gunners (the last few years) got a bit warmer. Too bad they couldn't have finished better than they did.
This year seems a bit brighter, instead of shooting for fourth spot, we can actually set our sights higher (third spot). We are still in a different class than City or Liverpool, but adding in goal machine Gabriel Jesus, and an impressive pre-season (Stateside) will have me keeping an eye on the scores, every Saturday afternoon.
Michael O'Sullivan, Jesuit priest, Liverpool
I was sorry to see Mane leave Liverpool, but I believe Nunez will do well, and the hope must be, too, that he and the other strikers will quickly reach a good understanding with each other, and that those behind them will provide them with the chances to score. Salah was tired last year after his country, Egypt, lost in the final of the African Nations Cup when he was the captain, and there was also the uncertainty about whether he would leave Liverpool at the end of the season. The hope is that he will be settled and refreshed for the new season. I did not see the Community Shield match, but I gather he was in great form. 
A fully fit Firmino still has a lot to offer to the team, and, hopefully, he will get back to where he can be. The weakness in the Liverpool team, I believe, is at midfield. I would have liked to see them buy Declan Rice. Harvey Elliot was playing very well last year until he got injured, and with more matches and game experience he could do really well. Oxlaide Chamberlain, when he is fully fit, is a very good player, I believe, but his injuries mean he is unlikely to ever realize his potential. I have concerns, too, about Trent-Alexander. While he has many talents, he is sometimes caught out at the far post when he leaves a man behind him unmarked. Brentford scored two identical goals against him last season and for that reason. The draw that day, you could say, cost Liverpool the premiership, and something similar happened in the Champions League Final when a lack of concentration by Trent-Alexander contributed to Real's goal. Ancelotti would have noted this weakness in Trent-Alexander's game in preparing Real for the final. I don't like the way City just spend and don't bring players through. 
I admire Klopp for trying to bring academy players through the ranks and not seeking to buy his way to success. My heart is with them, but my head says City must be favorites. 
Jerry Meehan, Queens resident, Leeds United
With the new season upon us, Leeds fans are split about the new manager Jesse Marsch, and also the new line up with two favorites departing. Being an American and replacing the beloved Marcello Bielsa is a tough ask. However, I am very hopeful and think he will do okay and that he has signed some quality players. I believe we will see a mid-table performance this season and that will be welcome after last season's squeaky bum final game. We still need a left back and a striker to complete the team in my opinion.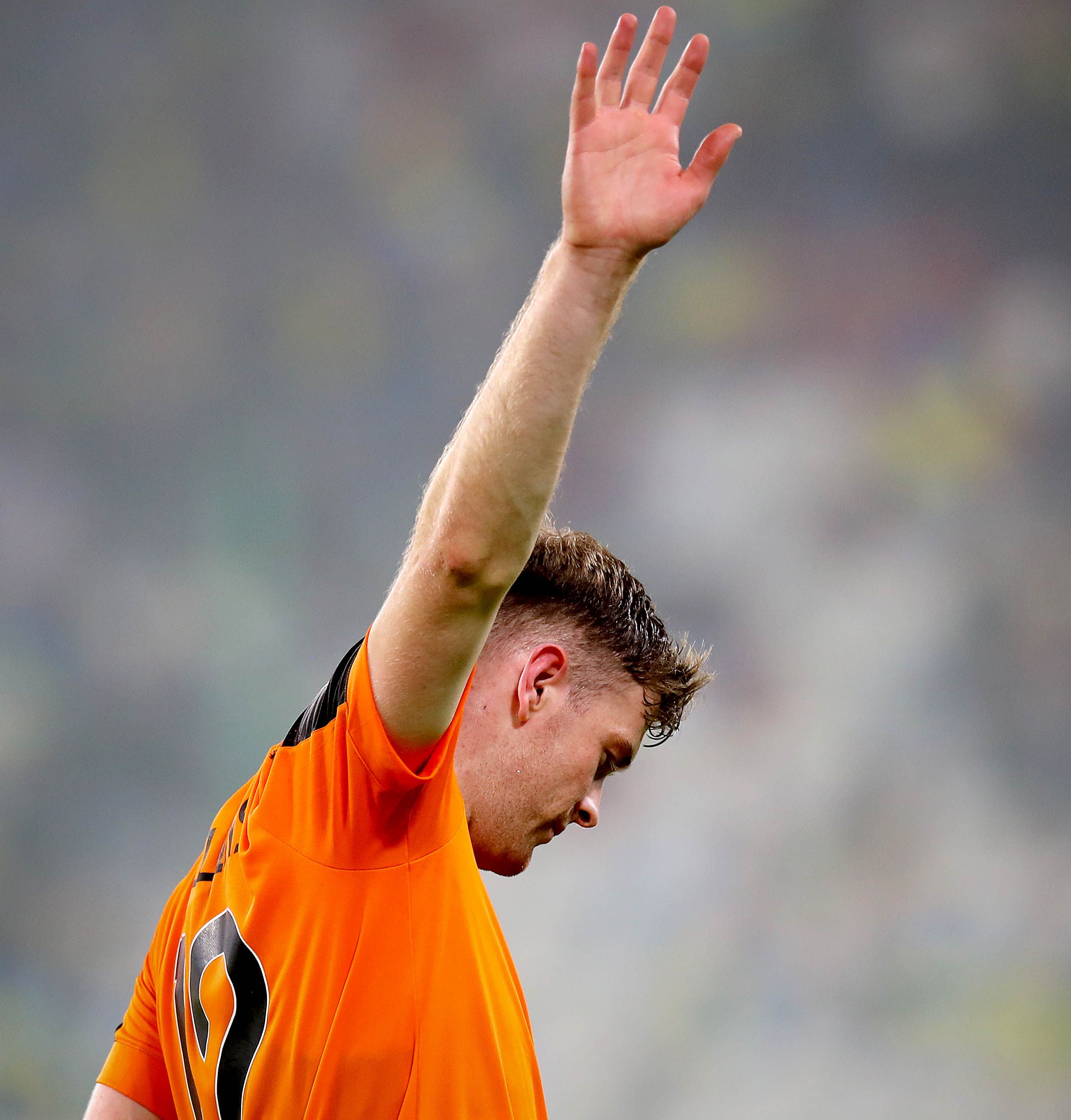 Nathan Collins has been signed by Wolves in a record fee for an Irish player. INPHO/RYAN BYRNE
Kieran Quilligan, Yonkers resident, West Ham United
I think Mark Noble will be a big loss to West Ham. Declan will need to step it up a bit. Hopefully they will sign more players, a left-sided back and a midfielder. I expect them to finish in 8th place.
Paul Finnegan, Irish Business Organization, Chelsea
A rare trophyless season for Chelsea, and it was hard to stomach losing two penalty shoot-outs in cup finals to the same team, Liverpool. They even had Real Madrid on the ropes in the Champions League semi-final until a wonder pass from Luka Moderic dashed what would have been one of the great comebacks in European football history. So it was not to be this past season.  Looking ahead to the coming season, there are many uncertainties and unknowns, especially with Boehly as the new owner.  Hopefully he'll provide the right leadership, and is smart enough to let Tuchel do his magic.  Some interesting in-coming players, e.g. Sterling, but also some good ones have left, particularly defenders Rudiger and Christensen.  They'll need to continue to have a water tight defense, and put away more chances at the other end than they did last season.  I am glad they off-loaded Lukaku, if only on loan; he wasn't fitting in.  I'll be pleasantly surprised if they lift the EPL trophy, but it wouldn't be impossible given the depth of talent they have in their squad.   
Joe Behan, Florida resident, Manchester United 
Manchester United do not have to worry about Champions League this year as they missed the top four by a long shot last time out. See, all this hype about winning silverware because that is what United do -- this is no longer the conversation. It is no longer a reality. What Manchester United face is a serious rebuilding process and a belt of reality, which hopefully new coach Erik ten Hag can help provide. The lack of good competition in early preseason was a band-aid and once a couple of bigger guns were penciled in; we saw a sorry glimpse of things to come. Same old story and there is no need to mention names anymore. It is as plain as the nose on your face to see who struggles on and off the ball.  
There must be a bigger underlining hold on matters at the club as we see the same line-up as last year shaping alongside questionable signings and an absent CR7. Furthermore, bringing back past Devils must stop. It's getting worse, but that's another story moving forward.  The status quo seems to be, work with what you have, that's fair enough. But we as fans know by transfer season there must be major changes. Just as well there is no CL because at home United face a mountain to climb based on last year's standings.  
Top 3: City, Liverpool and Chelsea will continue to dominate while Spurs and Arsenal grow. The Red Devils were 35 points off the title race and 11 points behind the top 5. United is top of the rest with West Ham and Leicester only a handful of points or so behind with the likes of Brighton and Wolves playing well. Even comparing performances to teams just mentioned United is embarrassingly behind here too. It's not going to be about winning trophies or even qualifying for CL; it's going to be a rebuilding process. Bear this in mind as another painful season gets under way.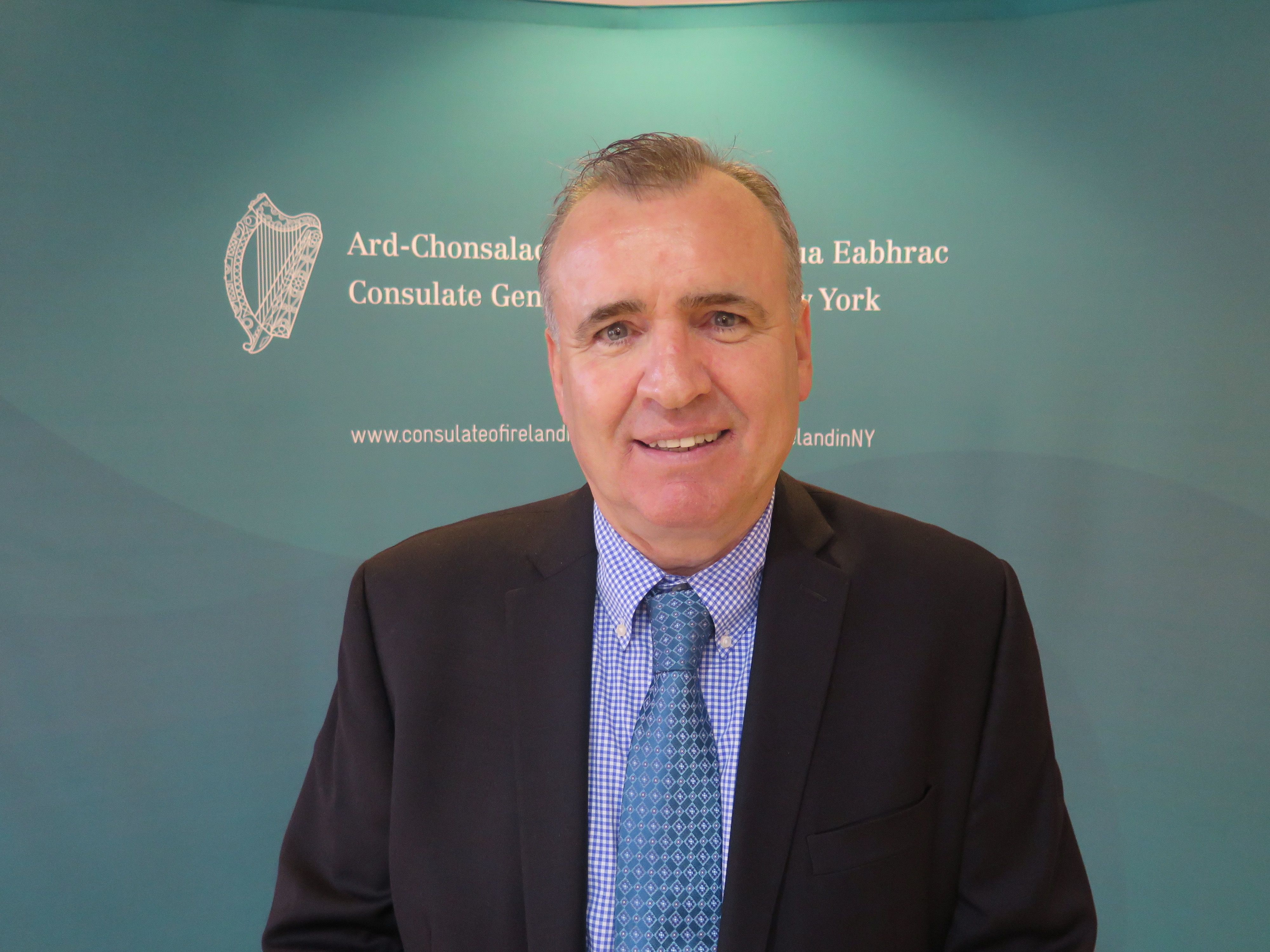 Joe Behan is not happy with Manchester United. [Photo by Peter McDermott]
Paul Galligan, labor attorney, Leeds United
In May 2022, I finally found out what "by the skin of your teeth" really means: Leeds having to win at Brentford, where they never win, and all Burnley had to do was get the same result as Leeds at home against Newcastle Arabia, who had nothing to play for.  I think that is the10 Our Fathers and 10 Hail Marys version.  Anyway, we survived clinging perilously on to that skin.  It certainly helped that Brentford were playing with nine men.  Fast forward to August, Leeds have had to sell their two best players, but have brought in seven shiny new toys, including two Americans.  I think this will be a stronger squad, but a slightly boring team and I will bite your hand off to finish 12th in stress free mid-table bliss.  I think Liverpool will have the edge over City this year, with the two North London teams fighting it out for third.  I also think this is the year that Everton finally go down.    
Ray O'Hanlon, Irish Echo, Manchester United
Normally a pre-season clutch of games will be focused primarily on the results. In the case of Manchester United it has been all about the cast in a seemingly never-ending soap opera starring Ronaldo, co-starring Ronaldo, and with a supporting cast of...Ronaldo. Okay, Erik ten Hag is accorded a cameo role as the team's new manager. United finished sixth in the premiership last season and some would consider them lucky to have reached that level. This year, of course, the pressure will be on to win the Premier title as is the case every season at Old Trafford. Hold that thought for a moment before it fades faster than United's porous defense. Fourth place and a toehold at European top level would be a big advance, likely the biggest possible advance, likely not going to happen based on initial assessment of a team that badly needs to be a team. Still, there are some interesting new arrivals, not least ten Hag and Christian Eriksen. And then there's Cristiano. What to do, what to do?
John Spinks, artist, Newcastle United
The Shadow of the Sheik:  The golf is headed to the Gulf.  The World Cup is in Qatar.  The sheik is in the 'Toon.  "It's all showbiz!"  Follow the money!  We grin and bear it.  I'm hoping that the global Esperanto of football will prevail.  It's good for the Saudis to have dialogue with the Geordies.  "Hawaay the Toon" actually sounds Arabic.
At St. James's Park the mood is upbeat.  The signing of 'keeper Nick Pope was greeted by a plume of white smoke atop the stadium.  Almiron, now captain of Paraguay, his form has been striking.  He got two in the close season game with Benfica.  A 3-2 loss in a close game.  We came back twice, which is a positive sign.  Sven Botman, new defender from Lille.  He's a Dutch player.  They still have that Cruyf/Ajax strain in them and he's only 21.  
Another new signing.  Matt Bondwell is only 20.  Eddie Howe is looking to the future.  The rest of the squad performed well at the close of last season.  A new winger and a striker would strengthen the mix.  If Jack Harrison could be lured away from Leeds, that would be ideal.  On we go!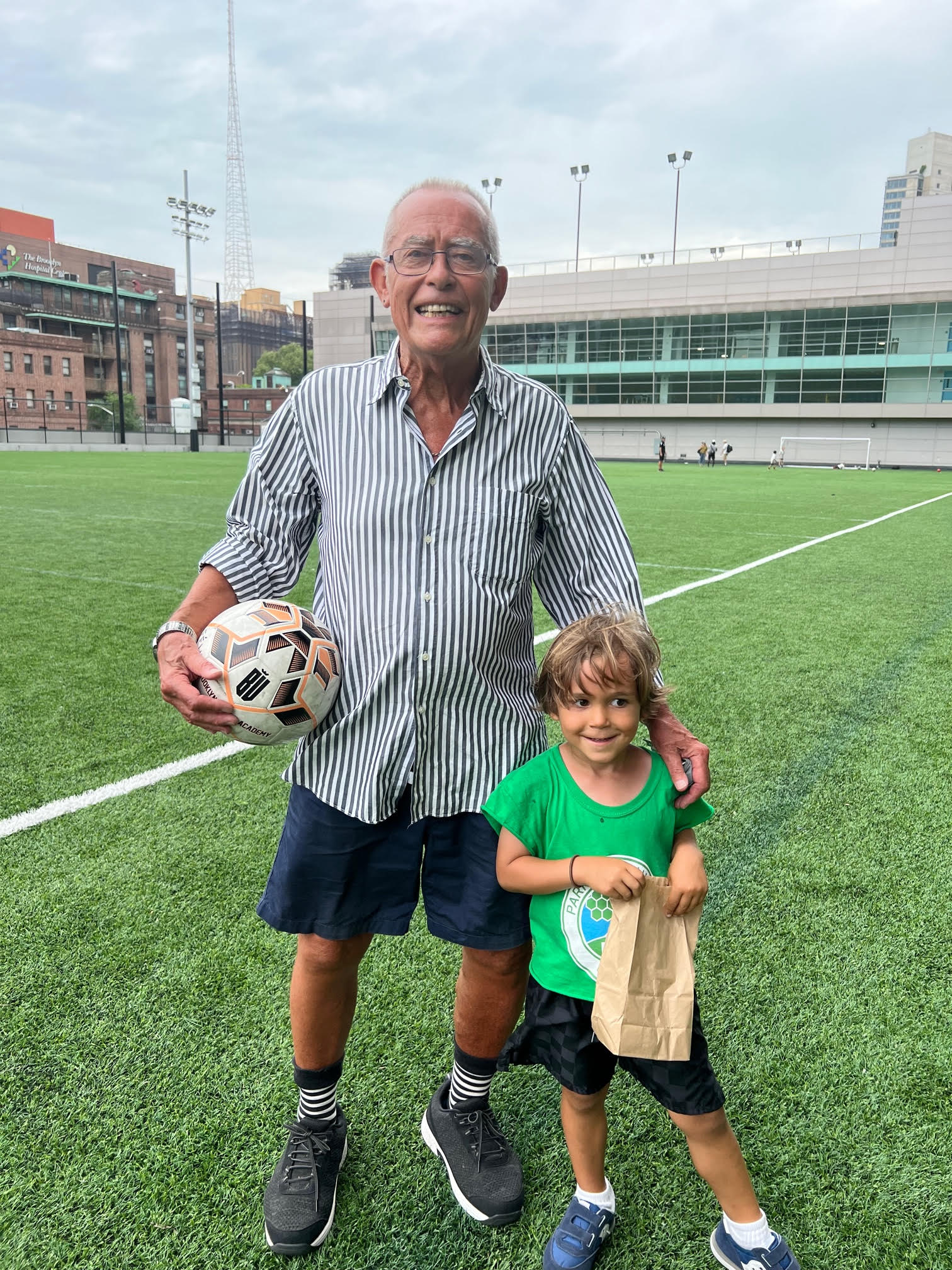 John Spinks is passing the culture on to the next generations.
Stephen Boland, UPS worker, Liverpool
I only saw the highlights of the Community Shield, but it looks like the same old Liverpool as last year. They have a good replacement in Nunez for Mane. They look pretty good.
We'll transition better than City. We didn't make that many changes. They brought in Haaland. He's a great player -- but is he going to fit in? Whereas when I saw Darwin Nunez playing for Benfica against Liverpool, he was untouchable. I think for the style of football Liverpool play, he's a better fit than Haaland is for Manchester City. It's hard to know how Haaland js going to do. He could be another Grealish and just not do it.
I think Liverpool are well-positioned. It's going to be close again. Arsenal will do well, they picked up a few nice signings like Jesus from City. Liverpool feel robbed winning it in a runaway during the height of the pandemic in 2020. They'll want to win it in front of the fans. If they had a choice, they would prefer to win the Premier League over the Champions League this season.
Jay Mwamba, Irish Echo, Manchester City
Norwegian whiz kid Erling Haaland, arguably soccer's most exciting goal scorer of the last two seasons, is one good reason Manchester City should be considered favorites to bag their third consecutive EPL title come next spring. 
The Leeds-born forward, a €60 million summer acquisition from Borussia Dortmund, adds an additional cutting edge to a club that has won six of the last 11 English titles. 
The son of former City midfielder Alfie Haaland, who was infamously injured by Roy Keane, Erling's arrival made it easy for Pep Guardiola to sign off on the departures of international strikers Gabriel Jesus and Rahim Sterling to Arsenal and Chelsea, respectively.
A giant forward at 6-foot-5 inches, Haaland's subdued effort against Liverpool in City's 3-1 Community Shield loss last weekend, was hardly a reflection of his "incredible quality," according to Guardiola. 
One of the game's most exciting young talents, he should turn into City's talisman.
In other departments, the club remains solid despite the departures of left fullback Oleksandr Zinchenko to Arsenal and American goalkeeper Zack Steffen to Middlesborough.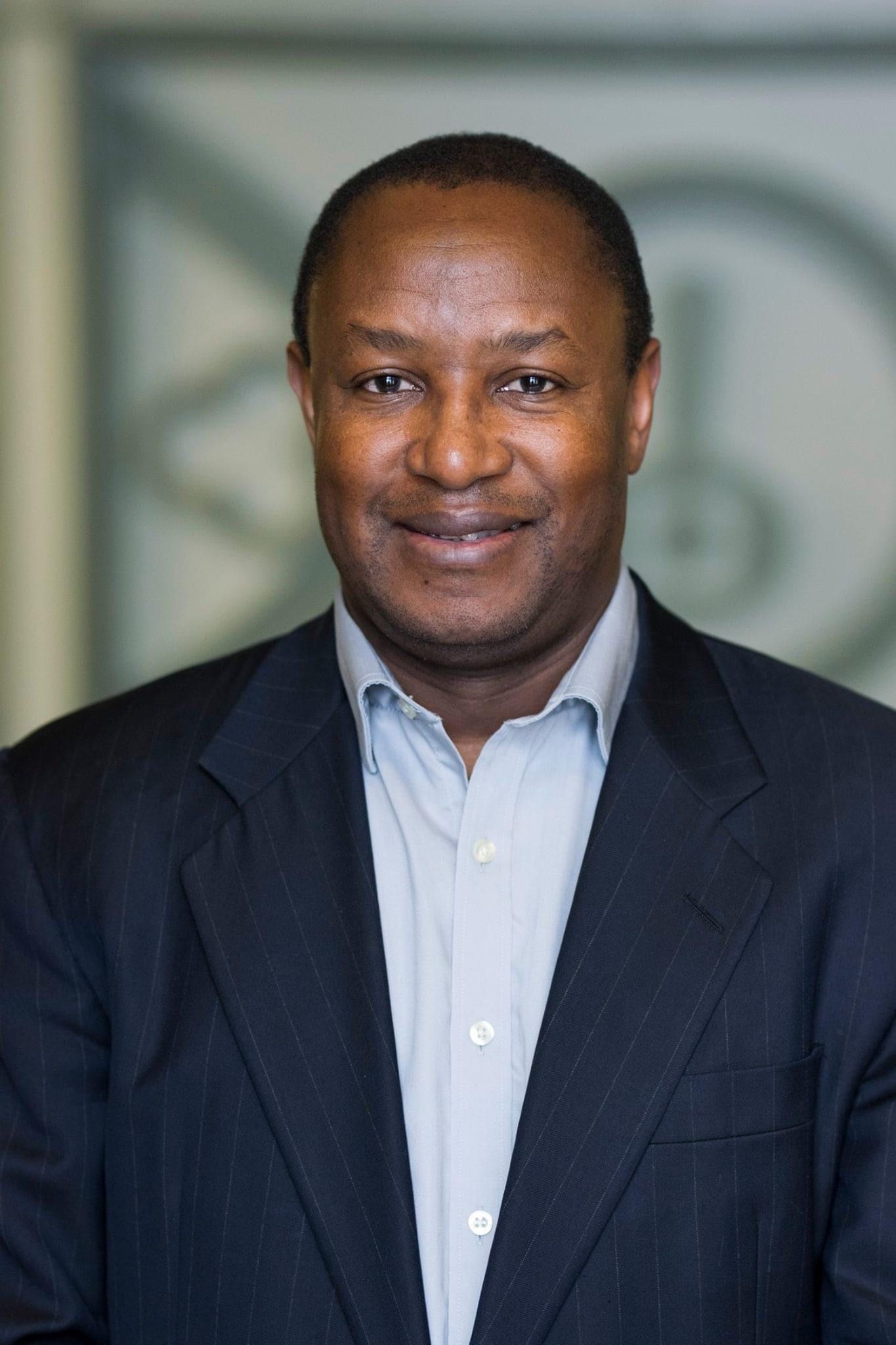 Jay Mwamba is confident that Manchester City can win a third consecutive title.
Dominik Paczko, Burton-on-Trent resident, Tottenham
The fact our former manager Mauricio Pochettino is currently out of work and no one is clamoring for his immediate return is a huge mark of how far we've come in the last 12 months. 
Antonio Conte has won over the fans, the players, Chairman Daniel Levy and the club owners ENIC. Since their purchase of the club in 2001 they have operated a very prudent break-even transfer model. This summer they broke 21 years of tradition and pumped £150 million of their own money into the club. They clearly believe they've struck gold and see this as a now or never opportunity to establish themselves as a European force. 
Transfer business to date has been exceptional and efficient, bringing in both exciting young talents in Spence, established Premier League players in Bissouma and Richarlison alongside experienced internationals in Perišić and Lenglet. There's also some decent back up for Lloris in goal, although with our two keepers having a combined age of 69, the club does need to find a long-term goalkeeper solution soon. 
There is genuine excitement among the fans. Our first three home games sold out almost as soon as they went on sale. 
As a prediction, we'll be in the title mix for a while until eventually finishing 3rd behind City and Liverpool. I reckon there'll be a cup final in there somewhere too. 
I don't think I've looked forward to a season this much in years. I'm sure by the end of August it will all come crashing down. We are Tottenham after all.  
Colum McCann, novelist, Stoke City
Hope is the thing that wears stripes.  So too is a prison uniform unfortunately.  Ah, but yes, hope is the key element at the start of anyone's season.  I've been a Stoke City fan for over half a century.  I recall the 1972 League Cup Final with great clarity.  Terry Conroy is still a hero for me.  How I would love to rekindle some of those memories.  To be fair, though, the years between 2008 and 2018 were rather glorious, with the crowning achievement for me  being when we beat Liverpool 6-1.  My friend, Aleksandar Hemon, another novelist and, for his sins, a Liverpool fan, tells me that little amuses the mental.   Yes, I get laughed at all the time for being a Stoke fan, but I'm a diehard.  I watch every match and read the Oatcake fanzine religiously.  But if anything holds the world together it's the prospect of your team winning. 
 We are starting the season with two of our key players, Harry Souttar and Nick Powell, injured.  They'll be out for at least the first two months.  That's obviously a huge disadvantage but it we can survive that it might help us form a really deep team.  We have plenty of talent, not least Tyrese Campbell and the loan signings of Irish players, Will Smallbone from Southampton and Gavin Kilkenny from Bournemouth.  Belfast's Jordan Thompson is also a regular starter, while John O'Shea has just signed on as coach. The other Irishman is our manager Michael O'Neill who used to manage Northern Ireland.  I had great hopes for him in the beginning, but I'm a little scared that he's not quite the creative spark that we truly need.  He seems a little tame at the helm.  Stoke have always had an identity, an attitude, a belief that "this one's gonna hurt."  I'm hoping we redevelop that this season.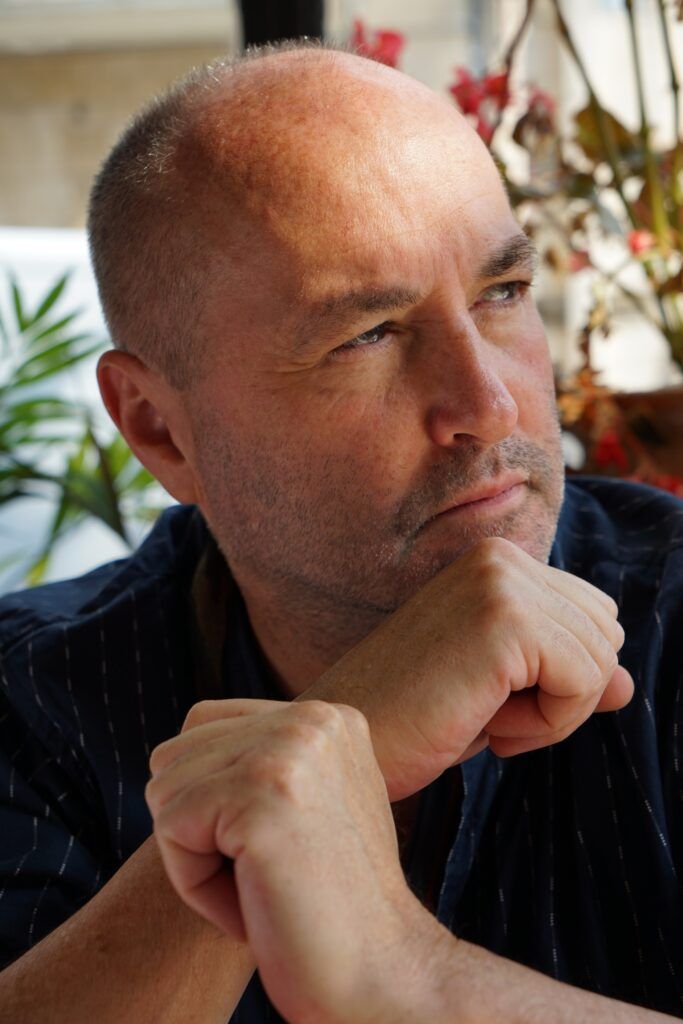 Colum McCann has loyally followed Stoke City for 50 years. [Photo by Elizabeth Eagle]
Joe Hurley, musician, West Ham United
After an epic season of raw emotion and pure magic, reaching the semifinal of the Europa Cup, and 7th in the Premiership, I believe more exciting success is coming West Ham's way.
Moving back to London to go on our European Tour, and to then revel in one magnificent West Ham victory and electric atmosphere after another, was a soul fulfilling and truly extraordinary once in a lifetime experience for me. 
From Brooklyn to Sevilla it began, and onwards and upwards, thrillingly,  it went.  But not without its heart-stopping moments. After our first leg loss in Spain, we had to win by two clear goals at home against the tournament favourites to reach the QF.  Yet, entering London Stadium  and taking our seats in the Billy Bonds Stand, under the floodlights on  St Pat's Day, our traditional sense of 'Unreasonable optimism' felt oddly rational and perfectly reasonable.  And ultimately, fully justified. 
In one of the most dramatic games of our 125-year old history, we won 2-0, with our Ukrainian striker Yarmolenko the hero, scoring the winner in the 112th minute of extra time, leaving 60,000 of us in mad scenes of jubilation, and in tears. The mother of all knees-up rocked the East End all night, Ukranian  & West Ham Flags blowing together in the cool evening breeze, united . we stood.
On to Lyon in France, where our superb masterclass in a 3-0 away thrashing, stunned the footballing world, and proved this band of brothers, with their commitment ,comradeship, and class, under David Moyes's astute man management, can go anywhere.  
Retaining all of our key men, superstar Declan Rice, Bowen and Antonio upfront, keepers Fabianski and Areola, we look in strong hands. Strengthening our squad size (smallest in the league) is key to building on the glorious foundations of stylish success we've laid down the last two years, to climb even more dizzying heights this year.
New arrivals, acclaimed 6-foot-5 Italian striker Gianluca Scamacca  ("ScaMacavennie" anyone?) is a huge signing, while the young Welsh dynamo  Flynn Downes looks to have a bit of Bonzo's bite and fearlessness about him; seeming to relish a ferocious & perfectly timed tackle with the snap and crackle Hammers fans expect and love. We could use a bit more Pop on the creative side, so hopefully Moyes will find the flair we need;  unearth  a modern day magician a la Brooking or Devonshire, capable of the astonishing and truly unexpected. 
We'll finish Top 6, pushing for a Champions League spot.  Back in Europe again, I see us blazing away in The Europa Conference, and if all the stars align, and the spirit of Frank Capra remains an indefatigable and glittering sparkle in the heart of our East End skies,  lifting our first European trophy in 57 years. These heroic Hammers have earned their dreams
And the FA Cup? I've got a special feeling this is our year. The same feeling I've had every year of my life.  And I've been spot on twice.
We'll miss our newly retired Mr. West Ham, Club Captain Mark Noble. Being there at London Stadium for his last home match vs. Manchester City to applaud him on and off the pitch, his every touch a piece of WHU history, was an honor and yet another incredibly emotional day after a season full of them. Magical moments that all went down in West Ham folklore. 
Ian Bishop, former West Ham captain
I feel that the club is moving in the right direction. It is imperative that we strengthen the squad as another European campaign will take its toll. The players and staff did incredibly well last season but fell short at the final hurdle in both the Europa and the Premier league. Ambition is now the order of the day and we will see if the club add to the squad before the window ends.
Antonio will be a happy man with the signing of Scamacca as it provides him a break, even if it's not a complete rest, as I see him shifting to the left side depending on the form of the Italian. 
Keeping Declan Rice for another season is massive and I predict another fight for top six and maybe a piece of silverware in one of the cups is in the cards.