They will begin to gather for the inaugural Story Night NYC at 6 p.m. Sept. 12, on the Churchill Tavern's 2nd floor, 45 East 28th St. in Manhattan.
Fiction writers will put their name in the hat and hope to be called up to read. The concept is the brainchild of novelist Chuck Palahniuk, who is perhaps best-known for "Fight Club." He launched the West Coast version in Portland, Ore., in May.
One of the organizers of the New York edition, Dublin-born playwright and novelist Honor Molloy, said Story Night NYC "is a celebration of writing, the power of the spoken word, and community."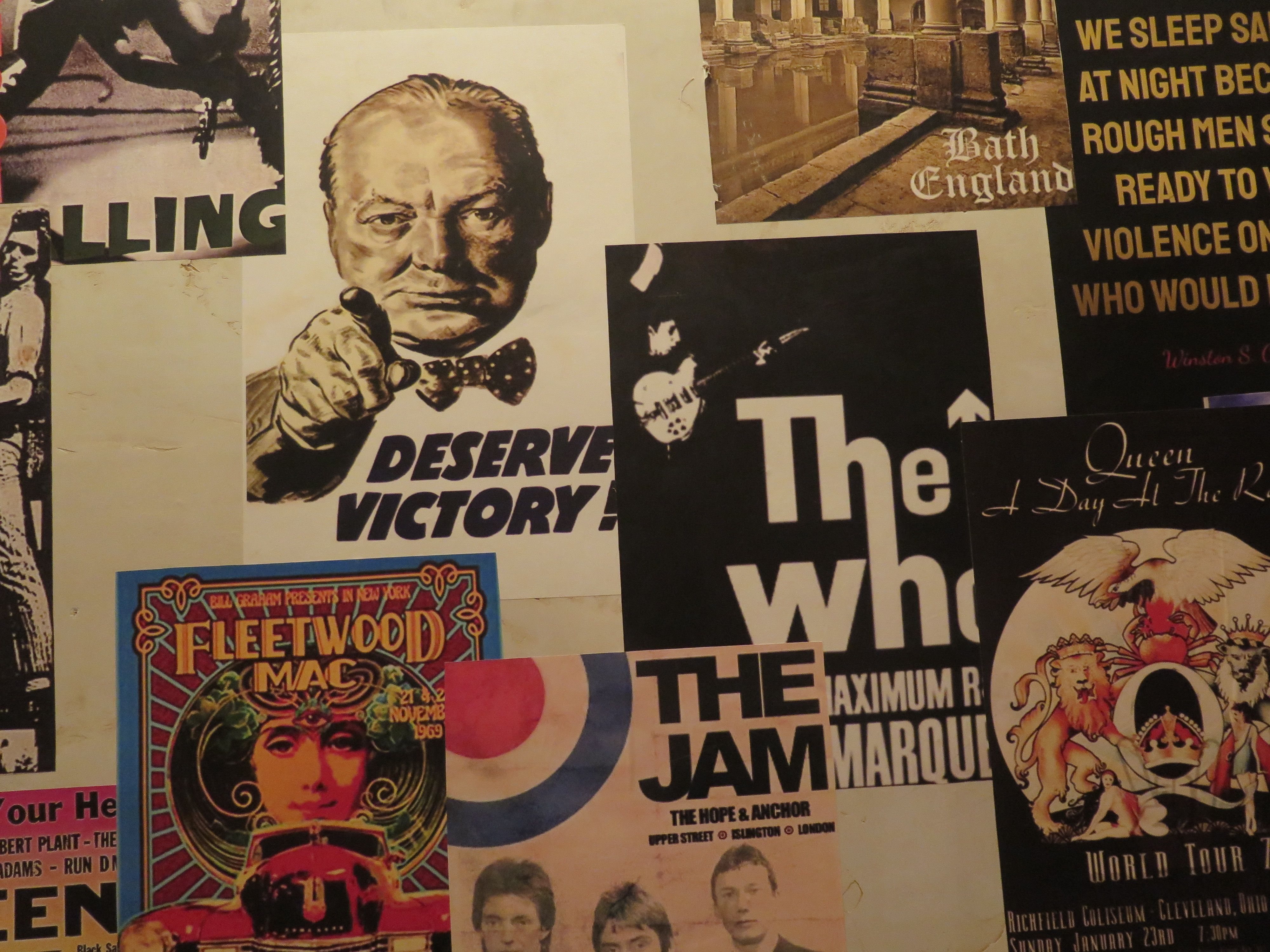 Posters in the Churchill's stairway up to the second floor.
"It's exciting. Honor has put a lot of work into it," said Loughrea, Co. Galway, native Sinead Naughton, who runs the Churchill Tavern with her husband, fellow managing owner Scott Robertson.
The England-themed Churchill is well-known in the Irish community as a venue for networking events and parties. Naughton said that over the past 10 or 11 years it has also hosted a wide variety of cultural happenings.
On its second floor the Churchill has an interesting series of spaces, including a recreated 1940s living room, which, she reported, "lends itself" to theatrical performance. 
And while the Churchill has seen readings before, Naughton said, "this is the first time on this scale."
Molloy believes the pub named for Britain's wartime prime minister, a prolific author himself, has the secret sauce for success. Asked to name a few favorite pub venues of recent times, she listed An Beal Bocht, in Riverdale, Bronx, Rocky Sullivan's, of Red Hook, Brooklyn, and two Manhattan businesses, Mary O's and Ryan's Daughter.
As Story Night NYC is in part a celebration of community, we decided to ask some prominent people in Irish arts and culture groups what works for them venue-wise.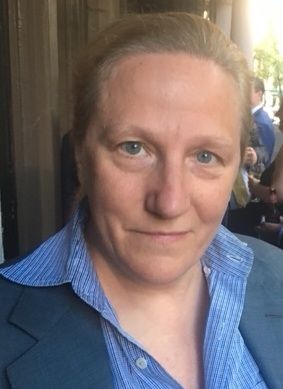 Honor Molloy.
Don Creedon: The Poor Mouth Theatre Company
Artistic director Don Creedon described An Beal Bocht as the "magnetic center for Irish culture and the arts in Riverdale."
Creedon added, "It feels like it belongs to the community more than anything else. Founded in 1991, it hosts the longest running Irish Trad music session in the Bronx, weekly Open Mics, Writers/Poetry nights, a resident theatre company [his own Poor Mouth Theatre Company], a permanent exhibition space for art and of course live music most nights. 
"Also, it's the perfect spot for a quiet drink and a chat. The owners, in their inimitable low-key way, have nurtured and supported countless musicians and artists down through the years," Creedon said, "giving them a place to perform and develop their craft for an authentic and appreciative audience."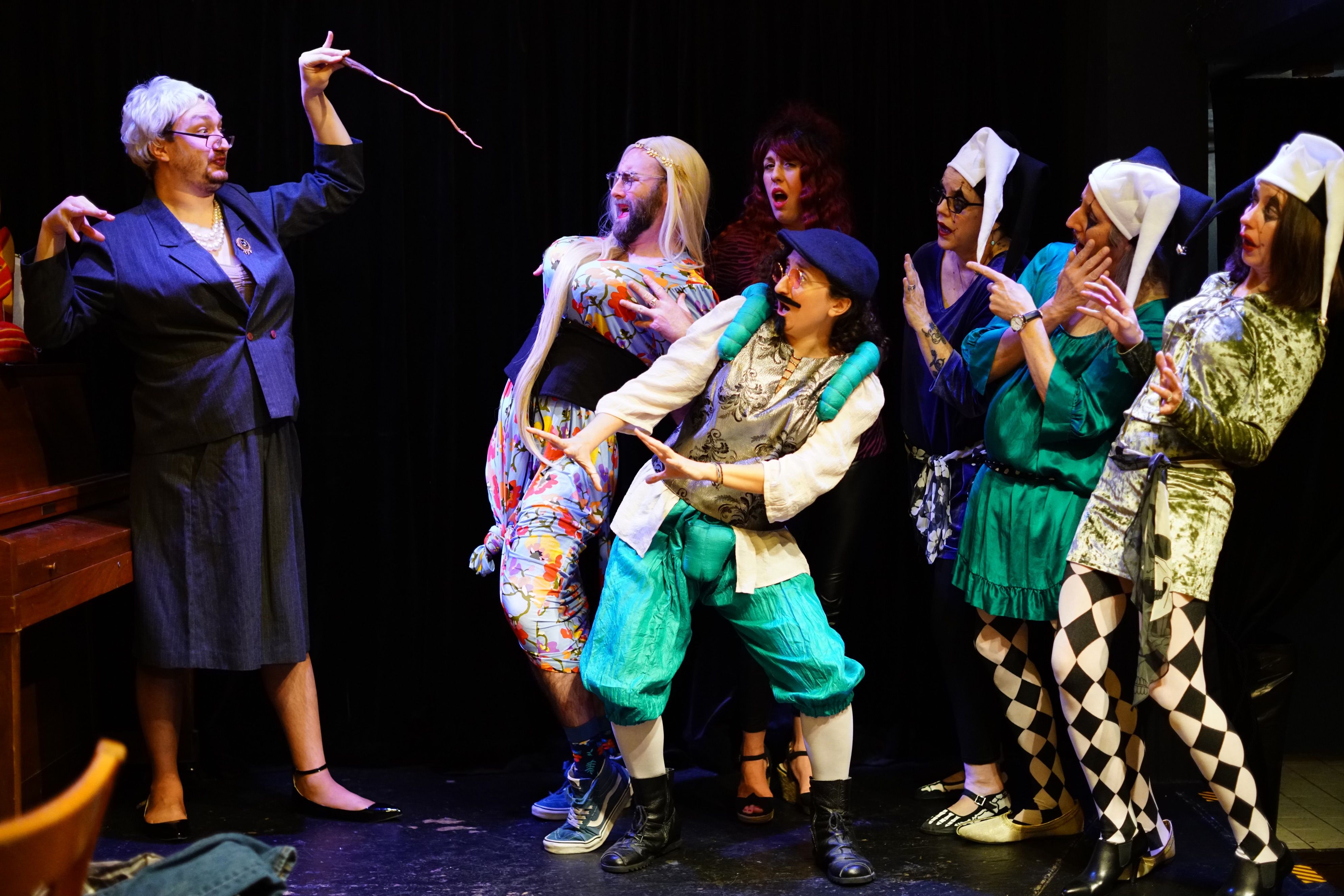 The cast of the Poor Mouth Theatre Company's Christmas 2021 panto, "Rapunzel" was photographed ahead of the run at An Beal Bocht.
Deirdre Batson: Nollaig Na mBan NYC
 "It's more complicated once you really think about what makes a venue work," 
said Deirdre Batson, of Nollaig Na mBan NYC, a group that has experienced a variety of locations in its few years of existence.
"Nollaig Na mBan NYC was imagined and tentatively formed at a Jan. 6 lunchtime gathering of Irish-American friends, active in all areas of the arts and culture world, at Connelly's restaurant on East 47th Street," she recalled. "The relative quiet of this location plus the friendly demeanor of the staff was appealing, and our discussions about the meaning and development of this very old Irish women's holiday were shared with each other and with the younger, and more recently arrived, waitpersons. This input added information about how the day itself had changed both here in the U.S. and in Ireland, concentrating now on events like races or other fundraising ideas to aid women everywhere. 
"The location of a restaurant, Irish or otherwise, and the make-up of the staff and owners, varies mightily but for this occasion – a lunch that became the start of our women's group, the interest and ideas given by the staff and others, the relaxed feeling of this kind of bar/restaurant where no-one felt rushed for a table to be cleared or a check, these conditions nurtured the exchange of ideas and brainstorming."
When Nollaig na mBan NYC, however, began staging the Celtic fire festival events, a room was needed for an audience, for acoustics and musicians, for arts and crafts and the "ability to rotate through a series of cultural 'samples.'"
For three of the four events, they would gather at the Ripley Grier Studios in Midtown. As a transit hub, it was adjudged a good compromise. "In practice, there was a fair amount of work bringing items into the space –  equipment, chairs, refreshments, etc – and there was a cost for renting the space that detracted from the idea of a modest contribution to the charity we chose to fund each time," Batson remembered, "Nevertheless attendance was pretty good even for the Feb. 1 gatherings.
"Our last in-person meeting before Covid unsheathed its fury was Imbolg in 2020," she added. "After that we 'met' for performances only on Zoom, also well attended and with international contributions now."
Batson said, "Since beginning in-person events once more there was a real consensus that a smaller venue, with a large table or a few for guests to gather, made for a gradual refiguring of our goals and means. Many restaurants have rooms set aside for gatherings of course but these are hard to come by and can be costly to rent. 
"The best bargains and the most relaxed venues seemed to be bar/restaurants, where in early-afternoon hours owners are eager to attract indoor customers, especially post-Covid. 
"More emphasis was placed on sharing simple stories, poems, and comments related to a theme over dinner," she said about Nollaig na mBan events. "Bars that hosted live music often had designated parts of the space for musicians to gather; these could be spacious if the musicians were regular performers who welcomed visiting colleagues passing through, indeed anyone who had a tune or a song, and Irish musicians had the traditional 'seisiuns' where a core group showed up and swelled as the time passed, every listener tapping their feet or hands."
Batson continued, "The Landmark Tavern on West 49th Street is famous for its Monday night music and has a part of the restaurant, behind the bar and booth tables, where customers can enjoy a quieter space to eat before the music begins – but are free, and encouraged, to stay on and listen afterwards. Every Monday the mix of musicians differs and the tunes change which makes for the universal appeal. Meeting in places like this are ideal for a smaller group of people sharing experiences spoken and written, and when some participants are able to play music for the group before embarking on a regular gig, the range of cultural offerings is enriched."
She said, with other sources of funding drying up for musicians, "it feels right to frequent places with this wonderful live music tradition. 
"We have held celebrations at La Cheile – a live music Irish bar/restaurant on 181st, and on the other end of the city, recently at Mary O's on Avenue A. Many of these venues host book launches, book clubs and cultural salons in a relaxed and friendly atmosphere."
Batson said, "When it comes to our Samhain gatherings however, [which] began years before Nollaig Na mBan was founded, and concentrate on celebrating a character or characters from history or whatever is the theme chosen for the year, the best venue is a separate room with designated waitpersons and the ability to bring simple decorations or perform simple ceremonies." 
Batson said, "The participants dress up, briefly explain their costume and share a story, poem, song or anecdote in turn as we all share a dinner. 
"Again, some Irish bar/restaurants have such a room, often the owners will make it simple by providing a basic series of menu choices and be okay with billing everyone separately. The many Playwright Tavern locations have this kind of room, staff and owners are friendly and encouraging, and the rooms are often some floors above the bar for relative peace. Another plus is the Midtown location for those traveling from all over and happy with public transport options."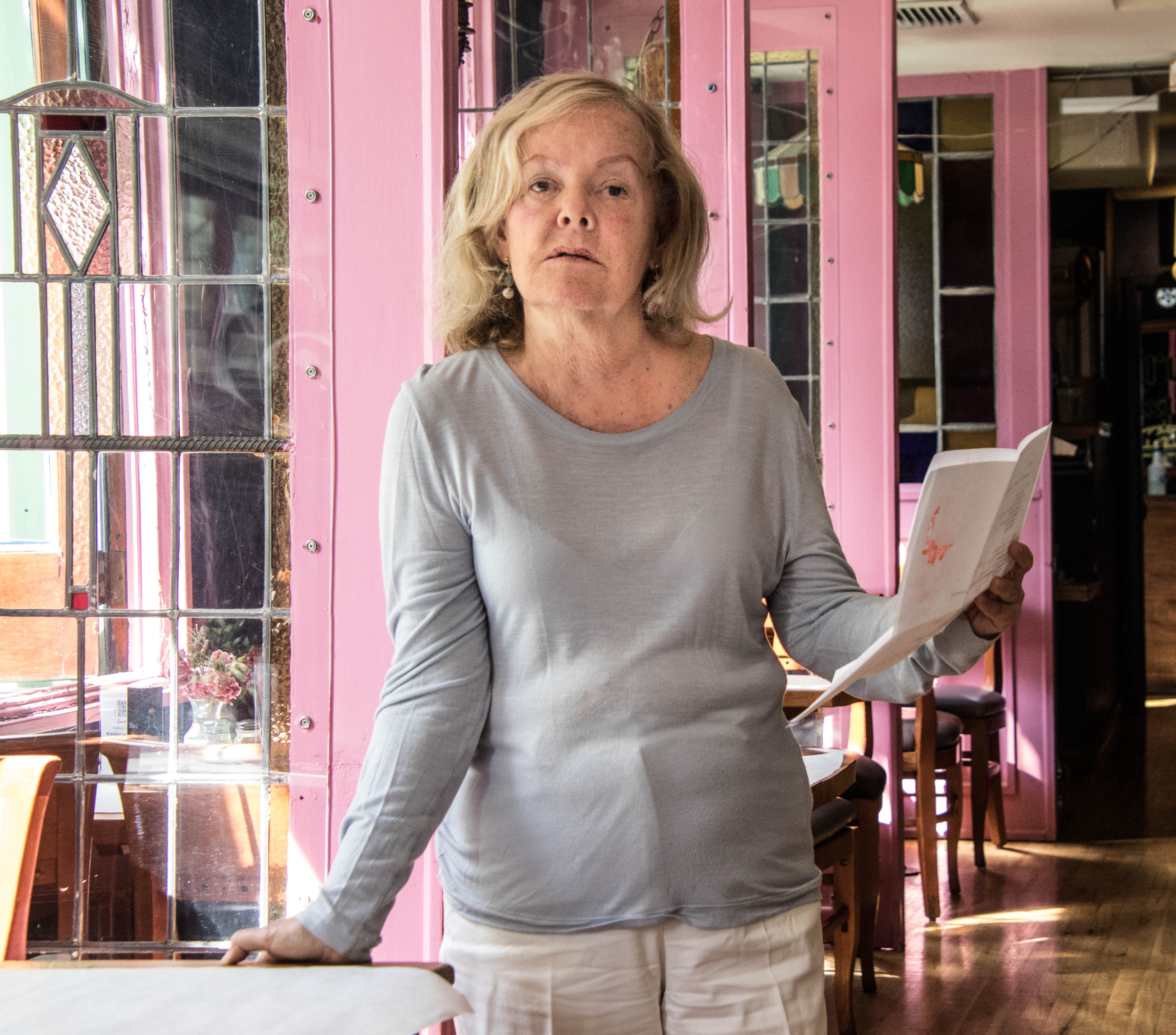 Bernadette Cullen was host at the Nollaig na mBan NYC's Bealtaine event in May, which was held at Le Cheile, West 181st Street.

Brendan Costello: IAW&A
The Irish American Writers and Artists has likewise hosted events in a variety of locations, but Brendan Costello, its vice-president, preferred just to mention "the Ellington and DIVE 106 where we have our Salons and the Bloomsday reading, respectively."
They both fit the criteria of what he believes works for IAW&A and should for similar cultural organizations.
Costello agrees with the view that "a key to success is having a separate room or space where the presentation does not interfere with the normal commerce at the bar."
He said, "I still cringe at memories of asking a bunch of regulars at a bar, who were just trying to hang out after work, to be quiet so that we could hear a reader the regulars did not know nor have any interest in. This doesn't mean the space needs to be designated for performance, or a formally appointed stage, just as long as there's a way to keep it somewhat separated from the main area. 
"More important than even that, though, is the willingness of the establishment – primarily the staff, but, to an extent, the patrons as well – to allow something like a reading, or a scene or two of a play, or live music, to be performed. There are some places that are more open to that, and some places that just aren't."
Costello said, "Proprietors may say they want some kind of cultural events in their establishment in theory, but in practice they may not be comfortable with it, or there just may be an overall vibe that is almost beyond anyone's control. 
"And, of course, there are different modes of self-expression that may be more or less welcome depending on the atmosphere of a given room," he added. "A poetry slam happening in an East Village back room would probably not be welcome in an Upper East Side fern bar. 
"Perhaps a better way to consider it is in the simple matter of whether the place is haunted or not. Or rather, whether the spirits that reside in whichever place you are putting your work out are friendly or not. Because really, New York is certainly full of ghosts from its myriad previous incarnations. And while we may be in danger of driving these ghosts away with gentrification, replacing unique environs – their old haunts, literally – with cookie-cutter retail spaces, perhaps our music and poetry and other works of imagination will convince them to stick around."
The IAW&A vice-president also suggested that "a very quick and usually accurate metric is whether or not the bar is dog-friendly. If the place welcomes dogs – as pets, not necessarily drinking at the bar or playing poker in the back room – and if the dogs seem comfortable, well you are probably in pretty good company.  
"Walt Whitman's ghost told me that," Costello said.