Paul Gorry, a prominent Irish genealogist, and Brendan Scott, manager of the website Roots Ireland, had only ever been in contact via email before they sat down for a recent conversation in Buswell's Hotel. 
They were there to record Episode 2 of Gorry's podcast Irish GenPod. It proved a good place in the heart of Dublin, with other conversations, as well as the gentle clinking of glasses and cups for added atmosphere, in the background. 
It's just across the street, literally a few seconds' walk indeed, from the gate of the National Library of Ireland, one of the most important repositories of genealogical materials in the country. The gates to the Dáil and the National Museum of Ireland - Archeology are right beside it.
The National Gallery of Ireland is close, too, and on your way there you might take a wrong turn and see the Alex Hotel, which is where Gorry recorded Episode 1 with Nicola Morris, the president of Accredited Genealogists of Ireland. Again the comforting background was the murmur of other conversations in an indoor public space.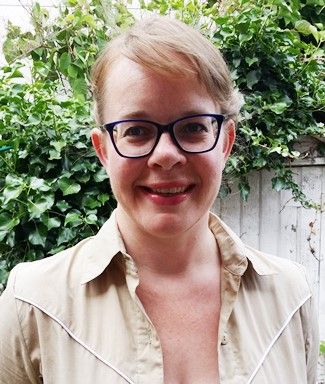 Nicola Morris.
Genealogists work alone, but AGI affords them the opportunity to meet at conferences and other gatherings. And if the first two episodes are any judge, they are a sociable and friendly bunch of people that enjoy talking about their profession.
Gorry is every bit the expert as his individual guests, but he uses an easy conversational approach, and doesn't presume the listener has any special knowledge of the subject at hand. 
In Episode 1, he said that many professionals were enthusiastic amateurs whose addiction led eventually to a full-time career. He noted that Morris, however, got a job in the business straight out of college. 
"I was definitely bringing the average age down," she said with a laugh.
The Dubliner recalled her delight and amazement at finding paid work that was so interesting. 
Morris had spotted the job posting while checking examination results on a notice board at Trinity College.  It specified skills in "paleography," and the history graduate reckoned that she could read the handwriting on historical manuscripts just fine. 
As important a skill, in her view, was and is the ability to put the 18th and 19th centuries on the island of Ireland in context.
Gorry remembered that Morris's public speaking skills made a good impression on her new colleagues and he still marvels at her relaxed manner in front of the camera, citing in particular a National Archives video done during lockdown. Morris put that down to her mother enrolling her in speech and drama classes when she was a girl, and some youth theatre later.
She does well "once I know what I'm talking about and am prepared. And I can talk about genealogy forever, so it doesn't matter."
The recent guest via Zoom of the New York area's Irish Family History Forum has a high-profile television presence, for instance on three versions of "Who Do You Think You Are?" – Irish, UK and American. The latter two expend enormous resources on production, and can take up to 18 months researching a celebrity. Gorry wondered whether this can make roots sleuthing seem  "unrealistically easy" to the viewer?
Morris argued that the "digitization of records feeds into that expectation" more generally. She suggested that people who enjoy the detective process and the piecing together of information are likely to have the patience to stick with it.
"That's more in your personality than the external expectations that have been set," she said.
Morris recalled as a good memory her TV debut with a celebrity. That's a compliment to the actor Jeremy Irons because, as she explained, five minutes of screen time can be the outcome of an entire day standing around together.  The star-struck genealogist was thrown in at the deep end in the morning: the production team got stuck in traffic on the way and she had to keep Irons entertained for a time at the National Library. 
A more recent hero is Judi Dench, whose "Who Do You Think You Are?" episode was put on ice due the lockdown but was eventually completed for broadcast in October 2021. One little footnote from Morris revealed Dench — in addition to her being a world-class actor, "great craic and full of fun" — to be a fine person.
The Irish GenPod host asked Morris to give her "best advice to people struggling with their family history." She said, "Take a step to the side. Lateral research."  Information of the sibling of a great-grandparent, for example, or other direct ancestor might get you around the brick wall.
Gorry raised a "big bugbear" for him, inaccurate family trees, which he described as a sort of "genealogical virus." 
He said, "All of the big companies have them. It takes people some time to get past that and realize all of that is rubbish."
Morris agreed and her hope is that increasingly "people are aware of those pitfalls and are cautious about them."
It's certainly interesting, if hardly surprising, to hear that genealogy experiences the same profit-driven misinformation issues that plague the internet generally. 
AGI, which was founded in 1986, does its part in countering misinformation with its emphasis on standards for the profession. Morris explained the ins and outs of the process of accreditation. Someone with experience who is interested in becoming accredited would join as an "affiliate," be assigned a mentor and go to professional development courses and the like. If they don't make it first time, they can try again after two years.
High standards protect the paying clients too, and AGI has an independent complaints process. 
AGI acts as an advocate for professional genealogists in discussions with repositories and government agencies; it staffs in-person free consultations at locations like the National Archives and public events; and it provides lecturers for various genealogical courses available at colleges.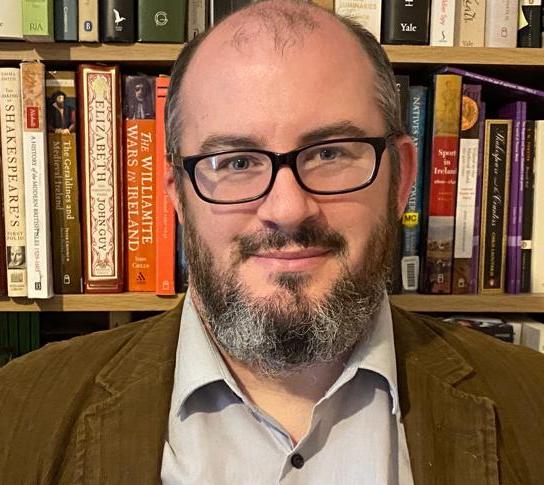 Brendan Scott.
Morris answers people's questions in a column in the quarterly magazine Irish Roots. ("I'm not quite an agony aunt," she said.) They come from  the U.K., America, Canada and Australia and although Brendan Scott's similarly named website is not connected to the magazine, he said most of the queries he gets are from the same parts of the world.
Scott manages the subscription-based Roots Ireland on behalf of the Irish Family History Foundation, a coalition of the various centers that were set up around the country, north and south, from the 1980s. It has 24 million records of various kinds.
It's his main day job, but he also lectures in history at Maynooth University, is an author, is historian-in-residence for Cavan, does projects for the Ulster Historical Foundation and edits the journal Breifne.
The working genealogist Gorry is an admirer of the website and hailed the improvements made on Roots Ireland over the years, but particularly since Scott took over in 2017.
Gorry, a lifelong resident of Baltinglass, is active in the West Wicklow Historical Society, and in conversation with Scott found they were on the same page also about local history. That's something that can get squeezed they believe by academic history, looking down upon it from its ivory tower, but also by the commercial focus on family history.
It should be said that Scott came to local history via the academic route. He was "half-dozing" one afternoon in his 2nd year undergraduate class at National University of Ireland, Galway, when Prof. Nicholas Canny, someone he now appreciates, happened to mention the massacre of Scottish and English settlers in Belturbet in 1641. That's Scott's hometown and this was the first he was hearing of it. He was soon fully awake. Up to that point, his interest in the early modern period was focussed on the big people — figuratively and literally in the case of Henry VIII — of the Tudor era. His fascination with the local was ignited and this was to be his emphasis up through the completion of his PhD.
Now, he deals with the local each and every day. But what's with the Fermanagh and Clare records, Gorry wanted to know? Scott gave an update on progress and hopes for the future. It's a cooperative, he stressed. One of the upsides to that is when someone has a query and he doesn't know the answer, he said, "I do know the people who do know."
He answers email promptly, whether it's a query or about a correction that needs fixing. 
Scott has even been known to send out emails on Christmas Day, when he welcomes the diversion. 
The first series of Irish GenPod, Paul Gorry's conversations with people involved in Irish genealogy, can be found at Senior Times. A second series is planned for the fall.