Kerry 1-14; Dublin 1-13
So how do you rank that finish? Some matches are won routinely but this All Ireland semi-final was no routine affair?
A bit like Seamus Darby's goal back in '82 or Stephen Cluxton's  winning placed ball 11 years ago, Seanie O'Shea's monster kick from downtown was the talk of the Gaelic world this week as his last-minute score saw Kerry win for the first time in six championship encounters against Dublin in a heaving Croke Park on Sunday.
What sporting drama we among the 73,607 spectators witnessed as first Kerry looked like they would steamroll the boys in blue into the greensward of headquarters and then appeared to be on the ropes as Dublin came back with a strong finish to equalize as time evaporated into the white heat of battle and North Dublin's temperature coming to five o'clock local time.
At the end of the day O'Shea, who could so easily have been the villain of the piece due to his first-half penalty miss, became the Kingdom's hero when he defied the breeze against and the baying locals on Hill 16 to send his exocet over the bar, albeit on a trajectory that saw the ball orbit from four feet outside the right upright to curve well inside the scoring posts. And it didn't just make it, the shot had legs enough to hit the protection nets behind the Dublin goal, showing his armoury can deliver from further out if required in the final.
From my own seat in the old Canal End, now the Davin Stand, I thought he had sent it too far out to come back and I wasn't the only one. Kerry Manager Jack O'Connor felt it was too far out for a player who had given his all for over 70 minutes to have the power to deliver the kick to a glorious ending.
"Personally, from the line, I didn't think it was kickable to be honest with you, straight up. I didn't think a man could get the distance because Seanie Shea had emptied the tank.
"That was the 76th minute. He had given a ferocious performance up to then. To have the resilience and the strength and more importantly the technique to kick that with the in-step and just glide it in from the right hand post, into the breeze and into the hill," the green and gold supremo stated.
He added: "So that has to be one of the best pressure kicks we've seen here, and we've seen a lot of kicks, that I've seen here in Croke Park in a long, long time."
Referring to the penalty miss by the player, O'Connor stressed: "I don't think the penalty affected him because he was playing very, very well. He had a great start in that game. He had kicked 1-2 before he missed the penalty. Seanie is a resilient character, that was never going to affect him.
"But like, that last kick there's very few players in the country...you go back to the Maurice Fitzs and the Bryan Sheehan's of this world to kick like that, but particularly the last kick and the amount that he had given in the game."
Overall his view on how Kerry got off the ropes to land a knockout blow was summed up thus: "Just delighted with our fellas, with the resilience they showed. That game was going against us, that was a fairly significant wind there. We had thrown everything at it up to then and I think the absolute key to it was in the last 10 minutes, when Dublin were pressing our kick-outs Shane Ryan got off all our kick-outs. I think that was hugely significant.
"If they turn over one of those kick-outs I thought we were done. Fellas like Brian Ó Beaglaoích must have shown short for four or five of those kick-outs and more importantly broke out and broke the line and got us moving again. We were still creating a bit down the other end, even though we were a bit wasteful.
"But what a battle, Dublin are a great team. Probably the greatest team of all time so you can imagine how much it took for us to finally get over the line," he concluded.
For O'Connor and Kerry, there is now the matter of Galway and an All Ireland final on Sunday week to negotiate before they can relax among their demanding supporters for the rest of the year.
There is no such consolation for Dessie Farrell, the Dublin boss, who on Sunday evening was already fending off suggestions that he might be under pressure to resign now that he has lost two All Ireland semi-finals in a row.
The fact that he had to line out without his ace marksman Con O'Callaghan is no excuse for the defeat. The Dubs had come like a horse in a classic race onto the shoulders of their rivals but couldn't kick on when it was asked of them.
"That's the nature of it. We've no excuses," explained Farrell. "We just came up shy on the day and it's a bitter pill to swallow. I'm gutted for the lads inside there. They died with their boots on. We were in a sticky situation at half-time. Immediately after half-time, we went six down and it wasn't looking good at that point. But we rallied, and they threw everything at it. I'm very proud of them in general."
Kerry came out on fire and with the wind whipping up their play they had scored 1-2 within three minutes into the Canal End.
Playing with the nippy breeze in the first half and into the Canal side - where the wind doesn't swirl as unpredictably - Kerry amassed a five-point lead. Dublin had gone ahead through the impressive defender Lee Gannon but O'Shea levelled immediately and then rammed home a goal, taking advantage of  Eoin Murchan's bad decision to anticipate a pass back out the field instead of forming a phalanx to stop advancing on Shane Ryan's goal.
Veteran David Moran had hoofed in a long ball to the full-forward line, and with defenders out of sorts, O'Shea saw and seized his chance for a settling goal for the Munster men.
Dublin skipper James McCarthy, who started although listed as a substitute, nearly got a green flag flying for the Dubs straight from the kick out but his shot was deflected by Ryan to Brian Howard, who kicked one of the points of the day.
Star man David Clifford then started to cause Mick Fitzsimons all sorts of trouble with his ability to turn either way and his points gave Kerry the belief that they could kick on and deliver a right old beating to their deadliest foes. 
That feeling grew when the ball his the upright and landed into Gavin White's breadbasket on the edge of the square. He was adjudged to be fouled by Lorcan O'Dell but after a long delay, O'Shea hit one of the worst penalty kicked to the keeper's Evan Comerford's left and he made a double save, getting injured on the head with the 
That could have been costly except Clifford raised spirits within the southern troops in the stadium when he showed tremendous adroitness to leave defenders for dead to kick his fifth point of the half, giving Kerry a five-point interval lead.
He kicked the first of the second moiety to go six clear and even when Brian Fenton landed his only score of the day, it didn't look like it was to be the start of a comeback.
Substitutes Dara Moynihan and Paddy Small – who made a real impression – both shot points before Cormac Costello got on the end of a swift Dublin counter attack from David Moran's spilling of the ball at midfield to ram home a brilliant goal across the body of Ryan, who had no chance despite the fact that the scorer was at an acute angle and 20 metres out.
Ciaran Kilkenny had a torrid first half but was now in his stride and his three points levelled matters and left the game in the melting pot with the finishing post in sight.
 Great scores by Paudie Clifford, who was the man of the match, and Dublin star McCarthy only heightened the tension in those final moments before sub Paul Murphy fed a long kick into David Clifford 55 metres out. He was adjudged to be fouled by his new marker Davy Byrne – so far out that Dub followers felt the game would go to extra time. Would the players have anything in their bodies left for two 10 minute periods?
In the end that was all only conjecture. O'Shea proved himself a stalwart under pressure like few others. Croke Park could hardly draw its breath in disbelief as Dubs fans slumped back in their seats; in exhilaration was Kerry fans raised the roof with the din of their celebrations.
Comer delivers final date for Galway
Galway 2-8; Derry 1-6
The Northern cyclone that had been Derry all season finally blew out tamely when it headed south for this All Ireland semi-final against Galway on Saturday.
It buffeted early on as if it might blow up a storm but it was Galway's second-half showing which was the real hurricane on the day.
And at the epicentre of that gale force recovery was Damien Comer, whose 2-2, including two great second half goals, flattened the Oak Leaf men who could have no complaints at the end as the better team won on this occasion at Croke Park.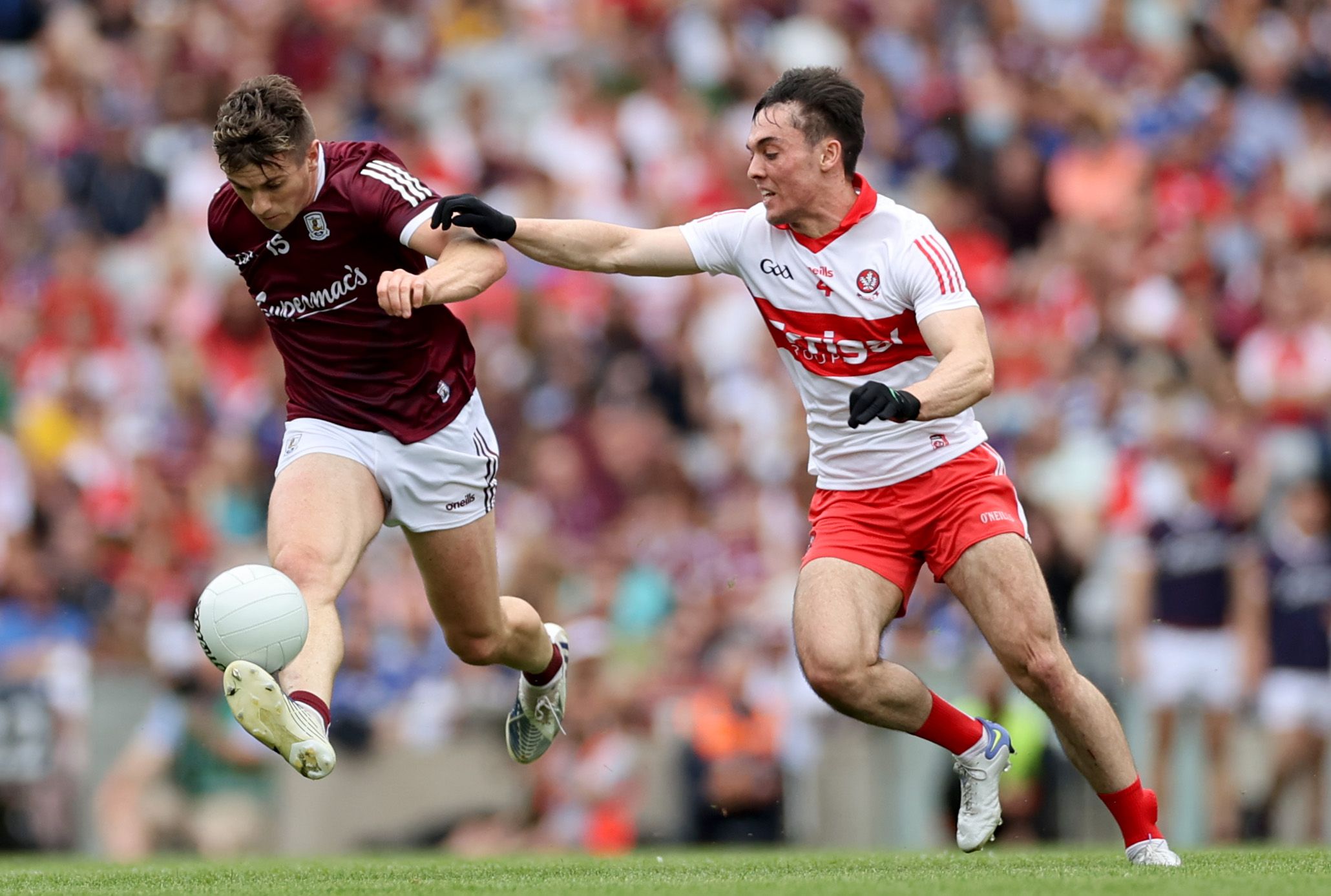 Galway's Shane Walsh, left, and Conor McCluskey of Derry.  INPHO/JAMES CROMBIE
Three years into his tenure, Padraic Joyce has now got to the portals of where he always wanted to be – the All Ireland final.
It has taken several false starts and reincarnations but now he has a team that will be well able to put it up, if not beat, Kerry in Sunday week's final.
After the match, the two-timer Sam Maguire winner as a player said: "I'd said from day one since I got the job, it's about winning an All-Ireland. It's taken us three years to get here but look it, we're here now so we're definitely going to make the most of it.
"Ye lads know from writing about us, there'd be a soft belly that people see in Galway. And until we actually go and win these big games in Croke Park, that tag is going to follow you around.
"So after winning that game (against Armagh) and the way we won it, being six up, letting them back into it, and the row, normally gone by we might have folded a bit, but we took a lot of solace from that," he emphasised.
Praising his men for finding a way, he added: "They eked it out, they put the shoulder to the wheel, worked really, really hard. They took the hits, they gave the hits, I think they completely snuffed Derry out. Semi-finals are for winning. It mightn't be pretty at times. We have won it and we have a final to look forward to." 
For the neutral, this was a version of puke football reincarnated with only eight scores – seven if you went with Hawkeye…Shane Walsh's 45 point was awarded during half-time when referee Brendan Cawley looked at the replay, saw it was clearly inside the post, and informed both team managers before throwing in the ball for the second half.
Joyce told his players to push on at that stage and that is exactly what they did to book their first final place in 21 years.  They upped their game and with a burning desire that Derry could not find an answer to, they started to find the way to dominate in most sectors.
Comer's first goal rocked Derry on the heals and then when their goalkeeper Odhrán Lynch  tried to salvage something by presenting himself as an outfield alternative to the stale northern tactics which clearly weren't working now that they were in arrears, the inevitable happened. 
When a Derry move broke down, Lynch was caught upfield, as the impressive John Daly won possession and fed Liam Silke. The corner back thumped the ball expertly into Comer who got out in front of Brendan Rodgers before flighting the ball into an empty net from 35 metres out.
Derry didn't give up and got a consolation goal from sub Lachlann Murray  but by then, the ship to All Ireland final day had sailed and Galway were on board.
Martin goal seals Tailteann win
Westmeath 2-14; Cavan 1-13
If this in soccer terms is the Europa Cup to the Champions League, then so be it. The Tailteann Cup climaxed in Croke Park as the curtain raiser to the first All Ireland semi-final on Saturday between Galway and Derry, and Westmeath emerged as the winners in a fine game against Cavan.
In the end it took a goal of the season-type score from sub Kieran Martin to forge any distance between the two combatants, although the fact that Cavan had midfielder Thomas Galligan sent off 12 minutes from time helped the Lake County make the late splash that saw them score 1-4 to 0-0 from the Breffni men.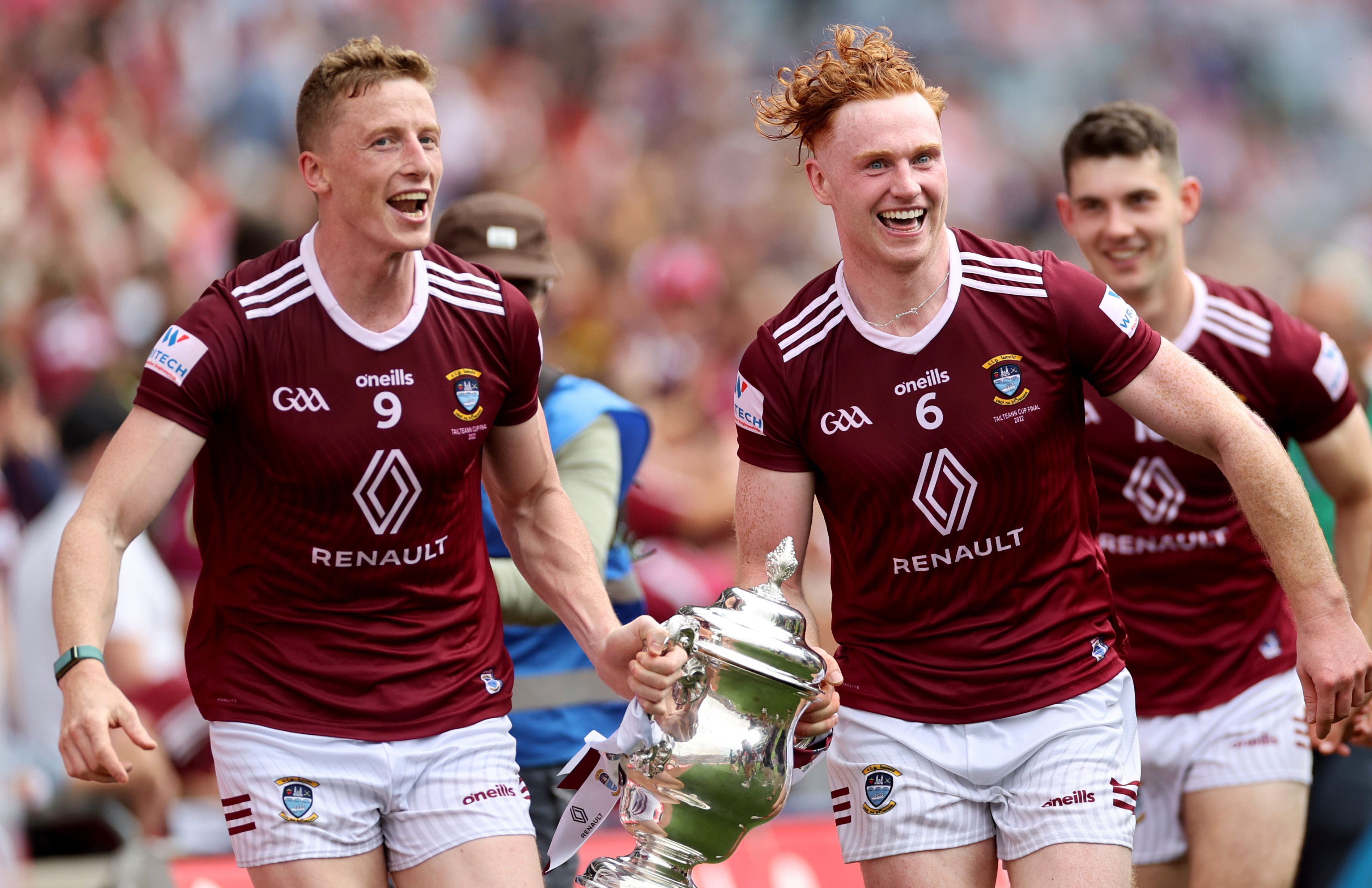 Westmeath's Ray Connellan and Ronan Wallace celebrate with the Taillteann Cup.
INPHO/JAMES CROMBIE
This meant they turned a three-point deficit into a four point victory – and few would begrudge Jack Cooney's squad, who later were greeted by thousands on their return to Mullingar on Saturday night.
In that late window of time bustling half forward Sam McCartan notched two points while man of the match Ronan O'Toole got his fifth score of the day a minute beyond the hour mark.
Victory in this tournament mean's Westmeath will be exempt from next year's competition and will play in the Sam Maguire Cup for the top tier sides.