The last week was certainly a very memorable and historical one on New York's GAA calendar. Last weekend the New York ladies under 15 squad secured the top prize, in the top division, with a top class performance as they won the 2022 Division 1 title in the John West Feile competition with aplomb.
On Sunday, New York junior footballers, all American-born players, played Kilkenny in the All-Ireland junior football final at Croke Park. This was the first time in over 50 years that a Big Apple men's team had played at headquarters. Unfortunately victory was not their lot, but they still acquitted themselves reasonably well, even though it was in defeat.

Meanwhile it was New York's young lady footballers who grasped the headlines.  On their voyage from the Big Apple to Dublin's Big Smoke, the New York team and their 50-strong entourage stopped off at the Truagh Gaels Club, in Monaghan, the home club of their manager, Niall McKenna. This served the dual purpose to enculturate and acclimate the young Yanks.  Here the New Yorkers strutted their stuff against Monaghan and Tyrone development squads at St. Mellan's Park. 

After the exhibition, it was time for socialization, relaxation and a bit of fun for the touring party. The Truagh Ladies GFC helped to organize a gathering, titled the "Monaghan and Big Apple Blitz". Pig on the spit was followed by an evening of Irish traditional music and dance, with the local folk group Bula Beag, part of the entertainment.

After spending the night with the host families, it was on to the main business the next day in Dublin. Eighty eight clubs from Ireland, England, Europe and the US competed in the Feile Peil na nOg competition in nine venues, between Dublin and Kildare. New York's venue was the Kilmacud Crokes stadium.  Caesar, the great Roman general, is reported to have said, after a great war campaign, "veni, vidi, vici," namely I came, I saw, I conquered. Well that certainly could have been New York's modus operandi, for they definitely came, saw and conquered, well, with bags of goals. 

They met Claremorris(Mayo) in the first game, winning by 6-8 to 0-3. Next up were John Lockes(Kilkenny),  who went under by 5-11 to 1-4. The demolition derby continued as Sothern Gaels(Kerry) were the next victims, 6-4 to 2-0. Three straight victories put New York into the semifinal against Erins Own(Kilkenny), winning by 4-1 to 1-1. Then it was on to the final where New York easily accounted for Naomh Mhuire, 3-8 to 0-2, with the goals coming from Ava Fitzsimmons(2) and Caitlin Cronin.

Over the course of the five games tournament all members of the 24-player squad played a role. The defense was capably controlled by keeper Emma Walsh, who not only pulled off several saves, but her solo runs changed the scene from defense to attack. Further out tenacious tackling from Cathy O'Neill, Joey Degl and company ensured there were no easy paths to the goal. Amelia Leyden  was a great platform in the middle for setting up, but also taking scores. The Kelleher twins, Niamh and Fiona, the free-taker, were a very dynamic duo.  Ava Fitzsimons(9-3), Caitlin Cronin(7-12) and Fiona Kelleher(4-7) were prolific scorers during the tournament. Winning the top award in this prestigious competition is powerful testimony to the wonderful coaching that's taking place, in the Gaelic for Girls programs, in Rockland, Paddy's Field, and Frank Golden Field. The team manager was Niall McKenna(Rockland)  trainer, Colm Donnelly(Rockland), selectors Noel Cronin(Celtana) and Shauna(Shannon Gaels), and the tour chair was Liz Keveney.

New York: Emma Walsh, Gianna Dolan, Cathy O'Neill, Sophia Kirby, Keelyn Connaughton, Joey Degl, Niamh Kelleher, Fiona Keveney, Amelia Leyden, Aisling Conlon, Ava Fitzsimons, Fiona Kelleher, Cara McNulty, Caitlin Cronin, Keira Cleary. Subs Olivia McKenna, Erin Muncan, Kate O'Sullivan, Charlotte Woods, Jenna Byrne, Liz Brant, Alyssa Higgins, Cora Harrigan, Kelly Martin(injured)
 
All-Ireland Junior Football Final 
Kilkenny 3-12   New York 1-9
The New York junior football team, consisting of all American-born players, qualified for the All-Ireland junior football team by beating Warwickshire by 1-8 to 0-6 in the semifinal at Abbots town on Friday. Shay McElligott led the way with a personal tally of 1-3, while Peter Cronin, Brian Coughlan, Brendan Cole and Tiernan Mathers were also on target. Kilkenny defeated London, 3-11 to 2-9, to secure other final spot.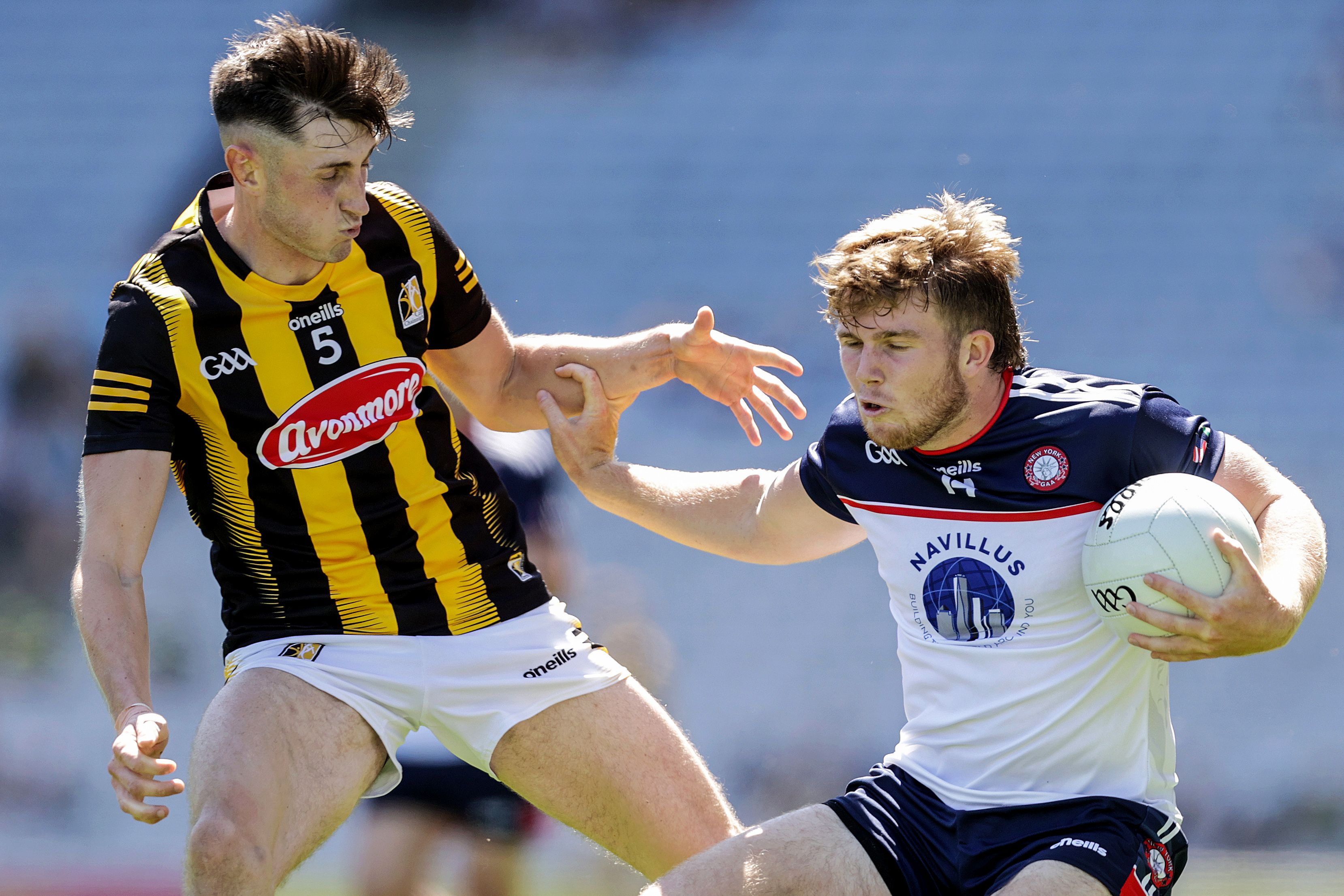 New York's Brian Coughlan, right, and Kevin Blanchfield of Kilkenny. INPHO/LASZLO GECZO
This was the first time since 2019 that the junior final was played in this competition. Kilkenny were deserving winners, though the final score might be a tad flattering, as the Footballing Cats got two goals in added time. Still, this was not a good performance from New York as their defense was too readily exposed and poor passing and frequent turnovers exacerbated their harried endeavors. In addition Kilkenny seemed to have greater strength and pace, while New York had difficulty making in-roads up front. 
It has to be said, however, that the while Big Apple Boys were nearly always playing second fiddle and catch-up, there were a number of notable incidences. Among them were keeper Coles myriad of saves, Brian Coughlan's goal and Tiernan Mather's physical challenges. 
Meanwhile New York got a terrible start as Ger Malone soloed straight in from the throw-in for a point, and could have easily put it in the net. Indeed over the first eight minutes Kilkenny would put five unanswered points on the board as big Mike Kenny was causing plenty of problems, setting up opportunities and pointing frees. Jim Culleton and Conor Hennessy availed of defensive snafus to score. 
At the other end an acute angle free from Shay McElligott for a foul on Mikey Brosnan was wide off the mark before Conor Mathers set up Brosnan for the opening score approaching the ten minute mark.  This score seemed to alter the momentum as New York were enjoying much more possession, but a couple of wides kept the scoreboard from advancing before Conor Mathers landed a fine point midway in the period. Kilkenny always looked dangerous on the counter-attack, and that was the case after Jamie Holohan sent a blistering shot wide from close range after slicing his way through the defense. Two minutes later Jim Culleton pointed after Adam Mansfield laid off a nice pass. 
The half started badly for New York, and it looked to be finishing that way too. First Jamie Holohan goaled on the 27th minute, and a minute later another major looked to be on the cards as a powerful run through the middle saw Mike Kenny blasting wide. In fairness to New York they finished the period strongly as Brian Coughlan pointed a "45" and Shay McElligott pointed a free, to leave the score at 1-6 to 0-4 at the short whistle. The resurgence for Johnny McGeeney's men continued after the break as a strong run by Brian Coughlan was illegally impeded, leaving Shay McGelligott to tap over the free. 
New York continued to apply the pressure as a timely interception by Dylan Curran sent Mike Brosnan in for another point. Indeed young Brosnan was unlucky to see his next attempt just drift inches wide. However at the other end turnovers continued to bedevil New York as Jamie Holohan was gifted a point. Kilkenny were now back in the grove as wingback Kevin Blanchfield soloed up the field for a magnificent point. 
The Cats looked positioned to inflict more damage but Brendan Cole saved brilliantly from Ciaran Wallace. At the other end Conor Hogan raced up the field but his shot was off target. Well New York's next scoring opportunity was very much on target. New York forced a turnover and Brian Coughlan extracted maximum payoff as he maneuvered his way in for a brilliant goal on ten minutes to leave just two points between the sides. Over the next five minutes both sides missed chances, before New York had a bone fide chance to reduce the deficit to the minimum, but the free was off target. 
Kilkenny then increased their lead with  points from corner-back Shane Kelly and sub Ethan Phelan.  New York kept battling and the Mathers brothers combined well as Tiernan forced a turnover and sent Conor in on goal, but his shot just skinned the crossbar. Kilkenny added two more points from Mike Kenny, but New York responded in kind with pointed frees from Shay McElligott, to leave a goal between the sides as time ebbed away. The Big Apple Boys went searching for that big score, but of course were vulnerable to the counterattack as the Cats bagged two goals in injury time. 
Yes, nine points is a comprehensive victory, but it hides the fact that New York hit 1-5 to their opponents' 0-6 in second half regulation time. Of course a poor start, coupled with some uncharacteristic wayward play, perhaps it was Croke Park jitters, or travel fatigue or the after-mat of a tough game,  always left New York trailing against a much more experienced team.    
Kilkenny: Killian Dunphy, Paul Murphy, Tom Kenny, Ger Malone; Kevin Blanchfield(0-1), Ciaran Wallace, Shane Kelly(0-1); Jim Culleton(0-2), Tom Aylard; Conor Hennessy(0-1), Mick Malone, Mick Kenny(1-4); Rory Monks, Jamie Holohan(1-2), Adam Mansfield. Subs Ethan Phelan(0-1), John Walsh(1-0), Shane Murphy, Shane Stapleton, Joe Fennelly. 
New York: Brendan Cole, Paidi Mathers, Conor Hogan, Mike Boyle,  Peter Cronin; Dylan Curran, Jamie Boyle, Danny Corridan; Conor  Mathers(0-2), Conor Rafferty, Kevin Loane, Brian Coughlan(1-1), Shay McElligiot(0-4),  Tiernan Mathers, Mike Brosnan(0-2). Subs  Caolan Mathers, Emmett Loughran, Dylan Rooney, James Breen, Ryan O'Neill, Referee Barry Tiernan(Dublin). Men of the match Mike Kenny(Kilkenny) & Brendan Cole(New York).