Mayor Aftab Pureval of Cincinnati has made his first visit to the city's bustling Irish Heritage Center where he received a warm 'céad míle fáilte' from centre co-founder Maureen Kennedy and leaders of the local Irish community. 
Thank you to @IrishCincinnati for giving me a tour today! One of the best homes to Irish culture, right here in our City. pic.twitter.com/1Cr0Qge62w

— Aftab Pureval (@AftabPureval) July 6, 2022
Embracing diversity and celebrating the many communities of Cincinnati has been a touchstone of the new mayor whose parents were immigrants to America. His father Devinder Singh Pureval came from India, and his mother Drenko was a refugee from Tibet.
Tweeting after his visit, the Mayor, who took office in January 2022, described the heritage centre, based in a former school and taking up a city block, as "one of the best homes to Irish culture"., 
Pub Night is this Thursday at 6 PM.

Come enjoy live music from your favorite musical groups and enjoy a pint (or two)!

Best pour of Guinness in all of Cincinnati! pic.twitter.com/zeTmvTuJUd

— Irish Heritage Center of Greater Cincinnati (@IrishCincinnati) July 6, 2022
Maureen Kennedy said the committee was thrilled at the first mayoral visit to the center in many years. "Mayor Pureval took a lot of time and really engaged enthusiastically with all our volunteers and guests," said Maureen Kennedy.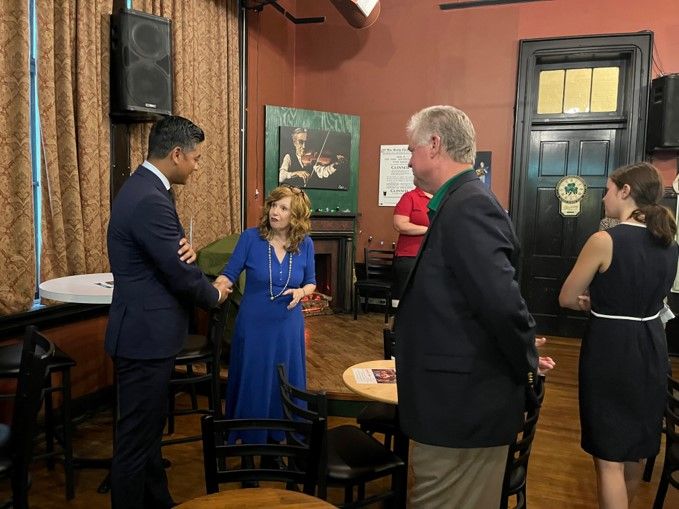 "He was clearly impressed by the breadth of the work carried out by our team of dedicated volunteers who transformed this school built into the 1800s into a three-storey hive of Irish arts and culture. We were particularly pleased by his offer to help make our annual gala a success."
The Irish Heritage Center of The Queen City is bouncing back from a series of COVID lockdowns to present a full programme of activities — Boxing Banjo from Mayo, who will play the venue on 2 August, are among a raft of Irish performers taking to the stage at the center.