Gathering once again at their new venue, the Ellington, corner of 105th St & B'way, Irish American Writers & Artists drew a happy and responsive crowd.  
Playwright Dan Brown was on hand to present an excerpt from his show, "Tales From the Sometimes Why," which recently played to sold out houses on the NYC indie theatre circuit.  The monologue "Melrose" was performed by Gail Payne as a woman frustrated by her boyfriend's indifference to a fatal encounter between her cat and a robot vacuum. Gail is best known for her cabaret shows and has appeared in many independent New York City-based films and plays.(gailpayne.com).  Dan is currently in pre-production on a new show expected to debut in the fall. Check him out online at @_dan_Brown_rockaway.
Gordon Gilbert, longtime IAW&A member and occasional salon host, delivered a skillful re-purposing of three of his poems to create a new ending to "Romeo and Juliet," allegedly penned by Christopher Marlowe.  He followed that with a monologue from his play, "Monologues from the Old Folks Home," in which a resident mourns the sudden loss of her dear friend and constant companion in the home for the aged. 
Making his debut in-person presentation, Paul Belford, writing as P. D. St. Claire and author of "The Swampdoodle Trilogy," read from his essay "Irish American."  The piece traces the assimilation and influence of the Irish who wove their lives and traditions into the very fabric of the nation and made it a better place. The Trilogy tells the tale of the Riley clan in Washington, DC, spanning 145 years from 1848 to 1993.  "Irish American" is included on the website www.theswampoodletrilogy.com. 
The salon was ably hosted by the charming Samantha Kirby, author of "Lunatiques," a collection of magical, mystical tales of people transforming based on phases of the moon.  She brought the 1st half of the salon to intermission with a reading of her book's opening/title story, in which the moon observes humans below and contemplates her role in birthing magic into the world; and its final tale, "Vitners," about a group who drink wine with grapes grown from a graveyard.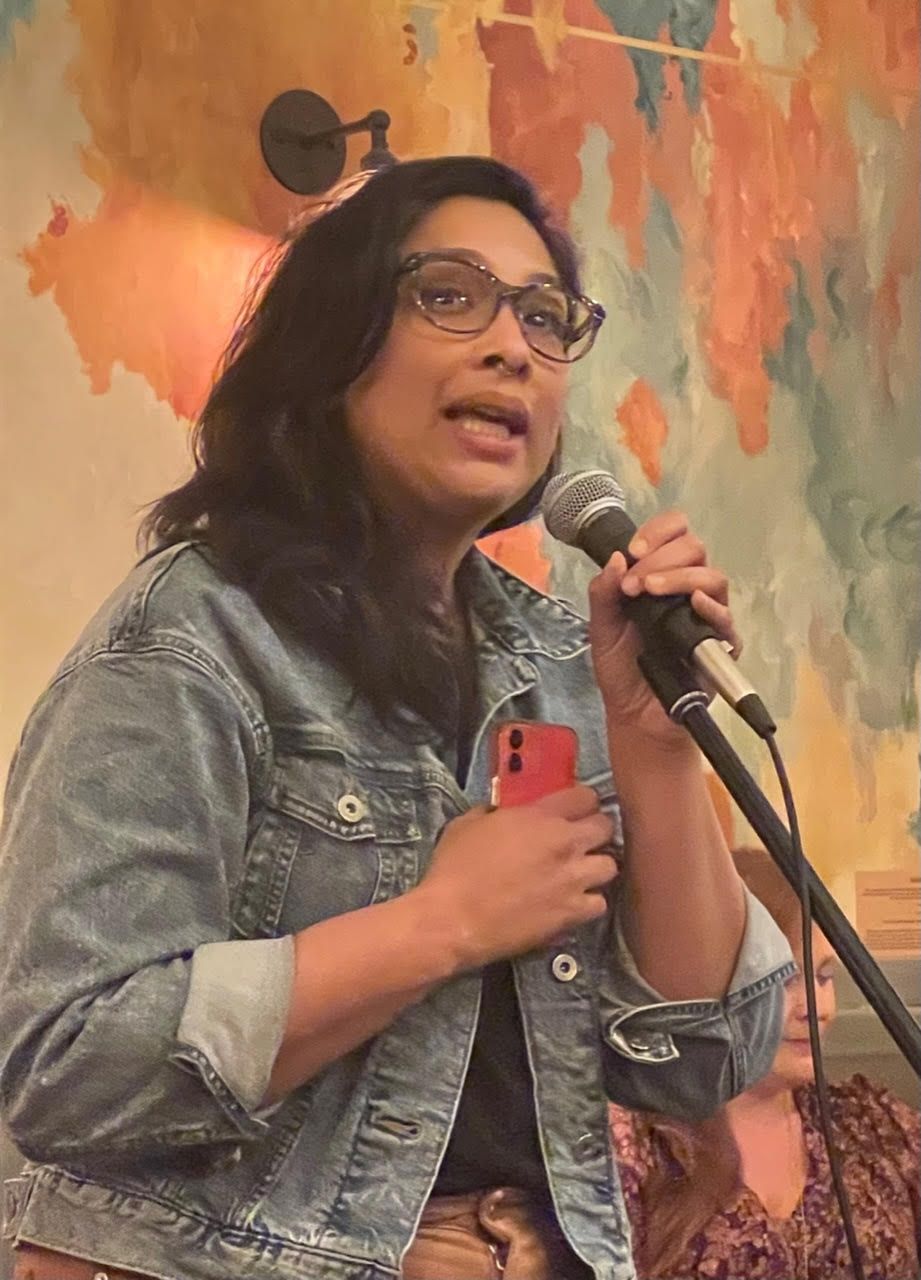 Virginia Vasquez.
Kick-starting the 2nd half, renaissance man John Paul Skocik, brought his guitar to the party and wowed them with a performance of three original songs:  "Madeira," a Spaghetti Western inspired boy-meets-girl-goes-wrong song; "Save Your Soul," a bluesy rock about paranoid righteousness; and "Something Like,"  a pop riff about a dude reluctant to let go of a broken relationship. The audience response to his driving guitar, clever lyrics and droll humor was explosive.  Since his last salon appearance, John has been busy writing a full length play, "Where To Buy Caviar," and a pandemic romance one-act, "Because of Everything." He can be seen on YouTube as one of the lead characters in the Isle Theatre Company production of Anna Fitzgerald's play "Do Not Move Stones."
Novelist and playwright John Kearns read the monologue, "It's Slipping Away," from his play, "Boann and the Well of Wisdom," taking the stage at the New York Theater Festival in June at Teatro Latea on the Lower East Side.  The play, directed by Glory Kadigan, stars Annalisa Chamberlin and Gary Troy. Join John & company after the show for drinks and whiskey tastings from Boann Distillery (https://boanndistillery.ie/) at Donnybrook pub: https://www.donnybrooknyc.com/.  For Boann tickets and information visit https://newyorktheaterfestival.com/boann-and-the-well-of-wisdom/. 
Warmly welcomed as a first-time presenter, Virginia Vasquez read poems from her book in-progress, "El Llanto: A Puerto Rican Lament." Her work includes Yoruba and Taino chants, and strives to challenge colonization and US occupation, while reclaiming history, genealogy, and identity that is fragmented, missing and suppressed. She also gave a brief history of the Irish in Puerto Rico, hearkening back to Spanish colonization and the Irish "wild geese" who deserted the British Army to join the Spanish Army or jumped ship from British trading vessels or ships of the Royal Navy.  Who knew there is a neighborhood called Irlanda Heights in the P.R. city of Bayamón?
IAW&A's beloved and lionhearted founder, Malachy McCourt, as is his custom, piloted the proceedings to a smooth landing, closing with a sweet story and a rousing song.
Mark your calendars for IAW&A's Bloomsday event on Thursday, June 16th, outdoors at DIVE 106, (938 Amsterdam Ave.) starting at 4:30 p.m. Other upcoming events are listed on the organization's website, where you can sign up as a member and share your own creative endeavors at a future salon. ( www.iamwa.com )