Another major come and gone, and Rory McIlroy is left to ponder not necessarily what went wrong but what could have and didn't go right. Not that he'll spend much time agonizing over his joint-fifth place finish in the U.S. Open at The Country Club in Brookline, Mass. 
 "I guess when I look back, will I remember the fifth place I had at Brookline? Probably not," McIlroy said. "Another top five in a major. I guess doesn't really mean anything."
 Seamus Power continued to make inroads, albeit slight, in major tournament play, finishing in a tie at 12th place. This comes on the heels of a top-10 finish at the PGA and top-30 at Augusta in April. 
 Shane Lowry's string of 12 consecutive cuts made in majors was broken when he missed by one stroke. 
 RUNNING FROM THE GET-GO
 McIlroy was in the running from the start, enjoying an early tee time on Thursday, which enabled him to shoot 67 before the wind kicked in. Friday's round could easily have gone the wrong way after he took double bogey at the third hole, but he put that aside to finish the day a stroke under par at 69 and still very much a contender.
 "I didn't panic," McIlroy said of his mindset after marking down a 6 at the third hole. "I didn't do anything stupid. I didn't force anything. I was rewarded with that patience by playing a really good back nine."
 McIlroy had much the same to say on Saturday, after the course had toughened due to the wind and he'd gone out in 38 before coming in with 35 for an aggregate 73. 
 "I'm sort of going home thinking that I held this round together when it could have got away from me quickly," McIlroy said after Saturday's round. 
 Still only three shots off the lead as he teed off on Sunday, McIlroy gave himself and his followers reason for optimism when he curled in a left-to-right putt from more than 10 feet for birdie at the first hole. 
 The third hole, however, upped and bit McIlroy again on Sunday as his par putt just missed. He lost four strokes there over the course of the four days, the same margin by which he finished behind champion Matthew Fitzpatrick. 
 From there on, the round became a sort of yin and yang for McIlroy. Birdie at the fourth, bogey at the fifth. Birdie at the sixth, bogey at the seventh. 
 He did muster a late rally beginning at 14 with the first of two consecutive birdies. A clutch par putt at 16 kept the hopes alive but a birdie putt at 17 went left and a birdie putt at 18 just missed. 
 "A bit of a roller coaster on the front nine, bogeys and birdies," McIlroy said. "It wasn't that easy out there. I needed to shoot a 65 or a 66 [not 69] to get the job done today, and I just wasn't quite on it enough to do that. 
 SOONER OR LATER
 "My game's in good shape. I've got one more chance this year to try to get that major. It's close. I just have to stay patient at this point because if I just keep putting myself in position, sooner or later, it's going to be my day and I'm going to get one."
 McIlroy will play the Traveler's Championship in Hartford this week and then take two weeks off (bypassing the Irish Open) before arriving at St. Andrews for the British Open. 
 Power had a steady go at the U.S. Open, finishing tied for 12th place with Jon Rahm, who won this event last year at Torrey Pines. Power mixed rounds of 71, 70, 70 and 70 to finish a stroke over par and seven behind Fitzpatrick. 
 Power wasn't afraid to take on the Country Club. He was two strokes under par through eight holes on Thursday but bogeys at 10, 11 and 12 slapped him upside the head. The remainder of the tournament was a nearly equal pastiche of birdies and bogeys, accented by an eagle-3 at the eighth hole on Saturday. He, too, will play the Traveler's, an event for which he had to Monday qualify last year. What a road he has traveled since then!
 As for Lowry, consecutive rounds of 72 weren't good enough to work out weekend tee times, his first such miss in a major since the 2019 Masters, the longest such string among his colleagues going into this event. Bogeys at the par-4 12th hole and the par-3 16th both days were more than enough to see him off. He'll take off this week and then resurface at Mount Juliet for the Irish Open next week.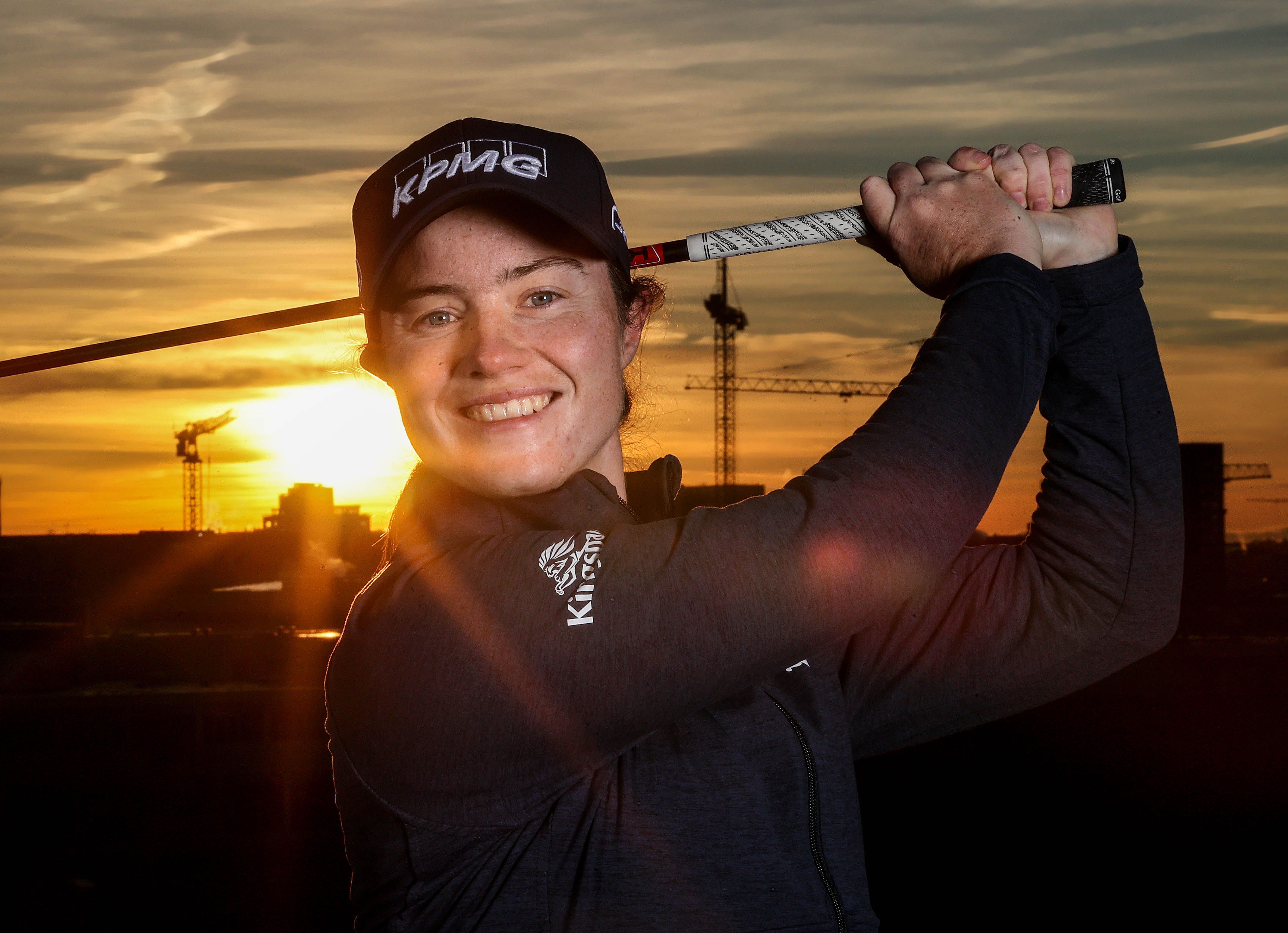 Leona Maguire lost in the three-way playoff after an impressive 18 under par 270 in the Meijer LPGA Classic. INPHO/DAN SHERIDAN

LPGA TOUR
 Leona Maguire will always have a soft spot for the Meijer LPGA Classic, although there is an unrequited aspect to the relationship. Last year, she finished second to a totally dominant Nelly Korda. This year, she matched Korda but there was a new fly in the ointment in the person of Jennifer Kupcho. 
 Maguire had played reasonably well over the first 54 holes, carving out rounds of 69, 68 and 68, suffering just two bogeys throughout that stretch. Yet, she was still seven strokes shy of Korda and six behind Kupcho going into the final round. 
 A combination of lackluster play from those two rivals and smoking hot play from Maguire on Sunday saw the trio all land on the same number – 18-under-par 270 – at the end of 72 holes. 
 A bogey at the par-4 third hole was Maguire's only stumble of Sunday afternoon. She came up with seven birdies the rest of the way as her rivals left the door ajar. 
 Maguire and Kupcho birdied the first playoff hole, while Korda took par to head to the locker room. Then, it was Maguire's turn to settle for par, while Kupcho tapped in for birdie and the victory. 
 Stephanie Meadow missed the cut by two strokes, shooting rounds of 70 and 74. 
 Next on tap for the ladies in this week's Women's PGA Championship in Bethesda, Md.