It's not often that I receive an album that features hammer dulcimer, but that's exactly what we have this week with Mary-Grace Autumn Lee's album "Eyre."  Well-executed and nicely presented, this is a very finely done collection featuring a rake of really great tunes, played on an instrument that generally flies under the radar. 
 From Pennsylvania, Lee has been playing hammer dulcimer professionally for over a decade.  She is a member of the "Celtic nu-folk" band Seasons (www.seasonsmusic.com), with whom she has recorded a quartet of albums and she's also successfully competed in Fleadhanna on the Regional and All-Ireland levels.  Stylistically, her experience shows: her playing is very melodic, but she has a sensitive approach to a tune's rhythm that draws the ear.
 In her liner notes, Lee tells us the album's title borrows from the title of Charlotte Brontë's "Jane Eyre," as she feels the book and her album share the themes of "rebirth and coming into one's own."  This being her first solo album, it would appear "Eyre" is an apt title to feels well thought through.  Assisting her in this endeavor are some of her Seasons bandmates with a few folks she's met along the way providing some assistance, including Peter Winter Lee, guitar & bodhrán; Mary-Kate Spring Lee, harp; Caroline Keane, concertina (carolinekeanemusic.com); Patrick Cummins, tenor banjo (skippersalley.bandcamp.com); and Jonathon Srour, flute.
 The music here is quite nice throughout.  Lee, in particular, shines, but the way things come together throughout is excellent.  As I listened, I found I dug "Return to Brooklyn / …," a set of jig on the dulcimer and guitar, as it's quite well rendered.  "Autumn's Fall / …" includes some nice banjo playing that blends with the dulcimer well.  "Dowd's Favorite / …," a true solo track, unfolds in an attractive way.  The blend of dulcimer and concertina on "Helen Burns / …" makes for a great combination, as do the dulcimer and harp on "O'Carolan's Cup."  I find Srour's flute playing on "Erin Quinn's / …" particularly nice.  And while the air "Traveling Through Blarney" is played with an ear to the tune's nuance – and it's admirable – I find myself more drawn to "Lone Shanakyle," the album's other slow air, because I think Lee's done a really beautiful job with its expressive possibilities.
 "Eyre" is a really interesting album.  Rare, in that it features an uncommon instrument, but attractive because Lee's such a strong, thoughtful player.  If you're interested in hearing something that's a bit off the beaten path but still traditional music played well, give this one a spin.  For more information, visit www.marygraceautumn.com. 
 In other news, the Carroll Sisters, Emilie and Nora, a pair of fiddle players who are 17 and 15 respectively, released their debut album "Daybreak" just before the new year.  It's a lovely release and one readers, particularly those in Connecticut (their home state) and environs will want to be aware of.  the Carroll Sisters have made ther  "Daybreak" confirms this.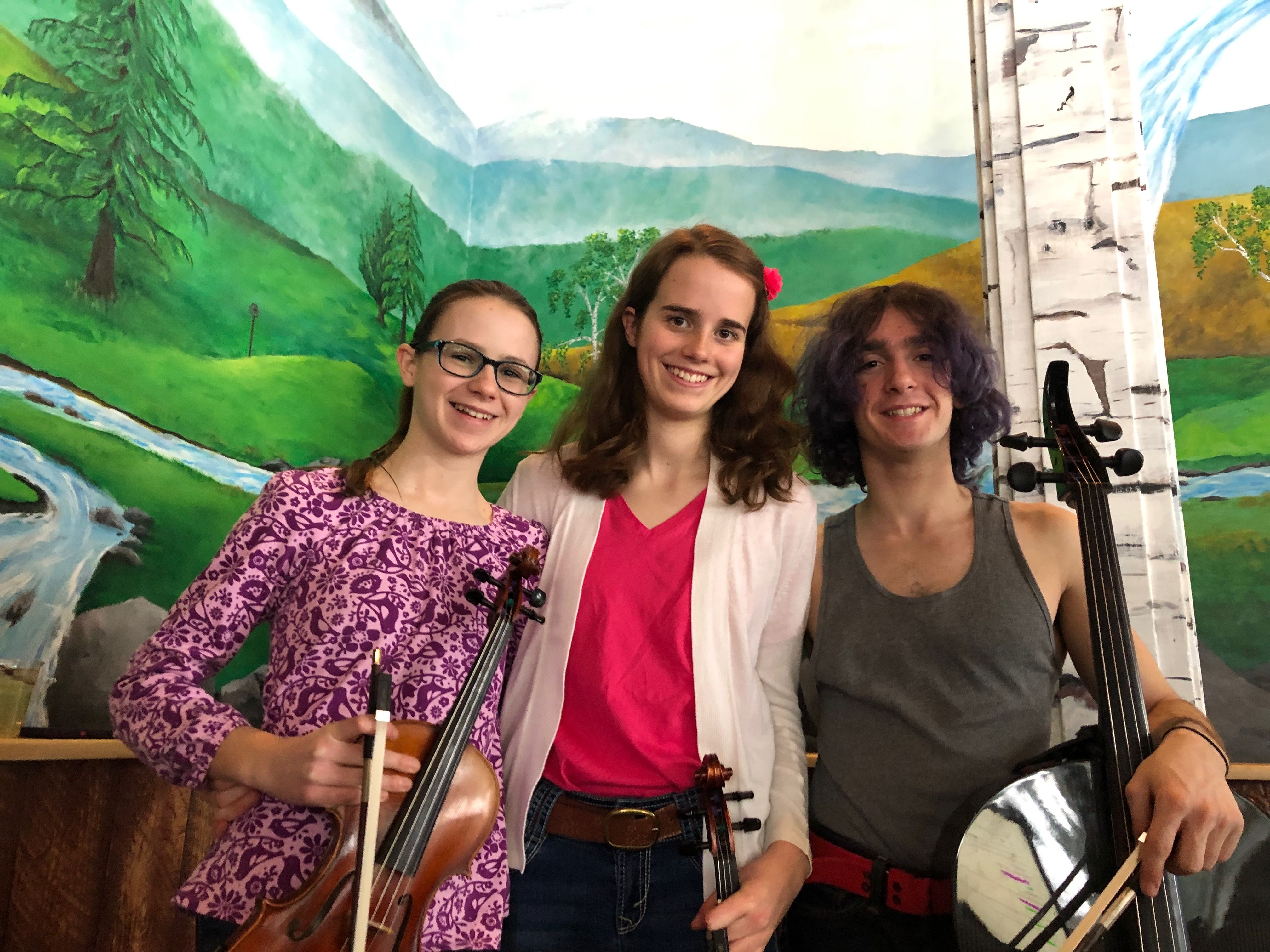 The Carroll Sisters with Sammy Wetstein.
The sisters, who are "known for their lively traditional tunes, beautiful harmonies, intriguing counterpoints, and unique musical arrangements," have included a number of very fine musicians on their album, including Sammy Wetstein, cello, an artist with whom the Carrolls regularly collaborated since 2020; Neil Perlman, keyboards; Conor Hearn, guitar; Jeanne Freeman, fiddle; Ryan Ford, bass; Linda Beers, violin; John Whelan, button accordion (also, producer!); Katie McNally, fiddle; and Dylan Foley, fiddle.  These folks did yeoman's work here and deserve great credit for lifting this album up.
 The music here is quite appealing. The album starts out nicely with "Reel For Three Brothers," a great set of reels with a thoughtful, engaging arrangement that benefits from a bit of Rhodes electric piano.  Emilie's solo feature "E Medley," a trio of three reels that includes "Snapping Turtle Pond," a lovely strathspey that she wrote with a turtle that lives nearby to her grandparents' house in mind, is well executed and enjoyable to listen to and showcases her excellent playing.  "Flight of the Dawn" does similar work, except with Nora is in the spotlight – her playing is quite sound.  I particularly like "Fairy Queen," a Carolan tune that pays homage to the sisters' classical roots.  The playing here is endearing and the arrangement well suited to the material.  The sisters also perform "Madam Maxwell," another Carolan tune, with the assistance of John Whelan, who lent elements of the arrangement to the presentation here.
 All in all, "Daybreak" is a bright, optimistic album from a pair of sisters who have a very bright musical future ahead of them.  The tune selection is fabulous and the sisters play with fine musicality.  The ideas they explore are sophisticated and interesting, and they successfully walk the fine line between tasteful detail and over-embellishment, which is an admirable achievement.  They apparently gig regularly, so if you're in Connecticut you'll want to make an effort to see them, I believe it would be a worthwhile experience!  For information on how to buy the album and to see them perform live, visit www.carrollsisters.com.