Irish Elvis was born on The West Side of Chicago.
Diane Short emigrated to America from New Castle, County Down, Ireland, working in a beauty shop on the old west side of Chicago. 
Salvador Quintos emigrated from the Philippines, a boxer and barber with his own shop on Madison Street. 
They met and fell in love and in 1949 their only son Bruce Quintos was born and baptized at Precious Blood parish. 
His dad bought a three-flat at Madison and Western, with the barber shop downstairs. "My mom literally retired from the beauty business to raise me."
She did a good job. "So here I am, everybody thought I was Italian. Dad worked downstairs and they were never apart. He'd go to work; she'd bring him coffee and his sandwiches. He'd close the shop down and he'd come upstairs. They'd roll up the rug, dance to Glen Miller in the front room, and I'm watching all this, y'know I'm a little kid."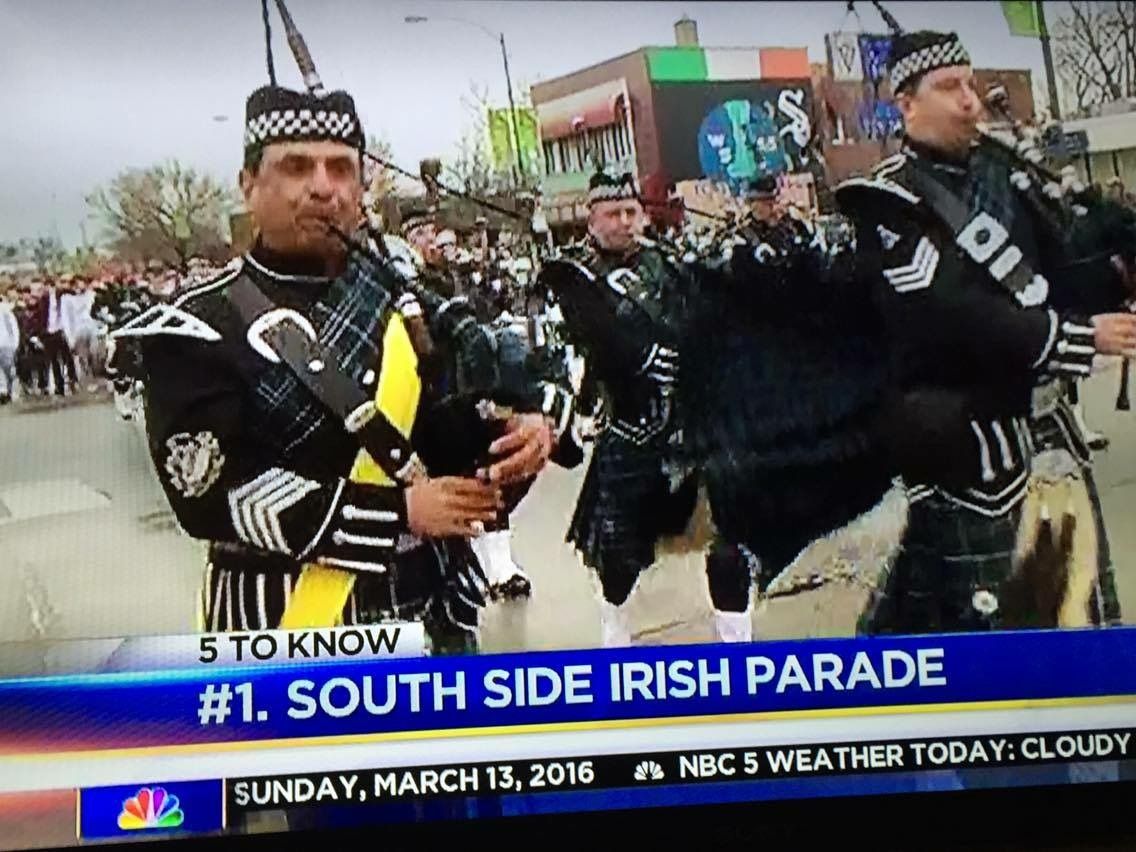 Bruce's Irish mother wanted her lad to take fiddle lessons and become a priest. But it was the fifties, Elvis was coming in with rock n' roll, and at the seminary, "the Augustinians didn't quite understand my sense of humor."
Finally, his folks relented and signed him up for guitar lessons. And that's when his persona of "Rico Quinn" appeared. He started playing jazz guitar, was in the St. Rita HS Marching Band and then he started a band, The Shy Lads, with a bunch of pals, most of whom eventually became cops. He was in Greaser Heaven.
Bruce himself started out with The Chicago Ridge Police Dept. where he still lives. "I went from there to the Cook County Forest Preserve Police, and I went to the Sheriff's Police Academy, and right from the academy the State Police hijacked me for four years and I worked the undercover narcotics unit. MEG, Metropolitan Enforcement Group."
Some of the Chicago cops from The Shy Lads would go on busts with them. "I was the agent that went in and made the buys. We worked a lot of the biker gang connects."
With his Spanish/Filipino/Irish look he could pass for Al Pacino's taller brother. 
@HLR_FOOTBALL saluted sophomore Mia Palumbo and Bruce Quintos at The Black and Gold Game. Mia served as a ball girl for many seasons before becoming a HLR student. Bruce, part of the famed Emerald Society, has played bagpipes to lead the Bulldogs onto the field for many years. pic.twitter.com/m9rhekxujU

— Richards High School (@BulldogsHLR) August 22, 2018
But he didn't really start to look Irish until he joined The Emerald Society Pipes and Drums band.  "Rico" had to learn to play the bagpipes from scratch when he joined. He caught on quick.
"I'm a life-long musician. I've done nothing but teach the guitar since I was a kid."
"I passed my solo audition within six months, within a year I was teaching, after about a year and a half I took over as the general teacher of the band. I kept getting promoted, pipe corporal, pipe sergeant, and then I was appointed Pipe Major for 20 years."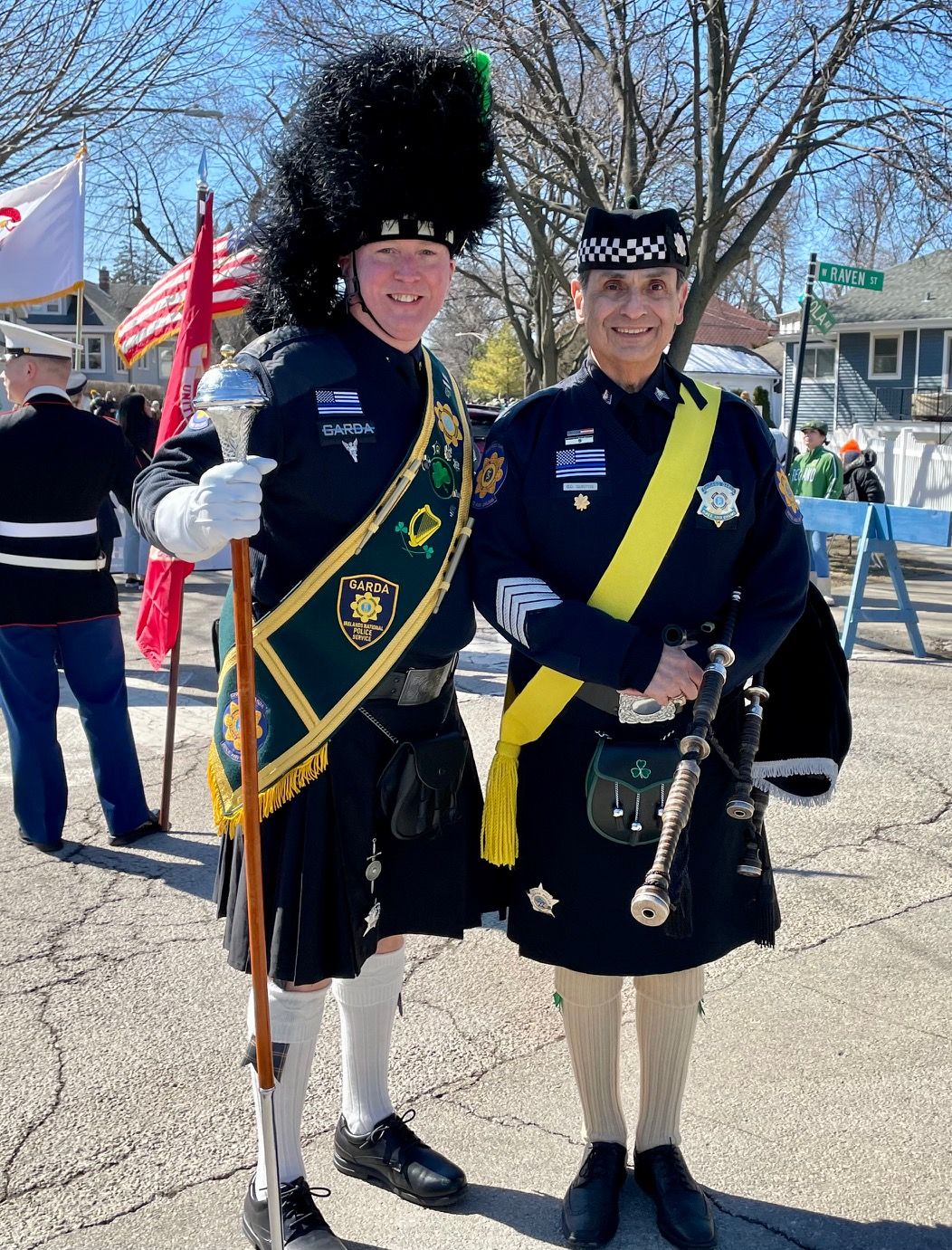 It wasn't as easy as it sounds. 
"They all got the map of Ireland on their faces, rosy cheeks, so I come along and I'm wearin' the pipe major sash and all the hoopla. And it's like 'Who's this guy?'"
"So, we'd go in and I'd get "Hey, what's a dago doin' in your band?"
"Oh yeah, it got a little heated on a couple occasions. It's part of life, and y'know I was a policeman. Nothin' is gonna bother me, I mean that just rolls right off."
Bruce retired as Commander of the Cook County Forest Preserve police in 2003 after 14 years. Today he is Pipe Major Emeritus of The Emerald Society Pipes and Drums Band. 
How do you get to Carnegie Hall? Practice, practice, practice! But Rico sez, "Play in a pipe band! In 2003 for the 9-11 Anniversary, I'm leading The Emerald Society band, my band as pipe major, onstage at Carnegie Hall, that's one of my proudest moments."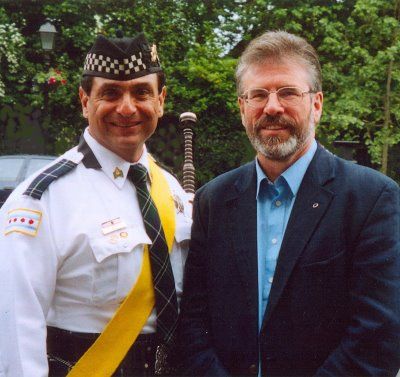 He was also the solo piper for the late Chicago Mayor Jane Byrne's funeral and Chicago Irish legend Maureen O'Looney would have Bruce pipe Gerry Adams into Chicago whenever he visited town. 
Three years ago, Rico and Lyons Police Chief Tom Herion started The Chicago Garda Pipe Band, when an undertaker asked them to play the funeral of an indigent Vietnam Vet. They created the Garda for veterans' funerals and other occasions and the band is now going gangbusters. 
Bruce laughs, "For a Filipino kid from the West Side, what are the chances?"
It's the luck of the Irish, Rico!
Pipes and drums blare, a helicopter buzzed overhead, as the body of Chicago police Officer Samuel Jimenez arrives outside the chapel. pic.twitter.com/LbDvt4xkjS

— Jeremy Gorner (@JeremyGorner) November 26, 2018