The GAA said that they would give plenty of publicity to the new Tailteann Cup competition. Well the Association are being true to their word as the two semi-finals will be played at Croke Park on Sunday and both games will be televised live by RTE. 
Cavan, who are favorites to win the inaugural second tier football competition, will play Sligo at 1.45 p.m. and neighbors Westmeath and Offaly meet at 4 p.m. 
Cavan, with 5 All-Ireland final wins and 40 Ulster championship titles to their credit, the last in 2020, have the best pedigree. They dropped to division 4 last season, but bounced back to division three this spring. They have had easy wins over Down and Fermanagh and now face Sligo, who needed penalties to overcome Leitrim in the quarter-finals. 
The other semi-final is a closer one to call. Offaly have better history, but they haven't won an all-Ireland since 1982 when they deprived Kerry of the five in-a-row. Their last Leinster title win was in 1997, while Westmeath only Leinster win was in 2004. After losing to Wexford in the Leinster Championship, Offaly returned to the South East and beat them in the preliminary round of the Tailteann Cup. They accounted for Wicklow in the first round and New York in the quarter-finals. But I think Westmeath, who have beaten Laois and Carlow in this competition, should be too strong for them. Westmeath have a match winner in the excellent John Heslin. The final will be played in Croke Park on July 9 and I am going for a Cavan-Westmeath pairing.
SERRANO OPTS TO WAIT
Katie Taylor's dreams of a Croke Park homecoming rematch against Amanda Serrano later this year have been put on hold for now. Last week promoter Eddie Hearn said:''Serrano's people don't want that fight right now. They don't want to go to Ireland and they don't really want a rematch this year.'' The pair's tussle in Madison Square Garden on April 30 saw Taylor beat Serrano on points in one of the toughest battles of her professional career. It was the first ever headline bout by two women at MSG and was billed as the biggest fight in women's boxing history.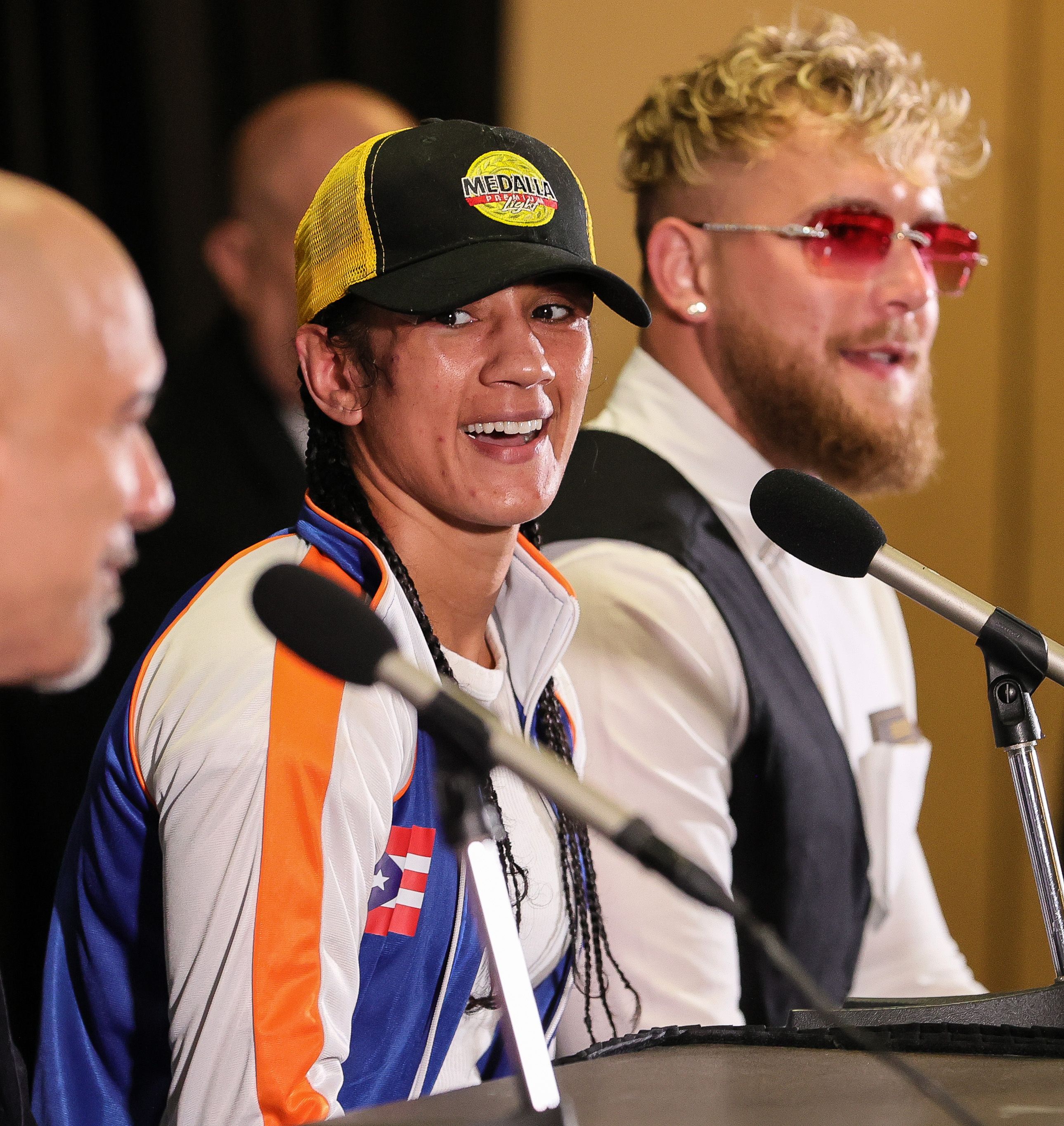 Amanda Serrano during the post-fight press conference at Madison Square Garden.
INPHO/GARY CARR
Afterwards, the 2012 Olympic champion Taylor insisted she wanted a rematch in Croke Park in the autumn. But Serrano has now opted to fight in August, most likely on the undercard of her promoter Jake Paul's fight against Tommy Fury. Hearn reckons that Serrano wants to go away and "build some confidence" by getting a win before she may come back to face Taylor. He added: "Maybe we can look at it next year. It's very disappointing, because I love that fight. I think it's a great fight and such a close fight. It doesn't look like it's a fight that Amanda Serrano wants." 
It is understood that Taylor's camp are re-examining their options and may decide to wait until next year in the hope that Serrano would agree to a Croke Park fight. Another defeat for the Puerto Rican would put a major dent into her career at the top level. There has also been suggestions that Taylor could face MMA fighter and former world boxing champ Holly Holm, but she would not have the same profile as Serrano.
KERRY FC READY
Kerry Football Club have had their application for the Club Licensing process accepted by the FAI. A spokesman for the new Kerry club said: ''It has been a dream for many years to provide the highest level of senior football in the Kingdom and Kerry FC hope to be successful in our bid to bring League of Ireland football to Mounthawk Park in February 2023." A few years back the Kerry District League played in the League Cup competition, but now it looks like we will have League of Ireland football in the county for the first time, and with Kerry the first division would  make it an even 10 clubs. When it happens, Kerry will be the 17th county in the Republic to field a League of Ireland team.
MCENTEE QUITS
MEATH POST
 Meath are looking for a new senior football manager as Andy McEntee announced that he weas quitting after the qualifier defeat to Clare in Ennis 10 days ago. McEntee said that he would not be seeking a third term in charge. ''After completing six years as manager of the Meath football team, I am stepping down from the position and will not be seeking a third term.''
 Back in October the Meath County Board Executive Committee voted 8-7 not to recommend McEntee for ratification for a sixth year, but he survived as the clubs wanted him to stay. McEntee guided Dublin club Ballyboden St Enda's to All-Ireland club glory in 2016, but his time in charge of the Royal saw a huge turnover in players. Previously, he'd been in charge of the Meath minors and led them to the All-Ireland final in 2012 where they lost to Dublin. With the seniors McEntee took Meath to the Super 8's in 2019 and spent a season in Division 1 of the National League in 2020, but ultimately Meath never mounted a credible challenge to Dublin's dominance in Leinster.
UNDER-21 SQUAD
ARE IN PLAYOFFS
 Last Tuesday, the Republic of Ireland under 21 team went down 4-1 against Italy in their final European group game in Ascoli; but they went into the game knowing that they were at least guaranteed a play-off for the under 21 finals for the first time. The Irish boys beat Bosnia & Herzegovina 3-0 and Montenegro 3-1 in Tallaght Stadium last weekend to move above Sweden into second place. The playoffs take place in September and the finals are being played in Georgia and Romania next year.
WAIT AND SEE:
MCCARTHY
GAA president Larry McCarthy says he doesn't foresee the All-Ireland hurling and football finals being moved away from July next year and the split season being altered. Several GAA pundits have decried either or both the condensed inter-county window and the July finish to the season: "I'm not the boss. Central Council make the decision on that but we have to let this year go through and look at it then. We have to let that go through and see what that's going to bring. Maybe after that the finals will be moved, but I wouldn't foresee a change for next year."  The president believes criticism of the split season has been premature as a full year of the new schedule is not yet halfway completed and a new All-Ireland senior football championship structure must be put into operation in 2023. ''You can't make decisions midstream. Let it run out and then we will look at it as we said we would, and we will have to do it again for next year because we are going to have a different competition structure."
 McCarthy says he no difficulty with the proximity of the league to the provincial championships. Just two weeks separated the finale of the former to the start of the latter this year.