In the Big Sky Country of Montana, where mountains rise majestically in name and nature, and rivers run through it, proud generations have kept the Irish language alive. They carried the language with them to Butte and beyond to the beautiful towns stretched out across Montana, and while some have gone from the land now, legacies endure and a language flourishes under an eternal sky. 
"Most of the Irish here came to Montana via Butte, and then they spread out throughout the state," says Dr. Traolach Ó Ríordáin, Director of Irish Studies at the University of Montana in Missoula.
A Cork native with an abounding love of the Irish language and culture, matched with a wealth of knowledge, Ó Ríordáin reflects upon those who have come before him.
"Most of those who came over were Irish speaking and had a strong Irish heritage and love of the Gaelic culture. They came from mostly a small number of counties in Ireland, primarily Cork, Kerry, Waterford, Mayo, Galway, and Donegal up along the west coast," he says. 
The Irish flocked to Butte and later Anaconda to work in the mines and escape An Górta Mór. Many lost their lives in a dangerous and difficult work environment, but they never lost that sense of identity and pride in their culture. 
Ó Ríordáin had lived and worked in New York and San Francisco previously, coming to Montana over 20 years ago. He discovered a community quite different from those he had encountered before. "They weren't divided according to county loyalties or anything like that," he says. "There was an inclusive sense of identity that all went back to one place, which was Butte, Montana." 
What came to be called "the Richest Hill on Earth," due to its abundant mineral and copper ore, Butte has a richness and unmeasurable wealth housed in the hearts and history of its people.
"What struck me was the knowledge they had of their own history and heritage," says Ó Ríordáin. "There was this connection with Ireland: a history that had come down from generation to generation."
Final Panel Discussion of the #IrishCampfire👇

Ray MacManais @MarinoInstitute, Jerry Sullivan, Butte, Montana, Mairin Ui Cheide, Gerry O'Rahilly & Padraic O Raighne @TG4TV

Irish America at the Vanguard of the Irish Language Revival🔥 https://t.co/9MvzqBpaTn pic.twitter.com/SaWaz1raQu

— Irish Echo Newspaper (@IrishEcho) August 28, 2020
When he first arrived, he met all the people promoting the Irish language in both the community and university and was intrigued by the fact they called their group the Montana Gaelic Cultural Society. "They didn't call it the Montana Irish Cultural Society," he says. "It was Gaelic; that was their focus: language, Irish music, Irish dance, Irish sports, Gaelic sports."
He was taken under the wing of locals, Pat and Susie Byrne, who "were a real driving force" for the language and culture. "I got involved in the local community and actually came to understand and appreciate not only the love the people in the organization had for it, but the community in general," says Ó Ríordáin.
Montana was at one time considered to be among the five most Irish places in the United States, a stronghold of Irish nationalism and of the Irish language revival.
"If you look at newspapers and accounts dealing with the Irish in America in the 1900s, the great centers were Boston; New York; Chicago; Butte and Anaconda, Montana; and San Francisco," explains Ó Ríordáin. "There was a huge Irish revival movement in Montana. They were contributing money to the Gaelic League back in Ireland. They had a very powerful organization."
The work in the mines drew immigrants from all over the world, and there were signs up in the mines in about 18 to 20 different languages, says Ó Ríordáin. "Among those languages was Irish. Not that the majority of the Irish there could read it. But basically, this was an expression of their national heritage."
That expression continues today through the countless people and organizations celebrating An Ghaeilge.
The Irish language is everywhere. In Butte's St. Patrick's cemetery, a plaque honors members of Butte's branch of Clan na Gael: The Robert Emmet Literary Association. And the words: Dochum Glóire Dé agus Onóra na hÉireann: for the glory of God and honor of Ireland.
In the University of Montana, in Missoula, about 120 miles from Butte, the Irish Studies program is thriving under Ó Ríordáin's directorship and is backed by the Friends of Irish Studies group.
"The Irish Studies program is supported in a very, very major way by members of the community, and in particular, this group, the Friends of Irish Studies," says Ó Ríordáin.
 The groups pay for musicians, speakers, teachers of song, dance and language to come and bring events and activities that will support both the community and the Irish Studies program.
Monday morning got you thinking about weekend plans? Plan a trip to Butte for the An Rí Rá Montana Irish Festival for an eventful celebration of the Irish heritage with musical and dance performances, lectures, sports, and even Irish language classes! #ButteElevated #AnRiRa pic.twitter.com/pXWjOxq05J

— Butte.Elevated (@Butte_Elevated) August 6, 2018
"They make sure that the community can benefit from whatever comes into the Irish Studies program," says Ó Ríordáin. "The Friends of Irish Studies also funded the creation of a lot of the online or hybrid Irish language courses that we make available to non-traditional students and to the community."
All the material for the impressive program is made available online for both the undergraduate and non-traditional students by Ó Ríordáin: a series of levels presented in a very beautiful and comprehensive manner with supporting audio-visual presentations and recordings. But it's not all online: it's hybrid. They still must meet up together under Ó Ríordáin's guidance to speak the language and to practice with each other. "We focus a lot on conversation," he says.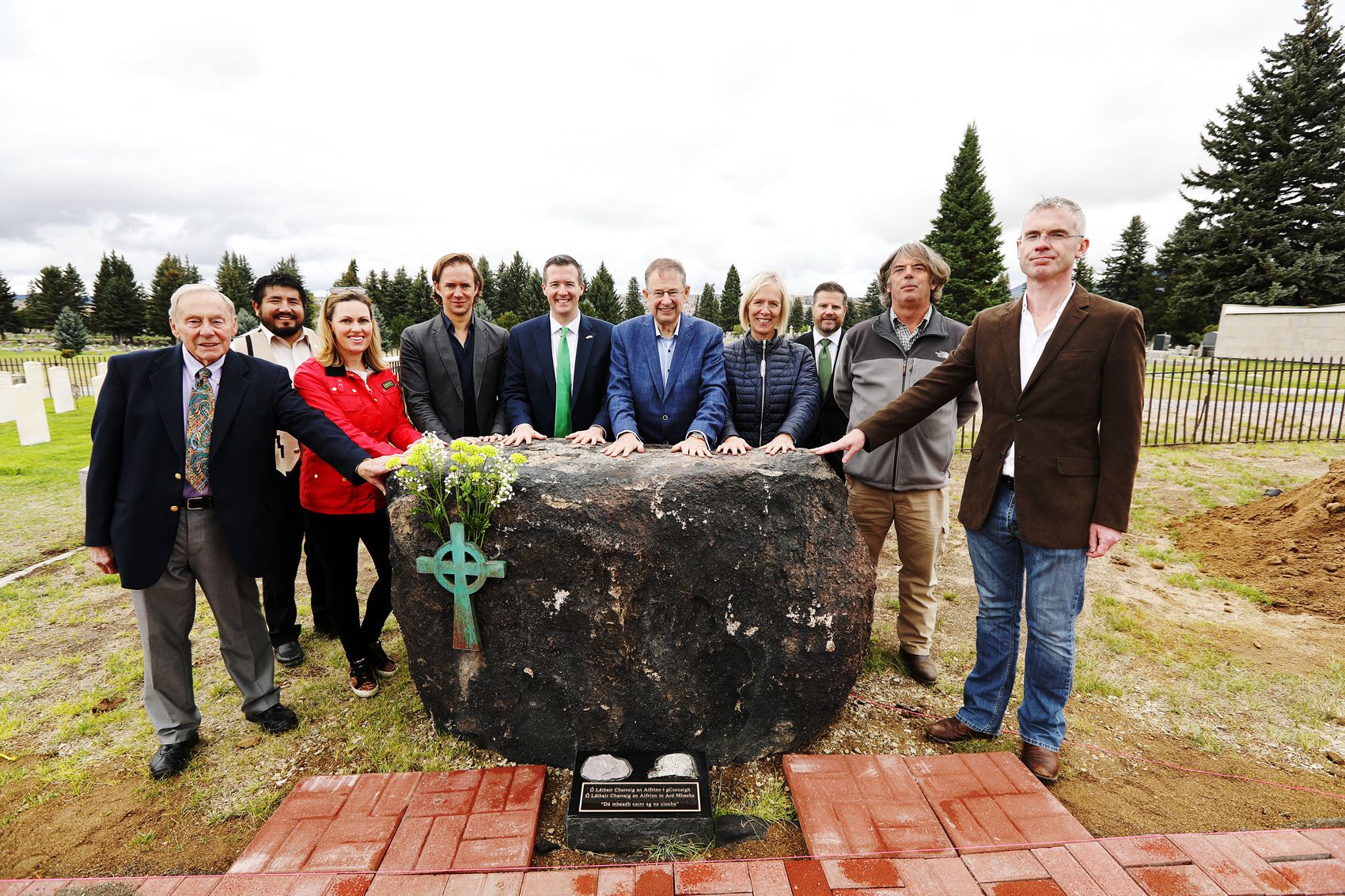 And just as a child first uses sounds before they speak, Ó Ríordáin teaches his students the sounds of the language first through phonetics. He is not trying to reinvent the wheel. "The whole idea and the methodology is based on the módh díreach which was first taught back in 1904, and in Coláiste na Mumhan in Cork," he says. "And the principle is this: language is like music. Unless you know the note, you can't play music, unless you know the phonemes you can't speak the language," he says. 
NOTE BY NOTE
And so, the students begin, note by note, as their words crescendo to a vibrant language, and before they know it, they're a chorus of Gaeilgeoirí freely and openly chatting in harmony.
Opportunities abound in the Irish Studies program. The community takes part in all activities. Students travel to Ireland's Gaeltachtaí; Fulbright students and scholars go to Montana; and they have an exchange program with University College Cork's Law Department. And how did that legal connection come about? "I got a call from the judge. And if the judge calls you, you show up," says Ó Ríordáin.
Ó Ríordáin recalls Federal Judge Donald W. Molloy asking him, "What way can I contribute to the Irish Studies program and to the promotion of our Irish culture here in Montana, and getting more young people involved here in our culture?"
Judge Molloy said he would give an internship to two students from Ireland. "Specifically, I want students who can speak the language, or if not, at least, play Irish music, or sing Irish songs or play Irish sports," relates Ó Ríordáin.
While this process would normally take at least 18 months, between Judge Molloy, the Irish Studies program, and Dr. Neil Buttimer of University College Cork, the program was up and running in a matter of months.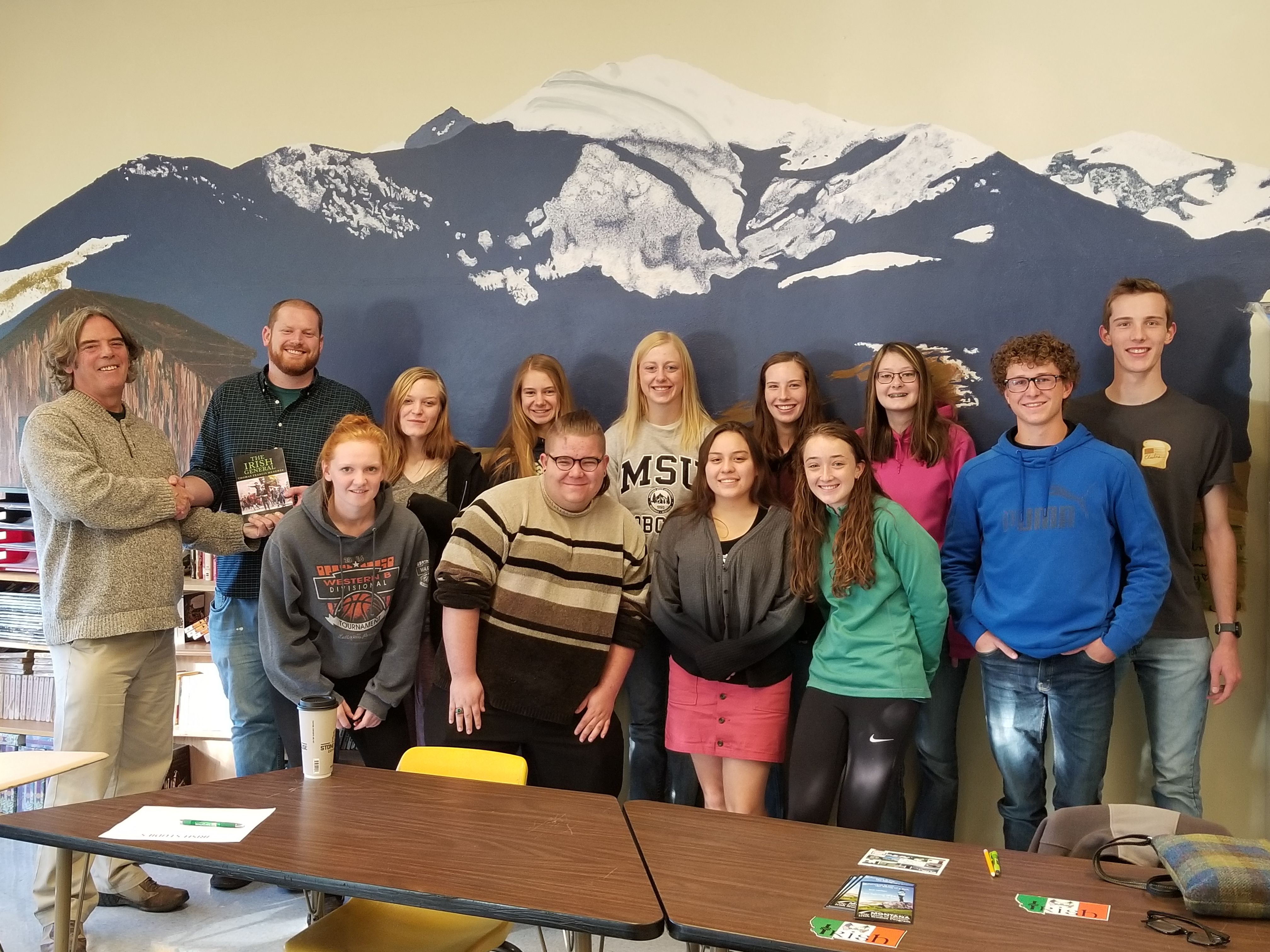 This is another example of the dedication of the people of Montana to Ireland, its language, and people. And it doesn't stop there. The university works with the Montana Digital Academy to offer high school students Irish as their foreign language option. 
"I think Montana is probably the only place outside of Ireland, where high school students can study the Irish language," says Ó Ríordáin.
And there's more. The Friends of Irish Studies has sponsored a week-long Irish language immersion program for everyone each summer since 2008, which has attracted over 300 students. And since the high school students have been learning Irish, now the high school teachers are getting in on the act, and many are joining the summer course to learn the language too.
Find out more about Dr Ó Loingsigh here:https://t.co/0YRQ4S7V5z

And for immense detail about the cultural revival in Cork, as led by Conradh na Gaeilge (@cnag), check the super study (photographed) of the topic by Traolach Ó Riordáin (@umontana Irish Studies). pic.twitter.com/LijKC8RZ8q

— Niall Murray (@niallmurray1) January 20, 2022
In Montana there's no doubt that the Irish language is growing. But it's not just a language of the mind or memory. It's a living language that came all those years ago with the Irish who journeyed westward, seeking a better life. Their descendants and friends carry it forward today, keeping the language alive  in Big Sky Country.