On September 9, 1945 a cameraman of the United States Army Air Force entered the devastated city of Nagasaki in Japan with a group of American press correspondents. 
He was one of the very first Americans into Japan following that country's surrender.
Lt. Daniel A. McGovern, all of six feet five inches tall, found himself amid the cataclysmic scene of death and destruction one month to the day after the second of the atomic bombs, "Fat Man," had been dropped on the city. 
Big Mack, as he was better known to his Air Force colleagues, would film there and in Hiroshima, indeed all over a defeated Japan, for the next nine months.
The unedited footage he captured, and the Nagasaki shot of him taken by another USAAF cameraman, currently resides in the United States National Archives. 
Also in the vaults of those archives is a completed and often harrowing atomic aftermath documentary film directed by McGovern. It has English narration throughout, but was shot entirely by Japanese cameramen both before and after the capitulation of the Empire of Japan. 
These color and black and white films, along with many of McGovern's still photographs from the time, represent the definitive aftermath film and photographic record we have today of the only time in history that atomic weapons have been used in warfare.
In my book "Rebels to Reels – A biography of Combat Cameraman Daniel A. McGovern USAF," I tell the full and fascinating life story of Dan McGovern, utilizing meticulous research and often striking imagery. The book includes the story of how those remarkable motion picture images and photographs were captured throughout Japan by McGovern and his team immediately after hostilities ended. 
However, the book also reveals how the U.S. government suppressed those films for decades, fearful of public revulsion. And it tells the story of McGovern's tireless efforts to safeguard the films "for posterity" in the hope that someday they would be seen by people the world over.
Dan McGovern had been no stranger to war and conflict. He was not, in fact, a native of the United States, but of Ireland. Born in County Monaghan in 1909 and in an Ireland under British rule, McGovern witnessed the Irish War of Independence unfold in his native Carrickmacross where his father was a sergeant in the Royal Irish Constabulary. 
The McGoverns lived in family quarters inside the police barracks. I'm also from Carrickmacross and it was there that I initially met and interviewed McGovern when he returned to his hometown in 1999.
Even then, aged ninety, McGovern still very much had the bearing of a military man. I was captivated as he recounted to me his boyhood recollections of the War of Independence. 
Things were fine at first, Dan explained, but as Republican support grew, the entire McGovern family soon experienced the effects of the Dáil-led boycott of the RIC as the broader IRA military campaign intensified.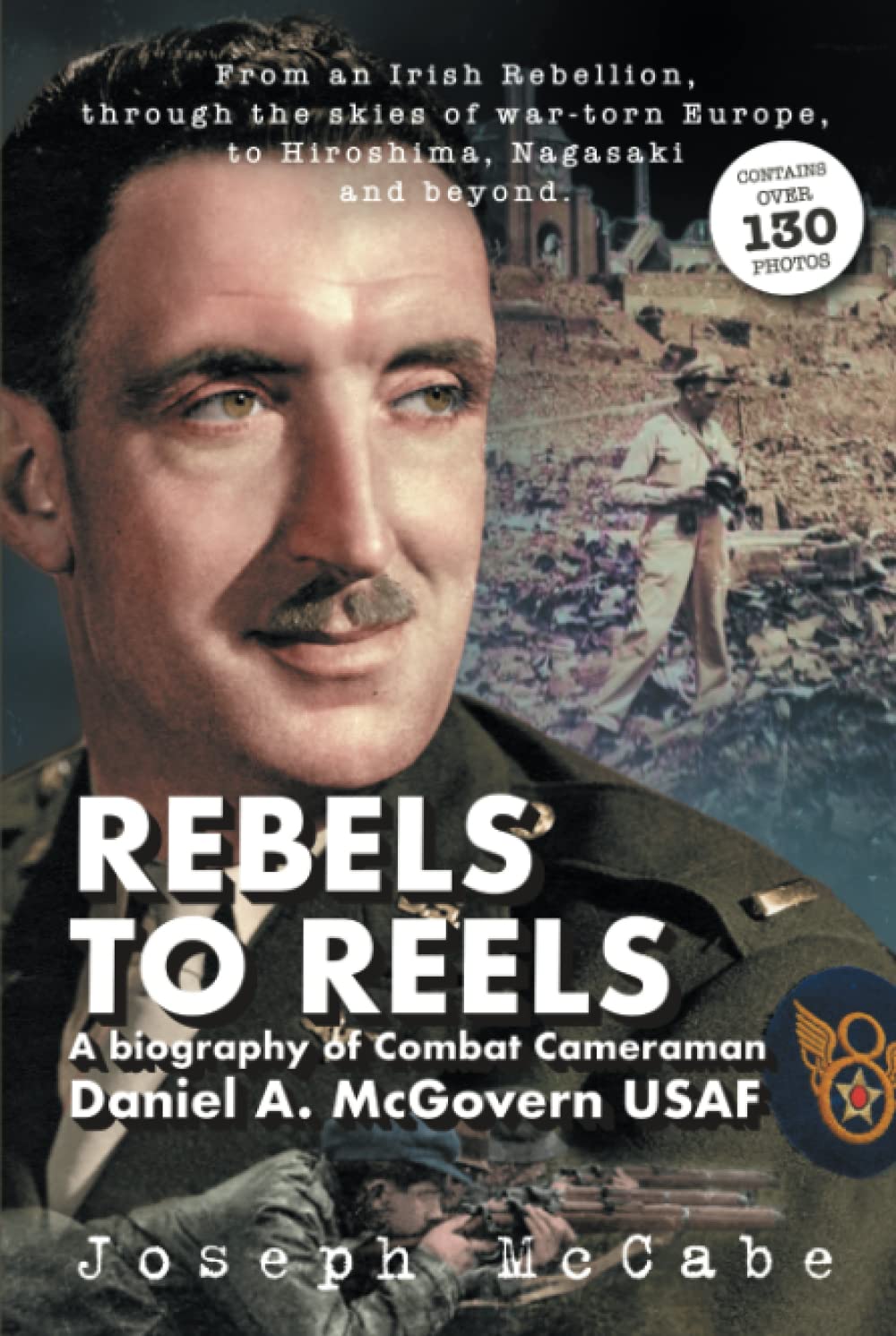 "Rebels to Reels" contains McGovern's remarkable first-hand accounts of travelling on Crossley Tenders with the Black and Tans, of a major IRA attack on Carrickmacross RIC barracks, and even his vivid recollection of his father handing over that same barracks to the Irish Free State forces one hundred years ago this year, in 1922. 
Those recollections are quite revealing. It's not often we get such eye-witness accounts from the other side of that conflict. With the foundation of the Irish Free State the McGoverns were obliged to leave Ireland on the direction of the IRA and immigrate to the United States.
In America, McGovern eventually chose the then United States Army Air Corps as a career. 
Dan told me about his remarkable career later as an Air Force cameraman, the list of historical events he witnessed, and of the personalities he met and filmed along the way. His story was simply jaw dropping.
In fact, so proficient had McGovern become in the use of both the motion picture and stills camera early in his career that he became a designated cameraman/photographer to none other than President Franklin Delano Roosevelt. This was shortly after Pearl Harbor when America had entered World War Two.
With the rapidly expanding and newly renamed U.S. Army Air Forces starting to deploy to war theaters all over the world, combat cameramen were needed to record the efforts of those American Air Forces, and most importantly in the air. A school was needed to train those cameramen. 
Dan McGovern established that school in Hollywood, California as he was the most senior cameraman hand-picked by the USAAF top brass for the job. He trained the very first intake of trainee cameramen. 
My book also gives a fascinating insight into how McGovern rubbed shoulders with Hollywood A-List actors and directors as they gave of their talents to the war effort. These included Clark Gable and Ronald Reagan with the latter, of course, going on to become president.
"Rebels to Reels" tells the story of Dan's often perilous exploits serving as a combat cameraman in the USAAF's 8th Air Force in Europe during 1943. He filmed considerable combat footage on B-17 bombers for Hollywood director William Wyler's documentary "The Memphis Belle – A Story of A Flying Fortress."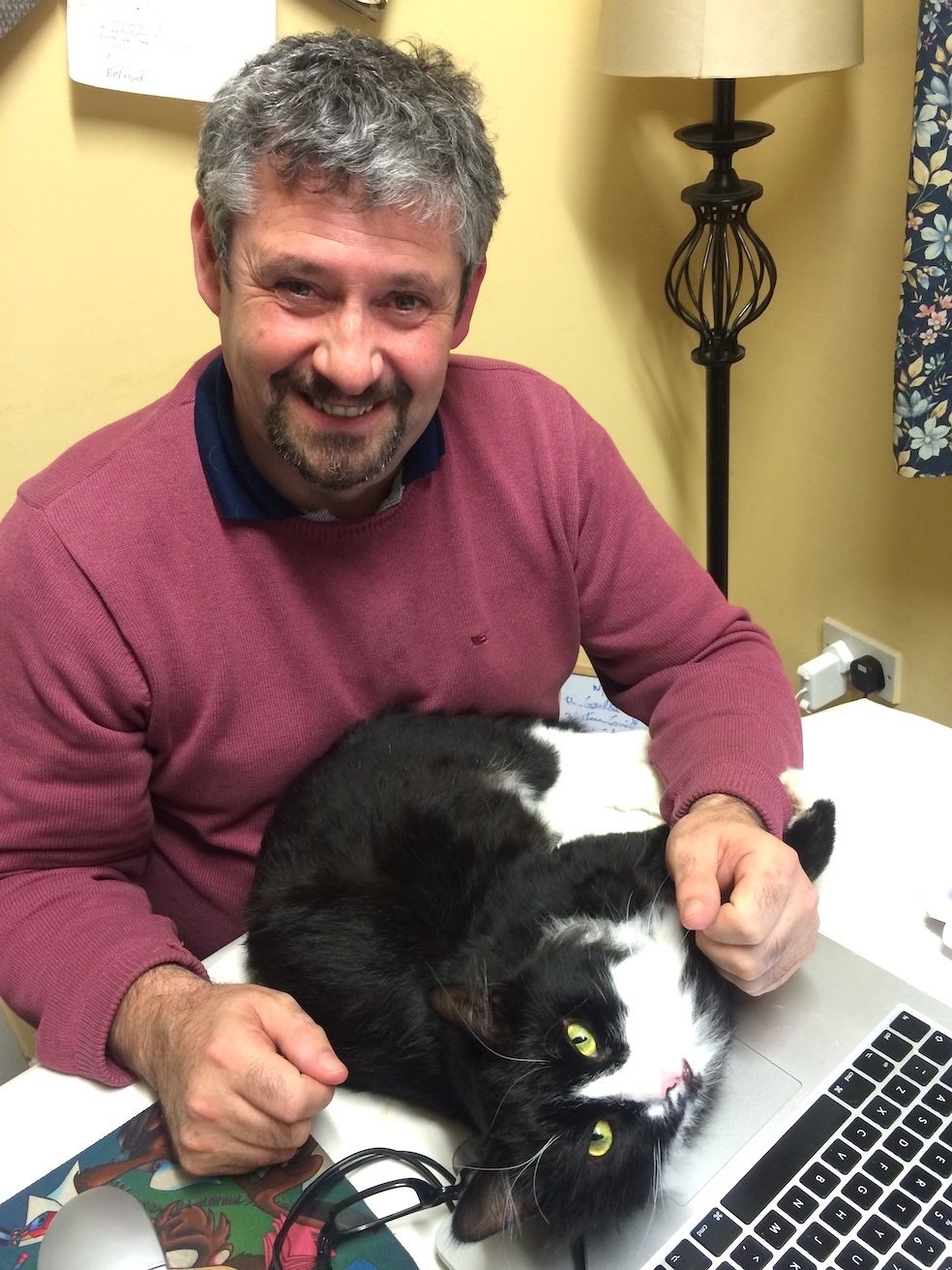 The 1990 feature film, "Memphis Belle," was based on that documentary. 
Drawing from McGovern's accounts, coupled with my own research, "Rebels to Reels" tells the story of how the Irish-born combat cameraman filmed on those often massive American bomber formations as he flew, camera in hand, into the teeth of Hitler's Third Reich.
After two crash-landings on B-17s, McGovern returned to the United States before being deployed to the Pacific Theater of Operations. This ultimately resulted in his filming historically significant film footage throughout Japan. 
"Rebels to Reels" describes how McGovern was even present with his camera when infamous Japanese premier, Hideki Tojo, attempted to commit suicide after being tracked down by Allied occupation authorities in late 1945. 
My biography of McGovern also focuses on his remarkable post-war career back in America. He filmed early American experiments of captured German V2 rockets with former Nazi scientist Wernher Von Braun. 
The book also gives a fascinating account of McGovern's association with a startling, and to this day not fully explained, event in the remote New Mexico desert in 1947.
That was the Roswell incident in which a UFO with aliens on board reputedly crashed. Exactly what did happen in Roswell has gripped public consciousness ever since with all sorts of conspiracy theories abounding. However, McGovern had his own views on Roswell.
Dan's connection to a subsequent grainy black and white film of an autopsy on the body of a purported alien in Roswell which surfaced years later is intriguing.
For many years at the height of the Cold War McGovern was also one of the cameramen who filmed America's nuclear test detonations at remote test sites in the Nevada Desert, and on Eniwetok and Bikini Atolls in the Pacific.
My three part, 450 page biography contains over 130 images. The book has been published to coincide not just with the foundation of the Irish Free State, but also with both the 80th anniversary of the formation of the USAAF's 8th Air Force and the 75th Anniversary of the formation of the United States Air Force.
"Rebels to Reels – A biography of Combat Cameraman Daniel A. McGovern," is available in hardback and paperback in bookstores. Hardback, paperback and eBook formats are also available online from Amazon.
Joseph McCabe has worked in the news media for almost thirty years. Having a lifelong interest in military history, and particularly that of World War II, he has travelled to many historical battlefields across the world.