Rich Strike's victory in the Kentucky Derby was certainly a once-in-a-generation event, if not once in a lifetime. Regardless, the colt that closed from way back got a big, unintentional assist from Summer Is Tomorrow.
Summer Is Tomorrow, owned by Michael Hilary Burke and Negar Burke of Loughrea, Co. Galway, set an extremely pressured pace more in tune with a six-furlong sprint, not a 10-furlong race. With several rivals not wanting to let him steal away to an easy lead, they, too, were softened up and unable to stave off Rich Strike's rally. Summer Is Tomorrow, sent off at 36-1, led past the stands the first time and down the backside but ceded the lead entering the far turn and checked in last of 20.
"He's a perfect six- to seven-furlong horse," said Mickael Barzalona, who rode Summer Is Tomorrow. "Today, we got pressure early on and [down] the backstretch and I couldn't save [his speed] as I did in Dubai last time."
WALSH STAYS HOT
Brendan Walsh had himself a week at Churchill Downs, winning five races, two of them stakes. He got things rolling in Tuesday's seventh race with Curbstone, a Patricia Moseley homebred 3-year-old colt that broke his maiden in his sixth start. Luis Saez brought him in five lengths in front for a $24.20 win mutuel.
The seventh race again proved fortuitous for Walsh on Wednesday, when Irad Ortiz, Jr. wired the field aboard Bagboss, a 4-year-old colt owned by Chuck and Maribeth Sandford. He won this first-level allowance sprint on the main track by almost four lengths and returned $5.60 to win.
Walsh's first stakes victory came Friday in the Grade 2 Edgewood with Marc Detampel's New Year's Eve. The 3-year-old filly, now 3-for-4 lifetime, rallied from last under Saez to score by almost three lengths in this turf route. She paid $31.20 to win.  
"She's been just a bit slow mentally," Walsh said. "But she's getting it bit by bit. So, we gave her some time to figure things out, then we gave her a push. We put blinkers on her for her last two works and she seemed to pick it up a bit. I was quietly confident that she'd be better today. And she was."
Walsh made the first of two trips to the winner's circle on Derby Day after the third race, which was won by Lady Rockstar, a 4-year-old filly that he trains for Clipper Logistics. The British import made her American debut in this first-level allowance route on the turf and rallied under Tyler Gaffalione to tally by three and one-half lengths. She paid $8.00 to win.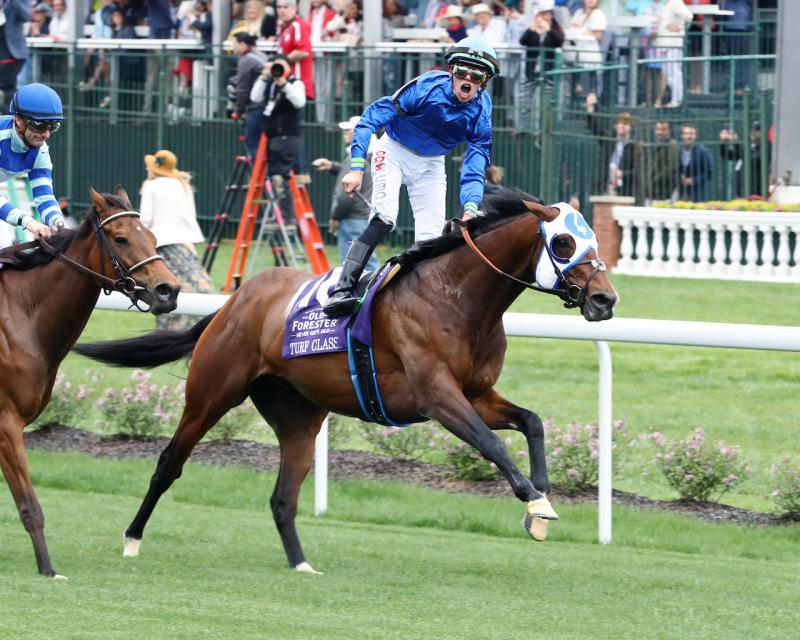 Then, in the race before the Derby, the Grade 1 Old Forester Bourbon Turf Classic, Godolphin's Santin gutted out the photo finish under Gaffalione for Walsh's second score of the day. The 4-year-old colt was a pace factor here and had work to do after dispatching the pacesetter. He would not be denied after battling the length of the stretch to earn his first stakes victory. He paid $16.20 to win. 
"We've thought this was a special horse and I think we're starting to see the start of something big here," Walsh said. "He's still just a baby; he's only had six starts now. And he's in here running against ones with 10, 12, 15 starts. We were letting him come along at his own pace, but we gave him some help to focus with the blinkers today. The people down at my barn have brought him along. I just happen to be there."
16TH TIME THE CHARM
Keith O'Brien got his first training win of 2022 when Elegant Laoban, a 4-year-old filly that he owns along with Donald Larkin, John Fitzgerald and Joseph Ferrick, broke her maiden in her 16th try in the second race at Belmont Park on Sunday. With second-place finishes in her last two starts against similar company (statebred maidens at the $25,000 claiming tier), the filly had been hinting at a breakthrough. Luis Cardenas put her on the lead out of the gate and kept her there, reaching the wire in front by a length. She paid $15.00 to win.
Jim Corrigan shook things up at Belterra on Wednesday, when he sent out John O'Meara's Takin Risks to win the nightcap. The 3-year-old gelding had finished in front of only one horse in two prior starts, so his victory in this maiden special weight sprint was something of a surprise, as attested to by his $$110.00 win mutuel. Abel Lezcano rode him to the neck victory.
Declan Carroll is trying his luck in Ontario this year and made his first good impression in Friday's third race, which he won aboard Halo Style for trainer Patrick Dixon. The 3-year-old filly was the rank outsider in this four-and-one-half furlongs maiden claiming sprint but she rallied past the speed to get the nod by one-half length. She returned $59.30 to win.
IRISH SENORITAS
Irish-bred fillies have been a hot commodity in turf stakes at Santa Anita in recent years, a point that was underscored in Saturday's Senorita Stakes there. Island of Love and Sterling Crest finished 1-2 in this Grade 3 mile on the lawn. Island of Love, owned by R Unicorn Stable and trained by Philip D'Amato, was a two-length winner under Juan Hernandez. She was bred in Ireland by Razza Del Velino. This was her first stakes victory after taking a back seat in her two previous outings to Lucky Girl, yet another Irish-bred filly that faltered here and finished last. Island of Love paid $7.80 to win and keyed a $23.20 exacta with Sterling Crest.