Limerick 3-21; Tipperay 0-23
There was a redemption of sorts in Tipperary's performance which was good enough to lead Limerick for all but the last 10 minutes of this Munster clash in the Gaelic Grounds on Sunday.
But when it came to the business end of the game, Limerick found an extra gear and pulled away from their opponents with the aplomb of true champions that they are.
Yes, a seven-point win flattered them but it also showed how capable they are of not playing well but still knowing how to produce a kill late in the game. They are now back almost certainly in yet another Munster Final and with key players to come back from injury, the big question in the world of hurling is - who will go near giving them a proper game?
Tipp will point to the fact that they eye-balled them for an hour, yet there was an inevitability about how the game would turn out. Seldom have the Limerick lads hit so many poor passes and so many wides and they will hope that the return of Cian Lynch will give them the balance going forward that was missing despite the best efforts of Cathal O'Neill to fill his boots.
Two points behind at the break, Limerick waited like the deadly assassins they are and when late goals came from substitute Conor Boylan and Aaron Gillane in the space of four minutes, it rendered the great effort of Conal Bonnar's men  as gutsy but still outclassed.
Ger Browne was a revelation for Tipp and came of age in a side which had seven changes from the team which lined out last year due to retirements and injuries. The team drew from his showing and were ahead with some long rang scores before the excellent Aaron Gillane took a pass from Gearoid Hegarty to ram home a goal that took a lot of wind out of the Premier sails.
Veteran Noel McGrath stood up as a marksman from placed balls and when they scored six points without reply, it injected great hope that they were more than just canon fodder.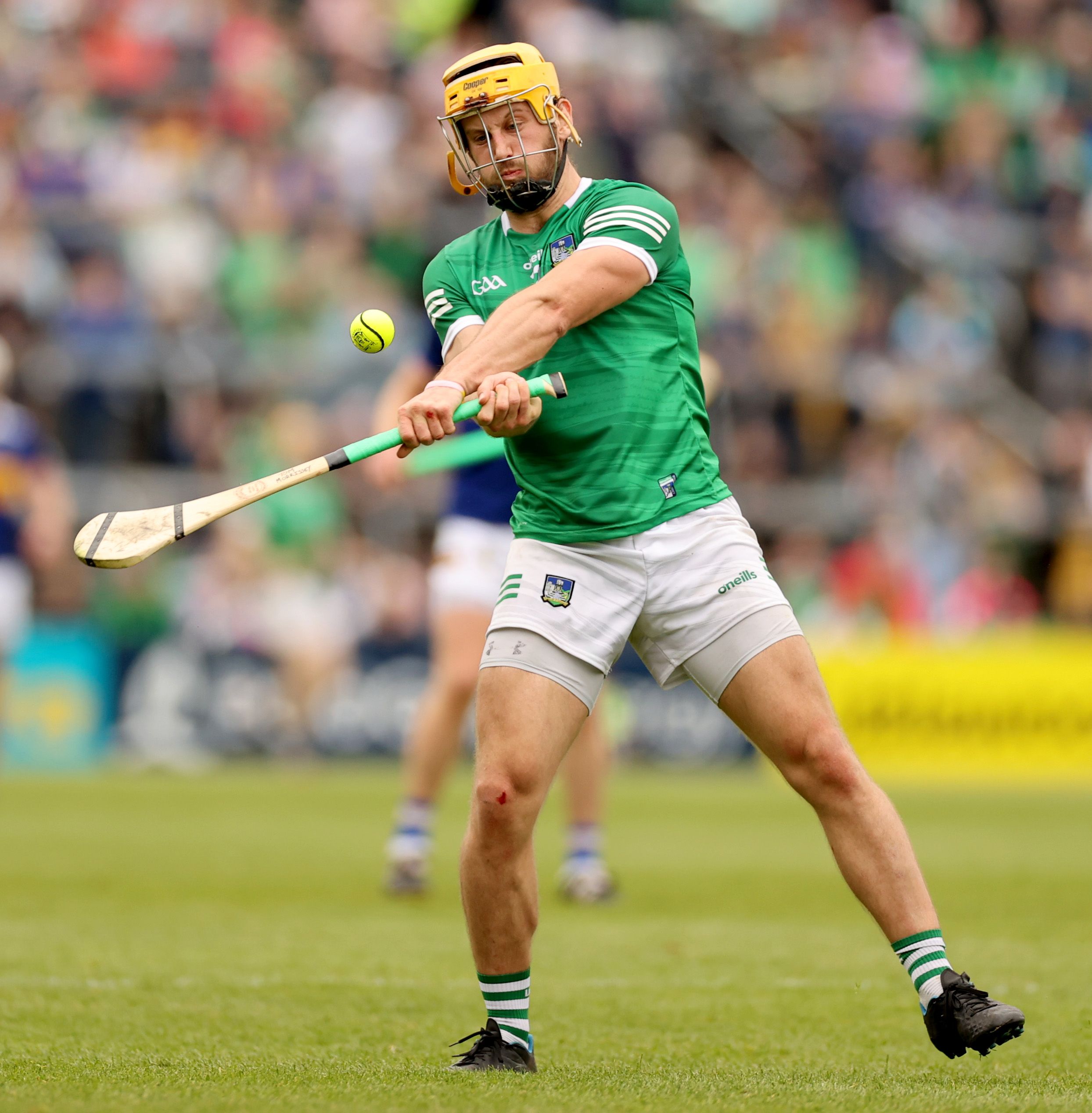 Limerick's Tom Morrissey in action against Tipperary.
INPHO/JAMES CROMBIE
O'Neill had snapped at a few early chances but his two quick-fire points ended a barren spell and reduced the lead to two points 0-14 to 1-9 at the break.
Tipperary had 11 wides in the opening half and you just knew it was a statistic that would come back to haunt them. Still, they fought for everything  and were three points to the good with 20 minutes left.
Swashbuckling defender Barry Nash and Tom Morrissey arrowed through for two great scores and suddenly there was only a point between the sides with 15 minutes left on the clock.
Diarmaid Byrnes levelled the game with a '65 in the 63rd and then in the twinkle of an eye sub David Reidy, Declan Hannon, and Gillane  from a free put the home side three points to the good.
This opened the way for the two goals in a four minute purple patch and Tipp's defiance was reduced to nought – not even the benefit of a moral boost on the scoreboard.
Limerick on Sunday head to Clare for their final game of the round-robin. Tipperary entertain Cork in Thurles the following week.
LIMERICK: N Quaid; S Finn, M Casey, B Nash (0-1); D Byrnes (0-3, 0-2f, 0-1 '65), D Hannon (capt.) (0-1), D Morrissey; W O'Donoghue, D O'Donovan (0-2); G Hegarty (0-1), C O'Neill (0-2), T Morrissey (0-4); A Gillane (2-5, 0-4f), K Hayes, G Mulcahy (0-1) Subs: S Flanagan for O'Neill (40), D Reidy (0-1) for O'Donoghue (55), C Boylan (1-0) for Mulcahy (59), R English for D Morrissey (69), O Reilly for Hayes (70)
TIPPERARY: B Hogan; C Barrett, B Heffernan (0-1), C Morgan; D Quirke, R Maher (capt.), S Kennedy; P Cadell, M Breen; C Stakelum, N McGrath (0-13, 0-9f, 0-2 '65, 0-1 sidline), G Browne (0-3); J Morris (0-3), M Kehoe (0-1), P Flynn (0-1) Subs: R Byrne (0-1) for Cadell (35), C Bowe for Flynn (48), D McGrath for Browne (64),  A Flynn for Stakelum (69).
Ref: L Gordon (Galway).
Rebels go down fighting
Kerry 0-23; Cork 0-11
Despite the scoreline, this was no cakewalk for Kerry, everyone's likely lads to be the 2022 All Ireland champions.
Cork played way above what they had done all year and rocked their opponents with their sense of purpose until the last 15 minutes when they ran out of energy and Kerry kicked on to win by 12 points at Páirc Uí Rinn.
In that closing quarter hour or so, Jack O'Connor's lads showed their level of athleticism and ability by outscoring their neighbors by 0-12 to 0-1. For that to happen, though, O'Connor had to look over his shoulder and call in old hands from the subs bench such as Paul Geaney, David Moran and Paul Murphy.
Kerry are still a work in progress and there are still places to be won on the team – this should help the manager in the coming weeks as training intensifies and players try to put down a marker.
The Cork following were delighted at how their players represented the red jersey with their best forward Cathail O'Mahony shooting three fine scores to leave them trailing by only one point  0-11 to 0-10, with 20 mins to go.
In the real world we knew that sooner or later Kerry would burst their bubble and when they kicked eight points without replay, there was no way back for the hosts.
Cork now head to the qualifiers while Kerry have three weeks to prepare for either Limerick or Tipperary in the decider at the end of the month.
Kerry Manager O'Connor said after the game: "We expected a big battle from Cork and at half-time, there was nothing in it. Two points, and around the 50th minute, they'd it brought back to one point. So we really knew we were in a game at that stage. "But I think we started controlling possession in the middle of the field, particularly on the Cork kickout. That basically changed the flow of the game and we kicked on well in the last quarter.
"We hadn't a game in five weeks. We were a bit rusty. I thought that showed at times, we were sloppy with possession. We gave the ball back to Cork and allowed them to play their running, transition game.
"We hope that we'll tidy up things after today. But we're happy enough. Any day you get out of here with a win of ten points or so is a good day. We're happy with a share of things but we know that there are areas we have to improve on," said O'Connor.
Cork manager John Cleary said: "I thought we gave an awful lot for 50 minutes and we just ran out of legs. Kerry are more battle-hardened, they're playing in Division 1. We're not at that level yet but I thought the lads performed heroically. They had the class to bring off the bench. Paul Geaney, Micheál Burns, they were bringing on lads who have played at the top for a long time.
"We were still beaten by 12 points, the floodgates opened a bit in the end. But I couldn't ask for any more from the lads and hopefully this will stand to them going forward," he stressed.
Kerry: S Ryan; G O'Sullivan, J Foley, T O'Sullivan; B Ó Beaglaíoch, T Morley, G White; D O'Connor (0-1), J Barry; S O'Brien (0-2), S O'Shea (0-10, 0-1 '45, 0-7f), A Spillane; T Brosnan (0-1), D Clifford (0-4, 0-3f), P Clifford (0-2) Subs: P Geaney (0-2) for Brosnan (47 mins), D Moran for Spillane (50 mins), P Murphy for Ó Beaglaíoch (51 mins), M Burns (0-1) for O'Brien (62 mins), J O'Connor for O'Connor (66 mins).
Cork: M Martin; K O'Donovan (0-1), M Shanley, K Flahive; J Cooper, R Maguire, M Taylor; I Maguire, C O'Callaghan; D Dineen, S Powter, J O'Rourke; S Sherlock (0-6, 0-5f) B Hurley, C O'Mahony (0-3) Subs: D Foley for Martin (inj, 23 mins), E McSweeney (0-1) for Dineen (55 mins), D Gore for Hurley (56 mins), T Corkery for Powter (58 mins), B Hayes for Flahive (65 mins).
Ref: B Cawley (Cill Dara)
Brave Cavan killed off by late goals
 Donegal 2-16; Cavan 0-16
You wouldn't have known that Cavan plied their trade in the bottom basement of Division 4 all this year as they put it up to Division One side Donegal for all but 10 mins of this gripping game at Clones on Sunday.
Two flukey goals in that last stanza of time undid all the good work by the Breffni boys who for long periods looks the better team on show. Donegal will now appear in their 10th Ulster final since 2011 while Cavan will find themselves in the Tailteann Cup and for the first time will look in the Sam Maguire fare as spectators.
Gearóid McKiernan had the sides level for the fifth time with 13 minutes to go and the big crowd got settled for a grand stand finish – one that didn't arrive thanks to two unusual goals.
Conor O'Donnell showed great reactions to clip the ball home after it had come to him off an upright while Paddy McBrearty weaved past static defenders to bury the game as a contest.
Having lost to Cavan in the 2020 Ulster final, it seemed as if it might be a case of déjà vu as Donegal failed to get to grip with their opponents until late in the game.
The sides were level at 0-9 apiece after a rip-roaring opening half and it went nip and tuck for most of the second half as well.
Afterwards Donegal Manager Declan Bonner said: "It was a tough battle but we expected nothing else from Cavan. They've a real tough championship pedigree behind them and we know from 2020 what they bring to the table. First half was nip and tuck. It was probably good to watch but we made a lot of mistakes in the first half.
"We were getting into the final third but getting ball turned over cheaply. We got ourselves together at half time and the goal was a big turning point. It was fortuitous, from our point of view, but we'll take that. Some days in championship football those breaks go for you. Semi-final is all about getting over the line, and we can look forward to a final where we know we need improving.
"It was a proper championship match out there today, no quarter asked or given. Both went teams at it in a very sporting manner. Clones, nice crowd, sunny day, real championship football, great to have a crowd back in here today. We'll get ready now for what will be a titanic battle with whoever comes out of the other side of the draw."
Donegal: S Patton;  C Ward, B McCole, S McMenamin; R McHugh, E Bán Gallagher, P Mogan (0-1); H McFadden, J McGee, C Thompson (0-1), S O'Donnell, M Langan; P McBrearty (1-4, 0-3f), M Murphy (0-5, 0-4f), J Brennan (0-4) Subs: C McGonagle (0-1) for McFadden (temp, 36 mins), O McFadden-Ferry for Ward (46), C O'Donnell (1-0) for Thompson (59), N O'Donnell for S O'Donnell (65), A Doherty for Brennan (70), N McGee for Mogan (70).
Cavan: R Galligan (0-1f); J McLoughlin, P Faulkner, K Brady; L Fortune, K Clarke, Conor Brady; T Galligan (0-2), J Smith (0-3, 0-1m); G Smith (0-1), G McKiernan (0-3, 0-1f), C Moynagh; C O'Reilly, P Lynch (0-6, 0-3f), C Madden Subs: M Reilly for C O'Reilly (44 mins), O Kiernan for Madden (55), C O'Reilly for K Brady (65).
Ref: C Lane (Cork).
GAA results
Football Championship
At Pairc Ui Rinn, Kerry 0-23 Cork 0-11
At Clones, Donegal 2-16 Cavan 0-16
At Salthill, Galway  4-20 Leitrim 0-9
Hurling Round Robin
At Gaelic Grounds, Limerick 3-21 Tipperary 0-23.