An informal group of Limerick artists has raised almost €50,000 for Ukrainians displaced by war, in a surprising wave of support that extended all the way across the Atlantic.
"The first piece was sold to someone in America, I took their proxy bid by phone," said Moya Ni Cheallaigh, who is herself an artist and one of the main organizers of Limerick Artists for Ukraine.  
An art exhibition and auction held April 28 at Limerick School of Art and Design was the main event, but the fundraiser continues online until the end of May. 
About 20 of the 110 pieces of artwork donated are still available for purchase at  www.limerickartistsforukraine.com. The collection featured mostly paintings, with some prints and photographs.
Exhibitors ranged from a locally housed 18-year old Ukrainian refugee, Valeria Borisova, to septuagenarian Limerick native John Shinnors, who is also one of Ireland's best-known painters. And another high-profile artist, Donald Teskey, donated a painting to the show. 
"These are internationally known artists, who have had exhibitions in America," Ni Cheallaigh said.
Shinnors' painting, "Trapeze," finished specially for the auction, sold for €12,200.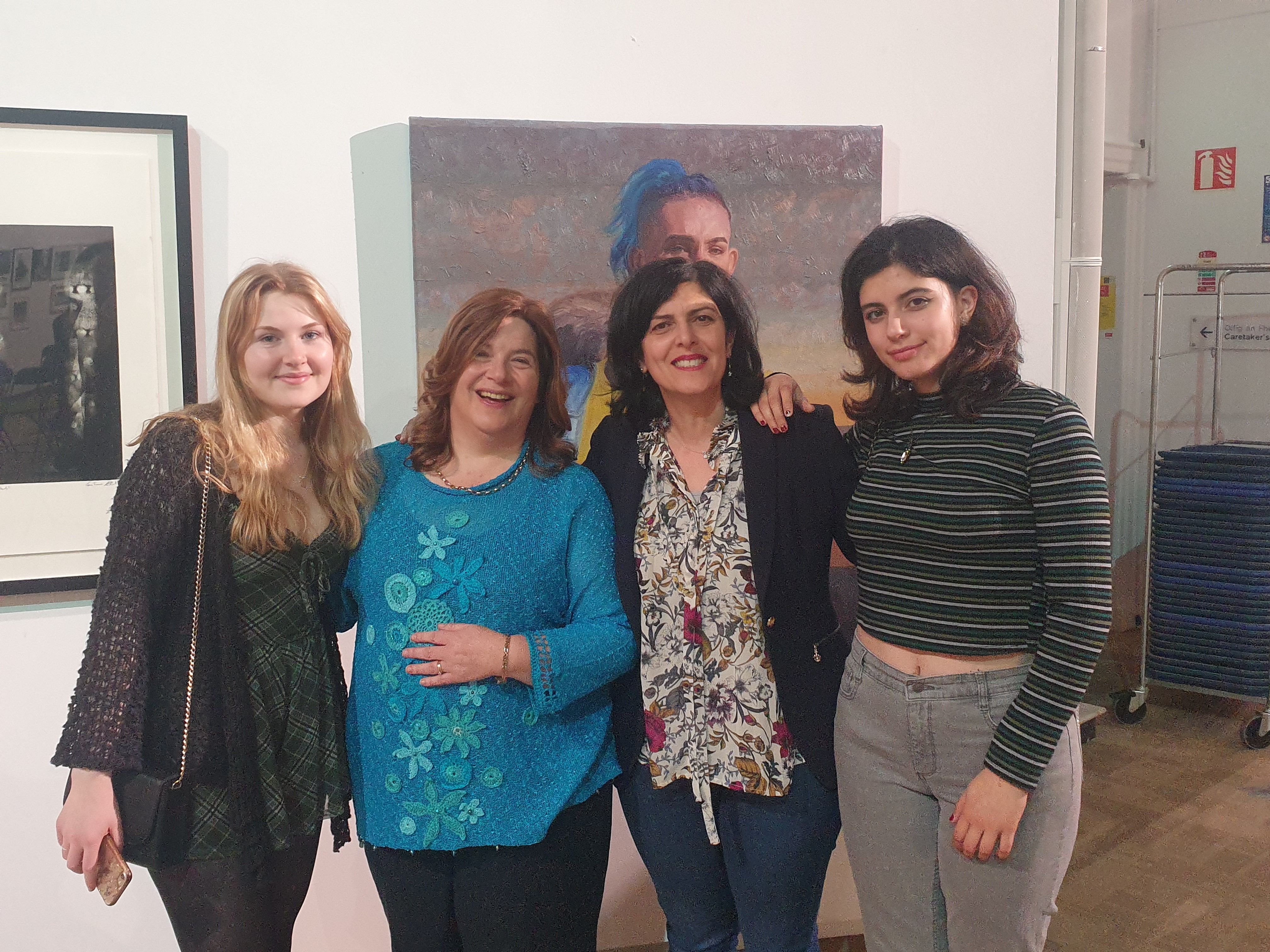 Moya Ni Cheallaigh, second from left, is pictured with her daughter, Cara, left, and fellow Limerick Artists for Ukraine organizer and Lebanese entrepreneur Samira Kaissi and her daughter, Sara.
More than 200 people attended the auction with probably another 100 participating, either as proxy bidders or locals lending support, Ni Cheallaigh reported.
"There was great interest," she added. "Irish people are late for everything, but they were queuing up outside half an hour before the doors opened!" 
By the end of the auction €45,000 had been raised for the Irish Refugee Council.
All proceeds went to the Refugee Council and there were effectively no costs. "We didn't pay for anything, except renting wine glasses and for some of the wine."
"Our goal now is to reach €50,000," Ni Cheallaigh said, despite still being surprised by how the humble idea grew.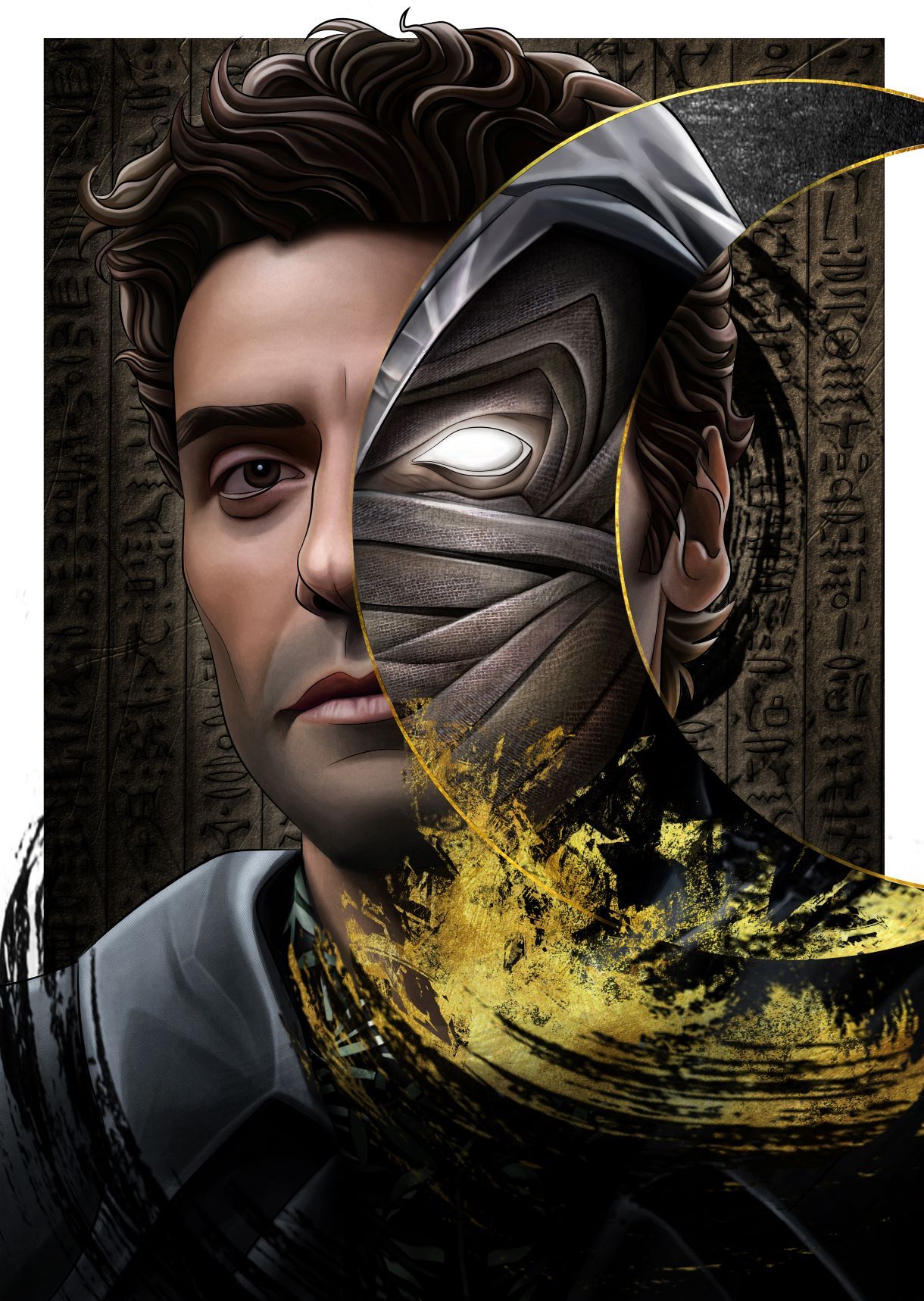 "Moonknight1," a work submitted to the Limerick Artists for Ukraine exhibition by 18-year old Ukrainian digital artist and refugee Valeria Borisova.
Shortly after Russia's full military invasion of Ukraine on Feb. 24, a neighbor asked Ni Cheallaigh would she organize an art sale to help the people of Ukraine. The neighbor, Nuala Reddan, occasionally sells her own work for charity in her home, but didn't want to this time because of Covid. 
"I said yes, thinking it would be lovely to have a small local event!" Ni Cheallaigh said with a laugh—after two months of unpaid work, including several 18-hour days.
"Everybody I rang said 'yes' and gave me somebody else's number—data protection bedamned! Soon, I was calling John Shinnors."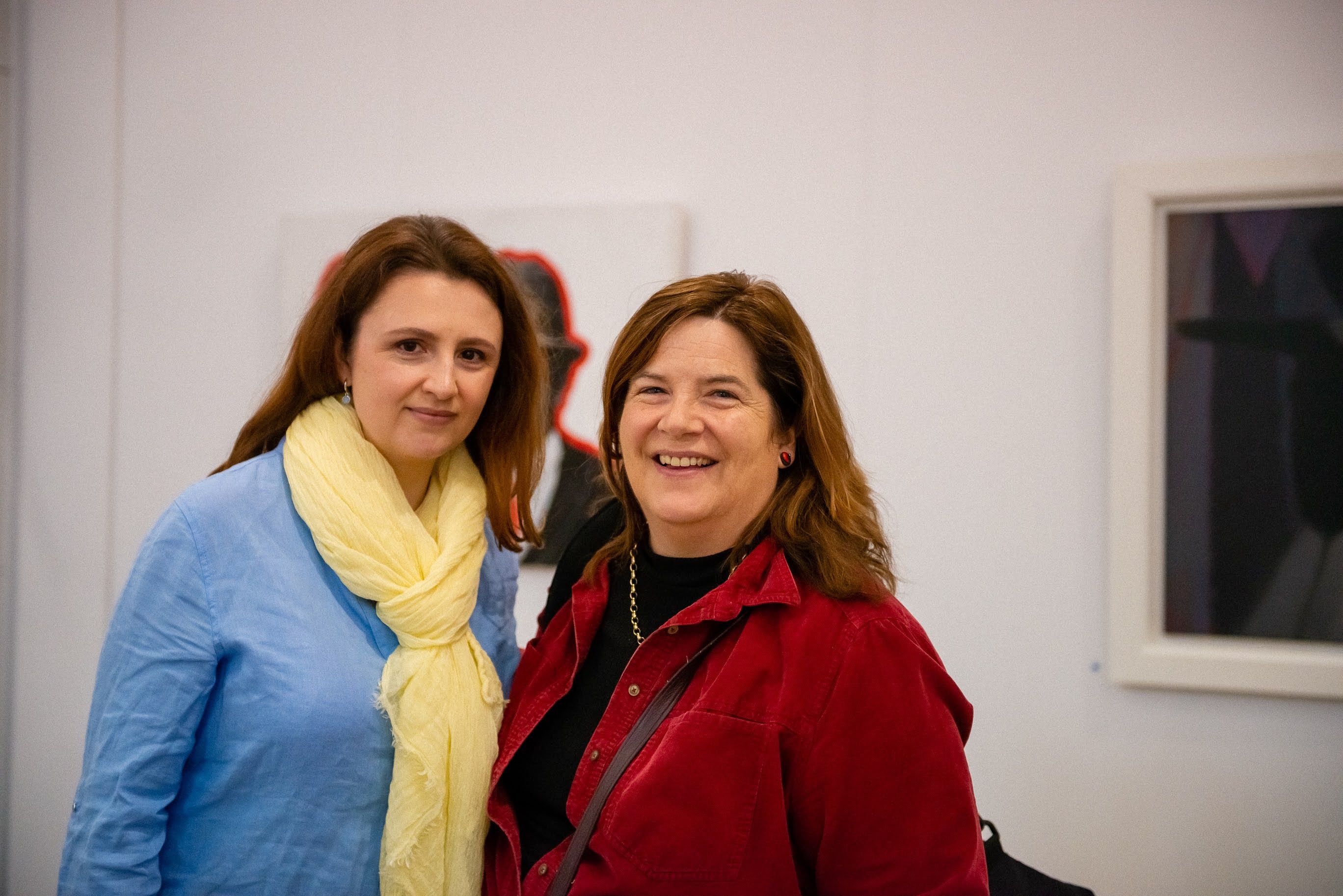 Ukrainian artist Kateryna Vyshemirska and Moya Ni Cheallaigh.
The show outgrew the original venue Ni Cheallaigh had in mind, Shannon Rowing Club.
The core team of volunteers also grew. Among those Ni Cheallaigh credits in a post on the ilovelimerick.ie blog is Samira Kaissi. Relatively new to Limerick, the Lebanese scientist-turned entrepreneur grew up in Beirut. "She knows what it's like to be bombed," Ni Cheallaigh said.
Ni Cheallaigh, a former primary school teacher from Glasnevin, Dublin, moved to Limerick City decades ago.
"Everyone involved had a connection to Limerick," she said.
That included the two Ukrainians whose work was in the exhibition and the official photographer on the night of the auction, Olena Oleksienko. They are among a recent influx of several hundred Ukrainian refugees to the greater Limerick area, being put up both by hotels and volunteer families. 
Besides the 18-year old digital artist Borisova, there was Kateryna Vyshemirska, 41, whose  husband is in Ukraine on army standby. "Kateryna says that Ireland saved her life and art saved her soul," Ni Cheallaigh said.
Some 30 Ukrainians sheltering locally were brought to a preview the night before the auction. "I organized locals to drive them in," Ni Cheallaigh said, adding "the people of Limerick were amazing".