The Ravenwood Golf Club in Victor, N.Y. is sure to hold a warm spot in the heart of Jordan Hyland. For the second time in a month, the Davis & Elkins junior from Belfast has won a tournament at the Rochester area venue. On Saturday, he captured medal honors there in the NCAA Division 2 Atlantic/East Regional. D&E also snagged one of the four team slots in next week's D2 Nationals in Dearborn, Mich.
                Hyland, who plays out of Omagh Golf Club, was always prominent on the leaderboard, opening with rounds of 73 and 70 in the 54-hole event. Standing just a stroke off the lead entering the final round, he plunked four birdies down on his scorecard in the first seven holes, going out in 32. He came in with 38 for a round of 70. At 3-under-par 213, he was the only man in the field to break par and had a three-stroke cushion over two rivals.
                D&E's Sean McAufield, a freshman from Ardee, Co. Louth, got off to a rough start in the final round, with bogey at four of the first five holes. But birdie at the sixth, seventh and eighth holes turned matters around. He sank a clutch par putt from 20 feet at 18 to help the Senators tie for the final team spot and avoid a playoff. He posted rounds of 75, 72 and 75. His home course is Ardee Golf Club.
                In the South/South Atlantic Regional at Kinderlou Forest in Valdosta, Ga., Charlie Denvir of South Carolina-Aiken tied for 27th place in the 108-man field. The sophomore from Blackrock, Dublin combined rounds of 69, 72 and 76 to finish a stroke over par and 14 off the winning number shot by A.J. Ewart of Barry. Mississippi College's Jordan Logue, a junior from Belfast, took a share of 86th place in this field, having shot 73, 77 and 77.
WOMEN'S GOLF
                Maeve Cummins of Carson-Newman tied for 36th place in the NCAA Division 2 South Regional at Grande Oaks in Fort Lauderdale, Fla. The senior from Waringstown, Co. Down shot 77, 78 and 74 to leave 16 strokes over par and 11 off the winning number belonging to Barry's Alice Gotbring.
WOMEN'S TRACK & FIELD
                Toni Moore of Lee University earned Most Outstanding Track Performer at the Gulf South Conference Championship meet in Clinton, Miss. The grad student from Omagh, Co. Tyrone won the 3000 steeplechase with a time of 10:48.00, which was 28 seconds faster than the runner-up. Moore also got third place in the 1500, in which she ran 4:31.87 to teammate Celine Ritter's winning 4:26.97, and fourth place in the 800, her 2:16.45 against teammate Aria Hawkins' winning 2:11.83.
                Ava O'Connor of Adams State finished ninth in the 1500 meters at the Oregon Twilight meet in Portland on Saturday. Her time was 4:21.15 in a race won by Lizzie Bird of Idaho Afoot in 4:15.02.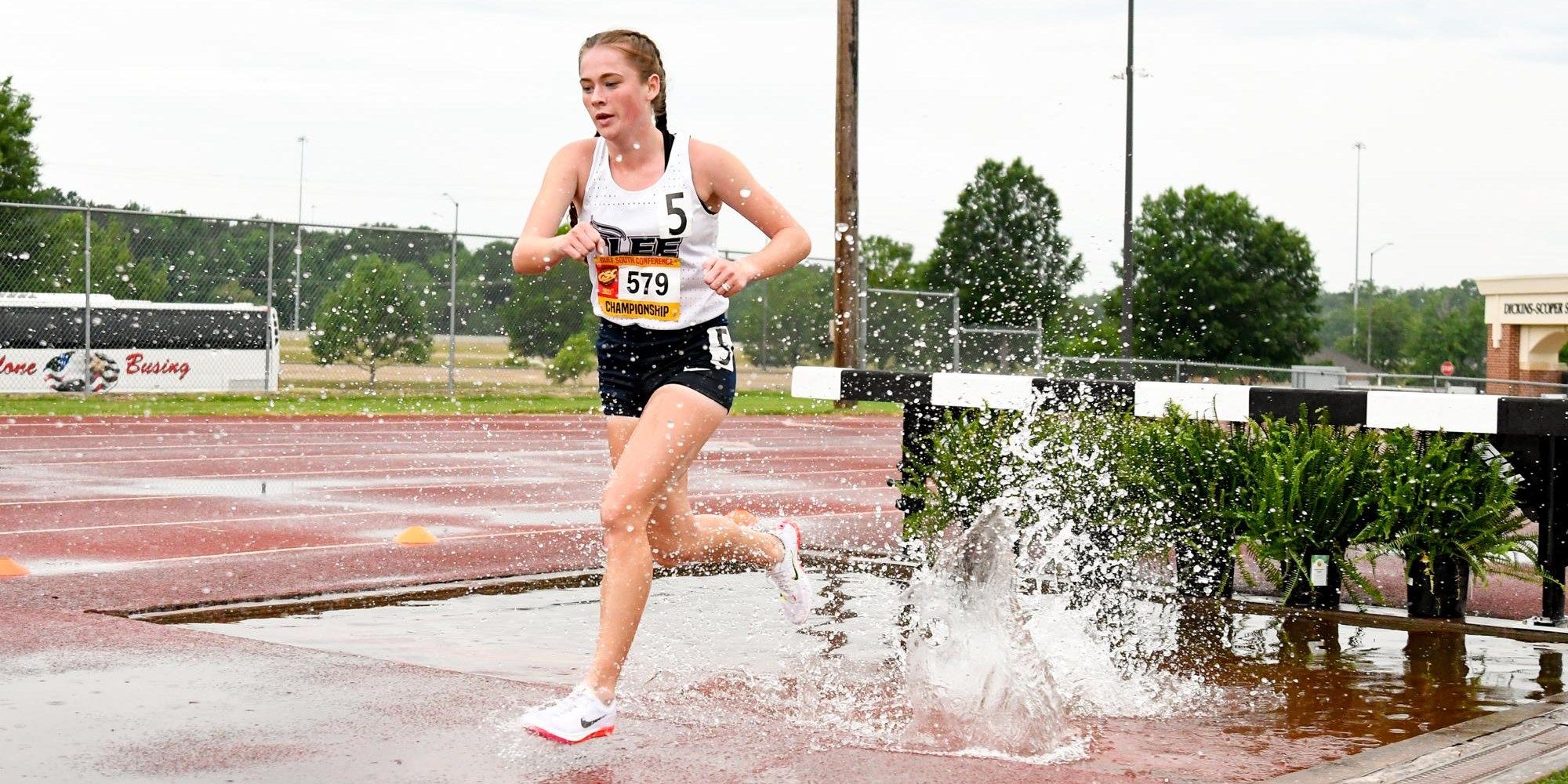 Toni Moore.
MEN'S TRACK & FIELD
                Dublin freshman James Hyland of McNeese State took fifth place in the 3000 steeplechase at the Southland Conference championship meet in Humble, Tex. He got over the obstacles with a time of 9:47.80 in a race won by Houston Baptist's Benjamin Drew in 9:04.20.
                Portland's Cathal Doyle, a junior from Dublin, finished fourth in the 1500 meters at the Oregon Twilight in Portland on Saturday. He ran the race in 3:42.29; Cooper Teare of Team Nike broke the tape in 3:34.81. James Dunne of Adams State finished 12th in 3:46.25. He is a sophomore from Tullamore, Co. Offaly.
WOMEN'S TENNIS
                Duke made it through the first two rounds of the NCAA Division 1 Team Championship, eliminating Quinnipiac, 4-0, on Friday and Old Dominion, 4-1, on Saturday. The Blue Devils' Georgia Drummy, a senior from Dublin who is ranked 14th among women by the Intercollegiate Tennis Assn., dispatched Quinnipiac's Kamilla Nella, 6-0, 6-0, at second singles. Her match in the Old Dominion showdown was in a third set when Duke clinched on another court and, thus, went unfinished. Next up for Duke is Georgia on Friday in Durham, N.C.
                Mercyhurst made a quick exit from the NCAA Division 2 nationals, losing, 4-1, to West Virginia State in Charleston, W.V. on Friday. The Lakers' lone point came courtesy of Roisin Murphy, a freshman from Castlebar, Co. Mayo, who defeated Julieta Beltramino, 6-1, 6-2, at fourth singles.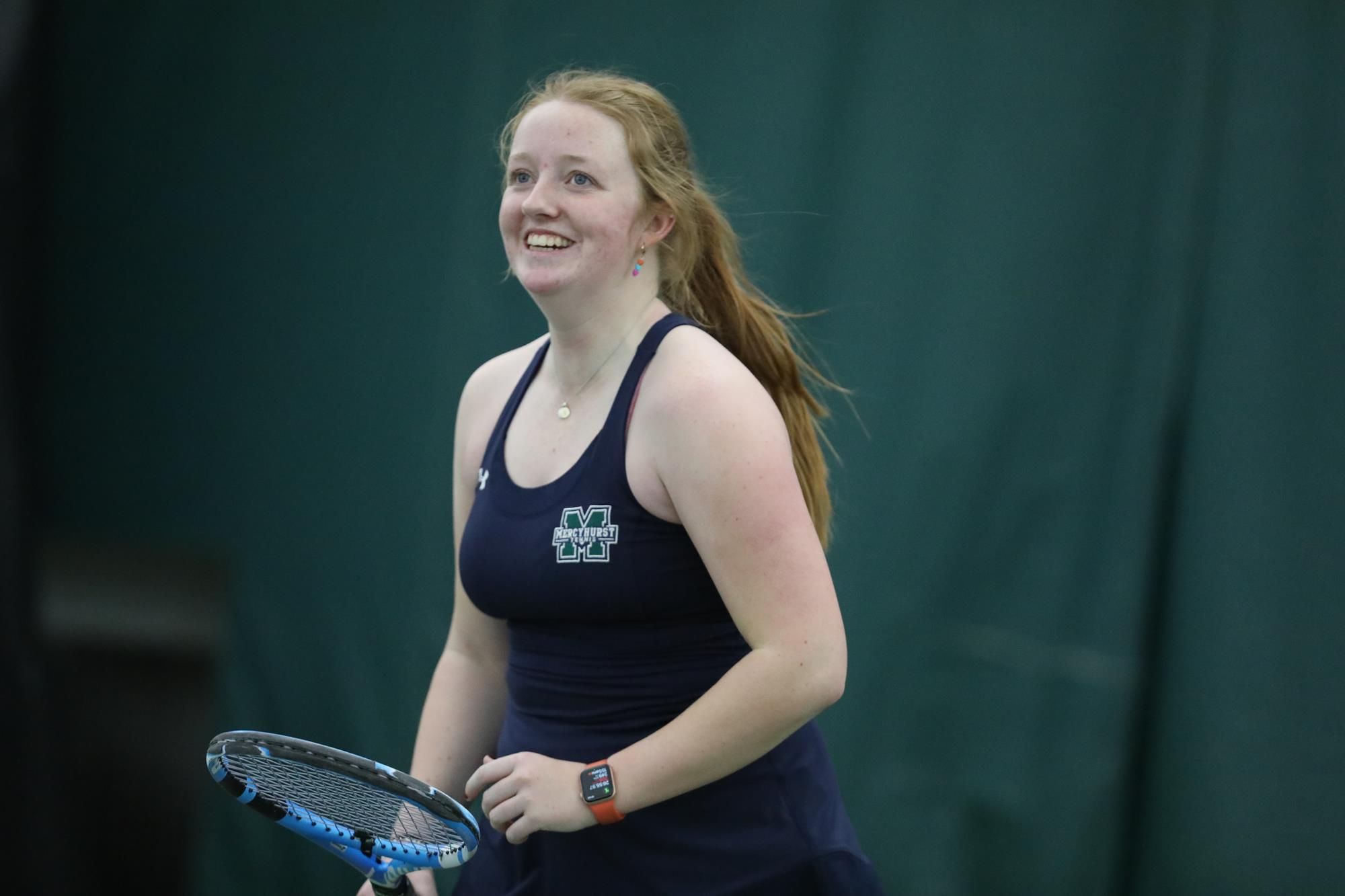 Roisin Murphy. [Photo by Ed Mailliard]