Last month, the Hugh Lane Gallery's Barbara Dawson made a visit to a studio located on a quiet street in north Brooklyn.
Her host was abstract expressionist Rodney Dickson, two of whose paintings will go on display later this year at the Hugh Lane, which is owned by the city of Dublin. 
In 2021, a leading American art dealer and former gallery-owner donated the large works by the artist originally from Newtownards, Co. Down. 
Said director Dawson, "We are thrilled to have Rodney Dickson's work in the Hugh Lane Gallery collection and are hugely grateful to David McKee for his generosity in donating these works. 'Number 6' and 'Kill 'em all and Let Buddah sort 'em out' are both extraordinarily powerful paintings. 
"As one of a number of works that Dickson has created in response to the aftermath of the Vietnam War, 'Kill 'em all and Let Buddha sort 'em out' sits well with our socio-political collection as well as our figurative paintings. Dickson's expressive use of paint in 'Number 6' adds a new dimension to the gallery's fine collection of abstract painting. We look forward to showing both paintings in a large-scale exhibition of our recent acquisitions later in 2022 and are sure that our Dublin audiences will be impressed by their powerful expression and intent."
"David McKee is a great supporter of mine," Dickson said. "He retired a few years ago, and since then he has been working on finding homes for his collection.
"I am delighted that he found such a home for two of my large works with the Hugh Lane Gallery."
"I first met David in 1993 when I was representing Northern Ireland as a participant in the International Artist In Residence Program at MoMA PS1 in New York," he said.
"During his time, McKee Gallery was one of the most important galleries in New York, holding the Philip Guston Estate and it worked with great painters such as Sean Scully," said Dickson, who trained at the Liverpool School of Art and moved from England to Brooklyn with his wife in 1997. 
The large paintings, which are 8 feet by 5 feet, were done decade or so ago. The artist said, "It was the beginning of the way I work now."
McKee bought five large works by Dickson at the time.
As it happened, the family of the artist's late wife, Juliet Hone, had inherited some works from Irish relatives with a connection to the Hugh Lane Gallery. "Not very valuable ones," Dickson said of those paintings.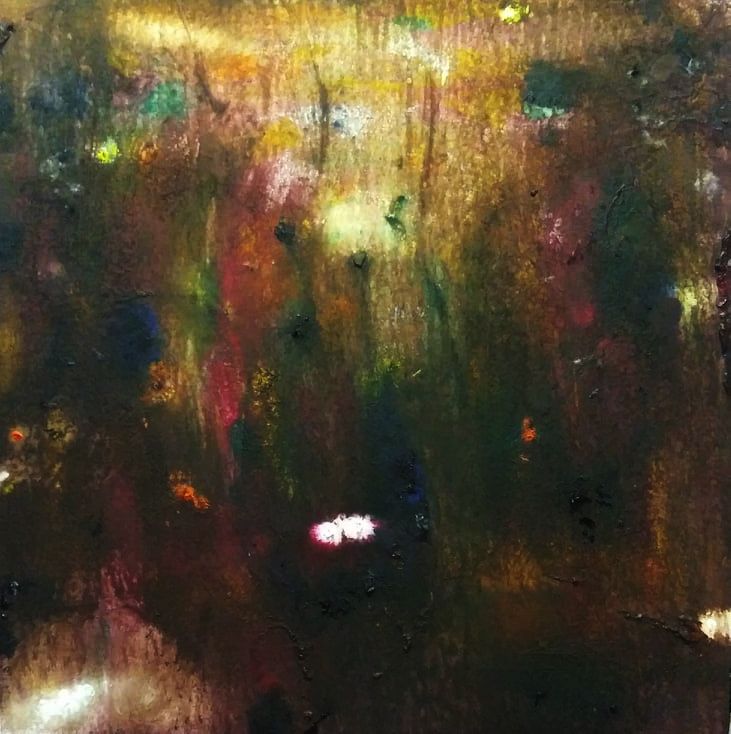 A painting by Rodney Dickson, 2021, 24 x 24 inches, oil on board, currently on show at an exhibition in Taipei.
Many years ago, he and Juliet, who died in 2016, visited the Hugh Lane Gallery in part because the Hones of Devon were related to 20th century Irish artist Evie Hone, who in turn claimed a connection to Nathanial Hone the Younger, a landscape painter represented in the collection who died in 1917.
"It's a nice connection," Dickson said. "I haven't told Juliet's sisters [about the acquisition] yet, but I will do that."
But most of all, he's happy for his paintings to be shown at the Hugh Lane as it's a "very good place for them," and also because it's McKee's wish.
"And they have the Francis Bacon Studio there, which I think is pretty wonderful.
"And Barbara told me how they did that and that's a wonderful story, too. They photographed and mapped out everything as it is in London. And they moved it to Dublin." 
Dickson wasn't a fan of Bacon when he was younger, though that was to change. "I read some books about him, and over time I've gained respect for what he did and, in a way, was admiring of his crazy personality -- though you probably wouldn't have wanted to spend too much time with him."
Dr. Margarita Cappock, a leading authority on the Dublin-born painter and author of "Francis Bacon's Studio," came across the rather more obscure artist Sarah Cecilia Harrison when she was Head of Collections at the Hugh Lane. The activist and portrait artist Harrison, about whom she edited a collection of essays, played a key role in supporting her friend the art dealer Sir Hugh Lane's efforts to open the Municipal Gallery of Modern Art, which he did in 1908. As Cappock told the Echo recently, Harrison became the first woman to be elected to Dublin Corporation, a body that Lane was anxious should run his gallery, which its successor does today.
The County Cork-born Lane, whose father was a clergyman and whose mother was a sister to Lady Gregory, died on the RMS "Lusitania" in 1915. The Lane Bequest was to be a bone of contention between the governments in Dublin and London for decades due to a conflicting will and unwitnessed codicil left by the art dealer. Eventually, Taoiseach Sean Lemass agreed on a compromise in 1959 that allowed works by Manet, Monet, Pissarro, Renoir, Morisot, Degas and others to be shown in Dublin. 
Dickson is looking forward to joining such company and the gallery's distinguished roster of painters generally.
"When that happens, I'll make every effort to get there," he said.