Hollywood would have to bring a young Maureen O'Hara back from the past to play Chicago Fire Department Ambulance Commander Margaret Murphy.
She's the classic Irish ginger; spirited, no-nonsense, with a killer smile that hides a heart of gold.  She tells me, "My mother used to call me "Temper Maggie!"
Now in her 29th year of service, she's been at the Midway Airport Firehouse, Engine 127, since 2016. It's a huge firehouse with four shifts of paramedics, and a fleet of rigs at the ready to protect not only this southside neighborhood, but the airport and runway as well. Midway airport handles over 18 million passengers annually.
The CFD's work doesn't always involve fires, hazmats & building rescues. This morning, while conducting routine drills, CFD Divers received a call of a dog in the water. A quick calculated response brought this lucky dog safely back to shore from an ice drift 500 feet out. 0 pic.twitter.com/MM9NxT6foE

— Chicago Fire Media (@CFDMedia) February 1, 2022
The firehouse doors open directly onto the runways with a 90 second response time, while two more rigs facing 63rd Street stand ready to protect the residential area surrounding it. 
It's an impressive and daunting stage and this Ambulance Commander says: "Yeah, I say those bars on my collar make me the 'fan', and you know what hits the fan first!"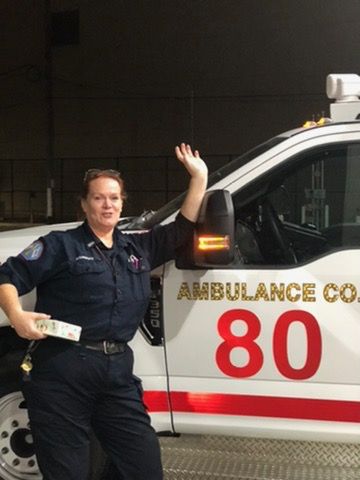 Maggie grew up in this Midway neighborhood and lives here still with "himself", her carpenter husband Mike from County Clare, and their kids Tess and Jim. Her mom and dad emigrated to Chicago from County Clare and Galway respectively, both now in heaven. 
Growing up in St. Mary Star of the Sea parish and Maria HS, Maggie spent summers working her aunt's farm in County Clare, milking cows, and cutting turf with her brothers Mikey and Brian. She thought her mother sent her over to nurture her love of Irish history and culture but in retrospect mom told her, "Are you dotin'? I had six kids; I needed a break!"
Commander Murphy is part of a second generation of female CFD leaders following the likes of her mentor and friend, Maureen Loughney, who was only the 9th woman hired in CFD history, and Kathleen Shananan who was Maggie's Paramedic instructor at City Colleges. Maggie now teaches EMT herself at Malcolm X college. 
If you're running an ambulance crew for 29 years in Chicago, you're bound to see your share of heartache, but Maggie is sanguine.  
"One of the things you get to...and I don't know if it's maybe my heritage, ya'know? But death is part of being alive. It teaches you all about what it means to be alive…There is a little bit of destiny to everything…Ya'know? Some of those two-in-the-morning, I'm over-tired, we've just had a bad run, brings those conversations, 'Are we robbing destiny, or are we part of that destiny?'"
#Chicago … you can see for miles and miles and miles …. and miles. 😍 (📷: IG / aloraaagarooo ) #avgeek pic.twitter.com/JgGgCnZ0Cv

— Midway Intl. Airport (@fly2midway) March 30, 2022
"The most brilliant things are the people who've been able to get the stories back…the people who were saved."
Each May the Chicago Fire Department hosts "EMS Week" and over the years Maggie has been "fortunate to share in that."
One year, two paramedics were honored, they saved a little girl who choked on a balloon. Maggie tells me, "and she will forever call them heroes."
Maggie shares another story of a retired firefighter who went into cardiac arrest, and he lived in the neighborhood, where next door was a paramedic and across the street was a fireman. "He was in full cardiac arrest, they started working him, CPR, if we can get a chance to save somebody, it's that CPR that's so important, And the wife was standing over him saying, 'You can't die, I just paid for our anniversary cruise!'"
"So, they did get him back and he was there to tell his story."
Maggie has worked on all 80 of Chicago Fire Department's ambulance crews over the years and tells me the real tragedies are "politicians who don't practice what they preach". 
Regarding her fellow first responders she says, "There is a tremendous essence they come from, a line or philosophy of they just want to do a good job. And most people really have their heart and soul in this. That's what it's about."
In spite of all the medical progress over the years, the human touch is still paramount. "Sometimes you just need somebody to take your hand or pick you up." 
The police procession from University of Chicago Medical Center to the Cook County medical examiner's office has started. Chicago Police Officer Samuel Jimenez's body is being transported in a Chicago Fire Department ambulance. pic.twitter.com/bHB5sZuqbe

— Nader Issa (@NaderDIssa) November 20, 2018
For Maggie, it's all about the team effort, including the ladies who clean up the mess at the hospital afterwards. "We work in tandem. We are a team."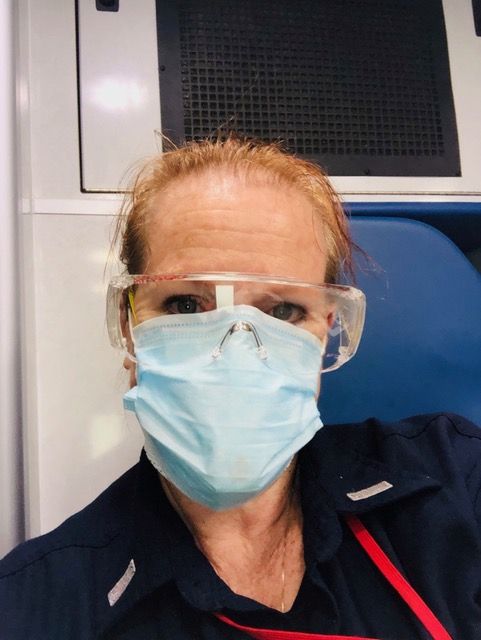 And when her devout sister busts her chops for missing mass occasionally, Maggie tells her with a brogue, "Ah well, ya know Jaysus washed the feet of the sinners, so maybe that's what I'm doin'!"
"Feet, that's the thing, everyone says, ya know if you're in an accident you better have clean underwear. But I'm gonna tell ya, keep your socks clean, cuz y'know you might soil your underwear anyway!"
Sure, she's a cheeky charmer, but she just might be a saint.