Recently, I was on a flight heading home from Lisbon, Portugal when I heard two Irish voices behind me. It turned out that the men had just watched the Liverpool Football Club defeat Benfica, a Portuguese football club in a Champions League match and we quickly bonded as fans of the club. One of the men observed that it was fascinating how many Irish people identify with Liverpool and its famous football club (not to forget Everton FC, just down the road at Goodison Park, another Premier League club with a fan base in Ireland), so I decided to write a piece exploring city's deep Irish roots. 
Several times a season, thousands of Irish supporters travel to the city's hallowed Anfield Road football grounds to support Liverpool F.C, but few of them know that the name Anfield actually derives from Annefield in New Ross, Co. Wexford, which was once the home of Robert Graves, the Liverpool mayor from 1860-1861, and wealthy shipping magnet who bought land, naming it Annefield Farm, after his  Irish childhood home. 
 There are, however, many other roots between Liverpool F.C. and Ireland. Liverpool's first manager was a Monaghan businessman named John McKenna who skippered the club's first season in 1892. "Honest John" McKenna would serve the club in different capacities for forty years until his death in 1936. Many of the club's greatest stars have also been Irishmen including Mark Lawrenson, Ronnie Whelan, Steve Heighway, John Aldridge, Steve Staunton, Ray Houghton, and Jason McAteer, to name but a few.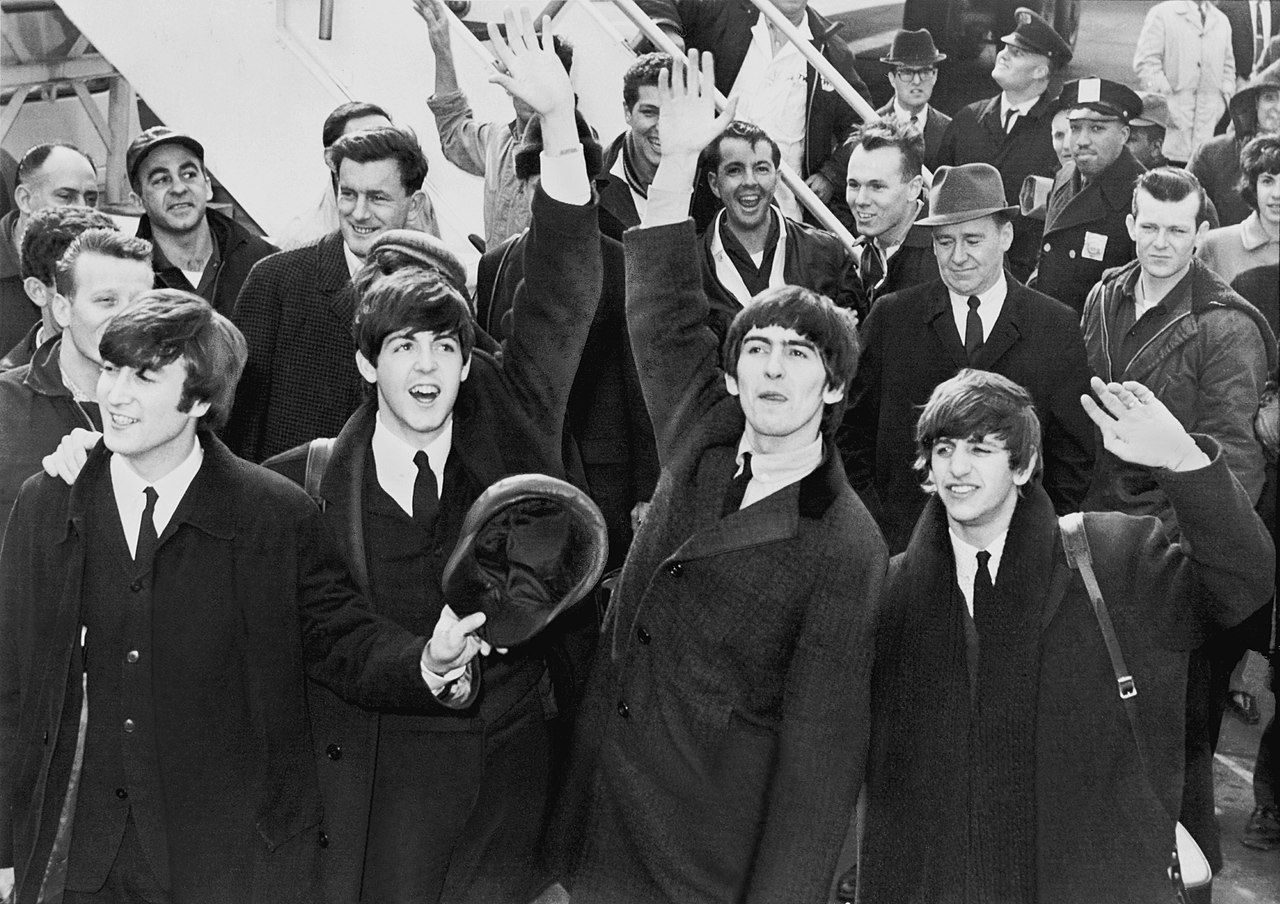 The Beatles at JFK Airport on Feb. 7, 1964.
Liverpool's Irish connections, though, go well beyond football. Today, an estimated 75% percent of Liverpool's population have some Irish ancestry and the city is celebrated for having the strongest Irish heritage of any British city - perhaps besides Glasgow. The city this year again hosted one of the largest St. Patrick's Day parades in the U.K. 
 The distinctive, melodic Scouse accent that identifies a Liverpudlian also has Irish roots. When the first Irish people arrived in the city, their strange accents were often mocked and newspapers accused them of having "slip-shod vowels and muddied consonants," but that Irish influenced Scouse speech grew into the city's dialect and nowadays Scouse dialect is a defining characteristic of Liverpool. Today, Liverpudlians even sometimes refer to themselves as "Scouse, not English."
 Irish history in Liverpool long predates football. An Irish community of around 49,000 Irish migrants already was already well established there before the Irish Great Hunger began in 1845, when an estimated 1.5 million desperate people crossed the Irish Sea. Often, by the time they arrived in the city, a third of passengers had perished on these "coffin ships" from disease and hunger. Three quarters of these refugees then boarded ships to America, but some 35,000 remained in Liverpool.
 Those first Irish Liverpudlians often lived in great poverty. Typhus, dysentery, and cholera were rife, however, Irish migrants made significant contributions to caring for Liverpool's poor and sick. Agnes Jones, from County Donegal, was the first trained Nursing Superintendent of Liverpool Workhouse Infirmary. Famed for her devotion to the sick, she died at age 35 from typhus. Florence Nightingale described her as "one of the most valuable lives in England." Kitty Wilkinson, an Irish migrant from Derry, was called Liverpool's "Saint of the Slums" for her campaign to educate the city's poor about health and hygiene.
 The only person in her area to own a boiler during the 1832 cholera epidemic, Wilkinson invited all those with infected bedding and clothing to sanitize their things free of charge, saving countless lives. Soon after, she opened the first public washhouse in Liverpool.
 Irish immigrants in Liverpool initially faced prejudice and discrimination because of their Catholic faith. Some Liverpudlians feared Irish immigrants would compete for jobs with locals and that they would take political control over the city by voting in Irish representatives. Liverpool became the only English city to have a significant membership within the Orange Order. Sectarian riots sometimes broke out in the city, but eventually Liverpool embraced its Irish roots. The city elected Athlone-born Thomas Power O'Connor to Parliament in 1885; the Irish nationalist was originally an M.P. for Galway from 1880, but served his English constituency, who represented Liverpool's Scotland Road area continuously through 1929, a full decade after his Irish Parliamentary Party had ceased to exist as a force.
 No Scousers are more iconic than the Beatles, all of whom had Irish roots. John Lennon's father Alf's grandparents all came from Ireland to Liverpool in the 1840s; George Harrison's mother's family were from Wexford and Dublin, while Ringo Starr's ancestors came from County Mayo. However, Paul McCarthy can be said to be the most Irish of the Fab Four as all of his roots can be traced to the Emerald Isle.                                  
 The Liverpool-born James Larkin played a massive role in Irish labour history. Despite growing up poor with little formal education, Larkin went on to become a trade union leader and soon after his arrival in Ireland in January 1907, he led in a series of strikes in Belfast, Cork, and Dublin. Larkin founded the Irish Transport and General Workers' Union at the end of 1908. By 1913, it was the largest and most militant union in Ireland. That same year, Larkin led a massive unsuccessful strike that lasted some six months and involved 20,000 workers and their 80,000 dependents. George Bernard Shaw hailed him as "the greatest Irishman since Parnell" and James Connolly said of him, "we have amongst us a man of genius, of splendid vitality, great in his conceptions, magnificent in his courage." He was later elected a TD for the Irish Labour Party, which he'd helped found years before. Today Larkin is remembered in Liverpool with a street named James Larkin Way, situated just off of Scotland Road where he grew up and a statue in Dublin. 
 Many of Liverpool's landmarks besides Anfield Road also have Irish roots. Most of the seven and a half miles of the Albert docks in Liverpool were dug by Irish immigrants. The city's iconic Central Library and World Museum were also gifts to Liverpool from William Brown, a Ballymena-born banker and MP who funded their construction at a cost of £40,000. Liverpool's unique modern architectural gem the Metropolitan Cathedral of Christ the King was paid for by the contributions of Irish Catholic Liverpudlians and today is sometimes humorously, "Paddy's Wigwam."
 Liverpool F.C. are running a close second to Manchester City F.C. in the Premier League, a point behind with seven games to play, and are both in the Champions League quarterfinals, and this weekend will play each other in an F.A. Cup semifinal. 
 Tens of thousands of Liverpudlians will head to the city's many Irish pubs like Dirty O'Sheas, The Liffey or Shenanigans to watch the crucial matches. Whatever the results, Liverpool will always have a deep connection to Ireland and its people.