The Atlantic Coast Conference settled championships in golf and tennis over the weekend, and the champions had a strong Irish presence. The Wake Forest men, aided by Mark Power and Associate Head Coach Aaron O'Callaghan, and women, with Lauren Walsh, won their respective golf titles, while Duke, featuring Georgia Drummy, won the women's tennis crown (see Women's Tennis below). 
Walsh, a junior from County Kildare, knocked in a 55-foot putt on the 18th green to win her match with Florida State's Alice Hodge and thus clinch the ACC women's title on Sunday for the Demon Deacons at The Reserve in Pawley's Island, S.C. They defeated the Seminoles, 3-1-1. Earlier, Walsh tied for third place in the stroke play portion of the event. She combined rounds of 75, 67 and 73 to finish a stroke under par and nine behind Duke's Phoebe Brinker, the champion. When home, she plays out of Castlewarden Golf Club. 

"Losing in the semifinals to Florida State last year definitely put a bad taste in our mouth," Walsh said. "We were so ready to play and compete this week and get the job done."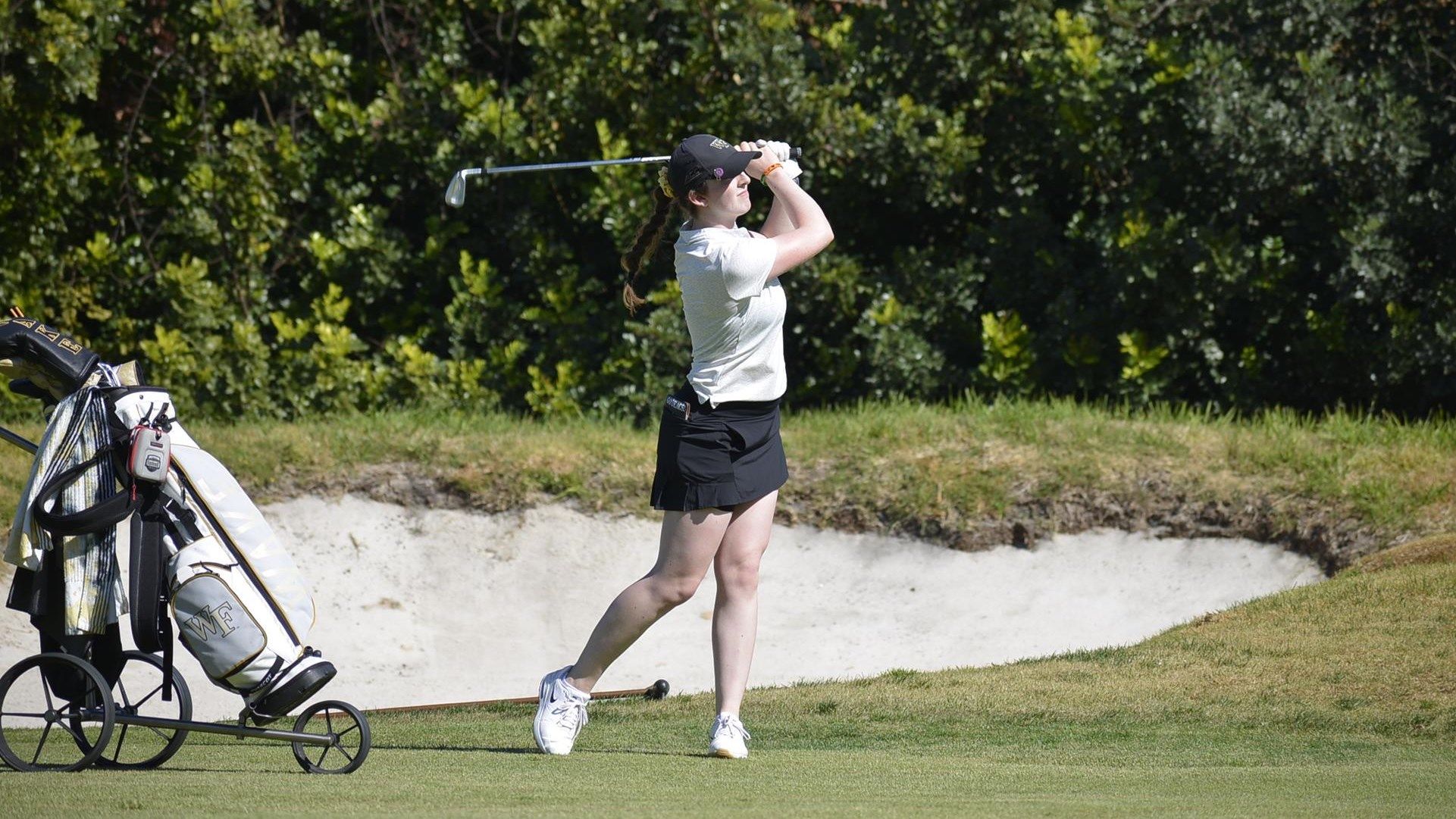 Lauren Walsh.

The Wake men, who won a 3-2 nailbiter over Georgia Tech on Monday at the Watersound Club in Panama City, Fla., combined skill with a lot of luck to attain their goal. They qualified for the match play portion of the competition by virtue of taking the fourth and final spot in stroke play by a mere stroke over Notre Dame, with Louisville another stroke behind in sixth. 

Power, a junior out of Kilkenny, tied for 22nd place in stroke play, with rounds of 70, 71 and 73, third best among the five Wake men on the course. Louisville's Max Kennedy, a sophomore from Dublin, who plays out of Royal Dublin, earned a share of 16th place at 212 (73-68-71), which was four strokes under par and nine off the low number.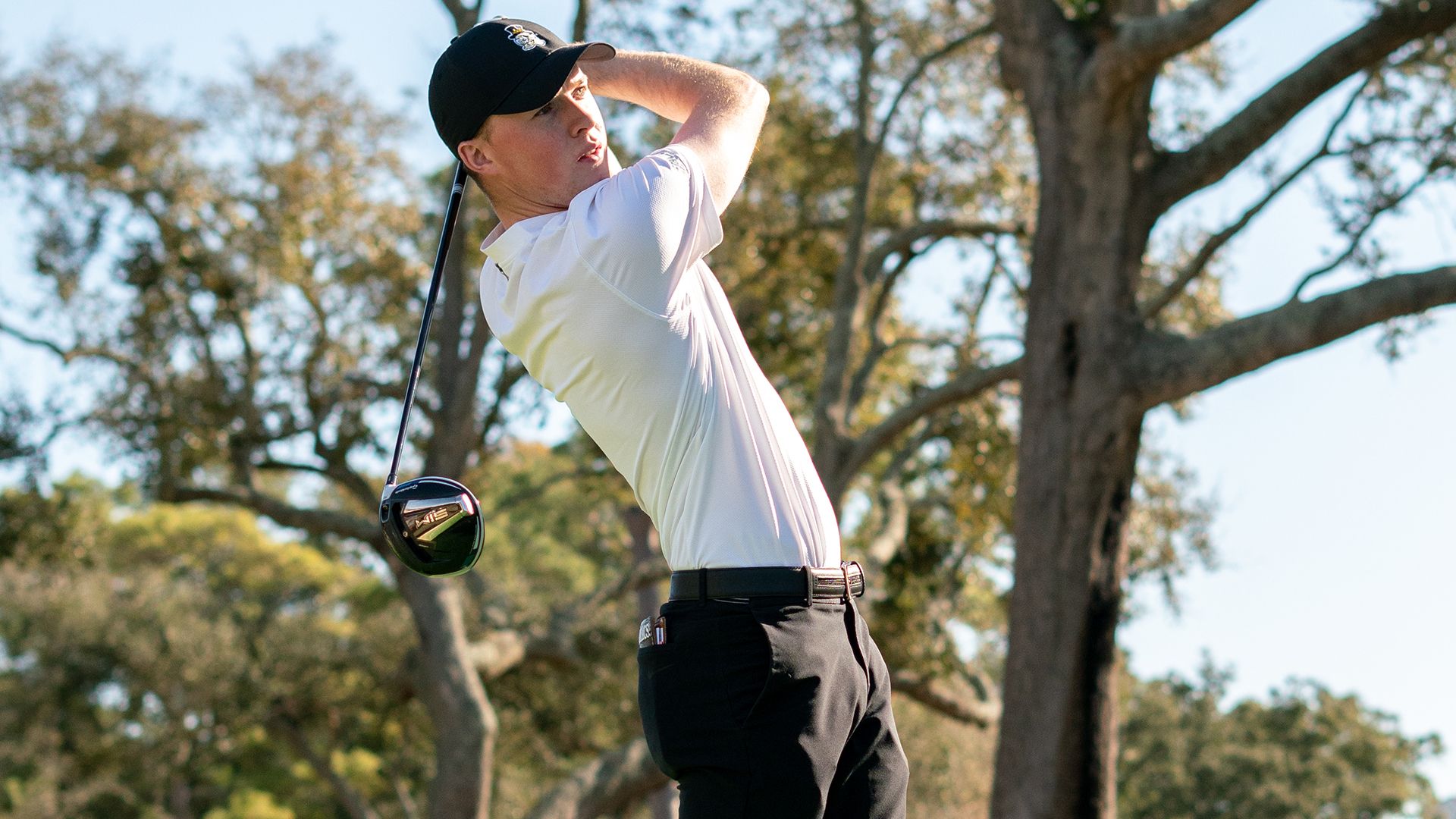 Mark Power.

Interestingly, North Carolina's Austin Greaser, who went out in the first two rounds of the Masters with Padraig Harrington and Mike Weir (all missed the cut), exhibited a bit of a letdown here. After a first-round 68, he ballooned to 78 before finishing with 73. He tied for 37th place and was the only Tar Heel not to finish in the top 10. 

Greaser turned out to be Power's opponent in the first match play segment. The pride of Kilkenny Golf Club was down three holes to Greaser until he rallied, beginning at 12, to square the match at 14. They stayed that way through 18, forcing extra holes. Power made short work of it, his approach shot at the first extra hole leaving him with a short birdie putt that he converted for the win. Wake defeated top-seeded North Carolina, 3-1-1. 
Power wasn't as effective in the championship round, losing 5 & 4, to Georgia Tech's Christo Lamprecht, their top stroke-play finisher. The two sides were deadlocked at 2, with the match between Wake's Alex Fitzpatrick and Tech's Benjamin Reuter going to a 19th hole. Fitzpatrick, the younger brother of touring pro Matthew Fitzpatrick, won the match on the third extra hole with a par. 
"Coach Aaron has been here now for years, and he's really made our program one of the elite in the country," said Wake Forest head coach Jerry Haas. O'Callaghan, a Corkman, played college golf at Southeastern Louisiana before embarking on a pro career in which he had limited success. He joined the Wake program in July 2018 after spending four years in a similar capacity at Louisville. 
Both the men's and women's programs now have a couple weeks' rest before resuming competition in their respective NCAA tournaments. 

Elsewhere in collegiate men's golf, Louis Anthony of Coe College won medal honors in the Loras Spring Invite at Meadows Golf Club in Asbury, Iowa. The freshman from Belfast shot 1-over-par 73 in this tournament that was shortened to a single round. He then took the title on the first playoff hole against Carter Ruegseggar of Clarke University. Anthony's home course is Shandon Park. Luther College's Ben Phipps, a senior from Ardee, Co. Louth, was a stroke behind at 74, good for sole possession of third place. Luther took the team title, while Coe finished fifth. 

Chattanooga's Paul Conroy, a sophomore from Enniscorthy, Co. Wexford, got fourth place in the Southern Conference championship at Reynolds Lake Oconee in Greensboro, Ga. Conroy finished the event seven strokes under par after signing to rounds of 69, 71 and 69. That left an 11-stroke gap between him and medalist Remi Chartier of East Tennessee State. 
Sacred Heart's Eoin Freeman tied for 18th place in the Yale Spring Invitational in New Haven, Conn. A freshman from Dublin, Freeman shot 71 and 75 to finish six strokes over par and nine off the low number. Hartford's Conor Byrne, a sophomore from Strabane, Co. Tyrone, shared 36th place with those who matched his 150 (74-76). 
               
Marquette's Josh Robinson finished joint-20th in the Wildcat Spring Invitational at Radnor Valley Country Club in Villanova, Pa. The sophomore from Lisburn, Co. Antrim shot rounds of 74 and 73 to finish seven strokes over par and 10 behind teammate Hunter Eichhorn, the medalist. Marquette won the team title by 16 strokes. 
 
WOMEN'S TENNIS
Duke won the Atlantic Coast Conference championship with a 4-1 victory over Virginia on Sunday in Rome, Ga. Georgia Drummy, a senior from Dublin, came through at second singles for the Blue Devils by defeating Natasha Subhash, 6-3, 6-2. She also teamed with Karolina Berankova at first doubles for a 7-6(4) victory that won the doubles point after the teams split the two other matches. Duke began the tournament with a 4-2 elimination of Wake Forest as Drummy handled Anna Campana, 6-4, 6-4. The Blue Devils eked out a 4-3 semifinals victory over Miami (Fla.) as Drummy rallied to defeat Daevenia Achong, 1-6, 6-3, 6-2.
The O'Lideadha sisters helped Idaho State wrest statewide bragging rights in a 4-3 win over Idaho in Pocatello last Wednesday. Lola, slotted at no. 3, defeated Jayanne Palma, 6-1, 6-2, while Sol, at no. 4, took care of Saffron Dowse, 6-0, 6-3. The Dublin sophomores also helped the Bengals win the doubles point. 
Appalachian State freshman Olwyn Ryan-Bovey won her match at third singles over Mae McCutcheon, 6-0, 6-1, but that wasn't enough to keep the Mountaineers from getting bounced out of the Sun Belt Conference Championship tournament in the first round by Texas State, 4-2. Ryan-Bovey hails from St. Angelo, Enniskillen, Co. Fermanagh. On an adjacent court, App State's Ellie Murphy, a Dublin sophomore, was in the midst of a third set when her match was abandoned as Texas State clinched. 
Mercyhurst had its way with Clarion in a 7-0 romp in Erie, Pa. last Wednesday. The Lakers' Roisin Murphy, a freshman from Castlebar, Co. Mayo, took care of business at third singles, defeating Alyson Fisher, 6-1, 6-0. 
 
MEN'S TENNIS
Dylan Leeman kept North Dakota from getting swept by Drake in the Summit League tournament in Omaha on Friday. The Belfast freshman wrangled a 6-3, 6-3 victory over Matt Clegg at sixth singles as Drake put an end to the Fighting Hawks' season, 4-1. 
 
WOMEN'S TRACK & FIELD
 Augusta's Cassie Lagan was the eighth of 17 finishers in the 5000 meter run at the Peach Belt Conference championship meet in Daytona Beach, Fla. A sophomore from Omagh, Co. Tyrone, Lagan needed 18:42.80 in a race won by Flagler's Monika Kubai in 18:22.05.