"Mass is not supposed to be entertainment." 
That's what Sean Gunning's wife Reggie would say, he reports in "The Best Present Ever: A Sinner's Guide to the Holy Land." And while he knew she was right, he'd think: "Well, it shouldn't be so dreary either. No wonder young people don't go to Mass anymore." 
Gunning was for a time motivated to go because an elegant black man named Kevin, a member of the Los Angeles Master Chorale, did the singing. When the couple moved to a new parish, he was rather less enthusiastic. Problem solved when "Fr. Joe and Fr. Bart rolled into town and the joy returned. Both are from Tipperary and both are literate, interesting, humble and funny."
All of this is to underscore that he is the less devout of the two. But Gunning was to make amends for years of failing terribly in the gift-giving department with a Christmas present Reggie had always wanted – a trip to Israel and Palestine with him and her parents, although he'd rather go to France or Spain. 
Frank X. Gaspar, author of "Stealing Fatima," writes, "If this sounds like a premise to a very funny story, that's because it is. The writing here never falters, never stutters, never stumbles. Gunning's talent is bracing; his tale is a marvel." 
Gunning summarized the book for the Echo: "A Catholic pilgrimage to the Holy Land that I didn't want to make; the laughter-filled relationship between me and Reggie; a description of the most cherished shrines in all of Christianity; and my personal search for a way to be less judgmental and more compassionate –- all told in a humorous, non-preachy, quietly reverential way."
As for himself, he said, "I was raised in London by Irish-Catholic parents. Dad's from Dublin. Mum's from Westmeath. I emigrated to California in 1989 to marry a Mexican-American girl that I met at a nightclub in London in 1986. We live in Long Beach, California, and have been married for 32 years. She's still the funniest girl I know." 
NZ Catholic reviewer Pat McCarthy makes reference to the author's various identities with "An Englishman, an Irishman and an American went on a pilgrimage to the Holy Land," adding later that "Gunning's three personas are affected differently [by the trip]."
McCarthy, founding editor of NZ Catholic, leader of Holy Land pilgrimages and developer of the pilgrimage website seetheholyland.net, writes, "For those of us who know the Holy Land, this book will add a new depth of understanding. For those who have yet to go there, it may prompt a revision of the bucket list."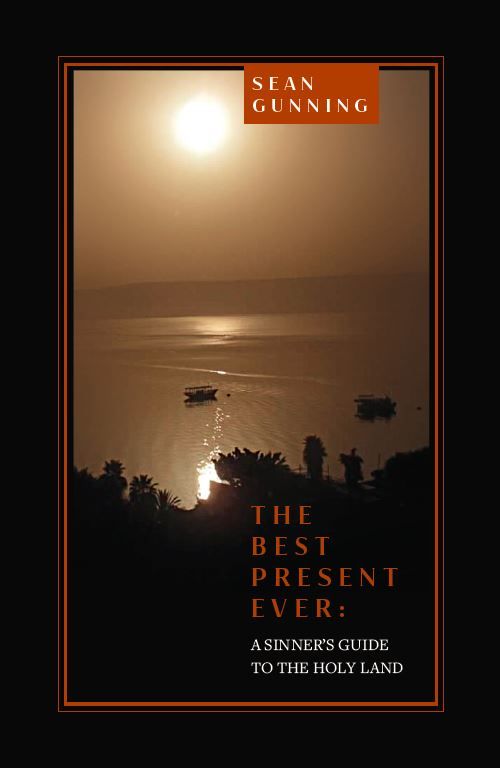 Sean Gunning
Place of birth: London. 
Spouse: Reggie.
Residence: Long Beach, Calif.
Published works: My debut collection of verse, "No Samaritan," was published by Tebot Bach in 2016. I've won poetry contests in California and Canada, and have been published in various anthologies, magazines, and trade journals in the U.S., Canada, and France. My second book, "The Best Present Ever: A Sinner's Guide to the Holy Land," was published by Clear Faith Publishing in 2021.  
What is your writing routine? Are there ideal conditions?
I write on a laptop. I don't listen to music or do anything else when I'm writing. I like it be to quiet. When I'm working on a book, I set goals and try to meet them. This usually means writing every evening and weekend.
What advice do you have for aspiring writers?
I didn't learn how to write well until I was 40. I went to college and earned an English degree with the 20-somethings. It was fun. I thought I was a pretty good writer before that but I was wrong. So, like anything else, if you want to be good at something you need to learn how to be good at it. After that, enjoy whatever it is you're writing. But enjoyment is secondary to finishing. I think the statistic is 85 percent of books written by aspiring writers go unfinished. Whether your plan is to be published or self-publish, it is essential to rewrite, rewrite, rewrite, rewrite, and then finish.
Name three books that are memorable in terms of your reading pleasure.
Anything by John le Carré. "The Elegance of the Hedgehog" by Muriel Barbery. The Rosie trilogy by Graeme Simsion. 
What book are you currently reading?
"Edward Adrift" by Craig Lancaster, to be followed by "Edward Unspooled."
 Is there a book you wish you had written?
There's one I'm 90 percent done with that is the book I want to write above all others, and there's another I plan on starting after that. 
Name a book that you were pleasantly surprised by.
When "Life of Pi" came out, I avoided it for a long time due to the hype, but after I read it, I was stunned and have bought everything Yann Martel has written since. 
If you could meet one author, living or dead, who would it be?
Has Clint written anything? He's the only famous person I'd love to meet. Apart from him, I guess I'd say John le Carré.
What book changed your life?
I suppose I should say the Bible. I haven't read it cover to cover, or even read a quarter of it, but I've heard priests talk about it at Mass my whole life and it's influenced my heart and mind and soul, so I think that counts.
What is your favorite spot in Ireland?
Maybe Eason bookstore on O'Connell Street in Dublin or Leo's Tavern in Crolly, Donegal or Sally Gap in Wicklow or.…
You're Irish if...
You start forgetting everything as you get older, except a grudge. 
You take a goodhearted dig at someone to see if they have a sense of humor and if you'd want to talk with them more. 
You have an English accent but an Irish soul.
For details about how to get the book, click here.