Rice freshman Amelia Kane won one individual event and placed in two others at the Conference USA Women's Swimming Championship meet in Lynchburg, Va. The Belfast miss won the 500-yard freestyle with a 4:49.87 clocking. She was second in both the 1,650-yard freestyle (her 16:50.86 against a winning 16:43.17) and the 400-yard individual medley (her 4:17.13 against a winning 4:14.65). 
"One of the best 500 free races I have ever seen," said Seth Huston, Head Coach at Rice. "She roared back at the end."
Rice took second place in the team scoring behind Florida International. 
Villanova's Cara Stapleton, a sophomore from Dublin, won the Consolation Finals in the 50-yard and 100-yard freestyle at the Big East Championship meet in East Meadow, N.Y. Her winning time of 23.48 in the 50 would actually have been good for sixth place in the 'A' final, as would her 51.23 at 100 yards. Both victories garnered 20 points for the Wildcats. She also swam the second leg for Villanova's winning entry in the 400-yard freestyle relay. Villanova won the team crown, outpointing UConn, their nearest pursuer, 1,498-1,422.5.  
TRACK & FIELD
Providence College sophomore Laura Mooney got second place in the 5,000 meters and third place at 3,000 meters at the Big East Indoor Championships in Chicago. Mooney, of Cappincur, Co. Offaly, ran the 5,000 in 16:18.49, beaten less than a second by UConn's Randi Burr in 16:17.84. Mooney ran the 3,000 in 9:22.96, a race won by Georgetown's Sami Corman in 9:16.52. The Friars' Orla O'Connor, a Waterford junior, finished ninth at 5,000 meters, timed in 16:48.78. 
Four of the top eight finishers in the men's 5,000 meters at the Big East hail from Ireland. The race was won by Butler's Simon Bedard in 13:43.04. Among those tailing him were teammate Barry Keane, a senior from Waterford, who placed second in 13:43.81; Butler's Evan Byrne, a senior from Cork, fifth in 14:06.86; Providence's Abdel Laadjel, a freshman from Lucan, Dublin, seventh in 14:12.73; and Providence's David McGlynn, a senior from Williamstown, Co. Waterford, eighth in 14:19.34. The Friars' Shane Coffey, a sophomore from Naas, Co. Kildare, was also on the track, getting 14th place in 14:34.39. Keane and Byrne also tried the 3,000 meters, finishing third (7:56.46) and eighth (8:04.24), respectively, in a race won by UConn's Eric Van Der Els in 7:52.02. Meanwhile, Villanova's Charlie O'Donovan, a Cork senior, got fourth place in the men's mile. He was caught in 3:59.10 in a race won by Georgetown's Parker Stokes in 3:58.22.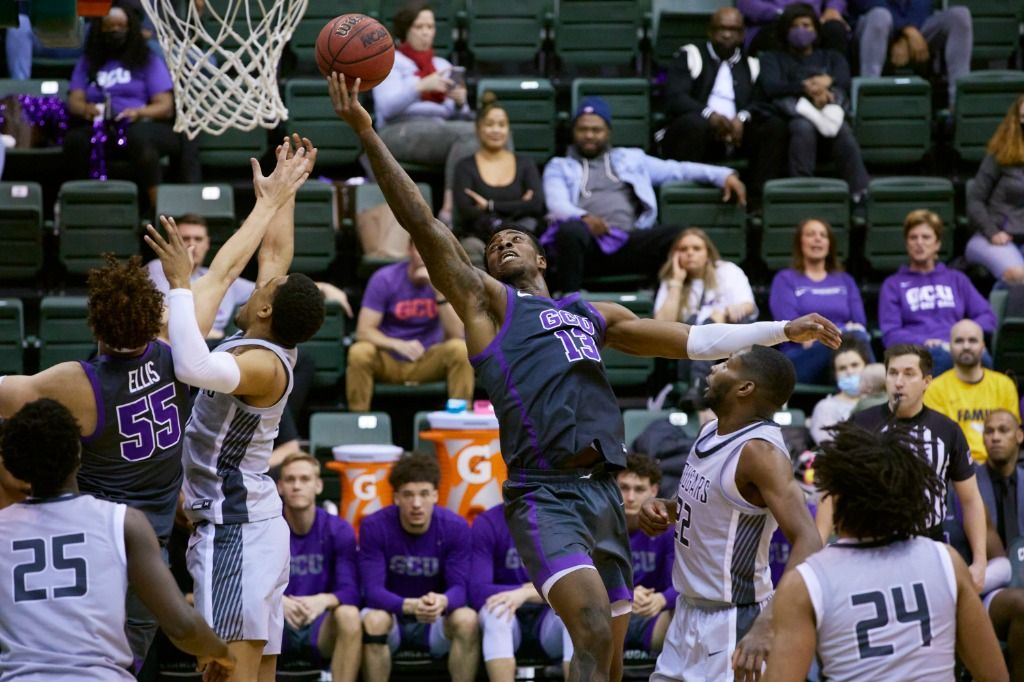 MEN'S BASKETBALL
Aidan Igiehon had one of his better games of the season for Grand Canyon University, shooting a perfect 3-for-3 from the field and converting his lone free throw to finish with seven points in an 85-64 win over Chicago State in the Windy City. The 6-10 junior from Clondalkin, Dublin also had a game-high seven rebounds. The Antelopes are 20-7 overall and 11-5 in Western Athletic Conference play. 
C.J. Fulton poured in 19 points last Monday as Lafayette treated visiting Holy Cross to an 84-61 smackdown. The 6-2 freshman guard from Belfast connected on seven of 10 field goal attempts, including five of six from downtown. He also earned credit for five rebounds. The Leopards are 10-19 overall and 7-11 against Patriot League foes heading into the League tournament.
Ryan Leonard of St. Mary's (Texas) was good for 13 points in an 89-76 Rattlers' loss to St. Edward's in San Antonio on Thursday. Leonard, a 6-4 junior from Tralee, Co. Kerry, scored on five of eight field goal attempts, including one of two from outside the three-point arc, and two of three foul shots. St. Mary's is 12-12 overall and 9-5 against Lone Star Conference rivals heading into the postseason. 
WOMEN'S BASKETBALL
Chloe Mullins contributed nine points to an 87-45 Catawba thrashing of Mars Hill on the road last Monday. A 5-11 sophomore from Dublin, Mullins shot 3-for-7 from the field, including 2-for-2 from long range, and 1-for-2 from the foul line. Catawba, ranked 23rd in Division 2, is 23-5. 
WOMEN'S GOLF 
Maeve Cummins of Carson Newman tied for fourth place in the Battle at Hilton Head at Palmetto Dunes in South Carolina. The senior from Waringstown, Co. Down shot 73 and 77 to come in six strokes over par for the event and six off the pace set by medalist Hailey McLaughlin of Wingate. Carson Newman had a three-stroke edge over Wingate on the team table. 
Auburn's Julie McCarthy, who shared 14th place, was the top Irishwoman among the four who teed off in the Moon Golf Invitational at Suntree in Melbourne, Fla. The senior from Swords, Co. Dublin posted rounds of 69, 74 and 73 to finish even par for the event and 10 strokes behind medalist Ingrid Lindblad of Louisiana State. Auburn's Anna Foster, a Dublin sophomore, placed joint-37th at 221 (72-75-74), followed by Louisville's Mairead Martin, a senior from Kanturk, Co. Cork, who shot 231 (78-77-76) for a share of 72nd place and Cork freshman Sara Byrne of Miami (Fla.), who finished 82nd at 239 (80-83-76). 
Little Rock's Anna Dawson, a freshman from Waterford, tied for 17th place in the Tchefuncta Invitational in Covington, La. She signed to rounds of 76, 76 and 77 to finish 16 strokes over par and 13 off the low number shared by teammate Katja Mueller and South Alabama's Siti Shaari. Fifty-three golfers teed off here. 
Flagler's Jan Browne, a Kilkenny freshman, finished amid a cluster at 54th place in the Lady Moc Golf Classic at Grasslands in Lakeland, Fla. Rounds of 75, 76 and 82 left her 17 strokes over par and 20 behind the victorious Francesca Santoni of St. Leo. The event attracted a field of 81 ladies. 
MEN'S GOLF 
Mississippi College's Jordan Logue, a Belfast junior, tied for ninth place in the Tunica Cup at Tunica National in Mississippi. He posted rounds of 72 and 74 to stand two strokes over par for 36 holes and four behind medal winner Caleb Bopp of Christian Brothers. 
Hartford's Conor Byrne finished joint-58th in the Loyola Intercollegiate at Palm Valley in Goodyear, Ariz., which featured a 110-man field. A sophomore from Strabane, Co. Tyrone, Byrne combined rounds of 77, 73 and 71 to finish five strokes over par and 21 in back of medalist Kevin Jegers of Middle Tennessee.