Ball distribution and tenacious defense have been C.J. Fulton's hallmarks in his maiden campaign with Lafayette. The Leopards suffered an 82-81 overtime loss at home to Bucknell last Tuesday in first-round action of the Patriot League tournament. Fulton, a 6-2 freshman guard from Belfast, posted a game-high eight assists to go along with seven rebounds, three steals and two points. The outcome was a disappointing sendoff for Lafayette head coach Fran O'Hanlon, who retired after the contest. The Leopards finished the season with a 10-20 record. 
 Fulton earned recognition as a member of the Patriot League All-Rookie Team. He finished the season having started 27 of 30 games for Lafayette and averaged 7.3 points per game while maintaining a 45 percent strike rate. He was the team leader in steals with 43, second on the squad in assists (99) and third in rebounds (116). He prepped at St. Malachy's in Belfast and spent a year at The Winchendon School in Massachusetts before matriculating at Lafayette. 
 Sean McCarthy came off the bench to spark Felician with seven points and eight rebounds in a 93-90 win over Chestnut Hill in the first round of the Central Atlantic Collegiate Conference tournament last Tuesday. The 6-5 freshman from Cork played 16 minutes and connected on three of four field goal attempts, including his lone try from outside the three-point arc. His services were not required to as great an extent in subsequent victories over Post, 72-59, and Dominican, 65-64. The latter win for the CACC championship propelled the Golden Falcons (19-9) into the NCAA Division 2 tournament. They face Bentley (22-4) on Saturday in Waltham, Mass. in first-round action. 
 Grand Canyon wrapped up the regular season with a 70-53 win at home over Dixie State on Saturday. Aidan Igiehon, a 6-10 junior from Clondalkin, Dublin, scored six points for the Antelopes (21-7, 11-5 Western Athletic Conference), making three of five field goal attempts. He also grabbed five caroms in his 12-minute stint on the floor. Grand Canyon begins WAC Tournament play on Thursday in Las Vegas.
 Ryan Leonard scored 10 points as the season came to an end for St. Mary's (Texas) in the first round of the Lone Star Conference Tournament. The Rattlers lost, 70-64, to Texas A&M-Kingsville. Leonard, a 6-4 junior from Tralee, Co. Kerry, hit on five of eight field goal attempts. He also grabbed six rebounds. Leonard, who was named All-Conference third team, averaged 11.0 points per game for the Rattlers (12-13) and led the team in steals with 35.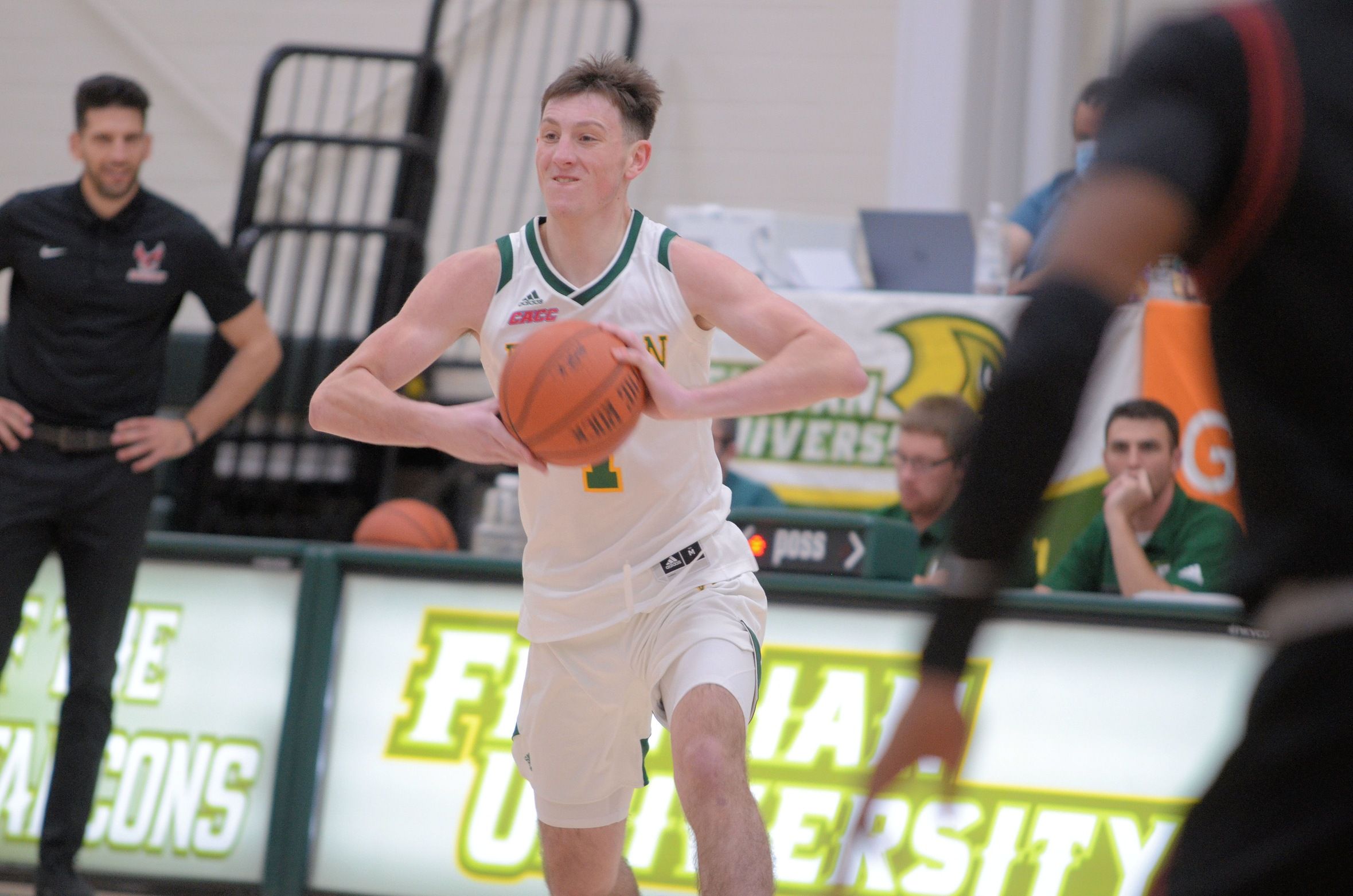 Sean McCarthy of Felician seen in action earlier this season.
PHOTO BY STEVEN R. SMITH
WOMEN'S GOLF 
 Auburn's Anna Foster tied for ninth place in the Darius Rucker Intercollegiate at the Long Cove Club in Hilton Head, S.C. The Dublin sophomore posted rounds of 72, 71 and 72 to finish the event two strokes over par and six in back of Wake Forest's Carol Lopez-Chacarra, the medalist. The latter's teammate, Lauren Walsh, garnered a share of 20th place with her 219 (74-68-77). That 68 was co-low for the round. Walsh is a junior from County Kildare. 
 A share of fifth place in the Low Tide Intercollegiate went to Carson Newman's Maeve Cummins. The senior from Waringstown, Co. Down shot rounds of 76, 72 and 76 at Dunes West in Charleston, S.C., which left her eight strokes over par and 11 behind medal winner Ebba Hellman of Limestone. 
 UCLA's Annabel Wilson tied for 30th place in The Gold Rush at Old Ranch in Seal Beach, Calif. The junior from Lurgan, Co. Armagh finished 17 strokes over par at 233 (78-74-81) amidst a field of 73 women in which only one, Southern California's Amari Avery, broke par for 54 holes. Avery shot 5-under-par 211.
MEN'S GOLF 
 A first-round 78 squashed any hope that Arkansas State's Jack Madden had of contending in the Lake Las Vegas Intercollegiate at Reflection Bay in Henderson, Nev. The junior from Dungannon, Co. Tyrone recovered with rounds of 69 and 70 to finish the event tied for 28th place at one stroke over par and 16 strokes in back of medalist Mark Goetz of West Virginia. 
 Madden and his teammates then hightailed it to Scottsdale, Ariz. for the Desert Mountain Collegiate. Madden pretty much flipped the script, beginning with an even-par 72 before floundering with rounds of 81 and 78. He tied for 64th place in the 88-man field. Showing much better was Grand Canyon's Sam Murphy, who carved out a share of 31st place at 8-over-par 224 (70-76-78). A gap of 10 strokes separated the Galway freshman and medalist Matthis Besard of Southern Illinois.