Dublin 0-13; Tyrone 0-8
In a week in which its city balladeer  Pete St John was laid to rest, it was apposite that on the Gaelic football front, we got a blast of Dublin in the rare ould times on the pitch from Dessie Farrell's outfit against All Ireland champions Tyrone in Omagh on Sunday.
After four league defeats in a row, it felt like heaven to pick up their first brace of points and with their remaining matches at home this weekend to Donegal and the denouement against Monaghan, there is every chance that the Dubs will keep their Division One status.
The old saying that a good start is half the battle was certainly the case at Healy Park as the visitors built up a commanding nine-point interval lead of 0-11 to 0-2, which meant that barring a spectacular collapse, there was no way back for the current Sam Maguire holders.
Of course, it didn't help the home cause when last year's winning skipper Pádraig Hampsey saw red for a stupid tackle on Cormac Costello who was retrieving the ball from the concrete area outside of the playing field.
It gave Tyrone an even bigger mountain to climb and while they managed to cut the lead by the end of the game to five points, they never seriously mounted a challenge because Dublin controlled the flow of play without seeking to score on every occasion they had possession.
This was more like the old Dubs and with all the  big names bar Con O'Callaghan and to a lesser extent, Paddy Small. The improvement in the understanding once the likes of Johnny Cooper, sub James McCarthy and Eoin Murchan are playing was notable while the performances of Ciaran Kilkenny, Brian Fenton and Brian Howard was of such a standard that it spelled out clearly the team's intent to be a championship, if not a league force.
Indeed the word is that O'Callaghan, who shipped an awkward ankle injury in a pre-league challenge game, will not be rushed back. Instead Farrell and company will be happy to see him emerge in the fold for the Leinster championship where the downtime could prove a real tonic for his hunger for the rest of the series.
Last year's Tyrone super-sub Cathal McShane started on this occasion and landed the first blow with the first point of the game. If the expectation in the big home following – by the way there was a commendable large Dublin away support there as well – their hopes were dashed as the men in blue shot nine points on the spin to build up a commanding lead.
In this period you could see the influence of  the likes of Robbie McDaid and Niall Scully  as the Dubs played on the front foot with an assurance that was not there previously. David Byrne at full back and John Small out alongside Cooper were also in their element as Dublin ruled the roost in terms of athleticism and sharpness.
If Conn Kilpatrick's goal had not been disallowed for a foul by Frank Burns on goalkeeper, Eavan Comerford, on the cusp of half-time, perhaps we might have had a more realistically contested second-half but between that and Hampsey's dismissal, there was no way back.
Tyrone look like a team still short on fitness after their winning exploits in 2021 but expect them, the Dubs, Kerry, Mayo and one other Northern team, perhaps Armagh or Monaghan to be the ones contesting for the big prize in late summer.
Dublin: E Comerford; M Fitzsimons, D Byrne, C Murphy; J Small, J Cooper, R McDaid (0-1); B Fenton (0-1), T Lahiff (0-1); B Howard, S Bulger (0-2), N Scully (0-1); C Costello (0-2), C Kilkenny (0-2), D Rock (0-3) Subs: E Murchan for Cooper (49), J McCarthy for Lahiff (52), R Basquel for Costello (65), L Gannon for McDaid (69), L O'Dell for Bugler (73).
Tyrone: N Morgan; M McKernan, R McNamee, F Burns; C Meyler, J Munroe, P Harte; C Kilpatrick, P Hampsey; N Donnelly, N Sludden (0-1), K McGeary; D McCurry (0-3f), C McShane (0-2f), D Canavan Subs: C McKenna for Donnelly (33), R Donnelly (0-2) for Munroe (h-t), M Conroy for McGeary (h-t), L Rafferty for Sludden (59), P Donaghy for McShane (67).
Ref: B Cassidy (Derry).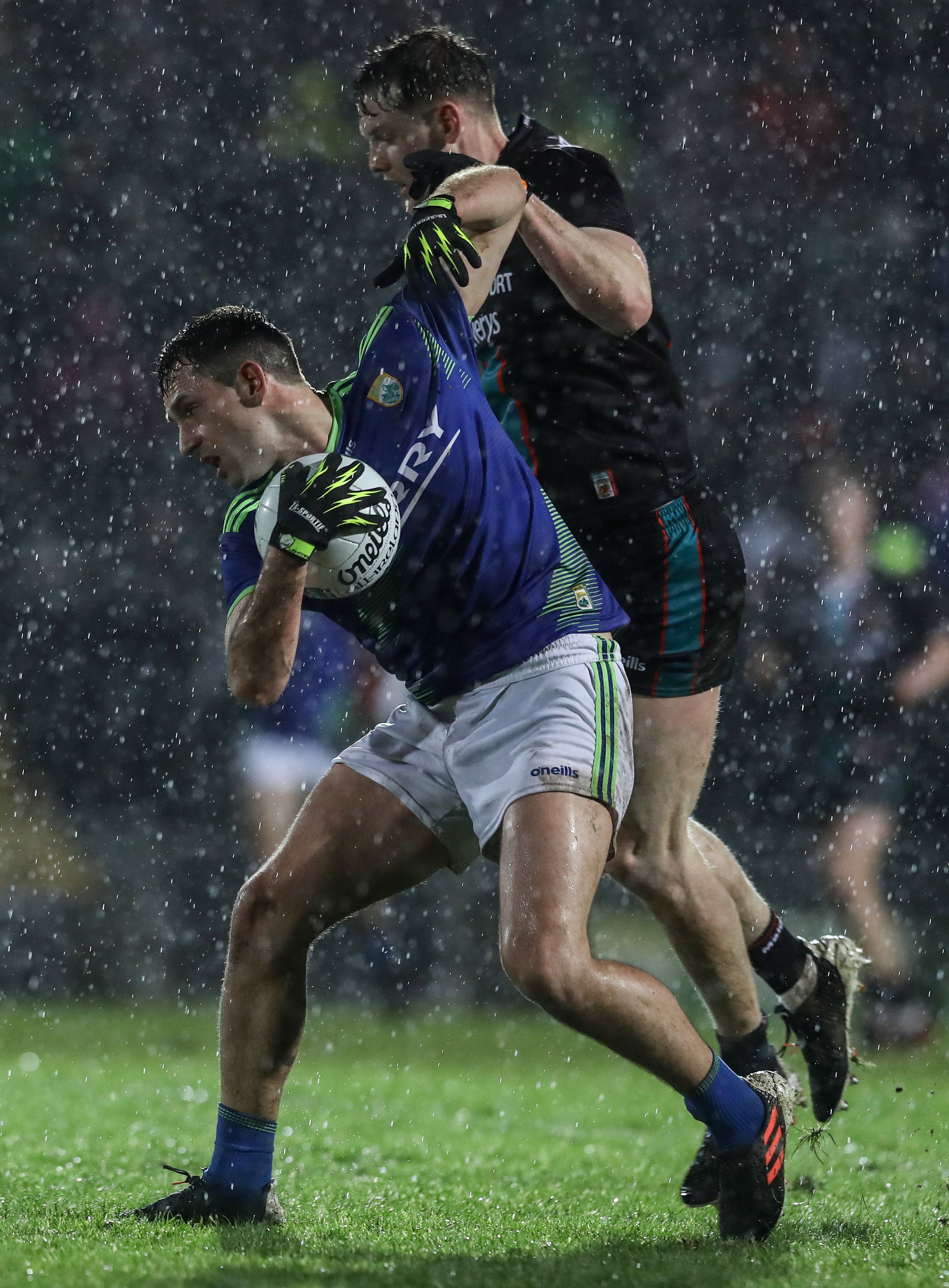 Kerry's Jack Savage and Matthew Ruane of Mayo do battle in tough conditions.
INPHO/LORRAINE O'SULLIVAN
Kerry edge home 
Kerry 1-12; Mayo 0-14
You could argue that this was a clash between the two form teams of the year so far and it played out that way as the Kingdom took the points on offer thanks to a nervy one-point victory over Mayo at Austin Stack Park on Saturday night.
The win as good as guarantees Jack O'Connor's team of a final place, something that will please the returned Kerry boss who likes his terms to bring league and championship doubles.
It was a game played with fierce determination and Mayo could have got a deserved draw with the last kick of the game if Lee Keegan 45 metre out of his hand from the right hadn't decided to fade ever so slightly to the outside of the post in its final trajectory.
Ultimately it was Tony Brosnan's goal  14 minutes before half time which proved the real difference as it forced Mayo to play a game of catch-up. This suited the home team's ability to hit them on the break where they got sufficient scores to keep their noses ahead… if only just.
Mayo boss James Horan will know that if he was to point out one weakness it was the level of turnover ball his side gave away. Had they been a little better attuned in this regard they might have got the extra score or two needed to leave with a draw or a win.
Those lost possession occurred in the main though because of the massive pressure as Kerry showed an amazing appetite to  work and close down every opportunity of a score by their opponents. Dara Moynihan and Paudie Clifford worked their socks off in this regard and it drew a greater response from their colleagues watching them.
Mayo  had one great goal chance despite the constant defensive harrying when Diarmuid O'Connor got in behind the rearguard on half-time but goalkeeper Shane Murphy somehow diverted his goal-bound shot for a '45' which Rob Hennelly converted to leave the score 1-6 to 0-6 at the short whistle.
Played in driving rain, the first half lacked quality but the standards went up remarkably once the  inclement weather moved away from Tralee. David Clifford was not at his sparkling best but he was still the main man as time and again he got the vital scores to keep Kerry ahead.
Mayo's answer to this talisman is Ryan O'Donoghue who shot six points in total, five  of which came in that frenetic second half - as Mayo finally drew level thanks to a booming Matthew Ruane point – his second of the night.
Even when Clifford converted a free in the 65th minute and O'Donoghue again levelled, Kerry showed their mettle by working the ball upfield and Aidan O'Shea fouled Stephen O'Brien, it allowed  Clifford  to gratefully  tap over the winning score from a close in free.
Kerry: S Murphy; D Casey, J Foley, T O'Sullivan; G O'Sullivan, T Morley, B Ó Beaglaíoch; D O'Connor, J Barry (0-1); D Moynihan (0-1), Jack Savage (0-2f), A Spillane;  P Clifford, D Clifford (0-6,0-2f), T Brosnan (1-2) Subs: S O'Brien for A Spillane (45), K Spillane for J Savage (48), G Crowley for D Casey (55), G Horan for D O'Connor (temp 65-68), M Burns for P Clifford (65), P Warren for G O'Sullivan (73)
Mayo: R Hennelly (0-1 '45'); P O'Hora, L Keegan, M Plunkett; P Durcan, S Coen, O Mullin; J Flynn, M Ruane (0-2); D O'Connor, A O'Shea, J Carney; F Boland (0-3), A Orme (0-1), R O'Donoghue (0-7,0-6f, 0-01m) Subs: E Hession for S Coen (ht), K McLoughlin for J Carney (42), F Irwin for A Orme (57), C Loftus for F Boland (65), F McDonagh for D O'Connor (71).
Ref: B Cawley (Kildare).
Wrap of Division One
In the other two top flight matches Monaghan ended Donegal's 12-year unbeaten run at Ballybofey by winning 1-12 to 0-10 while ironically Armagh accounted for Kildare with a similar winning margin.
GPA threaten action over 
GAA's stance on expenses
The leader of the Gaelic Players Association and former Mayo footballer Tom Parsons warned this week that his players could take further action if the GAA continues with its stand-off on paying expenses.
He accused Croke Park of penny-pinching at players' expense, claiming that allowances which his organization has agreed to forego during the pandemic, should once again be paid with the return of crowds to games.
The first step in their campaign against the GAA was in withdrawing players' co-operation in giving media interviews at the weekend while a number of county managers  also turned down interview invitations as a show of solidarity with their panels.
"We feel the GAA get a very favourable deal and generate hundreds of millions of euros of the inter-county game," he told RTE television at the weekend.
"In response players just don't want to  pay to play. They want to receive their eligible expenses for all sessions. If they are asked to train two, or seven times in a week, they just want to be treated fairly. Players want to take action just to get reimbursed. There will be action this week, but we're hoping the GAA comes back and just boxes this off," he added.
The GAA said in a statement furnished to the national broadcaster that the majority of the cost of mileage for inter-county teams was taken up by county boards, adding that the GAA provided a subvention provided by the association. There was only difference from the agreement in place before the pandemic, the statement stressed.
"The mileage rate for any additional sessions now requires to be negotiated locally between each county and their players," it added.