A revamped  All-Ireland Senior Football Championship was voted in by Congress at the weekend for next year's series with the tiered All Ireland structures getting overwhelming delegate approval for the two systems approach.
It means that from next year the eight provincial finalists will take part in the Sam Maguire Cup and will be joined by the next highest ranked counties in terms of where the finished the league.
Those 16 teams will play a round-robin stage comprised of four groups of four, with the group winners progressing straight to the All-Ireland quarter-finals.
This will allow for the second and third-placed counties to play for the final four quarter-final spots.
The remaining 16 counties will go into the Tailteann Cup, which will also have a similar format of four groups of four, something that gives every county a minimum of four championship games.
Under the new structure there will be 99 championship matches as opposed to only 60 under the present structure. This so-called 'green proposal' received almost 95 per cent of the vote.
It means that League and provincial championships stay in their current format except they championship will be played in a five-week timeframe.
A motion to introduce an Under-19 grade at inter-county level for a three-year trial period got 55.6% of the vote but feel short of the 60 per cent majority required to carry the motion.
The GPA's motion seeking to integrate the LGFA and the Camogie Association passed with almost 90 per cent of the vote.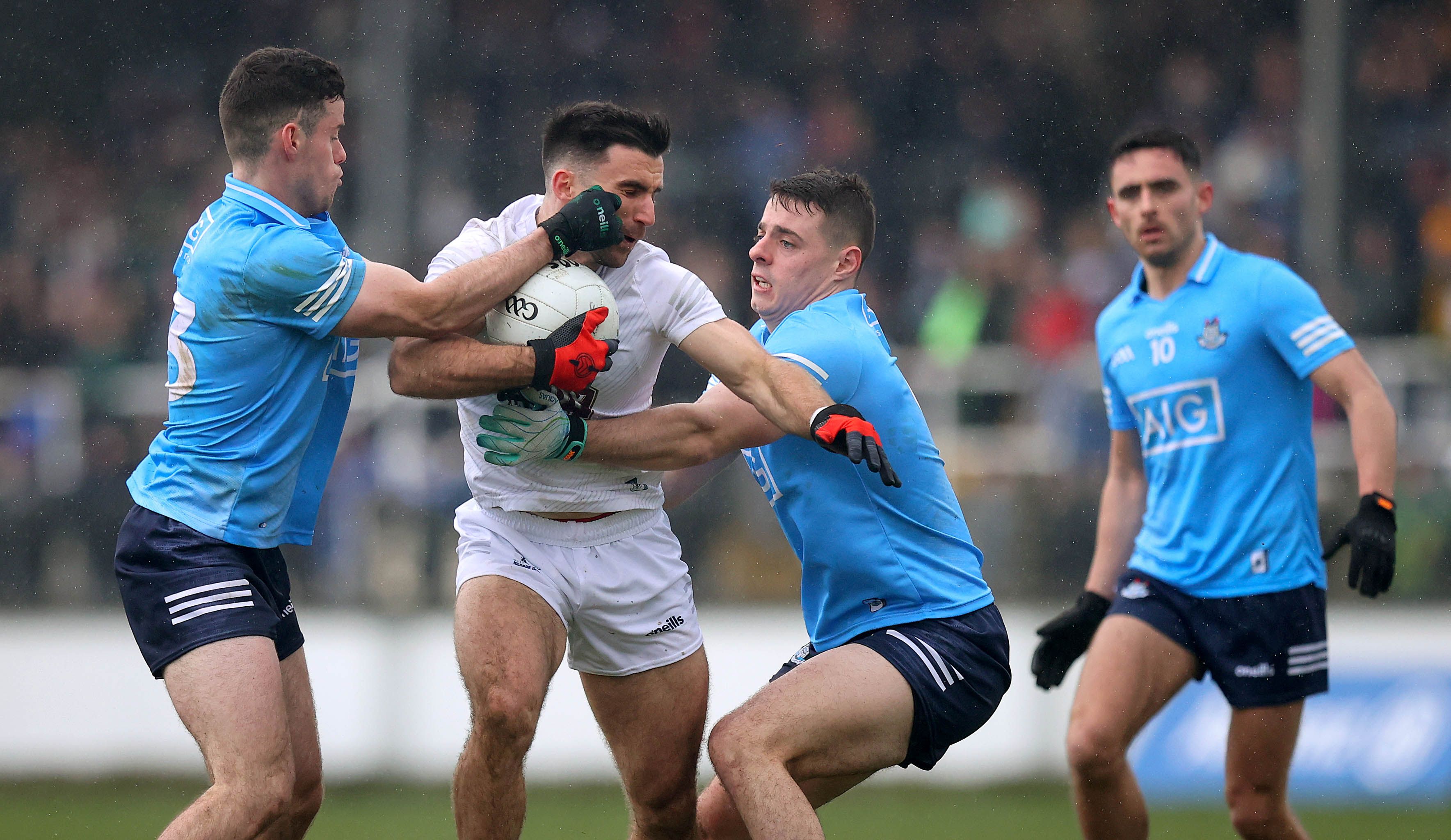 Dublin fall to rivals Kildare
Kildare 1-12; Dublin 0-12
Dublin are fast running out of excuses as to why they can't win a game this year. It was a surprise to fall against Armagh, a shock to fail in the storms against Kerry and a chastening experience to play second violin to Mayo in Croke Park. But a fellow-Leinster team doesn't beat a Dublin team any more, do they? 
Well, that used to be the case but Kildare raised the hopes of other wannabee counties in the eastern province by having a goal margin to spare at the end of a titanic battle in St Conleth's Park Newbridge, on Sunday.
For a team riddled with players' of the year and sharp scoring forwards, the failure to get in for a goal and an inability to dominate play were the reasons behind this latest Dublin failure. This means that for manager Dessie Farrell and his squad, the prospect of relegation to Division 2 now looms very large on the horizon and with tough encounters to come against All Ireland champions Tyrone (away), Donegal (home) and Monaghan away, there is every chance of a visit through the trapdoor this spring.
Farrell was finding it hard to understand what is happening to his charges, albeit still shorn of the likes of James McCarthy and Con O'Callaghan among others this league term.
"All we can do is navigate our way through this; sometimes through adversity comes great strength. Dublin are in a very different position to previous years. We understand the reality of that, but we've just got to work harder. To be fair to the players they are very committed and their attitude has been great. We'll keep going at it," he vowed.
Once again there was the failure to score a goal against Kildare. "We had three goal chances we didn't execute and they had one and took it at the end of the day.
"I thought our first-half performance was solid. They eeked out a few scores in the last few minutes but still going in four points down we were happy with that. Conceding a goal against the run of play was a killer. Execution, generally, was poor. It's been a trend over the last couple of games so it is something for us to work on."
This result was a boost for the new look Kildare management team with overall manager Glenn Ryan citing the "bravery and courage" of his troops.
"We had control of the game and it was a case of whether we would continue in that vein or sit back or wait for a perceived onslaught. That would have happened had we done that. There were areas of the game we weren't happy with but there were other areas that were good. We showed a lot of bravery and courage and that was ultimately got us the couple of points.
"It's two points on the board for us and it was important we took something out of today's game to keep us competitive in this division. We can look forward with some enthusiasm," he added.
Jimmy Hyland is fast becoming the darling of the Lily faithful and his 1-5 was the difference between the teams in terms of stand-out scorer on the pitch.
It was one of the relative newcomers, Sean Bugler, who was Dublin's stand-out attacker as he claimed four points for the visitors with veteran free-taker Dean Rock getting the same amount from placed balls only.
Kildare hit a purple match on the approach to the interval by swinging over four points in a row to change the complexion of proceedings as they led 0-8 to 0-4 at the short whistle. Once Hyland got in for the goal, the hapless Dubs were always playing catch up and it didn't help that both Rock and Brian Howard both messed up goal chances which they needed to get them back into the game.
Goal seals victory for Donegal
Donegal 2-10; Tyrone 0-12
Donegal are invincible at MacCumhaill Park with a winning record that stretches back to 2010. It helped this time around that local player Oisin Gallen was on hand to give them the lead late in the game … and then Jeaic Mac Ceallabhuí sealed the faith of the All Ireland champions with a goal on the call of full-time.
Up to then you would have put your house on a draw because neither side appeared capable of launching a winning strike down the home strait until those two late scores got the home side over the line.
Tyrone welcomed back three of the four players red carded against Armagh in Padraig Hampsey, Michael McKernan and Kieran McGeary. The first quarter was evenly contested, almost point for point.
Conn Kilpatrick had an early Tyrone goal chance, but pulled his effort wide before Patrick McBrearty (free) and Ryan McHugh got Donegal on the board.
But by the 11th minute Darragh Canavan and Darren McCurry (free) had Tyrone on terms.
Tyrone appeared to get the upper hand when they hit four points by the half hour mark through Conn Kilpatrick, Michael McKernan, Darren McCurry (free) and substitute Richard Donnelly. However the big home following got the interval lift they sought when  Conor O'Donnell palmed home a goal to leave it tied at that stage.
The sides continued to trade score for score with a McCurry brace evened out by a Shaun Patton (47m free) and O'Donnell landing his second score, this time a white flag. The tit-for-tat continued down to the final minutes when  Gallen edged the homesters ahead with Mac Cerallabhui then supplying the coup de gras.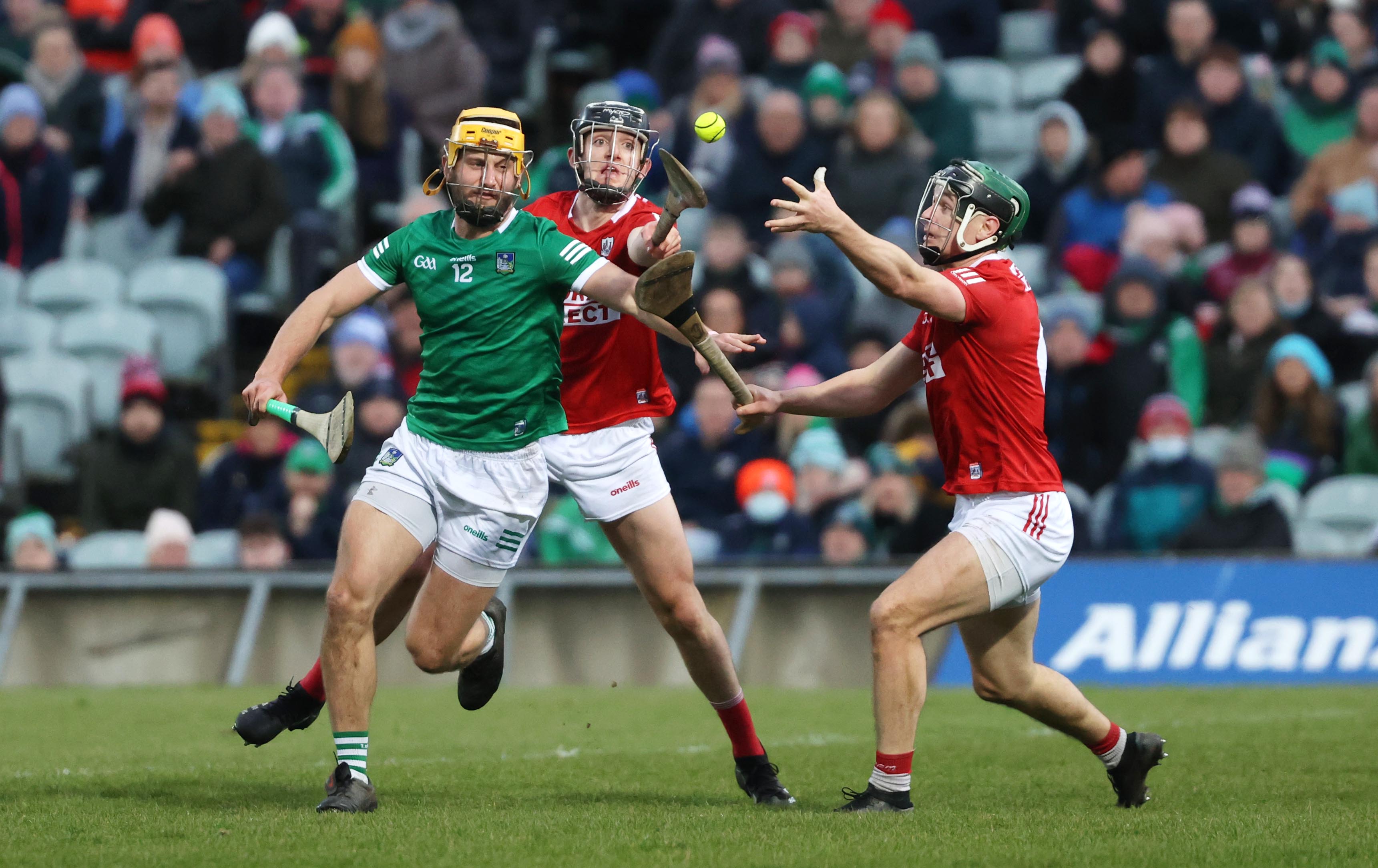 Limerick stumble to fired up Rebels
Cork 2-19; Limerick 1-13
Cork's pride following their 16-point All Ireland final defeat was so hurt that they produced an awesome performance at the Gaelic Grounds on Sunday to wipe the floor with Limerick, in a turnaround of 23 points following this nine point win.
The Rebels were so intent on victory that they brought real championship fervour to their play and knocked Limerick back on their stride from first throw in to last whistle.
It will be interesting to see if they can repeat this level of performance in April when the two meet in the Munster championship in Pairc Ui Chaoimh. Like Dublin footballers, John Kiely's men seem to have forgotten how to win with three defeats to date while their opponents have now recorded three top class victories. 
Cork did the damage in the first half and were 14 points to the good by the interval. By that time the crowed of over 12,500 had seen Cork's Shane Kingston and Limerick's Seamus Flanagan were sent off for dangerous and high tackles.
By that stage Kingston had scored two goals and the game had been won and lost. Limerick never gave up and neither did they ever approach anything like the fluidity of their normal game. Whether Kiely has purposefully kept something back or whether there is something genuinely missing, only time will tell. My guess is that they are still the team to beat and when they have a full complement of starting players back, normal service will resume.
Mayo bring Orchard back to earth
Mayo 0-15; Armagh 1-10
Armagh's unbeaten record  disappeared and this result might better indicate where Kieran McGeeney's squad is in terms of championship exploration in 2022.
Mayo may not win national titles too often but they are a good sounding board to judge the calibre of other counties.
And they also showed great resolved in this game by kicking the last five points to win the game by two at their temporary 'home'  ground of Dr Hyde Park in Roscommon.
Mayo are now looking good for  a place in the league decider with Armagh dropping back to third place in the table.
Ciaran Mackin gave the Ulster side a dream start when unintentionally lobbing reserve Mayo goalkeeper Rory Byrne, who started in place of the injured Rob Hennelly. Indeed they were still that goal margin to the good at 1-10 to 0-10 on the hour mark before Mayo upped the gears  as points by Ryan O'Donoghue (two frees) and Paddy Durcan saw them back to parity.
Jordan Flynn put them ahead on 69 minutes with Durcan getting his second point to ease the green and red home.
In the other Division One match, flyaway Kerry had way too much knowhow and power for a disappointing Monaghan outfit when taking the two points away from Clones following a 3-14 to 1-12 eight-point victory. David Clifford was the chief architect with two back to back goals early in the second half sealing the Farney men's fate.
GAA Results
NFL Division 1
Ballybofey: Donegal 2-10 Tyrone 0-12; Newbridge: Kildare 1-12 Dublin 0-12; Inniskeane: Kerry 3-14 Monaghan 1-12; Dr Hyde Park: Mayo 0-15  Armagh 1-10
NFL Division 2
Cusack Park: Derry 2-13 Clare 0-10; O'Connor Park: Offaly 1-10 Meath  1-10; Pairc Ui Chaoimh: Galway 3-22  Cork 2-17; Newry: Roscommon 1-18  Down 0-10
Hurling
NHL Division 1 Group A -- Pearse Stadium: Wexford 2-15 Galway 0-15; Gaelic Grounds: Cork 2-19 Limerick 1-13; O'Connor Park: Clare 4-20 Offaly 0-16
Division 1 Group B -- Corrigan Park: Waterford 3-21 Antrim 2-22; Nowlan Park: Kilkenny 2-28 Laois 0-17; Semple Stadium: Dublin 2-16 Tipperary 0-21