Enya Maguire was back in the starting lineup for Houston Baptist's women's basketball team last week, resulting in road wins over Northwestern State, 52-42, on Thursday and Southeastern, 51-40, on Saturday. The 5-4 sophomore guard from Belfast reached double figures in points scored in both games – 11 points against Northwestern State and a co-game high 14 points in the Southeastern contest. That wasn't all, however. She had seven assists and six rebounds in the Thursday game followed by six caroms, three dishes and two rejections in Saturday's outing. The Huskies are 11-9 overall and 7-2 in the Southland Conference.
Bronagh Power-Cassidy scored 10 points to help Holy Cross defeat Loyola (Md.), 58-49, in Baltimore on Wednesday. The 5-10 Dublin sophomore hit two of four shots from the Inner Harbor and all four of her foul shots. The Crusaders are 16-8 overall and 10-3 in the Patriot League.
Southern Connecticut State's Katie Williamson scored eight points in the Owls' 62-44 home win over Pace last Tuesday. The 6-1 Dublin sophomore drained four of eight field goal attempts, put the clamps on four rebounds and blocked two shots. SCSU is 9-11 overall and 6-8 in the Northeast 10.
MEN'S BASKETBALL
Spring Hill College is on a four-game winning streak since Eli Lenihan was inserted into the starting lineup. The 6-5 freshman from Cork has made his presence known mostly on defense but did post solid numbers in Saturday's 80-77 victory over LeMoyne-Owen in Memphis. He grabbed seven rebounds, dished out five assists and scored seven points on 3-for-8 shooting from the field (1-for-5 from Beale Street). The Badgers are now 7-15
Ryan Leonard posted team highs in assists (6) and steals (3) as St. Mary's of Texas lost, 84-79, to Oklahoma Christian in San Antonio on Thursday. The 6-4 junior guard from Tralee, Co. Kerry also scored 16 points for the Rattlers (11-10), hitting five of 14 field goal attempts (one of four from long range) and all five of his free throws.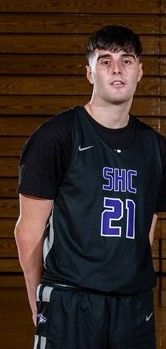 Sean McCarthy tipped in nine points to help Felician defeat Wilmington (Del.), 90-87, in Rutherford, N.J. last Monday. The 6-5 freshman swingman from Cork connected on four of six shots from the field, including his lone missile from long range. He also received credit for four rebounds. The Golden Falcons are 13-8 overall and 8-5 in Central Atlantic Collegiate Conference play.
C.J. Fulton had another all-around effective game to help Lafayette defeat Lehigh, 73-69, in Bethlehem, Pa. on Saturday. The 6-2 freshman guard from Belfast chipped in six points on 3-for-4 shooting from the field, assisted on five buckets and perpetrated five thefts. He scored what proved to be the winning points on a fast-break layup with 1:11 left on the game clock. Coach Fran O'Hanlon's Leopards improved to 8-15 with the victory.
WOMEN'S GOLF
Wake Forest cruised to victory in the UCF Challenge at Eagle Creek Golf Club in Orlando, Fla. Kildare junior Lauren Walsh got a share of 19th place, posting rounds of 72, 68 and 71. At 5-under-par, she finished 14 strokes off the low score belonging to teammate Carol Lopez-Chacarra. Auburn's Anna Floster, a sophomore from Dublin, tied for ninth place at 7-under-par 209 (67-70-72). Sara Byrne, a Miami (Fla.) freshman from Douglas, Cork, matched Walsh's 54-hole score, firing rounds of 71, 71 and 69. Auburn senior Julie McCarthy, a senior from Swords, Co. Dublin, turned in scorecards of 73, 76 and 72, which relegated her to a share of 69th place. Auburn took fifth place among teams, while Miami was eighth.
Flagler's Jan Browne got a share of 17th place in the 109-woman field in the World Golf Invitational at the World Golf Village's Slammer & Squire Course in St. Augustine, Fla. The Kilkenny freshman posted rounds of 75 and 76 to finish 10 strokes off the winning score belonging to St. Leo's Francesca Santoni.
MEN'S GOLF
Rounds of 70, 70 and 71 gave Florida Atlantic's Alex Maguire a share of 19th place in the Gators Invitational at the University of Florida's golf complex in Gainesville. The junior from Mornington, Co. Meath finished the event a stroke over par and 15 behind medalist Fred Biondi of Florida. The field was comprised of 77 golfers.
Jordan "J.J." Logue of Mississippi College tied for 16th place in the Houston Classic at the Golf Club of Houston. He combined rounds of 77, 73 and 74 to finish eight strokes over par and 11 off the low number shared by three rivals. Logue is a junior from Belfast.
WOMEN'S TENNIS
Elon's Alison O'Dea was a two-time winner at sixth singles over the weekend. The Dublin sophomore knocked off Campbell's Mariana Ossa, 6-2, 6-4, on Saturday and Gardner-Webb's Courtney Fyvie, 6-1, 6-2, on Sunday. Elon defeated Campbell, 4-3, and G-W, 4-0.
Appalachian State's Olwyn Ryan-Bovey, a freshman from St. Angelo, Enniskillen, Co. Fermanagh, needed three sets to win her match at fifth singles over Radford's Priscil Stojanovska. Ryan-Bovey won, 6-3, 1-6, 6-0. Radford was a 4-3 winner.
Rice's Anna Bowtell needed three sets to finish off Leopoldine Boisseau of Texas A&M-Corpus Christi at fifth singles. The senior from Delgany, Co. Wicklow triumphed, 6-3, 4-6, 6-1. Rice swept the match, 7-0.
Emily O'Donovan was a bright spot in Seton Hall's 4-2 loss to Buckness on Saturday. The Dublin sophomore won her match at sixth singles over Kate Novak, 6-4, 6-2.
Utah State's Zara Ryan disposed of Weber State's Yuuna Ukita, 6-1, 6-2, at fourth singles in a 5-2 Aggies victory on Sunday. Ryan is a junior from Dublin.
MEN'S TENNIS
Oisin Shaffrey came through with a 6-1, 6-0 victory at second singles over Aaron Yuan to help Montana defeat Whitman, 7-0, in Mizzoula, Mont. on Friday. Shaffrey is a senior from Dublin.  
Merrimack's Jonathan Garcia was extended to three sets in order to defeat Quinnipiac's Kemal Karagozoglu on Friday. The Dublin senior racked up the win at second singles, 6-1, 5-7, 7-5. Merrimack lost the team score, however, 4-3.
North Dakota managed victories over both Gustavus Adolphus, 6-1, and Augustana, 7-0, on Saturday. Belfast sophomore Cian McDonnell, slotted a third singles, handled GA's Daniel Fouchier, 6-2, 6-2 and Augustana's Justin Karcher, 6-3, 6-0. Belfast freshman Dylan Leeman handled GA's Josh Christensen, 5-7, 6-4, (10-5) at no. 6 and moved up to no. 5 to triumph over Augustana's Joseph Plachy, 6-1, 2-6, (10-7).