Sam Alajiki led California in scoring in an 81-57 road loss to seventh-ranked UCLA in men's basketball on Thursday. The 6-7 freshman forward from Dundalk, who prepped at St. Benedict's in Newark, N.J., made four of six field goal attempts, including three of five from Sunset Blvd., for 11 points. The Bears are now 9-12. 
Ryan Leonard scored a team-high 19 points as St. Mary's (Texas) defeated Cameron, 79-68, in San Antonio on Monday. The 6-4 junior out of Tralee, Co. Kerry connected on six of 12 shots from the field, including two of six from River Walk, and all five of his free throws. His six rebounds were a team high and he got credit for three assists. On Tuesday, the Rattlers traveled to Austin for a 93-85 win over St. Edward's. Leonard posted 18 points, knocking down seven of 10 shots from the floor, including two of three from Antonelli's Cheese Shop. He also made both attempts from the charity stripe. The Rattlers are now 8-7.
James Beckom came off the bench to provide John Brown University with quality minutes in home victories over North Texas at Dallas, 73-65, on Thursday and Southwestern Assemblies of God, 65-63, on Saturday. The 6-3 junior guard from Cork threw in nine points (4-for-5 from the floor and 1-for-2 from the foul line) and took down nine rebounds in the North Texas at Dallas contest. Against S.A.G., he clicked on three of five field goal tries for six points, while pulling off three thefts and grabbing four caroms. The Golden Eagles are 15-9. 
C.J. Fulton left the scoring to others in Lafayette's 60-65 road loss to Army on Saturday. The 6-2 freshman guard out of Belfast did, however, dish out a game-high five assists and come down with a team-high eight boards. The Leopards then lost, 72-61, to visiting Colgate on Monday as Fulton posted eight points on 3-for-6 shooting (2-for-5 from downtown). He also got credit for six rebounds, four assists and three steals as Lafayette sank to 5-14.
WOMEN'S BASKETBALL
Bronagh Power-Cassidy paced Holy Cross with 15 points in Saturday's 67-61 road loss to Lehigh. The 5-10 sophomore guard from Dublin shot 6-for-14 from the floor, including 1-for-3 on trifectas, and 2-for-2 at the foul line. Her three steals were a game high. The Crusaders are now 13-7. 
Katie Williamson scored nine points and pulled down six rebounds as Southern Connecticut State lost, 76-48, at Assumption last Tuesday. The 6-1 sophomore forward from Dublin made four of eight attempts from the field and one of three from the foul line. SCSU is now 6-9.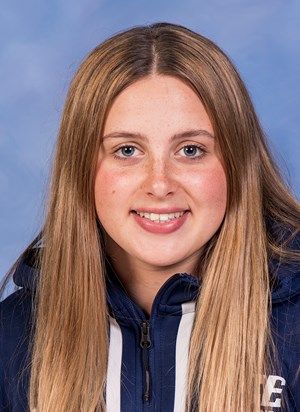 SWIMMING
Rice's Amelia Kane won the women's 400-yard individual medley in a tri-meet against Incarnate Word and Texas Christian on Friday. The freshman from Belfast stopped the clock in 4:27.67. 
Ellen Walshe helped Tennessee to a 144.5-104.5 win over Carson-Newman in Knoxville on Saturday. The Dublin freshman won the 200-yard butterfly with a 1:56.58 clocking. 
Cleveland State's Paddy Johnston got second place in the men's 200-yard butterfly in a dual meet with Oakland on Friday, won by Oakland, 158.5-141.5. Johnston, a Belfast freshman, finished in 1:50.27 in a race won by teammate Bob Fick in 1:50.16. The Vikings then traveled to Columbus on Saturday, where they fell to Ohio State, 159-78. Johnston got fourth money in the 200 butterfly, needing 1:53.60 in this pool in a race won by OSU's Lain Weaver in 1:51.15. 
Ohio State's Ciara McGing, a sophomore from Dublin, got fourth place in the 3-meter dive to help the Buckeyes defeat visiting Michigan, 152.5-147.5, on Friday. She received a score of 275.63, fourth best among nine contestants. Teammate Mackenzie Crawford had a winning score of 330.75 points. 
SQUASH
Columbia defeated Penn, 7-2, on their home court on Friday. Belfast junior Ellie McVeigh held down the no. 6 spot for Columbia and defeated Grace Lavin, 3-1 (11-5, 11-7, 9-11, 11-5). 
TENNIS
The North Dakota tandem of Cian McDonnell and Dylan Leeman, both freshmen from Belfast, won their singles matches in Friday's 6-1 victory over Marquette in Milwaukee. At third singles, McDonnell defeated Jan Jauch, 6-2, 6-3, while Leeman handled Will Tennison, 6-1, 6-3, at no. 6. On Saturday, the Fighting Hawks met up with Eastern Illinois in Milwaukee and left as 7-0 victors. McDonnell took down Pau Riera, 6-0, 6-1, and Leeman did likewise with M. Pililpovic-Kljajic, 6-2, 6-1.