Armagh 2-14; Tyrone 0-14
This win should all be about Armagh, given how they bearded the Lion called Dublin in Croke Park the previous weekend and then went out and gave All Ireland champions Tyrone a footballing lesson at the Athletic Grounds on Sunday.
But when your opponent ends the game with only 11 players because four have been sent off  together in stoppage time, well you can understand why that part of the narrative hogs the limelight.
In fact five players saw red in this late, late fracas with Tyrone's Michael McKernan, Padraig Hampsey, Peter Harte and Kieran McGeary, joining Armagh's Greg McCabe, as referee David Gough brought the battle between neighbors to a sensational conclusion in front of over 14,000 fans.
Kieran McGeeney is the talk of the football world at the moment in how he has finally got his Armagh team not only to be competitive but to live with and in the last two cases beat up the big boys where it counts – on the scoreboard.
They made Tyrone look second rate for all of the first half – a point conceded by Red Hand Joint Manager Fergal Logan after the encounter. At one stage they were cruising with an 11-point lead though Logan said his charges played more like the old Tyrone when they came out for the second half.
McCabe gave the huge home following a massive lift after just five minutes  when his shot blasted past Niall Morgan in the visitors' goal. The netminder showed his class, however, in diverting Stephen Sheridan effort and also did amazingly to divert Ciaran Mackin's goal-bound shot over the bar.
Armagh's dominance was such that it appeared the Tyrone players were unable to exert any pressure on their game plan and the were held to just two point in the opening quarter from Darragh Canavan and Michael McKieran.
Meanwhile at the other end of the pitch, the excellence of movement and player combinations allowed the Orchard to raise white flags the massively influential Rian O'Neill, Rory Grugan, Aidan Nugent and Tiernan Kelly. This put the homesters 1-8 to 0-3 points to the good and then Jason Duffy gave his side a half-time tonic by expertly dodging Morgan's despairing tackle to plant the ball in the net for a 2-8 to 0-3 advantage, which Tyrone reduced by a point before the blast on referee David Hough's short whistle.
Jemar Hall pushed the home lead to 11 points before Tyrone swung into gear by pressing every Armagh play but particularly their kickouts.
Points by Niall Sludden and Kieran McGeary  gave the visiting supporters hope  and with Cathal McShane deadly from placed balls, they went about reducing the deficit in earnest.
 Despite the drought in possession both  O'Neill and Aaron McKay made the most of the crumbs they were presented by landing two fine points. However a second barren spell saw them go 17 minutes without a score which only ended when Jarlath Óg Burns drove through for a morale lifting score.
The class of McShane saw his seven points haul back the lead to four with three minutes of normal time left. Just as we contemplated a tight finish, the row broke out and football took second place as the ref became the centre of attraction with five reds.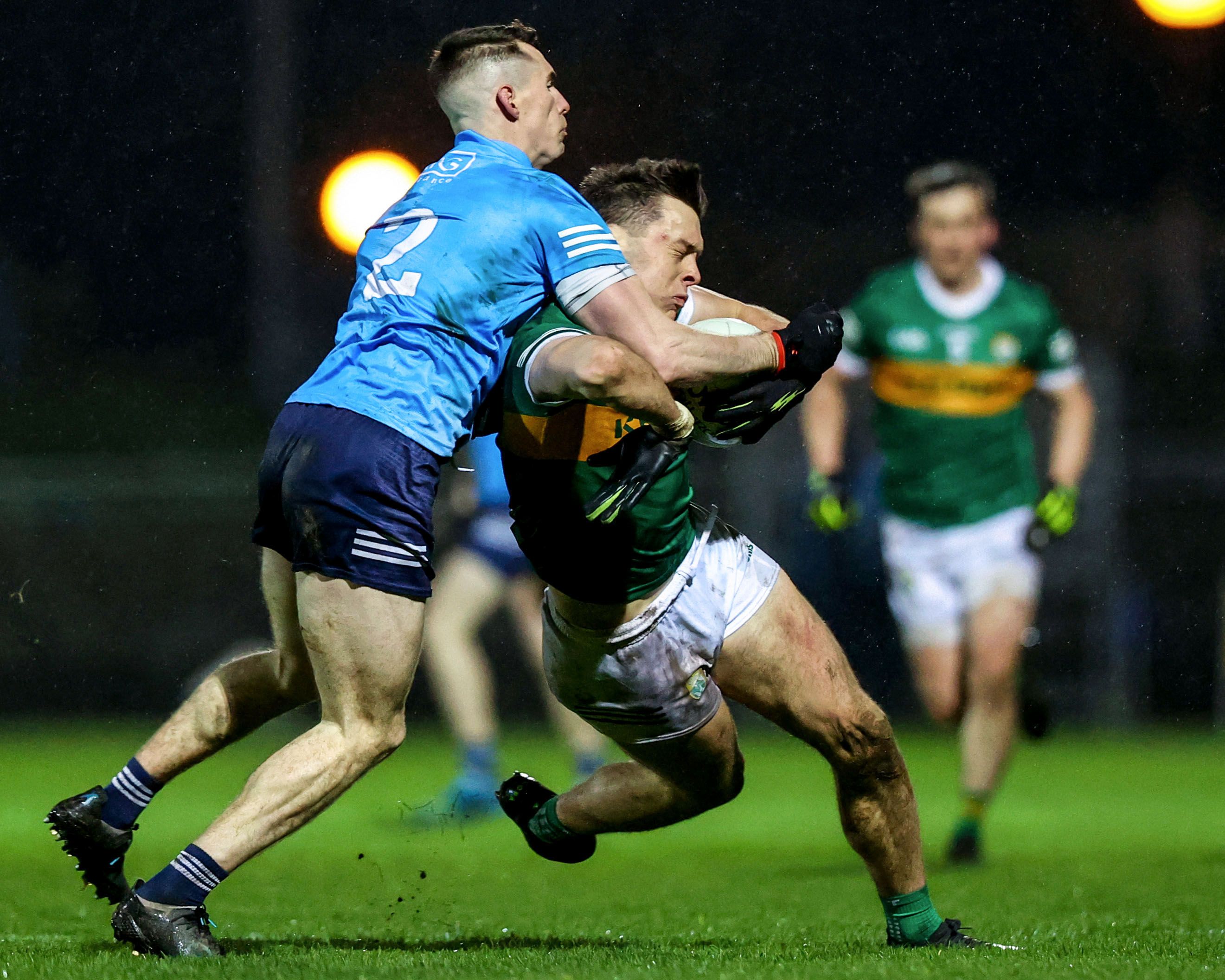 Dubs slip up again
Kerry 1-15; Dublin 0-11
Although it is very early doors to be making bold predictions about the season ahead, Dublin would appear to be in trouble as the new crop coming in to replace their one time star-studded line up are failing to measure up.
While the jury is still out to a certain extent, given that neither James McCarthy nor Con O'Callaghan were fit to take any part against Kerry in Austin Park on Saturday night, the signs are there that the new blood will not power the Blue machine to the dizzy heights of  the 2015-2020 period.
On a night of the big wind, Dublin needed to win something – even the toss – to give them a lift and when they played the opening 35 minutes against the elements, they were so far behind at the interval (12 points) that the game was already over.
By the time they had the use of the wind at their back, they had pegged the lead back to seven points, but there is little merit in accepting this as a form of moral victory for Dessie Farrell's squad.
The Dublin manager for the second week running was forced to watch his team fail to come up to standard as they got a footballing lesson by the Kerry team which look a totally different animal altogether under Jack O'Connor as manager.
Dublin's line-up included such names as Lee Gannon, Darragh Conlon, Lorcan O'Dell and Cameron McCormack with none in any way advancing their claims for a starting jersey come the championship. The Dubs' strength in their march to the six-in-a-row was always gauged by the names on their bench with often the likes of Michael Dara Macauley, Bernard Brogan, Philly McMahon,  Kevin McMenamin and Cormac Costello stripping to make an impact. 
On Saturday,  when Farrell looked behind him all he had to introduce was the likes of CJ Smith, Killian McGinnis and Ross McGarry – not exactly household names, or at least not yet.
Farrell rightly described the journey and the experience as "a tough night. Obviously we were down a few bodies, a lot of newbies in tonight. It was a great experience for them to play Kerry in Tralee, but the game got away from us in the second period of the first half. We struggled to manage that in the way we would have wanted."
His cause wasn't helped by poor officiating when the side looked like they might make a fight of it with a Dean Rock goal against the run of play.
 That was chalked off and Niall Scully wrongly black carded in the one moment for a foul that was committed by Sean McMahon.
The Dublin manager said laconically, "The game turns on those moments." And he was right. Within minutes Kerry had blasted 1-8 without replay and the contest was well and truly over.
"Kerry were clinical when they had the extra man, they used the extra personnel really well and moved the ball around and took their chances in front of goals," Farrell said.
From a Kerry viewpoint O'Connor was pleased with how his side had rebounded from the criticism of letting a lead slip and only sharing the spoils in Kildare the previous week.
"We needed a reaction from last week," he emphasized. "We were adamant we would go after the game from the start, to try and play more positive football. In the second half in Newbridge we tried to hold on to the lead, and you can't do that in Gaelic football. In general we're happy enough, but well aware that come the summer, Dublin will be a different outfit when they get those men back."
Kerry weren't totally firing on all cylinder as David Clifford missed a first-half penalty but didn't let that error interfere with his overall play as he contributed some glorious points from distance during that first half of dominance.
Dublin's final chance to make a game of it came in the 26th minute, when young Lorcan O'Dell  was through and only had to draw the cover to present teammate Rock with a tap in. Instead his attempted handpass to the sharpshooter carried way too much weight and the ball rolled harmlessly wide… and with it Dublin's chances on the night.
Massive scores for  Moynihan, Paul Geaney, David Clifford (two) and a Sean O'Shea free made it 0-12 to 0-4  in no time before young Moynihan got the finish it deserved - a right-scored with a brilliant strike to push out the margin to 13-points at the break with Geaney adding his second of the period.
O'Connor won't be happy with Kerry's  fall off in scoring terms in the second half but they played within themselves and were happy to absorb what Dublin threw at them without threatening their lead. Dublin put over seven points to Geaney's and Kerry's solitary score in that third moiety when really the men in blue needed a goal to kickstart any real comeback attempt.
As Dubs tried too hard on occasions  this led to Tom Lahiff getting a black card, with Kerry's  Paudie Clifford following suit. To their credit Dublin never threw in the white flag as  old hands like Ciaran Kilkenny, Brian Howard, Brian Fenton and Dean Rock (three frees) fought to be bitter end to put some sort of respectability on the scoreboard.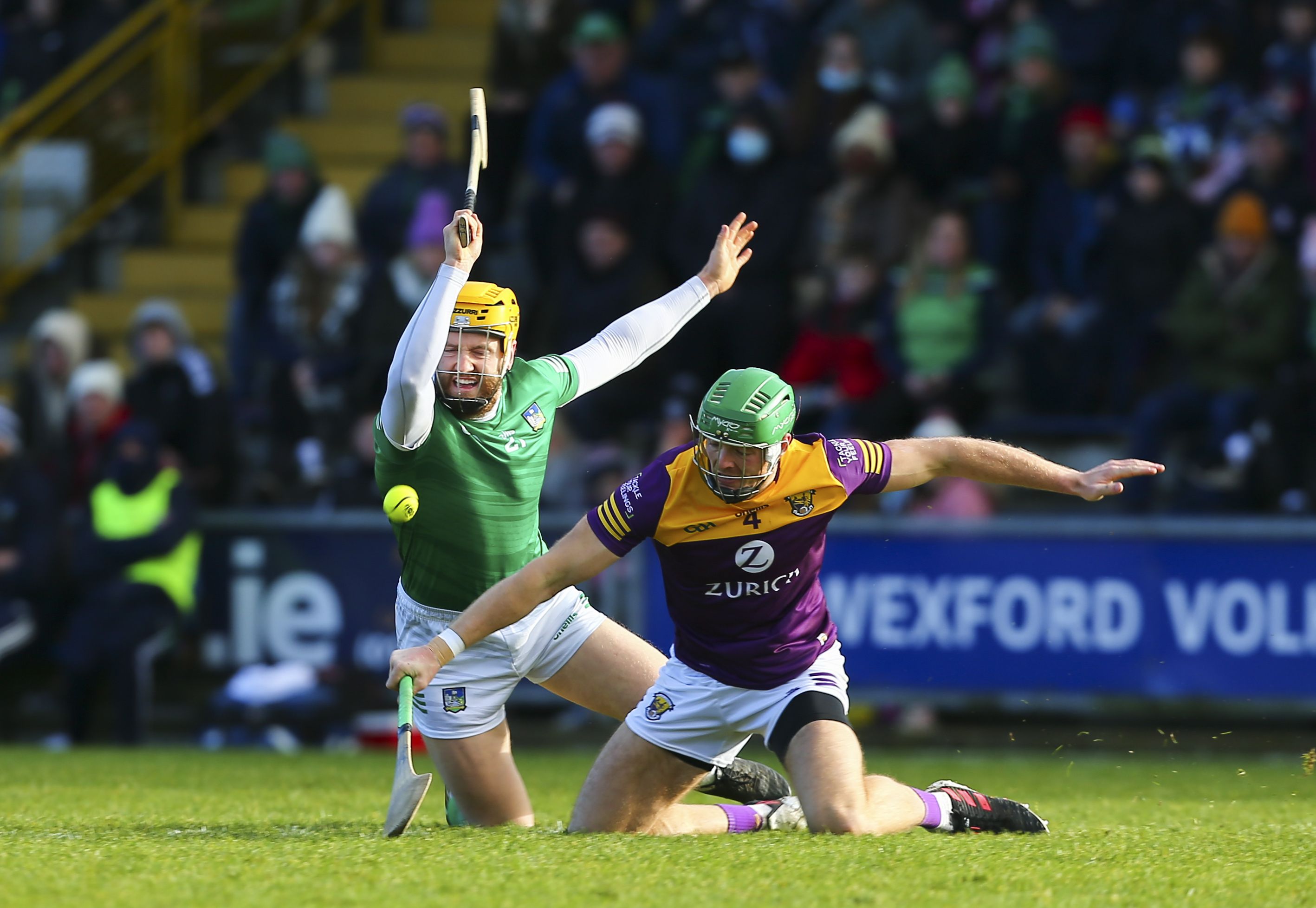 Wexford shock champs Limerick
Wexford 1-11; Limerick 0-11
Yes, Limerick were without a number of their top players including hurler of the year Cian Lynch but try telling Wexford – or indeed the rest of the hurling world – that this wasn't a major shock in the first round of the League at Wexford Park on Sunday.
And yes, the goal that was the difference between the teams came from Mikey Dwyer after he had taken somewhere between 12 and 15 steps without playing the ball though he was being fouled on two occasions which is probably why referee Thomas Walsh allowed him the advantage.
Limerick were far from upset at this reversal but fair play to Wexford's new manager Darragh Egan for conceptualizing how to close space on the all-conquering Treatymen and how to take advantage after closing them down.
In a high-tempo first half Wexford started the brighter but found themselves a point in arrears at the interval by 0-7 to 0-6.
The game was nip and tuck until Dwyer shot home with 11 minutes to go and then the question was if Wexford had the mettle to keep their lead until the long whistle.
Limerick tried hard to turn things around but were repulsed even when going from goals from placed balls. The final whistle was greeted with a massive roar as the Slaneysiders earned their first league win in five years against this particular opposition.