There may well be mice living in the nooks and crannies of Croke Park. But they won't be wearing GAA jerseys.
The mice who inhabit the pages of the children's book "The Croke Park Mice – The Missing Referee," are decked out in county colors – all 32 of them.
The book has been flying out the doors of Ireland's book shops and getting rave reviews online.
And coming up to Christmas, hopes are high that copies will find themselves into stockings under the tree.
It's been a busy few months for the book and its authors since Brian Cody, manager of the Kilkenny Senior Hurling team, launched it at Cois Abhann Community Centre Inistioge, County Kilkenny back in May.Said Cody at said launch: "This is a magical book. The characters leap off the page and they are brought to life so well.
"The book raises curiosity in children about hurling, the GAA and Croke Park stadium, the stands and Hill 16, the Artane band playing the national anthem. It's an excellent book for education and creating interest in our culture and our heritage and it's beautiful to look at.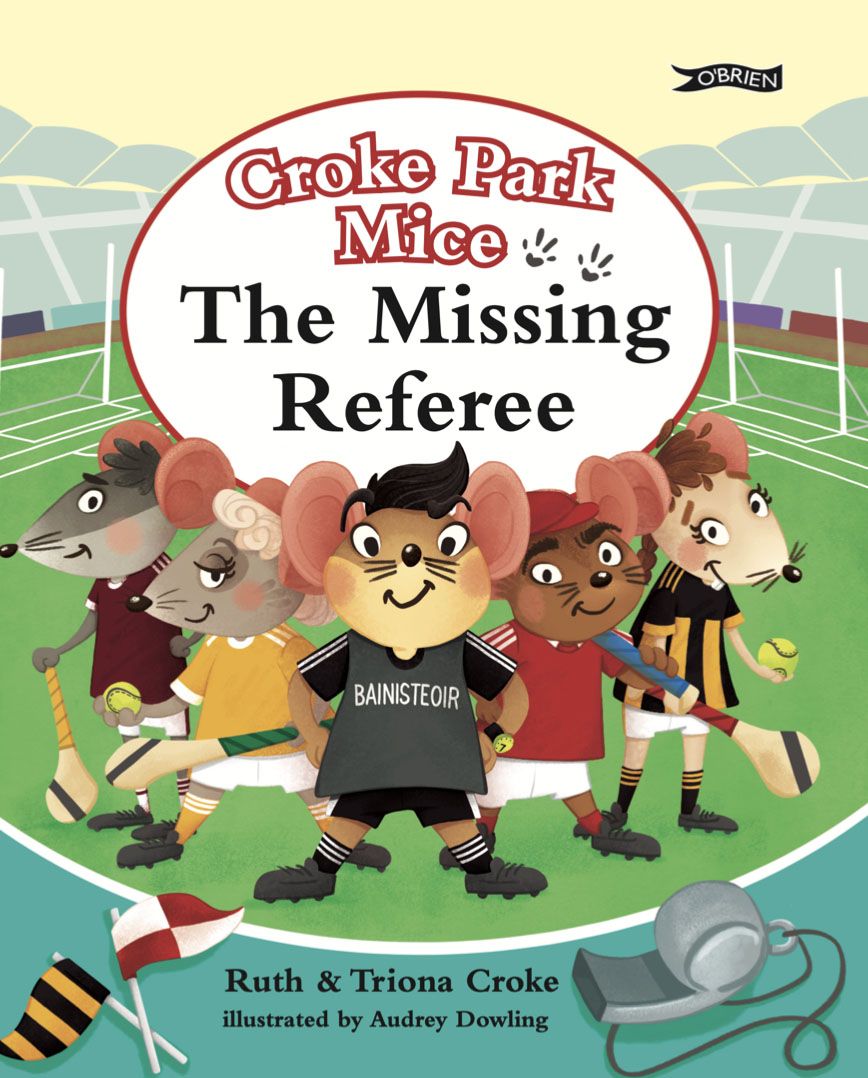 Cody added: "This book is a work of art and a work of literature and should be in every school in Ireland. The GAA should embrace this book as it's a spectacular read for children and teaches them so much about the game of hurling and working together as a team.
"The Croke Park mice is a book about 32 little mice who live in Croke Park but who are from each county in Ireland.
They all wear their county jerseys and are massive GAA fans. It is the first in a series of six books written by two natives of Inistioge, the appropriately named Ruth and Triona Croke.
The book has been illustrated by Audrey Dowling who lives in Graignamanagh. So it's truly a Kilkenny literary creation.
At the launch, Brian Cody talked in detail about the book's essential plot: how the mice must come together to find the missing referee to save the day for the All-Ireland Final where Kilkenny will play Cork.
But he did say while he loved the mice, he would rather see cats in Croke Park. Kilkenny folk would get that one.At the launch, five local children read excerpts from the book and the applause was deafening.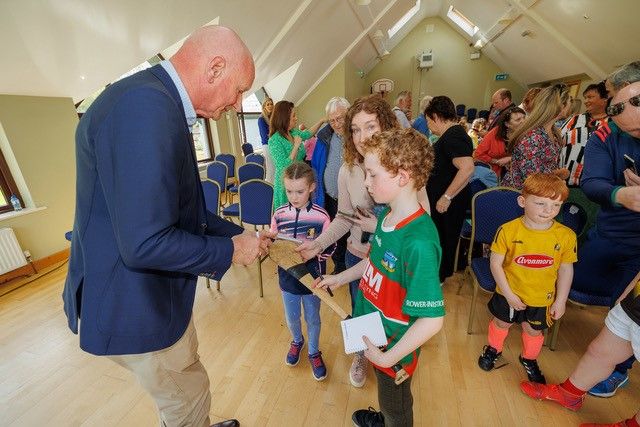 It was a fantastic day in Inistioge and a real celebration of local talent.
So what of the book?Here's an excerpt of a review by Barbara McCormick.
"Do you know the big secret about Croke Park?
"Lots of little mice live there! In nifty nooks and cosy corners under the Davin and Hogan stands. Thirty-two to be exact - 16 boys and 16 girls - one from each county in Ireland, along with Crokey, their Bainisteoir. They love to feast on tasty scraps of food dropped by the fans.
"When everyone goes home, you might even catch them out playing their own games – right in the middle of the pitch!
'Written by Kilkenny sisters, Ruth and Triona Croke, 'The Croke Park Mice - The Missing Referee' is the first in a series of children's picture books about the escapades of the friendly but mischievous creatures who cavort behind the scenes of Dublin's beloved sports stadium.
"For all their small size, the mice who live in Croke Park are massive GAA fans - they wear their county jerseys with pride and watch every single match!
"Each mouse has a distinctive look and character, with names that cleverly reference their home county, like Rebel (Cork), Banner (Clare) and Lily (Kildare). No prizes for guessing why the Waterford mouse is called Dessie… The inspiration for some names might take a little guesswork: like Shelly from Sligo/Sligeach - Irish for 'abounding in shells.'
"In their first adventure, the GAA All-Ireland Hurling Final between Kilkenny and Cork is about to start – but the most important man of the match is missing! Will the mice be able to save the day so that the big game can go ahead? Better get the book to find out!
"Beautifully illustrated by Audrey Dowling, a French artist living in Graignamanagh, this charming tale is a must for parents with children just starting to read. It's also a great way to introduce them to the GAA and to encourage team-work, outdoor activities and a love of sport.
"Daughters of Anne and the late Willie Croke, authors Ruth and Triona grew up in Inistioge. Ruth spent most of her career based in New York as Head of Marketing and Communications with IDA Ireland.
"She currently runs her own consultancy company and divides her time between New York and Kilkenny. Triona has a PhD in Cross Cultural Communications and has been Dean of several universities in the United Arab Emirates and Qatar."Published by O'Brien Press (www.obrien.ie)
"The Croke Park Mice – The Missing Referee" is available on Amazon and Barnes & Noble online.