"I never thought it would be me crossing. I thought such a journey
was bigger than me, that I'd never manage it or have reason to.
I was all for staying home when I was young, tending to the hens
and the orphan lambs, helping with the babies and washing,
making broth. I had as much notion of climbing on a ship
to sail off to New York as I did of dancing with a pig."
In Vona Groarke's "Hereafter," Ellen O'Hara continues,
"Of course, I knew plenty of other people who had gone,
neighbors, older sisters, some of them kith and kin.
Dada's cousin Eileen went in 1847, sent home a letter
in someone else's hand about her 'situation' as a cutter
in a Lowell mill. That was the last they heard of her.
He said her brother placed a notice in a newspaper,
but there was never any reply. She fairly disappeared.
You could be lost in America as you couldn't in Aclare."
Ellen, who made the journey from Aclare, Co. Sligo, and stepped off the ship in New York in July 1882, did not disappear; but despite a long, industrious life, she left a light trace.
Groarke, who has had 12 books published, including eight poetry collections, told the Echo that the work subtitled "The Telling Life of Ellen O'Hara" is "my attempt to rescue one woman from the silence of archives that offer little account of her, and to give her a voice. This woman happens to be my great-grandmother: she was my research starting point because I already had family stories from my mother about her." 
She added, "In these stories she was stalwart and sturdy, not at all the kind of woman to be easily dismissed and, yet, she was almost entirely overlooked by the historical record of her period (1882-1950). I wondered how this might be redressed and her life be honoured in a narrative that was, if not historically certified, then plausibly 'true'
"Ellen O'Hara's story is the story of many such women who came, alone, to the U.S. and worked as domestic servants in the houses of middle-class New York. It's a story about money, as so many immigrants' lives were, but a story that values Ellen as more than an earner, more than her worth in dollars and cents," added Groarke, who was born in County Longford and makes her home in rural County Sligo. "It's told in different ways, in prose, fiction, poetry and history, as I struggle to reconcile Ellen's near invisibility with my wish to bring her character to life in language someway equal to her resilience and verve."
Colm Tóibín, whose novel "Brooklyn" tells the story of a female immigrant from a later era, wrote that Groarke's latest book is a "groundbreaking way of investigating a traumatic period in history, not only Irish history, but American history too." 
"'Hereafter' would be heartbreaking if it weren't so beautiful. As it is, it lifts the heart," said John Banville, another novelist from Wexford. 
Meanwhile Joseph O'Connor, author of the iconic "Star of the Sea," has praised it as a "glowingly beautiful book about absence (and about absence becoming presence), this engagement with a 'boxy, skeptical' woman moves from plainness to poignancy, from groundedness to grace."
 "Vona Groarke, among the most brilliant poets writing today, gifts to her subject, Ellen O'Hara, the power of poetry," novelist Belinda McKeon commented. "There has been nothing like this from an Irish writer before; it is a thrilling and beautiful creation."
Groarke was a fellow of the Cullman Centre at New York Public Library 2018-19, where "Hereafter" was researched and drafted. Her work has been published in the New Yorker, the Los Angeles Review of Books, the Guardian, the Irish Times and the New York Review of Books.
Irish Echo: What is your writing routine? Are there ideal conditions?
Vona Groarke: Silence. A big mug of tea. Hours in front of me. And a start already made.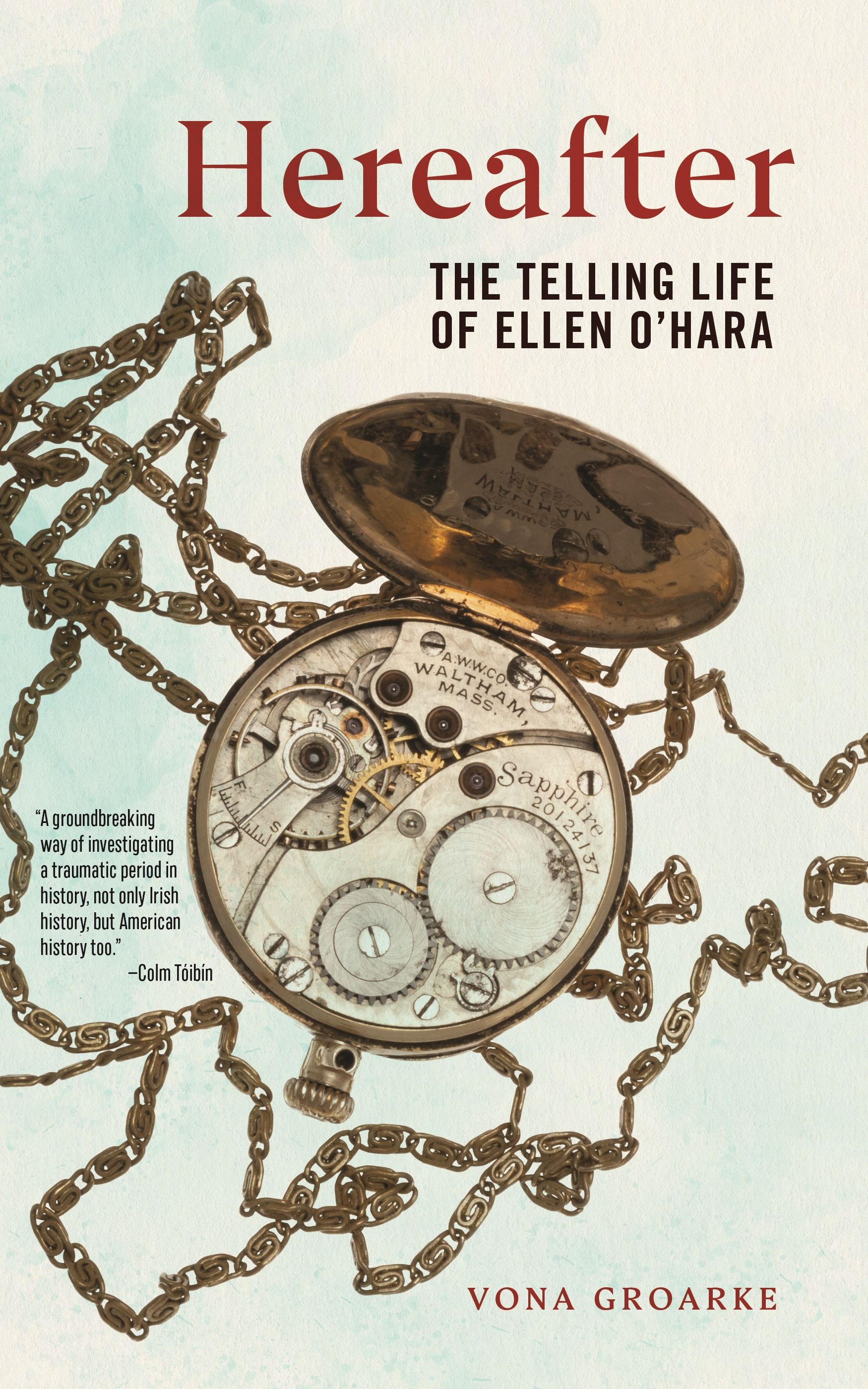 What advice do you have for aspiring writers?
 Read and write, doggedly. Review, if you can – it will help you to work out what you value in writing, what you want to be aiming for. (But also, don't necessarily take advice from middle-aged writers: it's taken us this long to get this far – what do we know?)

Name three books that are memorable in terms of your reading pleasure.
 "To The Lighthouse" by Virginia Woolf (for how structure can cope with handling emotional freight. And because it still kind of breaks my heart whenever I re-read it.)
 "The Tower" by W.B. Yeats (for how elegance of expression doesn't have to compromise either intelligence or sincerity)
 "Field Work" by Seamus Heaney (for showing the power of the sidelong inroad into difficult subject-matter)

What book are you currently reading?
 "We Don't Know Ourselves" by Fintan O'Toole (one cold eye and one not-so-cold cast on modern Ireland and its often Byzantine complexities).

Is there a book you wish you had written?
Yes, the novel that's been knocking about in my head for the past three years. 
 If you could meet one author, living or dead, who would it be?
W.B. Yeats. Though the biographers (especially Roy Foster) have almost solved him, I find him elusive still. I wouldn't even have to meet him – I'd be happy to sit in a corner and watch him play that huge lyric imagination and wicked sense of humor (so lively in the letters, so scant in the poems) against each other, see what comes of the tussle.

What book changed your life?
Honestly? My first collection, "Shale," because before it was published in 1994 I'd not have had the nerve to call myself a poet. But once you've got a collection with your name on it, that word doesn't seem so hypothetical. And calling yourself a poet means you then have to, well, write poems. Which is what I've done with the past almost 30 years: I've taught and I've raised two children and I've written poems, eight books of them and (I hope), more still to come, because it's impossible for me to imagine my life now without the writing of them as the centerpiece.
What is your favorite spot in Ireland?
  South County Sligo where (almost by accident), I bought a cottage and found myself at home. 
You're Irish if...
 A 99 isn't just the number between 98 and 100.