Barry Keane of Butler University won the Great Lakes Regional Cross Country men's race in Terre Haute, Ind. on Friday. Keane, a senior from Waterford, improved on his second-place finish in this race last year. He covered 10,000 meters in 29:38.3, nearly 13 seconds in front of the second finisher. Next up for Keane is Saturday's NCAA Division 1 Championship race in Stillwater, Okla.
            Brian Fay, a University of Washington senior from Dublin, was first home in the West Regional in University Place, Wash. His time for 10,000 meters was 28:17.2.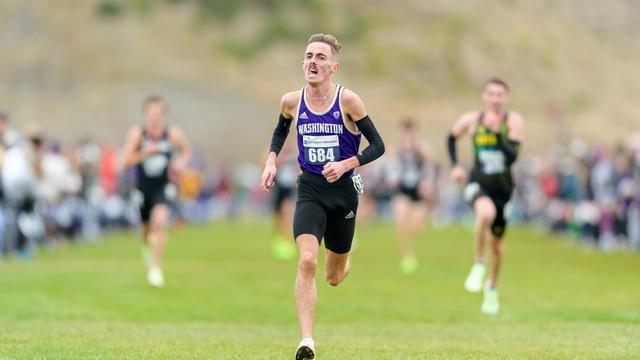 Washington's Brian Fay shown winning the NCAA West Regional.
            The University of Tulsa won the Midwest Regional, placing four runners (three of them from Ireland) among the top 10 finishers. Shay McEvoy, a sophomore from Kilkenny, placed third with a 29:42.0 clocking for 10,000 meters. Behind him came teammates Cormac Dalton, a senior from Mullingar, Co. Westmeath, fourth, in 29:42.1, and Michael Power, a senior from Dungarvan, Co. Waterford, sixth, in 29:42.8. Isai Rodriguez of Oklahoma State led the chase in 29:40.1.
            Marcus O'Sullivan's Villanova Wildcats will also be on the scene in Stillwater. They won the Mid-Atlantic Regional in University Park, Pa., placing five runners among the top 12 finishers. Third in for the Wildcats and eighth overall was Charlie O'Donovan, a senior from Cork. He got the 10,000 meters in 30:12.0. Teammate Liam Murphy was first home in 29:52.6.
            A trio of Irish finished in the top 50 in the South Regional in Huntsville, Ala. Florida State's Fearghal Curtin, a senior from Cork, finished sixth with a time of 29:30.0 for 10,000 meters. Mississippi's Shane Bracken, a senior from Foxford, Co. Mayo, placed 32nd with a 30:42.9 clocking, while Auburn's Louis O'Loughlin, a sophomore from Clondalkin, Dublin, checked in 42nd in 30:59.6. The race went to Alabama's Victor Kiprop in 29:21.2.
            Syracuse senior Paul O'Donnell from Dublin took eighth place in the Northeast Regional at Van Cortlandt Park in the Bronx. He needed 29:41.1 to complete the 10,000 meters. Also in the field was a quartet of Providence College runners. Shane Coffey was the fleetest of the four, getting 24th place with a time of 30:03.6. He is a sophomore from Naas, Co. Kildare. Further along were David McGlynn, a senior from Williamstown, Co. Waterford, 37th in 30:27.8, Abdel Laadjel, a sophomore from Lucan, Dublin, 38th in 30:29.2, and Michael Morgan, a sophomore from Sligo, 137th in 32:13.7. Graham Blanks of Harvard won the race with a 29:14.1 clocking.
            Kevin Mulcaire, a University of New Mexico senior from Clarecastle, Co. Clare, was 42nd to finish in the Mountain Regional in Albuquerque, N.M. He got 10,000 meters in 29:04.8. Nico Young of Northern Arizona was first in at the 28:01.8 mark.
WOMEN'S CROSS COUNTRY
            Providence College freshman Jane Buckley from Cork got third place in the Northeast Regional at Van Cortlandt Park in the Bronx. The Big East Conference champion sped through 6,000 meters in 20:27.4. Teammates Niamh O'Mahony, Orla O'Connor and Laura Mooney claimed 14th, 17th and 46th places, respectively. O'Mahony, a freshman from Listowel, Co. Kerry, came in at the 20:59.4 mark, with O'Connor, a senior from Waterford, in at 21:02.8 and Mooney, a sophomore from Cappincur, Co. Offaly, along in 21:32.7. Harvard's Maia Ramsden was first in at 20:20.6.
            Laura Nicholson of Temple University finished 26th in the Mid-Atlantic Regional in University Park, Pa. A sophomore from Cork, she covered 6,000 meters in 21:08.6 in a race won by West Virginia's Ceili McCabe in 19:58.3.
            Portland's Claire Fagan, a senior from Mullingar, Co. Westmeath, placed 83rd in the West Regional in University Place, Wash. She got the 6,000 meters in 20:42.4. Oregon State's Kaylee Mitchell won the race in 19:19.2.
            Ruth Heery, a Loyola (Ill.) junior from Waterford, was 108th to finish in a field of 233 women in the Midwest Regional in Columbia, Mo. Her time for 6,000 meters was 21:50.8. Olivia Howell of Illinois broke the tape in 20:02.9.
FIELD HOCKEY
            No. 16 Albany pulled off a big upset in first-round NCAA action, defeating fourth-ranked Michigan, 2-1, in overtime in Ann Arbor, Mich. on Friday. Dublin senior Hannah Mangan stopped eight Wolverines shots, including three in overtime and one penalty stroke. The magic ended for the Great Danes on Sunday, however, with a 2-1 loss to Penn State. Mangan had two saves as Albany wrapped up a 16-5 season.
MEN'S SOCCER
            Ryan Carmichael set up what proved to be the winning goal as Hofstra downed Elon, 2-1, on the loser's pitch on Saturday in the championship match of the Colonial Athletic Association tournament. Carmichael's header was stopped by the Elon keeper, with the rebound booted in by the Pride's Francesco Perinelli. Carmichael is a junior forward from Portadown, Co. Armagh. Next up for Hofstra (14-3-3) is a first-round NCAA engagement with South Florida in Tampa on Thursday.
            Justin Croke scored a goal and assisted on another to help Arts & Sciences of Oklahoma defeat Southwestern Christian, 3-2, in a Sooner Athletic Conference semifinal match in Bethany, Okla. That was the 10th goal of the season for the junior midfielder from Waterford. The Drovers (12-5-3) then lost the championship match, 3-0, to Mid-America Christian.
SWIMMING
            Mona McSharry, a University of Tennessee junior from Grange, Co. Sligo, won two events in a dual meet against Florida. She won the 100-yard breaststroke with a time of 1:00.88 and took the 200-yard version in 2:15.07. She also got third place in the 50-yard freestyle. Florida outpointed the Vols, 204-96.