"The next Jackson County executive will face a long list of complicated, important issues: construction of a new jail, an aging downtown courthouse, and a flawed property appraisal system," said the Kansas City Star in a recent editorial endorsement.  "Oh, and what to do about county-owned stadiums for the Royals and Chiefs. It's easily the most important race for county executive in memory. We recommend Theresa Galvin, a Republican, for the post."
Galvin is aiming to be a successor to President Harry S. Truman, who cut his political teeth as a protégé of the Pendergast machine (associated with the "Goats" faction, which prevailed over the "Rabbits," another Irish-led group) and in 1926 was elected to the top executive position in Jackson County, Mo. (See the background to that in last week's piece here.)
The Star added, "She is running against [former Kansas City Royals second baseman] Frank White Jr., the incumbent. He was appointed to the executive's job in early 2016, when Mike Sanders resigned. He won a special election in 2016, and was reelected to a full four-year term in 2018.
"White, a Democrat, demonstrated important leadership during the COVID-19 crisis. Despite criticism from businesses and residents — including, it must be said, Theresa Galvin — White moved quickly to limit the pandemic's damage, through closures and mask requirements. It was good, important work." However, it deemed his performance in other areas "lackluster" or a "failure" over his almost six years in office.
The new vice president and editorial page editor of the Kansas City Star Michael Lindenberger argued in an essay defending the idea of endorsements that the framing of the issues is as important as the nod from the paper in that it gives the readers information. 
By that token, then, by pointing to White's strong performance in the face of the pandemic the Star has given folks who might rank that high on their list a reason to vote for him.
Certainly, back in March 2020, it was a top priority for the paper. It excoriated Marvin Rodriguez, the Republican chairman of the Riley County Commissioners over the border in Kansas, when he declared that they shouldn't worry about the spread of the global pandemic to that part of the state as they had very few Chinese people there.
The Star's editorial board headlined its response: "Citizens, keep your distance from idiocy!" 
Writing in the context of the uptick in violence against Asian-Americans, it said, "It's no more the fault of the Chinese people, or of their government, than it was the fault of Kansans that the 'Spanish flu' of a century ago seems to have started in Kansas. Very close to home for Mr. Rodriguez, in fact, among World War I soldiers at Camp Funston, part of Fort Riley in Geary and Riley counties."
Given that the states of Kansas and Missouri both went on to have excess mortality rates for 2020 and 2021 to compete with the one for New York, a densely-packed city that was hit with a once-in-a-century pandemic with little advance warning (many states, particularly in the South, fared even worse, in their rates), then one might feel that the issue of competence in this area should be a little bit higher up the Star's list of considerations. 
It certainly helped Galvin's cause that she took the opportunity to make her case to the Star's editorial board in person, the sort of thing that is not a given these days.
Lindenberger, a Pulitzer Prize winner this year with the Houston Chronicle, wrote, "Researching each of these endorsements takes a good deal of time, not just for the writing and editing, but in seeking out and inviting each Democratic and Republican candidate in every race to come meet in person with the board. That's not so easy these days; more and more Republican candidates have chosen to refuse — often, it must be said, with very poor manners — these invitations. 
"They seem to believe there's more votes in assuring their base that they are indifferent to the so-called liberal media than in meeting for an hour to take tough but fair questions and explain their record and goals," he continued. "It's true that The Star's endorsements this year will fall more heavily toward Democrats than Republicans. That trend has accelerated since 2020 and the Big Lie, and as so many GOP candidates have stood mum — or worse — in the face of the Jan. 6 attacks on the U.S. Capitol."
The Star is strongly backing incumbent Governor Laura Kelly, a Democrat, in her bid for reelection in Kansas. Her challenger, Attorney General Derek Schmidt, didn't even bother to fill out a basic questionnaire sent out by the Star on the issues (calls, emails and other messages were ignored over a two-week period). 
In the Senate race in that state, the Star said, "Incumbent Sen. Jerry Moran, a Republican, deserves another term. Moran is usually a reliable Republican vote in Washington, and his Democratic opponent, Mark Holland, is right on more issues — abortion, health care, prescription drug costs. But Moran, 68, has shown important streaks of independence from the right-wing goofballs in the GOP. He worked to pass the PACT Act, a bill providing help for veterans suffering from exposure to toxic burn pits. He showed us an openness to important gun legislation, including a red flag law and multi-round weapons restrictions. He voted to certify the 2020 presidential election, rejecting the Big Lie nuttiness of some of his colleagues. It took some courage to do so."
The endorsement continued, "Moran is a risk. It's possible he'll go back to Washington and forget his commitment to bipartisan cooperation. But our democracy is in serious danger, and electing a Republican who might inch his party away from the abyss is worth taking a chance."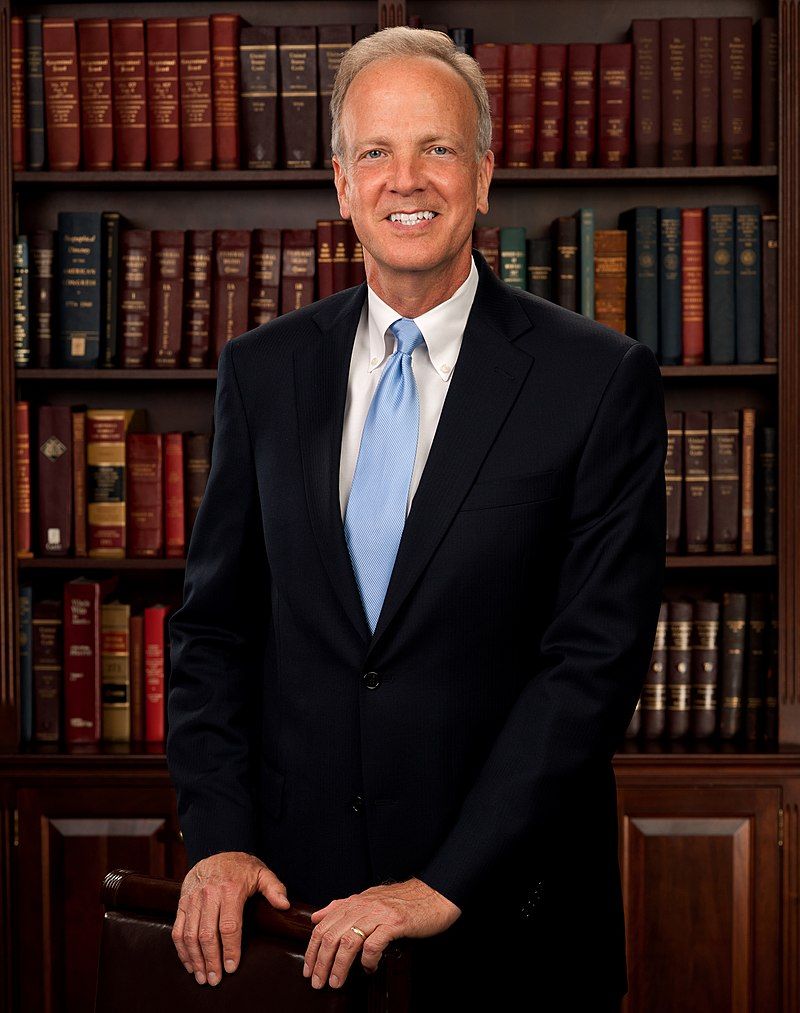 The Kansas City Star is taking a "risk," it said, in endorsing U.S. Senator Jerry Moran, a Kansas Republican, for a new term.
In the Kansas 3rd District, it said, "We support Rep. Sharice Davids, a Democrat, for a third term. We supported Davids in her first race for Congress largely because of her personal story — she's a Native American, raised by a single mother. To that, we can now add a record of accomplishment in Washington. Davids supported needed legislation to help dig the nation out of the COVID-19 crisis. She richly deserves another term in the House."
In that state's attorney general race, the Star said, "Chris Mann has earned our endorsement. Mann, a Democrat, faces Republican Kris Kobach. Is there any figure in Kansas public life more risible than Kobach? He's run for governor, and lost. He ran for his party's nomination for U.S. Senate, and lost. He ran for the U.S. House several years ago, and lost. He did win the race for Kansas secretary of state. He was so bad at it a federal judge ordered him to take a remedial law class. His current campaign for attorney general is so free of substance and so heavy with appeals to divisive social issues that it's hard to imagine a less attractive candidate. Kansas voters should say no again, and maybe he'll get the message. 
"Mann is a welcome alternative. He told us he would focus on the bread-and-butter services that the attorney general provides for ordinary residents: Child support, open records requests and consumer protection. Imagine that. Chris Mann is a breath of fresh air, and deserves your vote."
And another Kelly earned the Star's backing -- in the race for chair of Johnson County, Kan. "Mike Kelly, the current mayor of Roeland Park, is the obvious choice. Kelly is a thoughtful, conscientious public servant. He has worked to maintain quality services, while keeping taxes low. He believes climate change is real. He helped Roeland Park manage the pandemic. He can be an effective voice for the county's interests with other community leaders, including Kansas City Mayor Quinton Lucas. He is committed to a better Johnson County for all residents. Opponent Charlotte O'Hara would be a troublesome county chair. She is a 2020 Big Lie supporter, and has endorsed Sheriff Calvin Hayden's ludicrous (and costly) investigation into alleged presidential election irregularities that year. Last spring, she sued the Blue Valley School District for not allowing her to attend a public hearing without a mask. She is a disrupter and a divider, not a consensus builder. O'Hara has raised important issues about county spending. We think Kelly is better-positioned to address those concerns."
Republican Eric Schmitt has a double-digit lead in his bid to become U.S. Senator for Missouri, but the Star is much more enamored with first-time candidate for any office Trudy Busch Valentine.
Schmitt, the Star said, is a "disastrous Missouri attorney general who wants to take his bitter partisan politics to the U.S. Capitol. Schmitt doesn't listen, and he never learns. He's also a bad lawyer, prone to filing frivolous lawsuits just to catch a headline or two. Every Missourian should shudder at the thought of Schmitt joining Sen. Josh Hawley to represent the state's interests in Washington (although the inevitable clash of their bloated egos would be fun to watch)."